AUSTRALIANS are lacing up their hiking boots and heading to the world's highest mountain in record numbers, driven by a desire to tick the trek off their "bucket list*".
The number of Aussies trekking* Mount Everest in Nepal has climbed by almost 50 per cent in just two years.
While some hikers head all the way up the mountain and try to reach the summit at 8848m, a large portion of people aim for Base Camp, which takes around 12 days to reach on foot.
Some hikers organise helicopters to pick them up when they reach Everest Base Camp, at 5500m above sea level, so they don't have to face the return hike down.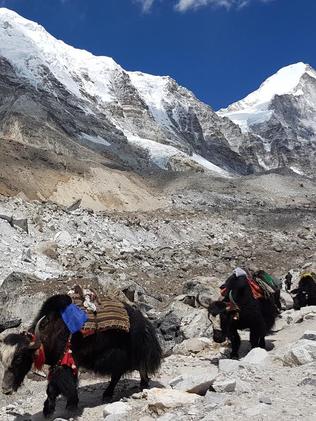 According to Intrepid, Australia's largest tour operator in Nepal, 234 Aussies hiked the popular path in the first quarter of 2015 compared to 346 Aussies this year.
And the background and type of people climbing has changed from dedicated climbers to those keen to tick one of the most dangerous mountains in the world off their bucket list.
Aussie Emily Dodds hiked Base Camp last week and said she was surprised by the number of helicopters flying in to pick up weary* walkers.
"You see so many choppers*," said the 25-year-old, who suffered breathing problems and headaches on the mountain.
"There's not that hiking interest, it's more Base Camp interest."
She saw a wide age range of hikers, from older people to "young kids" and Aussies made up a large percentage, with Ms Dodds even noticing a large group of 30 Aussies.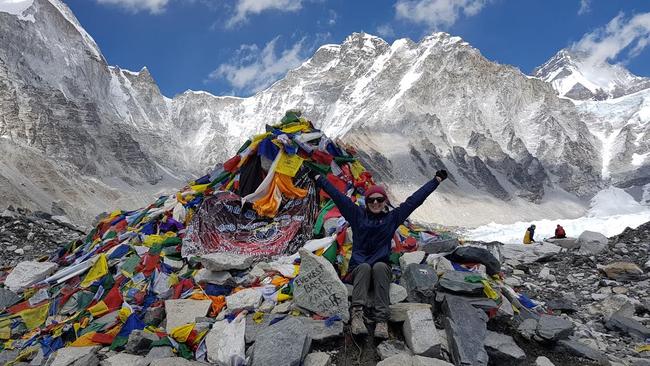 Intrepid's Karly Hillas said bucket lists were sending many Aussies up the mountain.
"People are so adamant that they just have to get to that Base Camp," she said.
That unwavering* desire had caused some concern in the travel industry about some tour operators allowing ill trekkers to continue to Base Camp for fear of bad reviews if they were to make them stop.
"These people don't want to let people down — get to Base Camp, they don't want complaints," Ms Hillas said.
Ashley Argoon travelled to Nepal with Intrepid's partner Plan Australia to mark the second anniversary of a catastrophic* earthquake that struck the region in 2015.
GLOSSARY
bucket list: list of things someone wants to do before they die (kick the bucket)
trekking: hiking or walking
weary: tired
choppers: helicopters
unwavering: strong and fixed
catastrophic: devastating
LISTEN TO TODAY'S STORY
CLASSROOM ACTIVITIES
Activity 1. Everest Dreaming
After reading the article about Aussies trekking up Mount Everest, complete the PMI (plus, minus and interesting) chart below.
Plus — What are the positive points for Aussies wanting to trek Mount Everest?
Minus — What are some of the negative points for the increased amount of people wanting to reach Mount Everest Base Camp?
Interesting — What are some of the facts or statements in the article that you find interesting?
Extension:
Explain why you think online reviews are so important to a tour companies business.
Why could this be dangerous to customers on a trekking tour?
Time: Allow 25 minutes to complete this activity
Curriculum links: English
Activity 2. Bucket List
Have you heard of a bucket list? Look up the meaning of the term in the glossary at the end of the article.
Work with a partner and create your own 'bucket list' of things you'd like to achieve in your lifetime. It may change as you grow older, but that's OK!
Dream big and do some online research of all the experiences or places you are interested in seeing, doing or visiting.
Limit your bucket list a top 10.
Extension:
Plan a travel itinerary incorporating at least three of your bucket list items in a trip.
Time: Allow 50 minutes to complete this activity
Curriculum links: Critical and Creative Thinking, Personal and Social, English, Digital Technologies
VCOP ACTIVITY
(Vocabulary, Connectives, Openers and Punctuation)
Wow Word Reused
There are some great wow words being used in this article. They are defined in the glossary.
When we discover wow words in our reading, writing or through speaking and listening, we need to think about the definition for these words or phrases so that we understand what it means.
We then need to practise using it ourselves to embed the learning.
Your task is to try and use as many of this article's wow words in new sentences of your own. They might link to make a paragraph or short story, or they might just be stand-alone example sentences, your choice.
Time: allow 20 minutes to complete this activity
Curriculum Links: English, Big Write and VCOP
Activity provided by Andrell Education www.andrelleducation.com.au
EXTRA RESOURCES
MODERN-DAY MESSAGE IN A BOTTLE