A HAUNTED historic house in Melbourne's Black Rock is opening to the public, if they dare enter.
Black Rock House on Ebden Ave was completed in 1858 and has since been preserved* in
in an original state, maybe even including a ghost or two.
Every year the Friends of Black Rock House invite visitors to their eerie* abode* to hear chilling stories of the paranormal* activity and spooky sightings.
Actors tour the dark and creepy homestead*, recalling how the rich 1800s family of Charles and Tamar Ebden and their children lived their lives and those who lived in the house since.
Friends of Black Rock House's David Dodds said the ghost tours were popular because people were fascinated by the unknown.
He said some people have had some strange experiences, like seeing shadows and feeling things moving and said he himself felt particularly unnerved at times.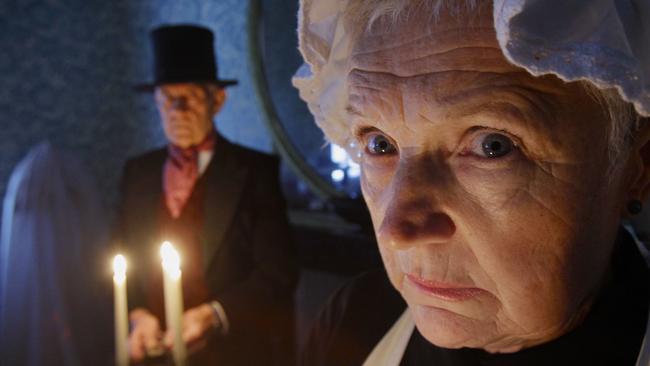 "I actually do think it is haunted; every time I go into one room I get the sensation* that it is slightly rocking," Mr Dodds said.
"I'm not scared of ghosts, they can't harm you; in fact I believe there is a real intrigue* surrounding them.
"Various* other people have told me they have seen things they can't explain, strange things can happen here."
He said the story of the house, and its people, was interesting on a historical level as well.
"Ebden was an involving man, he certainly left his footprint on Victoria," he said.
South African born Ebden was an Australian politician who served in the Victorian and New South Wales parliaments.
The large home is unique, made up of a T-shaped brick and timber house with a cellar, covered walk, stone courtyard and horse stables.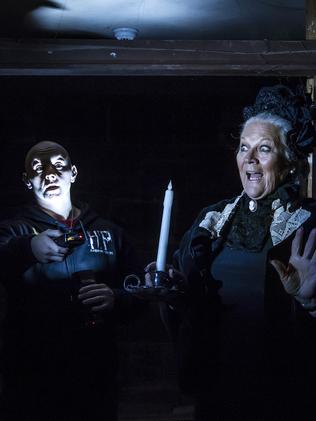 Ghost Stories from Black Rock House is at 34 Ebden Ave, Black Rock, on June 7, July 5 and August 12.
Details can be found at their website: blackrockhouse.org.au
GLOSSARY
preserve: maintain
eerie: spooky
abode: house
paranormal: unexplained and foreign
homestead : large home with surrounding gardens
sensation: feeling
intrigue: interest
various: multiple
LISTEN TO TODAY'S STORY
CLASSROOM ACTIVITIES
Activity 1. Black Rock House
Read or listen to the article then complete these questions:
How old is Black Rock House?
Who did it belong to?
What job did he have?
What is 'unique' about this house?
Why do people come to visit the house?
Would you like to visit this house? Why, Why not?
Extension:
Given that Black Rock House was built in the 1850s and 'preserved in an original state', what would you expect to be different to modern houses?
In your mind go through each room you have in your house and think what would have been different.
Think of heating, cooling, cooking, washing, entertainment, transportation etc.
Keep in mind that Charles Ebder wealthy.
Time: allow about 40 minutes to complete this task
Curriculum links: English, Humanities – History
Activity 2. Ghost stories
Spooky stories can be fun to read, especially when we know they are 'made-up'. Have a go at writing your own ghost story.
It could be set at Black Rock House or you may choose another creepy location.
Try and create some suspense in your story.
Make the reader want to know more but be worried about what they might find out.
Ensure you portray the characters emotions. Describe how they are feeling. Are the 'hairs standing up on their necks'? Is their 'tummy tied up in knots'?
Use details to help make your story believable.
Extension:
Read your story to a partner and ask for feedback on ways to improve your story. Can they help you make it better?
When you are happy with your story, publish it and add some scary illustrations to it.
Time: allow 45 minutes to complete this task
Curriculum links: English
VCOP ACTIVITIES
(Vocabulary, Connectives, Openers, Punctuation)
Activity 1. Spooky Words
List all the spooky words you can find in the article.
After finding as many as you can, try to create some more!
With a partner, create a short story weaving these words into your writing.
Time: allows 30 minutes to complete this activity
Curriculum links: English, Big Write and VCOP
Activity 2. Power Opener
It is important to write a really engaging opener to your writing to capture the attention of the audience right from the beginning.
Write a powerful opener about walking up to the haunted house in Black Rock and turning the handle to enter.
Think about what the house might look like, how you might feel, what the door might look like, what sounds you hear etc.
Don't be afraid to up-level it!
Time: allow at least 15 minutes to complete the task
Curriculum Links: English, Big Write and VCOP
EXTRA RESOURCES
LOST CIVILISATIONS RULED BY WOMEN
METRO "MOLES" MAY BE LEFT BELOW CITY
AUSTRALIA'S 'JURASSIC PARK' DISCOVERED
WHEN WILL AUSTRALIA'S HEATWAVE END?
DREAMWORLD HOLDS OFF REOPENING
IN A SENTENCE, SHARE YOUR THOUGHTS ON TODAY'S STORY
Kids News loves reading your best grammar, vocabulary and spelling.
We publish the best comments.