Olympics Part 6: Meet mascots Miraitowa and Someity
PART 6: Two stars of the Tokyo Olympics and Paralympics won't be going for gold but they do have superpowers! We look at Olympic mascots and emblems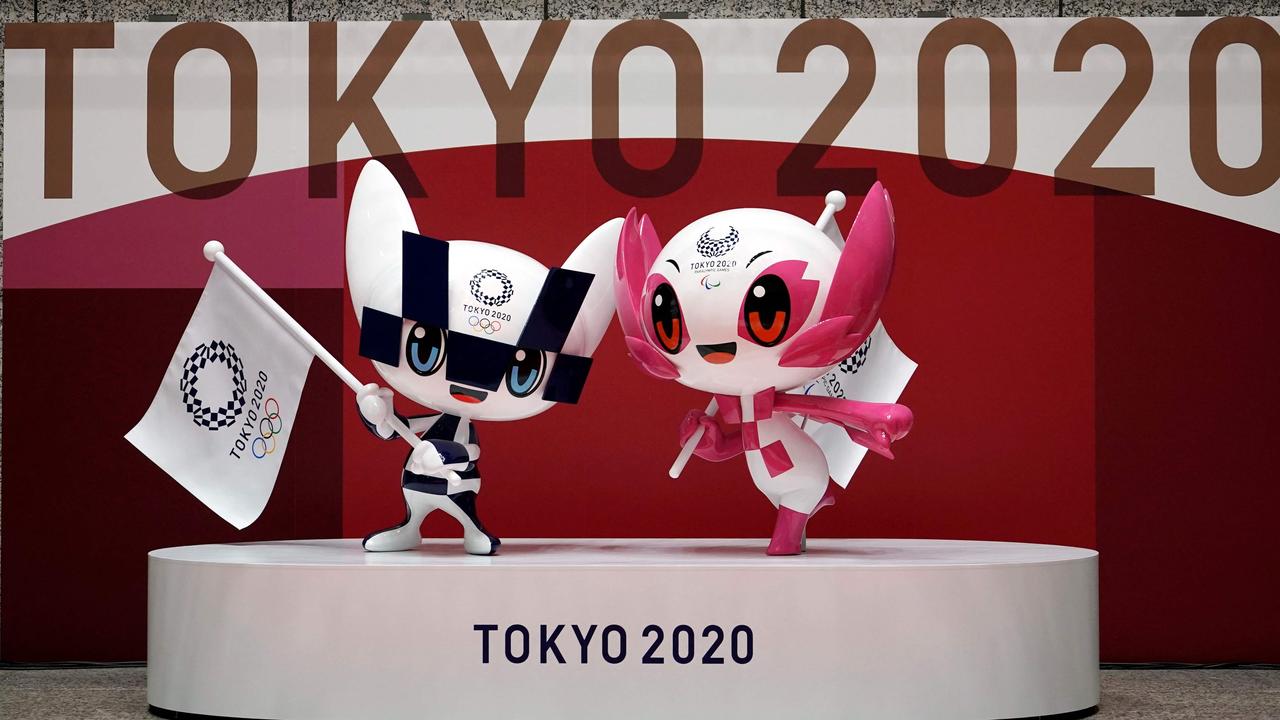 Statues of Miraitowa (left) and Someity, the official mascots for the Tokyo 2020/2021 Olympics and Paralympics Games, at the Tokyo Metropolitan Government building in Tokyo. Picture: AFP
Two stars of the Tokyo Olympics and Paralympics won't be going for gold or trying to set a new world record.
But they do have superpowers and they will probably use them!
Meet Miraitowa and Someity, mascots for the Tokyo Olympics and Paralympics.
Kids News looks at the fun and fascinating history of Olympic mascots and emblems.
MEET THE MASCOTS
Miraitowa (pronounced mee-rai-toh-wa) and Someity (pronounced soh-may-tee) were designed by Japan's Taniguchi Ryo, who was inspired by manga. Manga is a style of comics or graphic novels first popular in Japan.
More than 2000 possible designs for mascots were submitted to the organising committee for the Tokyo Olympics. The committee narrowed the list down to three pairs of mascots and then schoolchildren chose Miraitowa and Someity with a huge vote — 205,755 primary school classes from 16,700 Japanese schools! It is the first time Olympic mascots have been chosen by children.
Miraitowa's name comes from the Japanese words for future (mirai) and eternity* (towa); Someity's name is inspired by the name of a type of Japanese cherry blossom, someiyoshino, and also to sound like the words "so mighty" in English.
The two mascots are fictional characters. Miraitowa represents both old tradition and new innovation, is athletic, has a strong sense of justice and can teleport anywhere in an instant. Someity can fly with a chequered cape, send telepathic* messages, move objects by looking at them and talk to the stones and wind. Someity's personality is calm.
Their chequered outfits are a match for the official Tokyo Olympic emblem, or logo.
Miratitowa's blue is indigo, sometimes called Japanese blue and very popular in Japan. Someity's pink is the pink of cherry blossoms, which is Japan's unofficial national flower.
OLYMPIC EMBLEMS
The most recognisable Olympic logo or emblem is the Olympic rings, designed in 1913 by Pierre de Coubertin. The five colours on a white background represented the colours of all flags of the world at that time.
In addition to the Olympic rings, each Games has one or more official emblems used on flags, uniforms, souvenirs and advertising.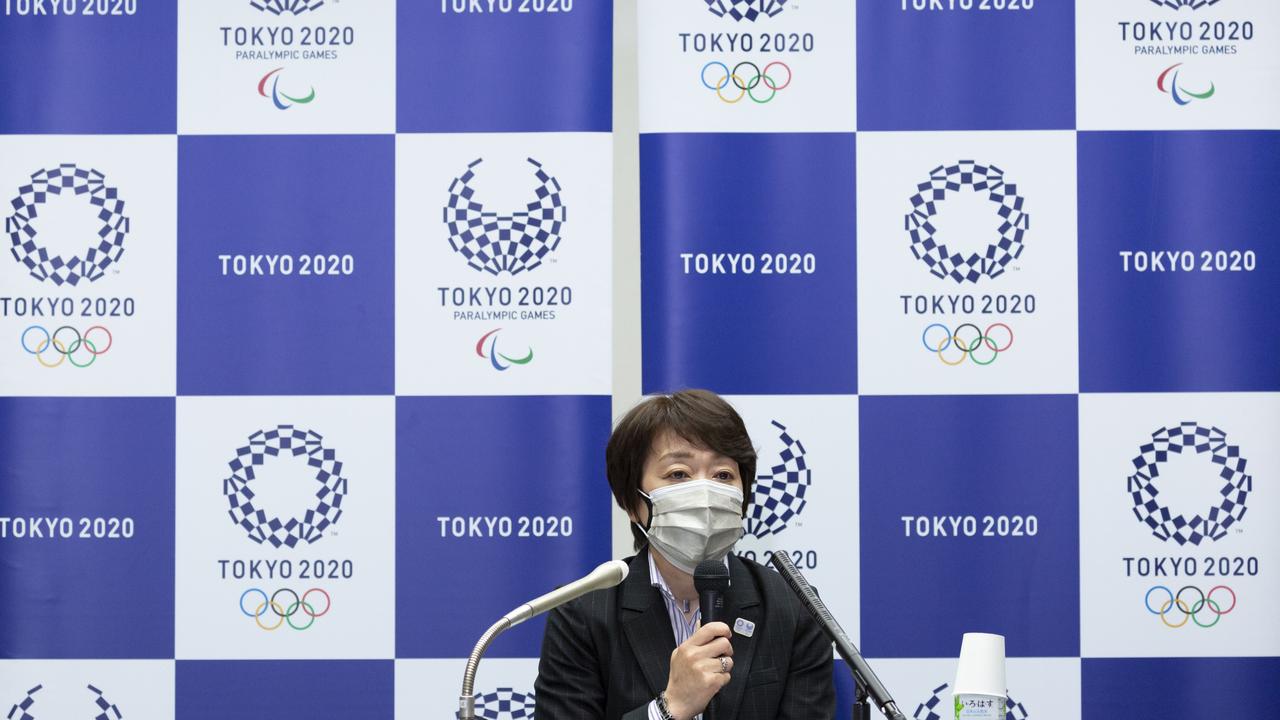 Tokyo 2020 Olympics Organising Committee president Seiko Hashimoto talks to journalists in front of the Tokyo 2020 Olympic and Paralympic emblems. Picture: Getty Images
Tokyo's Olympic emblem includes the Olympic rings and a blue and white chequered circle of different sized rectangles. The rectangles in a chequered pattern represent the different people from around the world coming together and being united. Both the Olympic and Paralympic emblems have 45 rectangles, a way of saying the two Games are equal.
WALDI AND FRIENDS
Waldi — a dachshund (sausage) dog — was the first official Olympic mascot and introduced for the Munich Olympics in 1972. This dog breed, popular in Germany, represented qualities also believed to be required by athletes: endurance*, tenacity* and agility*.
There are now mascots for every Summer and Winter Olympics and, since Vancouver in 2010, these have been paired with a Paralympic mascot.
Mascots are meant to be fun and appeal to children and they're usually either an animal native to the host country or a human-like character representing the cultural heritage of the Games location.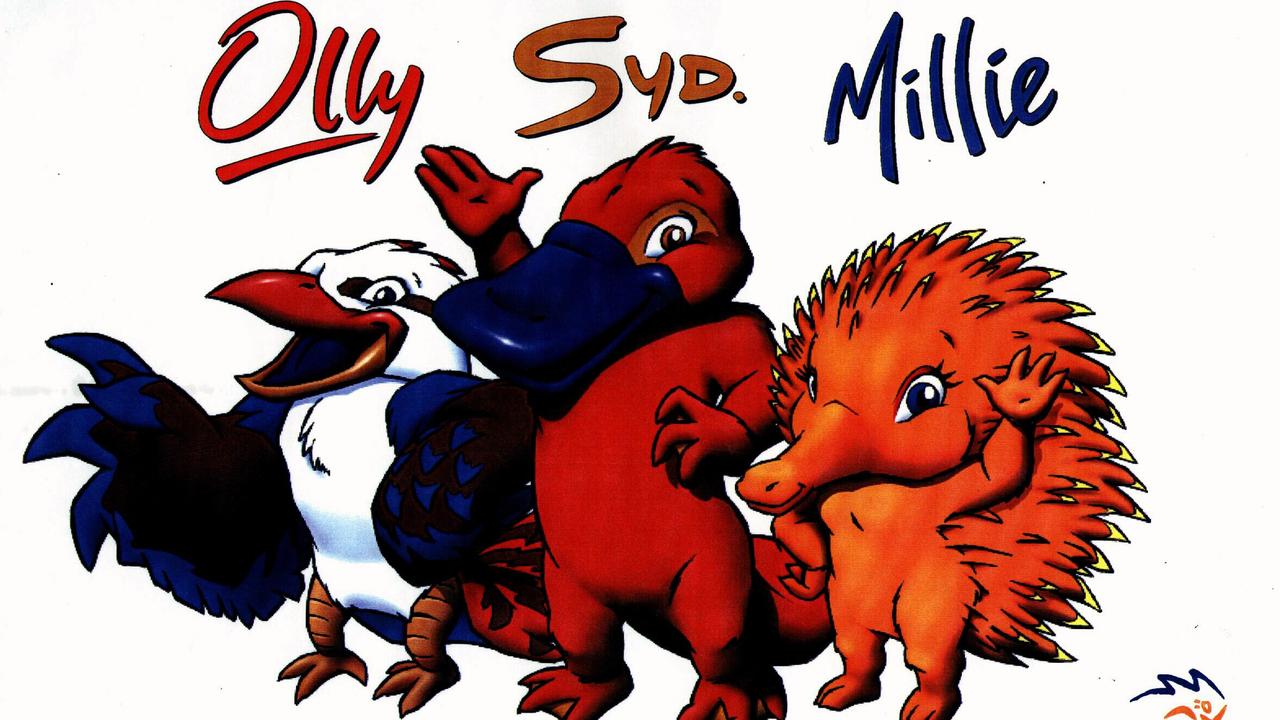 Olly the kookaburra, Syd the platypus and Millie the echidna were the mascots for the 2000 Sydney Olympics.
Here are some other Olympic and Paralympic mascots:
Amik, a beaver, for Montreal Olympics 1976
Misha, a bear cub, for Moscow Olympics 1980
Sam, a bald eagle, for Los Angeles Olympics 1986
Olly (kookaburra), Syd (platypus) and Millie (echidna) for Sydney Olympics 2000
Lizzie, a frill-necked lizard for Sydney Paralympics 2000
Fu Niu Lele, a colourful cow for Beijing Paralympics 2008
Wenlock, drops of steel with cameras for eyes for London Olympics 2012
Vinicius, a hybrid of all Brazil's mammals, for Rio de Janeiro Olympics 2016
The mascots for the Rio de Janeiro Olympic and Paralympic Games are unveiled on November 24, 2014 in Rio de Janeiro, Brazil. Picture: Getty Images
AUSTRALIA'S MASCOTS
Australian athletes competing in Tokyo will be spurred* on by our own mascot, the Boxing Kangaroo, or BK for short.
BK has been around for a long time, but became especially famous in 1983 when the yacht called Australia II won the America's Cup, a sailing race. BK became the official Olympic mascot in the late 1980s.
Even though BK is big and strong and wears a singlet and boxing gloves, he is not aggressive or arrogant*, but symbolises Australia's fighting spirit in sport.
BK the Boxing Kangaroo poses with former Olympic rower and London Olympics 2012 Australian Chef De Mission Nick Green. Picture: Brad Fleet
GLOSSARY
eternity: unending or forever
telepathic: able to transmit thoughts to other people or know thoughts of other people
endurance: ability to keep going for a long time or when things are difficult
tenacity: being able to hold onto something (including an idea or a goal) and not let go
agility: ability to move quickly and easily and change course if needed
spurred: urged or encouraged
arrogant: having an exaggerated sense of your own ability or importance
EXTRA READING
Olympic medals go green in Tokyo
Olympics host nation in profile – hello, Japan!
The sports set to light up Tokyo
QUICK QUIZ
What colours are Miraitowa and Someity?
What is manga and in which country did it begin?
Who or what animal was Sam the mascot?
Where were the 1972 Olympics?
What does BK stand for? Who or what is BK?
LISTEN TO THIS STORY
CLASSROOM ACTIVITIES
Refer to the accompanying Olympics Education Kit classroom workbook with 25 activities. It's FREE when teachers subscribe to the Kids News newsletter.