World's first pilotless air taxis have been granted approval to carry passengers
A Chinese company has become the first in the world to be permitted to fly passengers in air taxis without a pilot at the controls. Discover how they work and how safe they are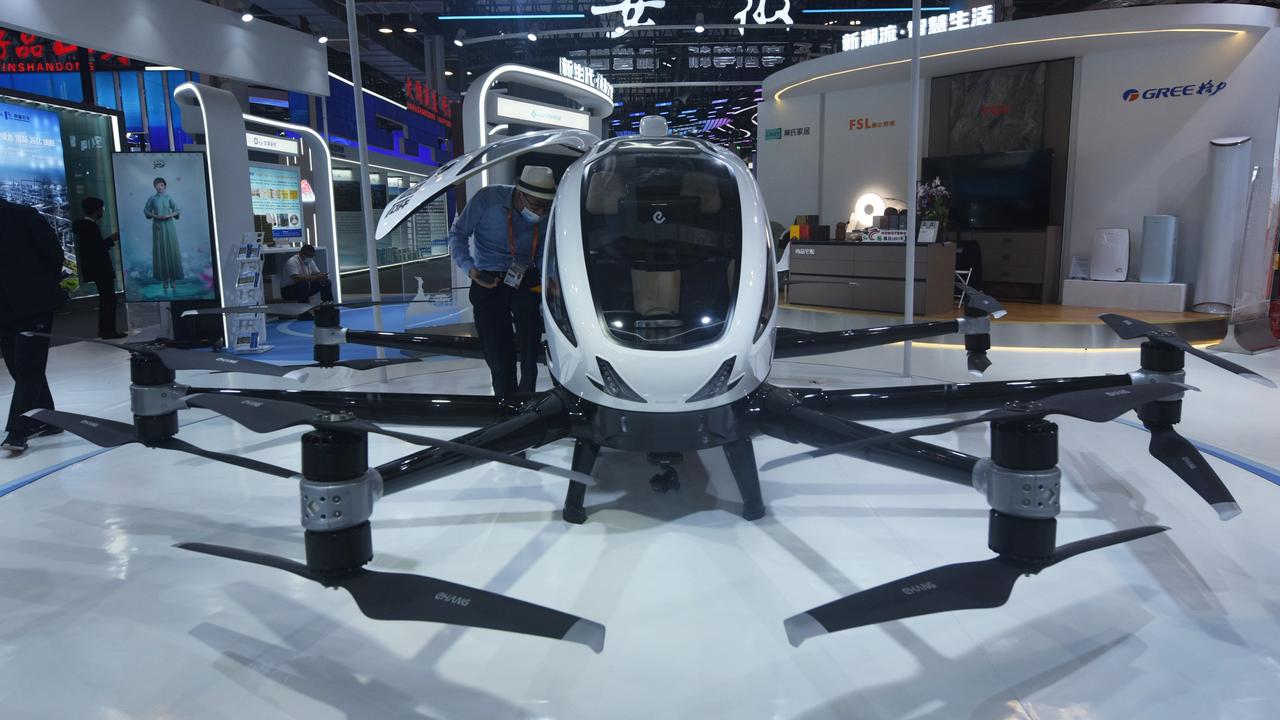 Visitors inspect the EH216-S pilotless air taxi during the 2023 China Brands Day in Shanghai. Picture: Costfoto/Nur (Getty Images)
Imagine flying over the city in an electric-powered aircraft that has no pilot but can take you from point A to point B in minutes. Sounds like science fiction, right? Well, not anymore.
China-based Ehang has become the world's first company to receive official approval to fly passengers in its pilotless air taxis.
Ehang's EH216-S air taxis are electric vertical takeoff and landing aircraft, also called eVTOL for short. The air taxis can carry up to two passengers or about 270kg of cargo*. They are powered by 16 electric propellers* and can fly at speeds of up to 130kmh and distances of up to 28km.
The air taxis are controlled by a central command centre that monitors the flight, routes* and weather conditions.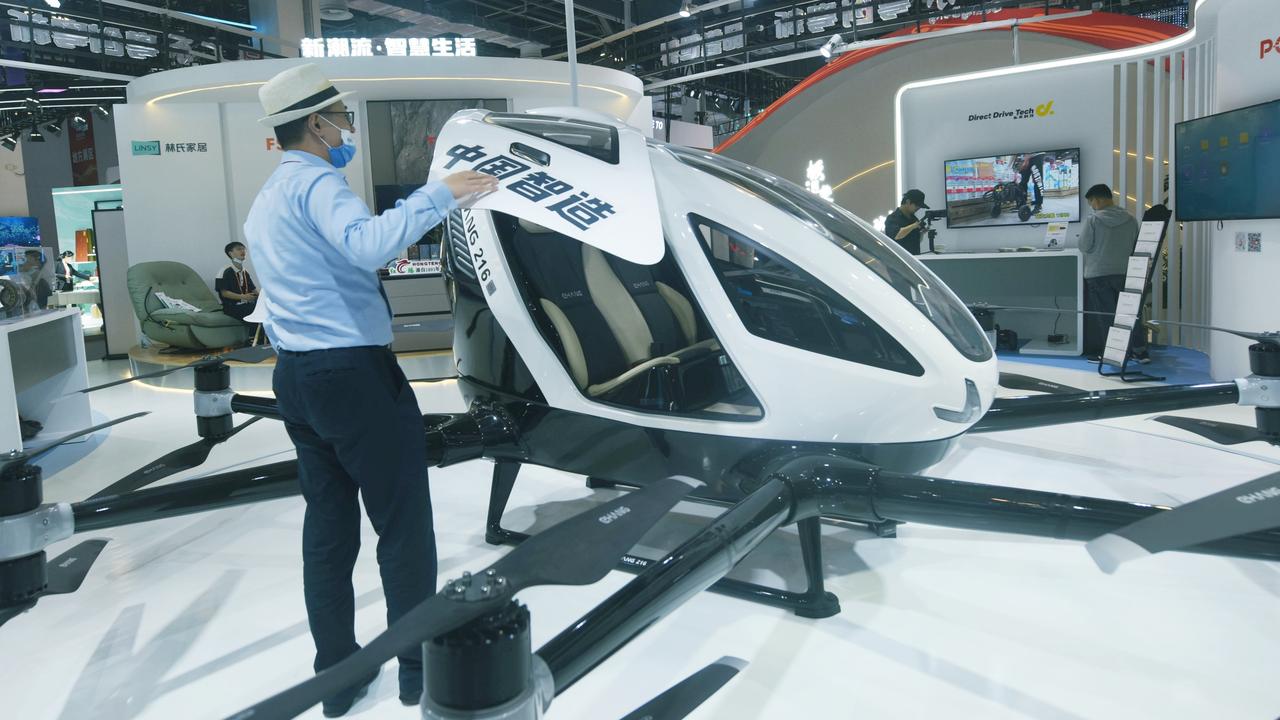 A visitor checks out the interior of the air taxi. Picture: Costfoto/NurPhoto/Getty Images
Passengers can simply select their destination on a touchscreen inside the cabin and enjoy the ride without worrying about piloting the aircraft.
The taxis do not require airports or runways. They can take off and land vertically from any flat surface, such as a rooftop, park or car park.
The air taxis use electric power to reduce environmental harm caused by emissions*. They can be fully charged in two hours and have low noise levels. The also have backup batteries, propellers, and emergency landing systems and parachutes in case anything goes wrong.
How did the air taxis get approval to fly?
Since 2014, more than 40,000 test flights have been conducted in various locations around the world. In January 2021, Ehang applied for an airworthy* certificate from the Civil Aviation Administration of China (CAAC).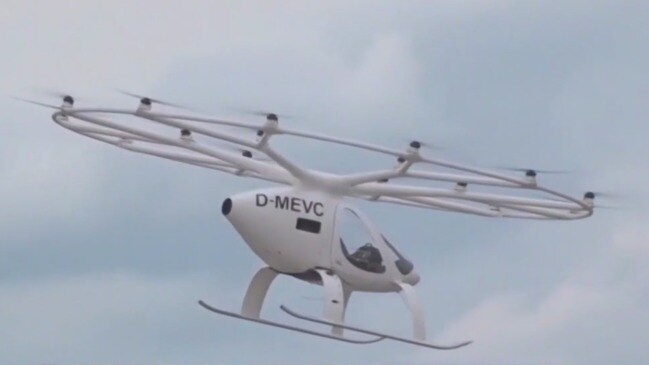 The CAAC ran 500 tests over 1000 days in the laboratory, on the ground and in the air.
On October 15 this year, Ehang announced it had received the certificate meaning its aircraft is safe to fly and it can legally operate its air taxi business with passengers in China.
Ehang's founder and CEO Huazhi Hu said: "Embracing the certification as our springboard*, we will launch commercial* operations of the EH216-S air taxis, prioritising* safety above all."
How could air taxis be used?
They could transform how we travel around big cities — imagine using them to avoid traffic jams, save time on the daily commute* to work or school, or get to places that are hard to reach by car or public transport.
And beyond just moving people, the aircraft can be used for delivering goods, such as packages, medical supplies or food.
During natural disasters such as bushfires or floods, air taxis could transport much-needed medical staff, equipment or medicines to the scene quickly and safely.
Australian Army soldiers load crates of fresh food onto a helicopter for delivery to flood affected areas in NSW in 2022. In future, pilotless air taxis could deliver the goods. Picture: Corporal Dustin Anderson/Australian Army
What are the challenges?
Ehang's air taxis need to follow the laws and rules of different countries and regions where they might operate. They also need to co-ordinate with other aircraft that use the same airspace.
One big hurdle will be gaining the trust of the public and convincing commuters they are safe while flying. To do this, Ehang will educate passengers about the benefits and risks of using its taxis while also addressing potential issues and concerns about noise levels, privacy and the environmental impact.
POLL
GLOSSARY
cargo: goods carried on an aircraft, ship or vehicle
propellers: the blades that rotate to help the aircraft fly
routes: a particular path between destinations
emissions: the release of something, especially gas or radiation
airworthy: safe to travel by air
commercial: relating to business
prioritising: putting something first
springboard: the opportunity to take action on a plan
commute: travel some distance between work and school each day
EXTRA READING
Virgin Galactic reveals space cabin design
Human-like robot lands factory job
Super radio telescope being built in Aussie outback
QUICK QUIZ
1. What type of certificate has the company received for its air taxis?
2. What does eVTOL stand for?
3. Which country can have the first air taxi flights with passengers?
4. What steps has Ehang taken since 2014 to gain certification?
5. Name three ways the air taxis could be used beyond flying passengers to different locations.
LISTEN TO THIS STORY
CLASSROOM ACTIVITIES
1. Air taxis in your city/town
These newly approved air taxis could significantly change the way we move if they arrive into Australian air space.
Think about your local town or city and how these Ehang air taxis could operate in your environment.
Reading about their restrictions and features, come up with 5 major routes that could be developed in your area. These would be popular places where people need to get to regularly. You also need to consider where the possible drop-off and pick up locations could be considering they take off vertically.
Write your flight routes below and outline approximate distances and time it would take;

Time: allow 25 minutes to complete this activity
Curriculum Links: English, Geography, Digital Technologies, Personal and Social, Critical and Creative Thinking
2. Extension
In the article, the cost of the Ehang air taxis wasn't listed. How much would you estimate a 10-minute air taxi trip might cost?
How would the company try to sell the product so that the extra cost might save you a lot of time which may be more valuable?
Time: allow 10 minutes to complete this activity
Curriculum Links: English, Critical and Creative Thinking
VCOP ACTIVITY
1. To sum it up
After reading the article, use your comprehension skills to summarise in a maximum of three sentences what the article is about.
Think about:
What is the main topic or idea?
What is an important or interesting fact?
Who was involved (people or places)?
Use your VCOP skills to re-read your summary to make sure it is clear, specific, and well punctuated.