When the news broke that Australia's most famous living cricketer, Shane Warne, had passed away, there was shock and disbelief around the world.
Cricket holds a special place in Australia: not only is it our national sport, but it is an international game. Whether it's an Ashes series against England, the Boxing Day Test, a series against India, a World Cup Final against our Kiwi neighbours or a T20 match facing the Sri Lankans, Australians love their cricket, especially when they take on the world's best.
And they worship their cricketers, from Sir Donald Bradman in the 1930s and '40s to our current crop of Steve Smith, Pat Cummins, Ellyse Perry and Meg Lanning.
Shane Warne held a special place in the hearts of cricket fans all around the world. Even if you weren't a follower of the game you knew about Warnie.
He changed the game of cricket with his ability as a spin bowler to befuddle* batsmen and turn a match. His famous "Gatting ball", where he bowled English batsman Mike Gatting with his first ball of his first Ashes Test against England in 1993, is known as the ball of the century. It was pitched one way, then completely changed direction when it hit the ground, went around the batsman and took out the off-stump.
It heralded* the era* of Shane Warne and leg-spin bowling.
The rest is history. He went on to claim 708 Test wickets, win a world cup and numerous awards, and when he retired he became a respected commentator.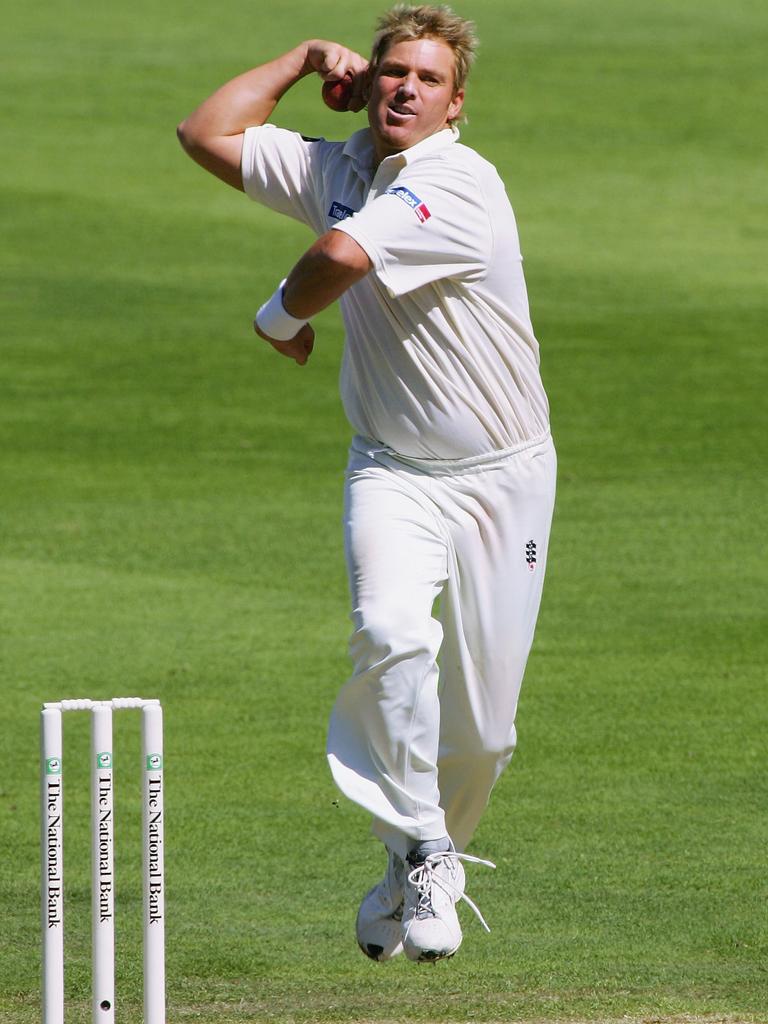 Of Course, Warne had that Australian larrikin* streak in him and he always seemed to be in the media spotlight, sometimes for the wrong reasons. He was never dull, a cartoonist's dream in fact!
I had caricatured him numerous times over the years. Sadly, now he was gone at 52-years-old and I had the job of paying tribute to him somehow in a cartoon for the newspaper. Occasionally I draw cartoons that are not meant to be funny, but are a commemoration* of a person's life.
With a life as full as Shane Warne's, it was a daunting* task. How do you sum up a bloke like Warnie in one cartoon?
I thought the best way to pay tribute to him was at the greatest cricket stadium in the world, the MCG.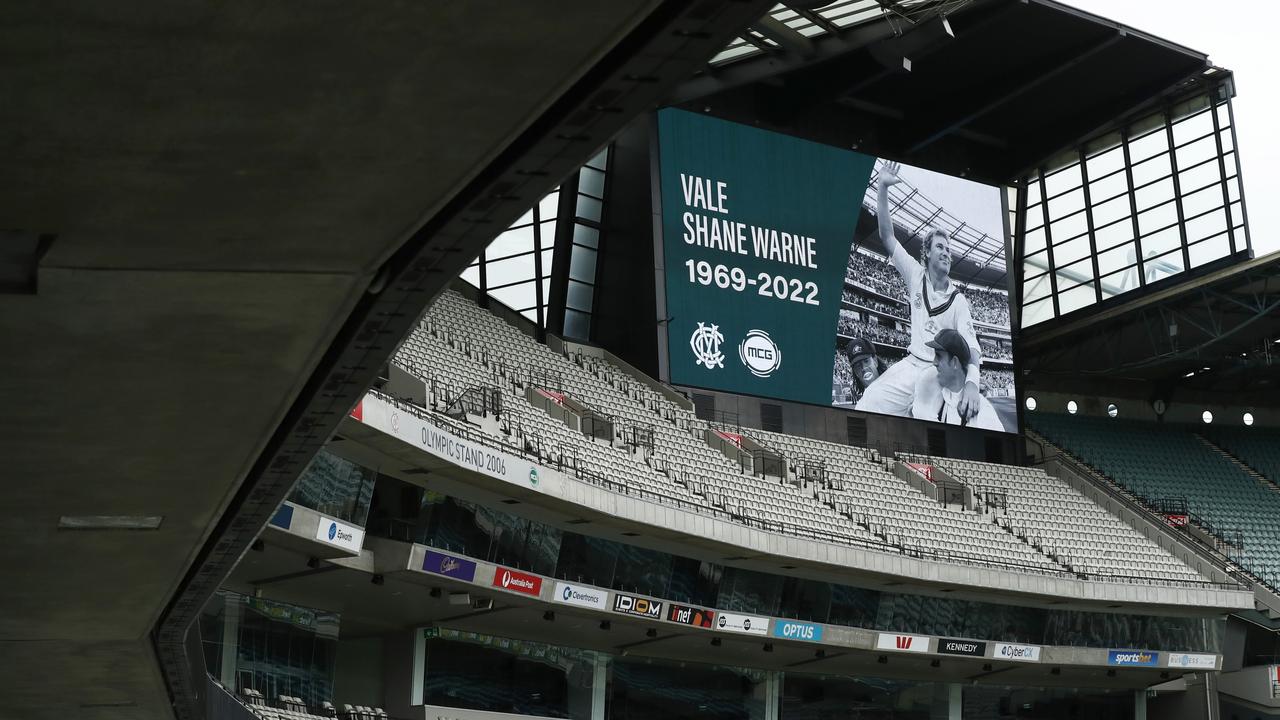 As I started sketching the ground, the news came through that the Victorian Government would rename the Great Southern Stand the SK Warne Stand. I drew the huge sweeping grandstand with the intention of the spirit of Shane Warne walking off the ground one last time.
I reconsidered and felt he should be up in the stand itself, looking out over the structure that would bear his name as a lasting tribute.
I also wanted the cartoon to illustrate Warne's position as one of our game's greatest exponents*. Sir Donald Bradman holds the mantle* as our greatest. He was a batsman. Now we have a bowler. Who could split those two for top honours?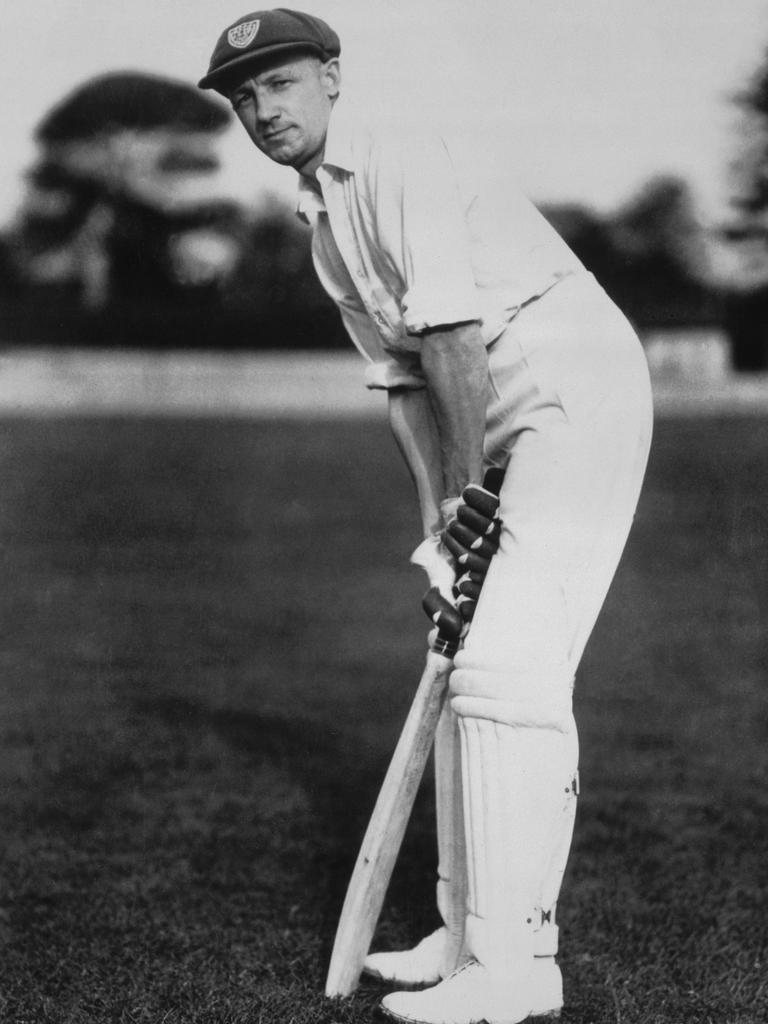 So the cartoon shows Shane Warne looking out over the "G". Next to him, a seated Sir Donald Bradman looks back and gives Warne a reassuring nod on his arrival and upon taking his place in cricketing history.
Sir Don holds his bat and Warne holds a cricket ball. Viewers of the cartoon will note a small reference to Warnie's larrikin side: in his left hand down by his side he discreetly* holds a cigarette.
He always was a rule breaker.
Vale* Shane Warne.
GLOSSARY
befuddle: confuse
heralded: announced, was a sign that something important was about to happen
era: a period of time that is known for a particular thing
larrikin: a mischievous but good-hearted person
commemoration: something that is done to remember somebody
daunting: seems a little frightening or worrying
exponents: someone who is good at a particular skill or activity
mantle: important role or responsibility that passes from one person to another
discreetly: in a way that does not draw too much attention
vale: a respectful way to say farewell when someone has died
EXTRA READING
Tributes flow for cricket great Warnie
Acting legend at one with the land
No shortcuts for Sir Tom, a hero of the pandemic
QUICK QUIZ
Who did Shane Warne bowl out with his ball of the century?
How many Test wickets did Shane Warne claim during his career?
Why did Mark Knight choose the MCG for the scene of this cartoon?
Why did Mark Knight draw Sir Don Bradman in the cartoon with Shane Warne?
Why did Mark Knight try to represent by drawing a cigarette in Shane Warne's left hand?
LISTEN TO THIS STORY
CLASSROOM ACTIVITIES
1. Caption it!
Cartoonist Mark Knight has not used a caption on this cartoon, letting the imagery speak for itself.

Read Mark's explanation of what the cartoon means again and write two, three or four short sentences, just to make sure you understand what the cartoon is saying.
Using your sentences to help you, write a caption for the cartoon or some thought bubbles or quotes from one of the people in the cartoon that will make Mark's meaning clearer for those who haven't been reading the news this week.
Time: allow at least 20 minutes to complete this activity
Curriculum links: English, Humanities, Visual Arts, Critical and Creative Thinking
2. Extension
Look through the most recent stories on Kids News and choose one to draw a cartoon about.

Use Mark's three-step process to get started:
What is my subject?
What do I want to say about this issue?
How do I say it? Do I use visual metaphors (an image that the viewer is meant to understand as a symbol for something else), multiple panels or symbolism (when one idea, feeling or emotion is represented by something else such as a picture, character, colour or object)?
Time: allow at least 40 minutes to complete this activity
Curriculum links: English, Humanities, Visual Arts, Critical and Creative Thinking
VCOP ACTIVITY
Describe it!
Look at the cartoon and make a list of five nouns that you see. Then describe those five nouns with five adjectives.
Add a preposition to those five nouns and adjectives.
Now choose your favourite bundle and put all the words together to make one descriptive sentence.