VICTORIA police just got a whole lot more hi-tech, with a new highway patrol vehicle* that can steer itself and break automatically in an emergency.
The futuristic cop car is part of a national trial of semi-autonomous vehicles.
A semi-autonomous car is one controlled by the human driver, with extra robot assistance* by using cameras and sensors, designed to improve safety.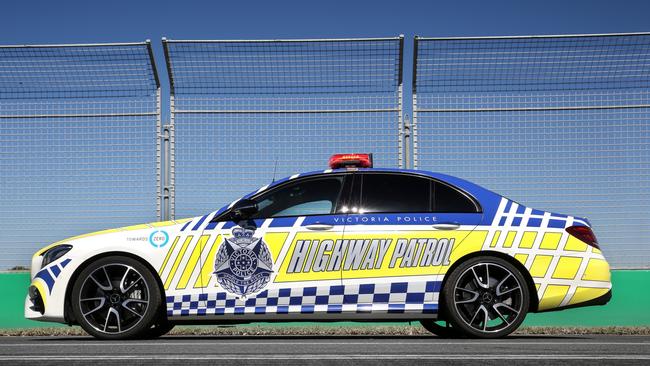 The $160,000 Mercedes has been donated to Victoria Police for 12 months to be used as a highway patrol vehicle across the state.
Police will be watching carefully to see how their new set of wheels reads the road, monitors driver fatigue* and avoids collisions with cars and pedestrians.
The Mercedes can steer itself on a freeway for up to one minute by "reading" lane markings, can overtake automatically at the press of a button and slam on the brakes below 70kmh to avoid hitting the vehicle in front.
The technology is a stepping stone to fully autonomous or driverless cars that operate without human intervention*.
The car industry says driverless cars could be on our roads by 2020.
"There's been this revolution going on around vehicle technology that not everyone's aware of." said Assistant Commissioner Doug Fryer, from the road policing command.
"The growth and advancement* in what is possible around safety features in cars is not well known to the community."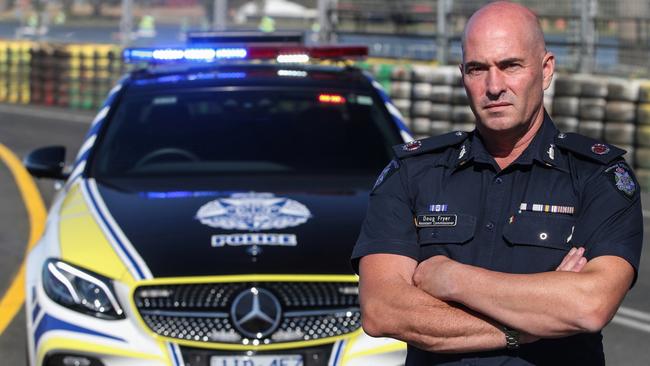 Despite technology improving safety in cars today, humans are still in control.
"No matter what the vehicle looks like and what safety features are in it, the best and ironically the worst safety feature in every vehicle is the driver themselves. There is still a need to actually drive the vehicle and pay full attention," Assistant Commissioner Fryer said.
The hi-tech highway patrol car was unveiled in Melbourne this week. Australia is one of just six countries in the world being used by Mercedes-Benz to test its future technology.
GLOSSARY
vehicle: car
assistance: help
fatigue: tiredness
pedestrian: person not in a car
intervention: forced help
advancement: progression
unveiled: shown or announced
conference: convention
LISTEN TO TODAY'S STORY
CLASSROOM ACTIVITIES
Activity 1. Form an opinion
To some people, a semi-autonomous car may sound very useful and safer than one that is operated wholly by its driver, while others may find the idea of allowing a machine to control our vehicles scary and dangerous.
To form your own opinion, make a table with two columns – one headed 'Positives' and the other headed 'Negatives'. Now brainstorm all of the good and bad things you can think of and write them in the appropriate column on your table.
Things you could think about include the safety aspects, driving times and routes and costs.
Based on the positives and negatives you have thought of, form your own opinion and write one paragraph explaining what you think.
Extension:
Compare your positive and negative table with a partner.
Are there any areas where you disagree with one another?
Explain your point of view to your partner.
Time: allow 20 minutes for this activity
Curriculum links: English, Critical and Creative Thinking, Personal and Social Capabilty
Activity 2: An automated world
Semi-automated cars! What next?!
Think of something that you would love to see automated, preferably something that would make life easier or more fun.
Draw a labelled diagram showing your design for this newly automated contraption, explaining the features and benefits.
Extension:
Make a list of possible names for your new automated contraption. They could be practical names or wild and wacky.
Time: allow 30 minutes for this activity
Curriculum links: English, Design and Technology
VCOP ACTIVITY
(Vocabulary, Connectives, Openers and Punctuation)
The car of the future…
Create a paragraph describing the features of this new vehicle convincing the public that this is the car of the future and they should buy one immediately.
Extension:
Design a poster selling the car of the future. Include a picture, price and your sales pitch paragraph.
Time: allow up to 40 minutes for this activity
Curriculum links: English, Big Write, VCOP
EXTRA RESOURCES
UBER PLANS WORLD'S FIRST FLYING CARS
UNLOCK IPHONE 8 WITH YOUR FACE
GT FORD'S SECRET AUSSIE INGREDIENT
IN A SENTENCE, SHARE YOUR THOUGHTS ON TODAY'S STORY
Kids News loves reading your best grammar, vocabulary and spelling.
We publish the best comments.