US President Joe Biden axes Australia visit to deal with debt ceiling drama
Joe Biden has cancelled his trip to Australia at the last minute to deal with a financial issue at home that could rock world economies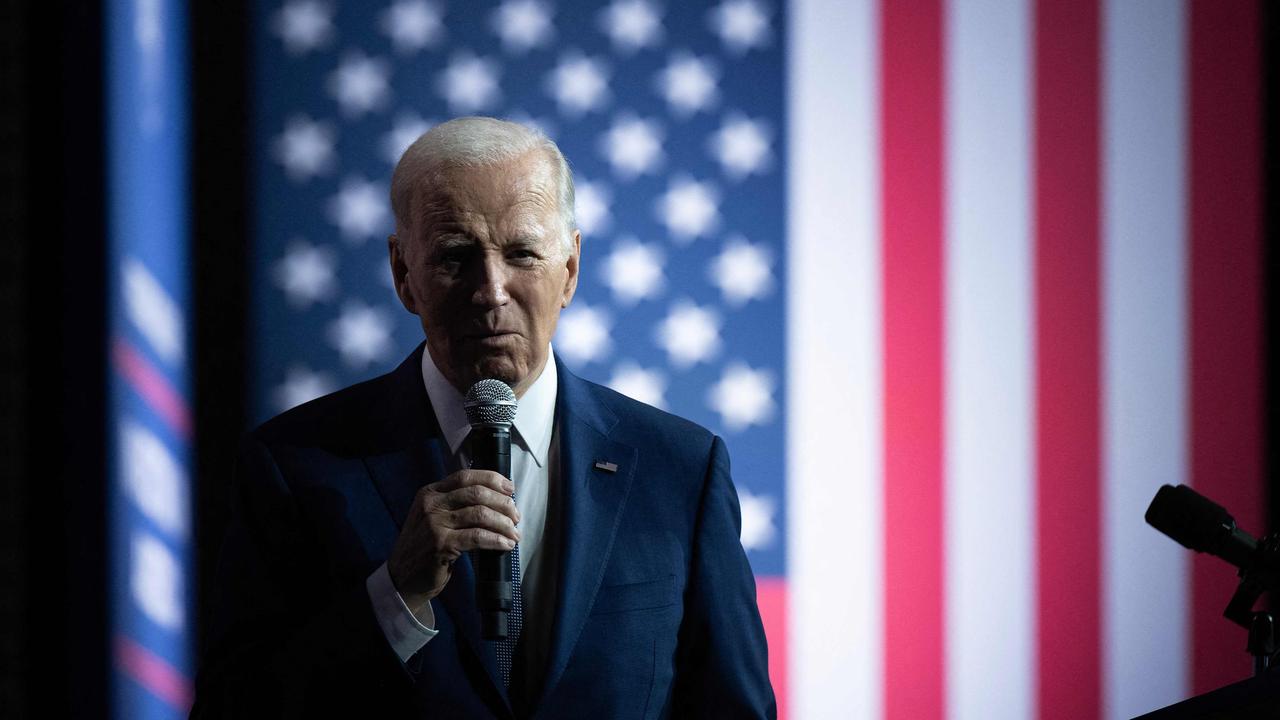 US President Joe Biden is urging Congress to lift the debt ceiling so America can pay its bills. Picture: AFP
US President Joe Biden has cancelled his visit to Australia next week, just hours after Prime Minister Anthony Albanese announced the world leader had accepted his invitation to address the nation's parliament.
Mr Albanese will meet one-on-one with the US president in Japan this weekend instead and has accepted an invitation to the US capital Washington DC for an official state visit with Mr Biden later this year to make up for the political slight*.
Prime Minister of Australia Anthony Albanese and US President Joe Biden shake hands at Submarine Base Point Loma in California earlier this year.
Mr Biden axed his trip to Sydney and Canberra to stay home and attend critical negotiations about America's debt ceiling*, which allows the country to pay its bills and borrow money.
"The deadline for resolving that debt ceiling impasse* is June 1," Mr Albanese said.
"As the President put (it) to me, that week before June 1 will be absolutely critical."
WHAT IS THE US DEBT CEILING?
In the US, Congress*, which sets laws in America, has put a limit on the amount of money the federal government can borrow from the public or from other government agencies. This limit is called the debt ceiling. It is intended to prevent overspending and borrowing.
The US is one of the few countries in the world to establish such a limit.
The US hit its debt limit of $31.4 trillion in January and needs to increase the debt ceiling to pay its bills to those it borrowed from and hand out money for everything from medical benefits to military salaries. If it is not raised by June 1, the US will run out of money and fail to pay its bills.
This would be a historic and catastrophic first that economists say could cause financial chaos around the world and cause global stockmarkets to crash.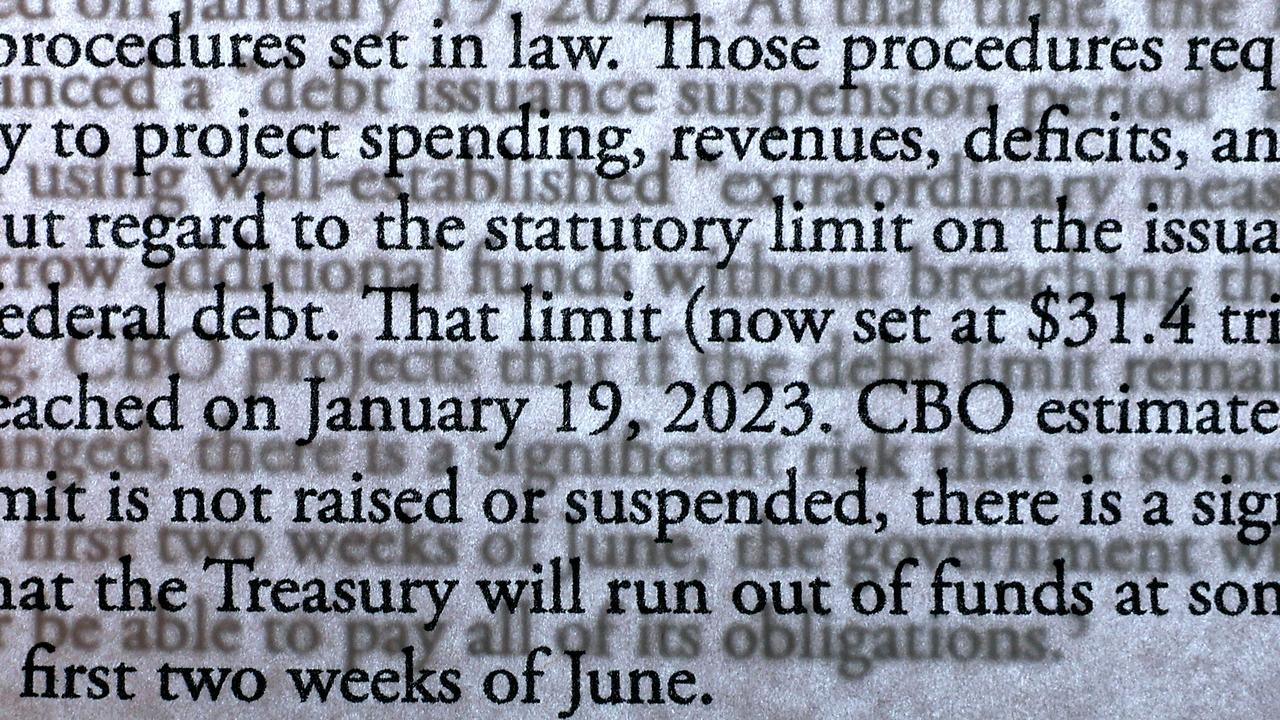 A page from a Congressional Budget Office report that predicts the US federal government will run out of funds sometime in the first two weeks of June if the debt limit is not raised. Picture: AFP
The debt ceiling has been raised 78 times since 1960, but Republican politicians in Congress are currently opposing calls to raise it again without also cutting spending.
"The President certainly wishes that this wasn't happening," Mr Albanese said.
"It is behaviour that clearly is not in the interests of the people of the United States, but it's also because the US has a critical role in the world's economy; it has implications for the global economy as well."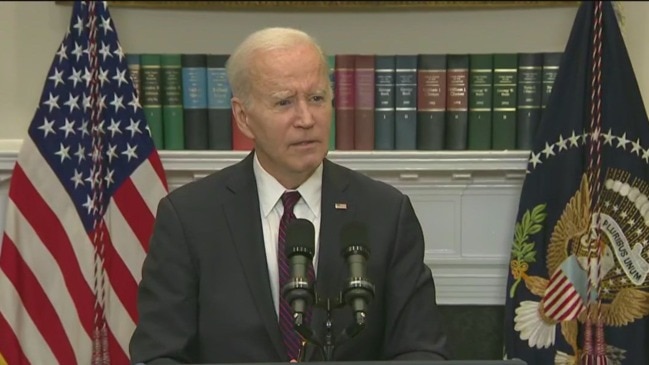 DOES AUSTRALIA HAVE A DEBT CEILING?
No. We used to have a debt ceiling, but we don't anymore.
A limit on how much the Australian government could borrow existed between 2007 and 2013. It was created by the Rudd government and set at $75 billion in 2007. It was gradually increased over the years to $300 billion in May 2012.
In November 2013, then Treasurer Joe Hockey requested approval from Parliament for an increase to $500 billion, but it was met with opposition from the Liberals and Greens and the debt ceiling was cancelled completely.
US President Joe Biden has been negotiating raising the debt ceiling to avoid the US defaulting on its debt, which would impact the global economic balance. Picture: Brendan Smialowski/AFP
UPDATE: DEAL STRUCK
President Joe Biden and House Republicans reached a deal on May 27 in principle to raise the US government's debt ceiling to avoid a devastating default.
Here, AFP details the key takeaways from the agreement, which still needs to be approved by a divided Congress in a May 31 vote.
Dawn breaks at the White House in Washington, DC, on May 28. President Joe Biden and Republican leader Kevin McCarthy announced a deal on May 27 to raise the debt ceiling, saving the US from default with only a few days to spare. Picture: Samuel Corum/AFP
WHO WON?
After lengthy, difficult discussions, the deal allows both sides to claim a victory of sorts. Biden called it a "compromise*" while Republican House speaker Kevin McCarthy described it as "worthy of the American people."
The text has yet to be published and the agreement will be the subject of intense scrutiny* and debate in the coming days.
Sources and reports suggest that some demands from both camps were rejected, such as the elimination* of certain tax loopholes* requested by Democrats, and the repeal* of clean energy tax credits sought by Republicans.
KEY POINTS
Sources close to the negotiations say the deal raises the $31.4 trillion debt ceiling for two years, meaning Biden will crucially not need to negotiate it again before the 2024 presidential election.
The tentative* deal also placed limits on federal spending that will please some Republicans, but it does not deliver the big cuts that conservatives* wanted and which progressive* Democrats would have baulked* at.
Funding cuts to the Internal Revenue Service (IRS), reclaimed unspent Covid funds and increasing work requirements for people receiving welfare payments or food stamps were among the cost-saving measures outlined in the deal.
GLOSSARY
slight: an insult caused by a failure to show someone proper respect or attention
debt ceiling: the maximum amount of money the US Government can borrow to pay its bills
impasse: a situation with no solution
Congress: branch of the US Government that makes laws
compromise: way of reaching agreement where each side gives up something to end a dispute
scrutiny: careful and detailed study of something
elimination: complete removal or end of something
loopholes: unclear, small or mistaken points or sections in law and other rules that allow for something that would otherwise not be permissible
repeal: revoke, withdraw, undoing a law
tentative: provisional, unconfirmed, not certain or passed into law
conservatives: those promoting and keeping to traditional institutions, practices and values
progressive: in favour of political change, progress, improvement
EXTRA READING
Trump has US presidency in his sights again
Voice to parliament question announced
QUICK QUIZ
Which two cities was US President Joe Biden meant to visit?
Why did he cancel the trip?
What is the current amount of the US debt ceiling?
Which party is blocking negotiations?
When did Australia cancel its own debt ceiling?
LISTEN TO THIS STORY
LISTEN TO THE UPDATE
CLASSROOM ACTIVITIES
1. Design a card
Design a greeting card that a US President could use to apologise for cancelling a visit to Australia. The purpose of the card is for the President to make sure that Australians understand why he cannot come and not be offended by his cancelling the visit. Your card should include images and words, maybe even a short poem.
Time: allow 25 minutes to complete this activity
Curriculum Links: English
2. Extension
List the BENEFITS and DISADVANTAGES of countries like the US having a debt ceiling. Use information in the story, and perhaps your own research skills, to find more information to help you.
Time: allow 30 minutes to complete this activity
Curriculum Links: English; Economics and Business
VCOP ACTIVITY
1. Sum it up
After reading the article, use your comprehension skills to summarise in a maximum of three sentences what the article is about.
Think about:
— What is the main topic or idea?
— What is an important or interesting fact?
— Who was involved (people or places)?
Use your VCOP skills to re-read your summary to make sure it is clear, specific and well punctuated.