IT was all hands on deck during harvest time at Glaziers Bay in the south of Tasmania for the most expensive spice in the world, saffron.
Saffron is one of the oldest and most sought-after spices on the planet and has been highly prized over the centuries for its brilliant yellow-orange colour.
Tasmanian growers Terry and Nicky Noonan, who started their company Tas-Saff in 1990, said it's a labour of love to pick the tiny flowers early in the morning and to manually extract the stigma*.
But the pay off is sweet, with the spice worth more than gold by weight.
Saffron is the three-pronged dried, red stigma or thread of the Crocus sativus corm flower and its delicate nature means it can only be picked by hand.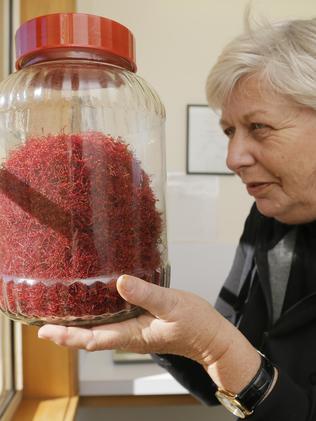 About 180,000-220,000 flowers make one kilogram of Tas-Saff saffron.
The Noonans grow about a million bulbs, mostly for culinary* use, and also sell a yellow saffron tea.
"Saffron also has medicinal benefits," Mrs Noonan said.
It has been a late start to harvest this year because of the weather conditions.
Temperatures in March, April and May need to come down under 5C, which tells the flowers to bloom.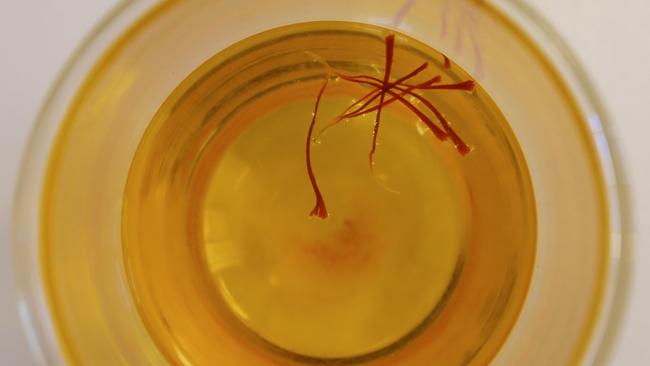 Mrs Noonan said saffron needed warm, dry summers and cool, wet winters to grow well.
The world market for saffron exceeds 200 tonnes a year with an estimated market value of $1 billion.
Australia imports about 3500kg of saffron annually with a retail value of $20 million.
With ethnic diversity in food and flavours growing more popular in Australian and Western diets, the Australian saffron market is growing at 2.5 per cent a year.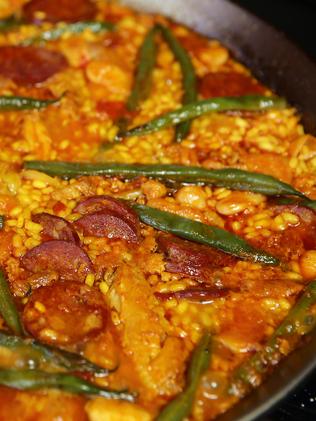 The Spanish rice dish Paella and Indian dishes including saffron rice use saffron for the rich hue* it adds.
GLOSSARY
stigma: part of a flower, in the middle of the petals
culinary: cooking
hue: colour
LISTEN TO TODAY'S STORY
CLASSROOM ACTIVITIES
Activity 1. Questions
Read the article and answer the following questions:
— List three reasons why saffron is special.
​
— What flower does saffron come from?
— Do you think being a saffron farmer would be easy or hard? Give at least three reasons for your answer.
— Why do you think saffron is the most expensive spice? Give at least two reasons for your answer.
Time: allow 20 minutes to complete this activity
Curriculum links: English, Critical and Creative Thinking
Extension:
Did you know that trading in spices changed the world?
Find out about the story of the spice trade.
Choose one part of this history that you find most interesting.
Write a report, with pictures about this.
Time: allow 60 minutes to complete this activity
Curriculum links: History
Activity 2. Flavour
Saffron gives a special colour and flavour to foods.
What's your favourite flavour?
Brainstorm words that can help someone to understand what this flavour is like.
Draw a picture that shows how you feel when you enjoy this flavour.
Time: allow about 30 minutes for both.
Curriculum links: Critical and Creative Thinking, Visual Arts
Extension:
Our tongue helps us to taste flavours.
Find out how our tongue does this important job and create an illustrated poster that will help other students learn about tongues and taste.
Time: allow 60 minutes to complete this activity
Curriculum links: Visual Communication and Design, Science
VCOP ACTIVITY
(Vocabulary, Connectives, Openers and Punctuation)
Adjective Detective
The article uses lots of adjectives to enhance the imagery and description. Highlight all the adjectives you can find.
Did you find any repeat adjectives or are they all different?
Extension:
Pick three of your favourite adjectives from the story and put them in your own sentences to show other ways to use them.


Time: allow 15 minutes to complete this activity
Curriculum Links: English, Big Write and VCOP
EXTRA RESOURCES
CHOCOHOLIC FOX CAUGHT ON CAMERA
FRUIT FLIES IN BIG, JUICY FOOD FIGHT