My first cartoon for the year was about the Australian Open tennis.
I like my cartoons to be topical*. Everyone in Australia was talking about the tennis because Australian players were doing well — in particular women's world No. 1 Ash Barty, who had made it into the semi-finals.
Just one more win and she was into the final, something we hadn't seen for decades* in Australian women's tennis.
Barty's success was embraced by Australians not just because she is such a great ambassador* for this country, but also because the nation had experienced one of its worse fire seasons on record.
Much of the east coast of Australia was on fire. Whole towns destroyed, highways closed, lives lost, businesses destroyed. Australia desperately needed some good news.
Ash Barty was providing that.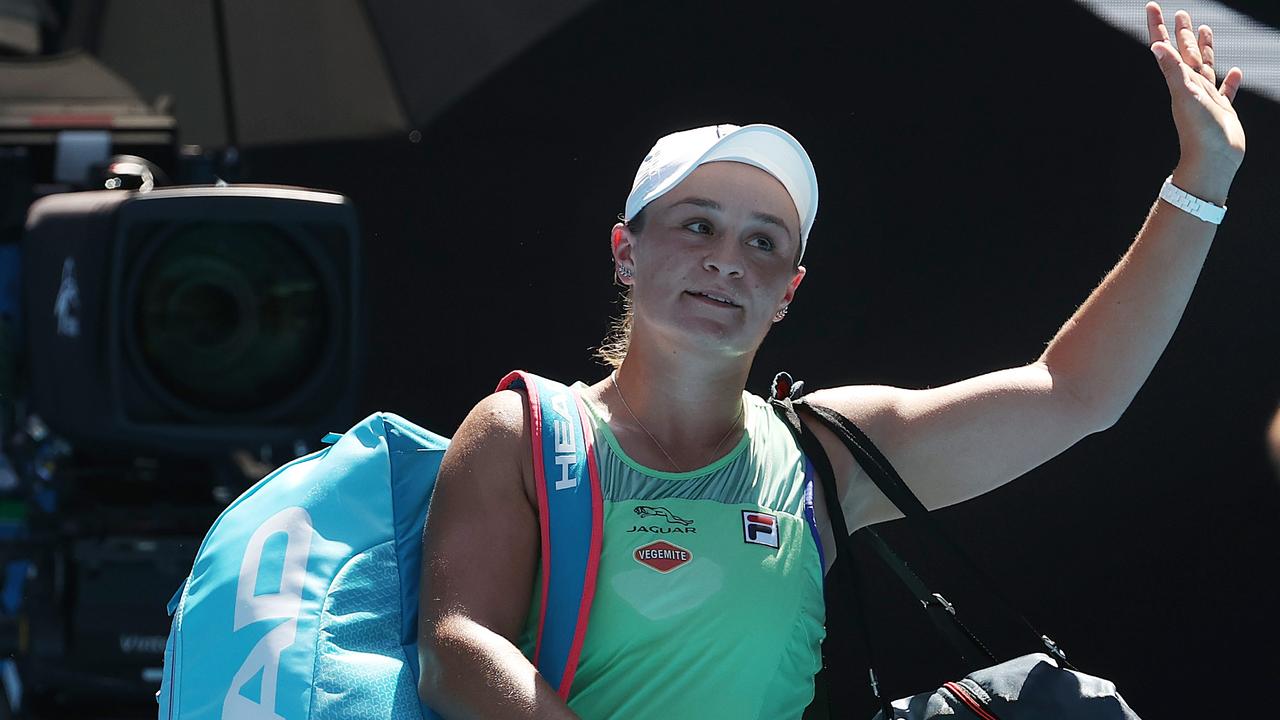 Meanwhile, Prime Minister Scott Morrison was having a terrible summer.
His troubles started when he decided to take his family on an overseas holiday to Hawaii, despite the fires having already started in NSW.
As the blazes worsened and spread to Victoria and we witnessed scenes of catastrophic* destruction*, at the same time we saw the PM sitting around a pool with a cool drink in hand, wearing a Hawaiian shirt.
It was not a good look.
When he finally did return home and started toured fire-affected areas, some people would not shake his hand. His popularity ratings fell. This was on top of the existing drought and just to make things worse, his Coalition colleague Deputy Nationals leader Bridget McKenzie was in trouble for her unfair distribution* of sports funds during the last election.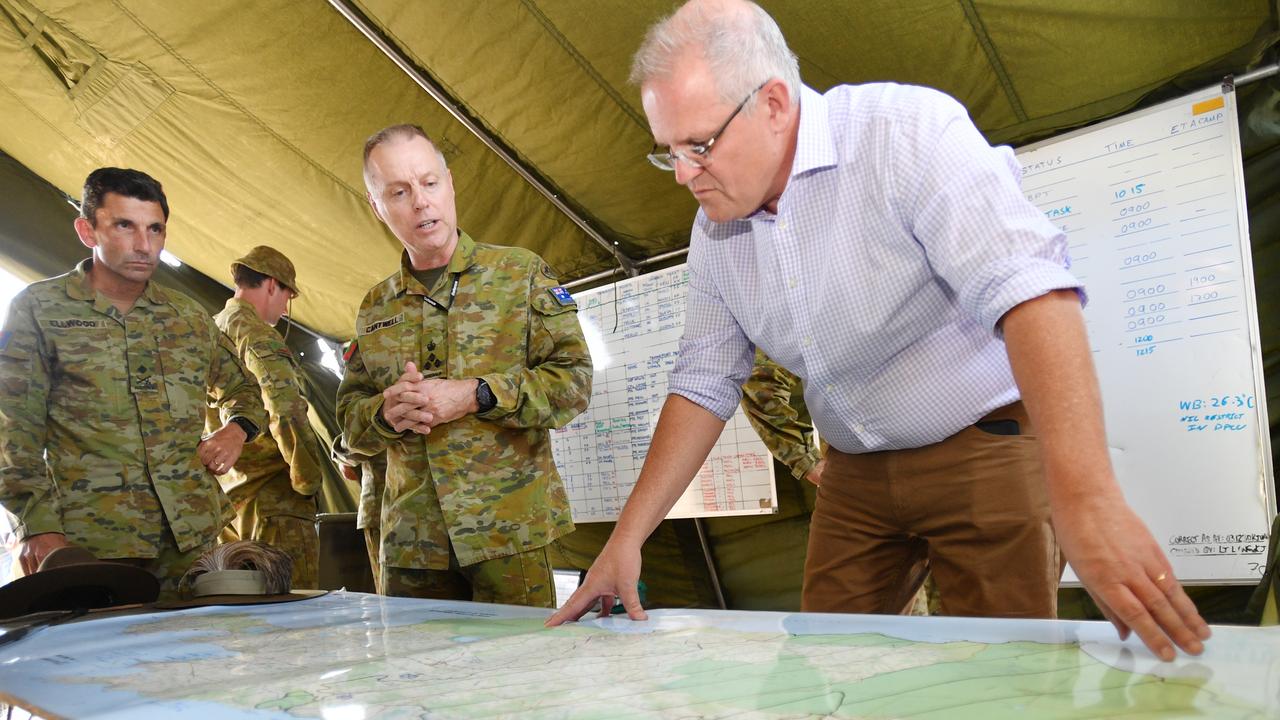 It was a perfect storm of events the Prime Minister was facing as the new political year dawned.
In politics when things get difficult politicians will look for a diversion*. Changing the subject with an announcement of some program will help get bad news bumped off front pages. When I looked at the pressure he was under, it seemed nothing he was saying was making his situation any better.
But what if Ash Barty, Australia's golden girl could get into the finals of the Australian Open and maybe even win it? That would get all the bad news off the front pages!
Mark Knight's cartoon. Right click and open in new tab for full screen.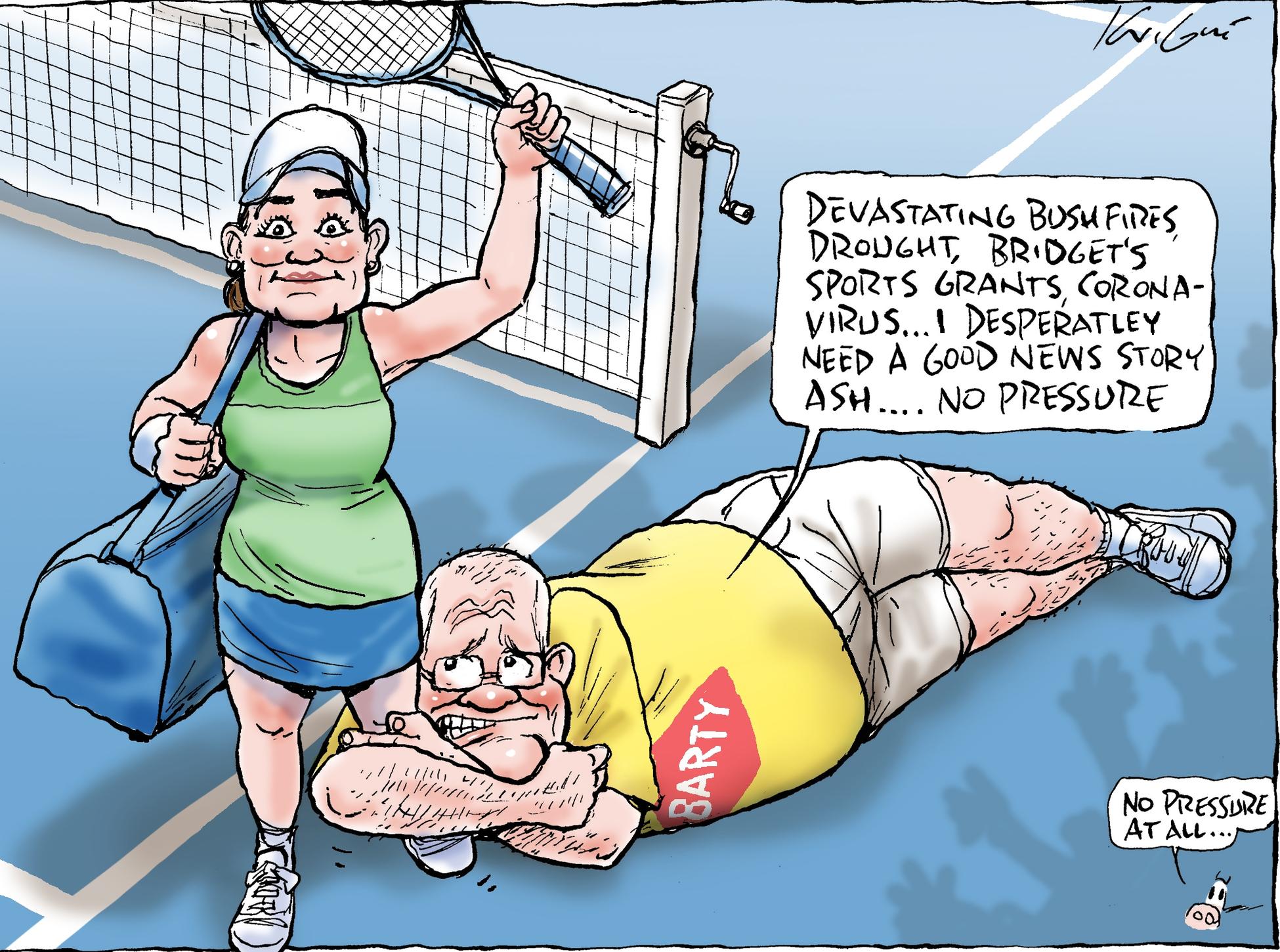 And so I started to sketch Ash walking onto the court for her big semi-final to the cheers of the crowd. I originally drew ScoMo in the crowd cheering her on enthusiastically. But I didn't think that was strong enough.
The PM really needed a good news story. The cartoon had to show his desperation*. Exaggeration* is a great tool for cartoonists, so I went in full tilt*! I took the PM out of his seat and put him on the court, desperately clinging to Ash's leg in the hope that she could save him from his problems.
The sight of small Ash dragging the large Mr Morrison by her leg as she enters the court made me laugh. It said what I wanted to say.
ScoMo was begging for a good news story that day!
And for the record … sadly, Ash lost.
GLOSSARY
topical: of interest and current
decades: tens of years
ambassador: representative
catastrophic: disastrous
destruction: ruin
distribution: handing out
diversion: distraction
desperation: distress or pain
exaggeration: going over the top
full tilt: the whole way
EXTRA READING
Out-of-control bushfire burns one-fifth of ACT
Barty's dream ends after sizzling defeat
QUICK QUIZ
Where did Scott Morrison take his family on holiday?
What stage of the Open did Ash Barty reach?
Which three events were Mr Morrison's perfect storm?
What was Barty's world ranking before the Open?
Did Barty win or lose the match?
LISTEN TO THIS STORY
to come
CLASSROOM ACTIVITIES
1. Dragging trobule around
Read Mark's explanation about why he chose to draw Scott Morrison on the court with Ash Barty and write two, three or four short sentences, just to make sure you understand what the cartoon is saying.
Now consider a new caption for the cartoon to describe how you feel about the issue.
Time: allow at least 20 minutes to complete this activity
Curriculum links: English, Humanities, Visual Arts, Critical and Creative Thinking
2. Extension
Look through the most recent stories on Kids News and choose one to draw a cartoon about. Use Mark's three-step process to get started:
What is my subject?
What do I want to say about this issue?
How do I say it? Do I use visual metaphors (an image that the viewer is meant to understand as a symbol for something else), multiple panels or symbolism (when one idea, feeling or emotion is represented by something else such as a: picture, character, colour or object)?
Time: allow at least 40 minutes to complete this activity
Curriculum links: English, Humanities, Visual Arts, Critical and Creative Thinking
VCOP ACTIVITY
With a partner see if you can identify all the doing words/verbs in this text. Highlight them in yellow and then make a list of them all down your page. Now see if you and your partner can come up with a synonym for the chosen verb. Make sure it still makes sense in the context it was taken from.
Try to replace some of the original verbs with your synonyms and discuss if any are better and why.
Curriculum Links: English, Big Write and VCOP
HAVE YOUR SAY: Was it right or wrong for Scott Morrison to go on holiday to Hawaii? Why or why not?
No one-word answers. Use full sentences to explain your thinking. No comments will show until approved by editors.