Nicole Kidman asks fans to donate to Hawaiian recovery after wildfire
Australian actor Nicole Kidman has expressed her heartache and asked fans to donate to recovery efforts after catastrophic wildfires destroyed the Hawaiian city of Lahaina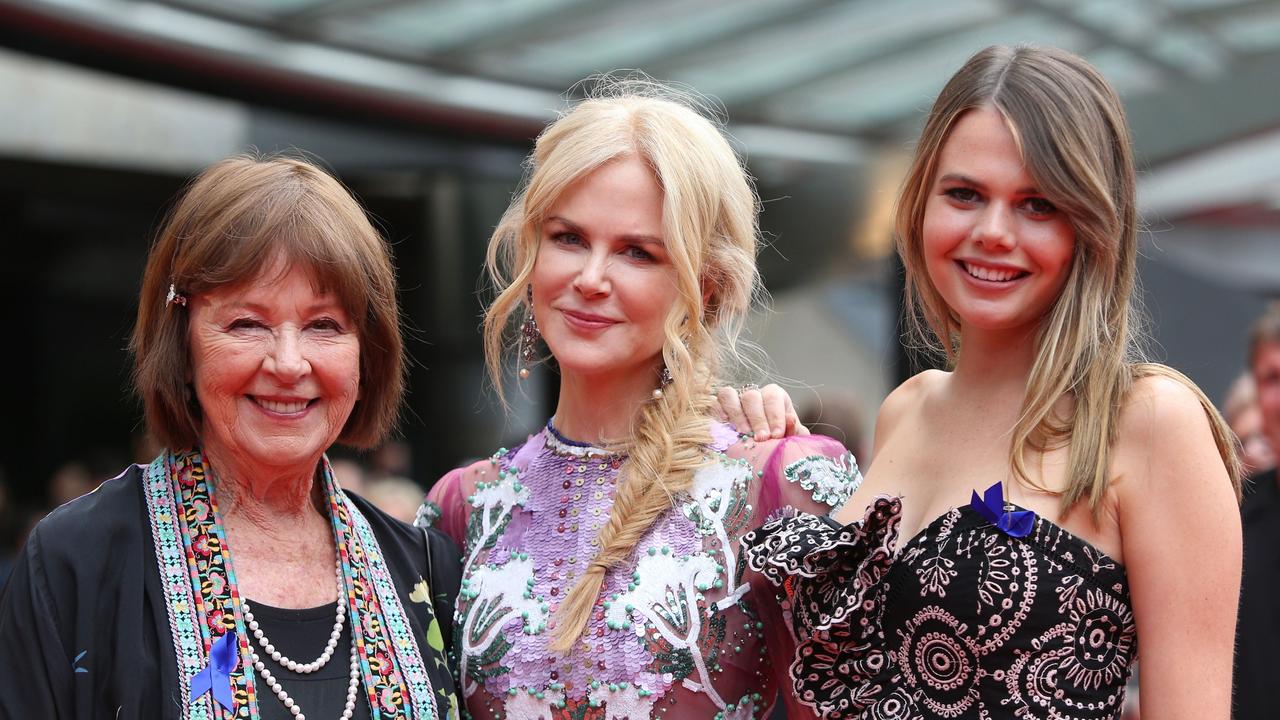 Nicole Kidman (centre) with her mum Janelle (left) and niece Lucia Hawley (right). Picture: Lisa Maree Williams/Getty Images for AFI
Nicole Kidman has made an emotional post to social media after wildfires tore through her birthplace of Hawaii.
The Australian actor, who was born in Honolulu, described her sadness in an Instagram Story post on Sunday local time.
"I am shaken by the devastation in Hawaii and feel so deeply for the loss that people are experiencing," Kidman said.
"I was born in Hawaii and I have such love and connection to the island. My family and my mother share the concern for everyone whose lives have been hurt and destroyed."
Kidman said she and her family had donated to charities that were assisting in recovery efforts for the Hawaiian people, and encouraged her fans to do the same.
Kidman was born in Hawaii and given the Hawaiian name Hokulani which means "heavenly star" and was inspired by the name of a baby elephant born around the same time at Honolulu Zoo.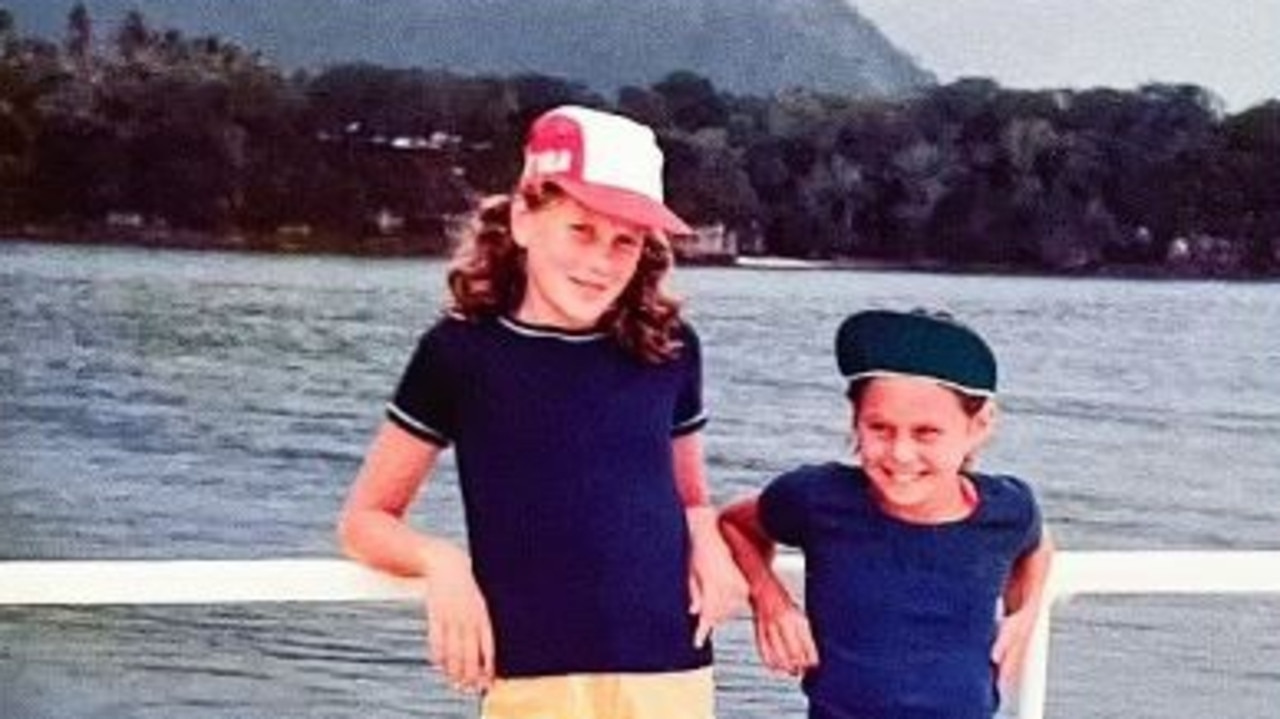 A young Nicole Kidman with her sister Antonia in Hawaii in the late 1970s. Picture: Instagram
Kidman's parents, Antony, a biochemist and psychologist, and Janelle, a nursing instructor, worked in the US for a period in the 1960s.
Kidman's family moved back to Australia when she was four, making their home in Sydney.
DRONE FOOTAGE CAPTURES DEVASTATION
Heartbreaking drone footage has captured grim scenes from Hawaii with many homes reduced to ashes by the deadly wildfires.
It comes amid growing anger over the official response to a blaze that destroyed the Hawaiian town of Lahaina on the island of Maui.
The fire killed at least 93 people and is the deadliest wildfire to hit the US in more than 100 years.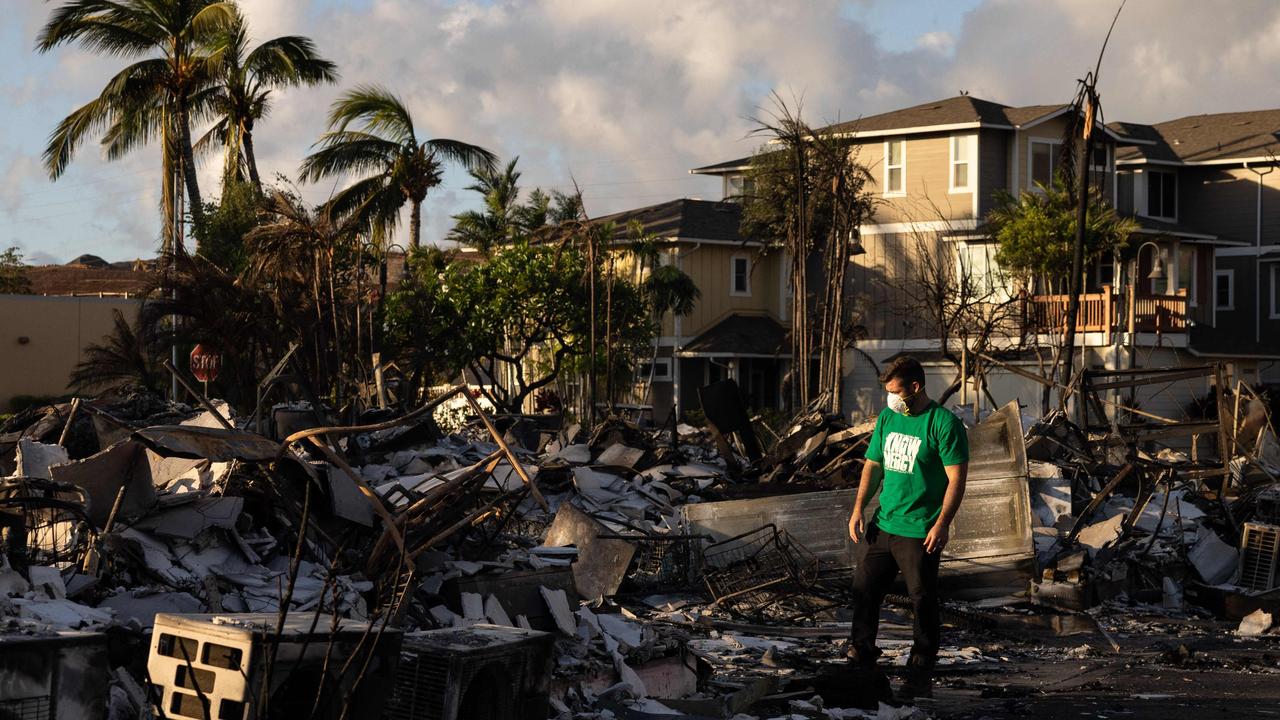 A Mercy Worldwide volunteer makes damage assessment of a charred apartment complex in Lahaina. Picture: Yuki Iwamura/AFP
More than 2200 structures were damaged or destroyed as the fire tore through the town of 12,000 residents, causing $5.5 billion in damage and leaving thousands homeless.
Drone footage captured by Javier Cantellops, who said he was flying his drone to help assess the damage to the town, shows residents returning to charred buildings and scorched cars in the wildfires' wake.
Lahaina, former home of the Hawaiian royal family, has been reduced to ruins, its lively hotels and restaurants turned to ashes.
A banyan tree at the centre of the community for 150 years has been scarred by the flames but still stands upright, its branches empty of leaves and sooty trunk transformed.
Nearly a week after the island was decimated, Maui County officials said only 3 per cent of the area has been surveyed.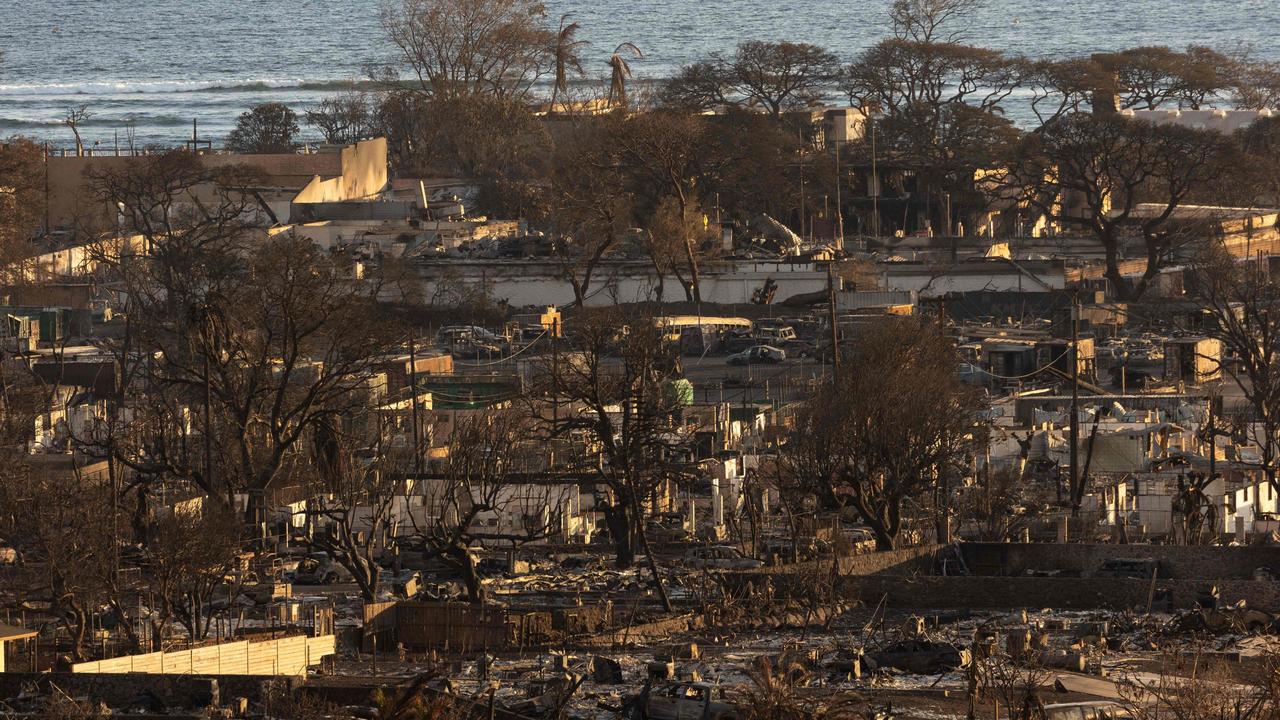 The resort city has been devastated by the fire. Yuki Iwamura/AFP
RESIDENTS SAY THEY WEREN'T WARNED
Hawaiian authorities have begun a probe into the handling of the fire, with residents saying there was no warning.
When asked Sunday why none of the island's sirens had been activated, Hawaii Senator Mazie Hirono said she would wait for the results of an investigation announced by the state's attorney general.
"I'm not going to make any excuses for this tragedy," Ms Hirono said on US TV on Sunday local time.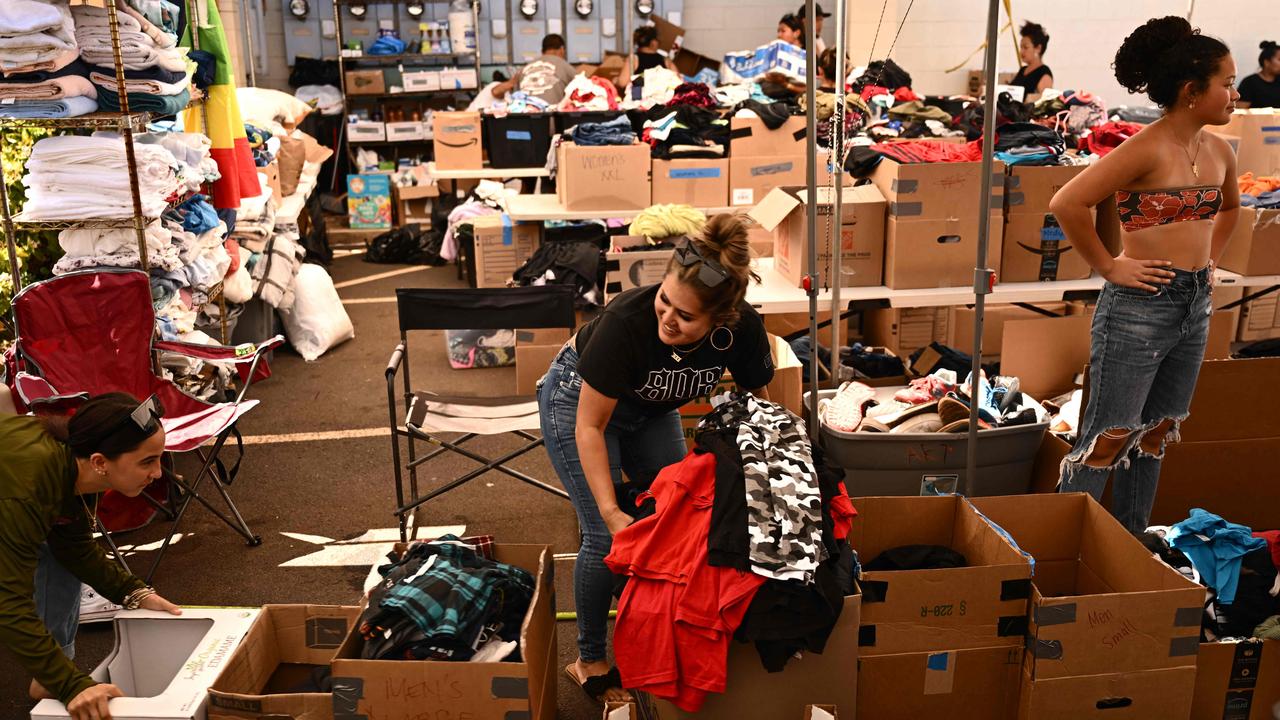 Volunteers sort and organise donated supplies to distribute to fire victims. Picture: Patrick T. Fallon/AFP
Maui's fires follow other extreme weather events in North America this summer, with record-breaking wildfires still burning across Canada and a major heatwave baking the US southwest. Europe and parts of Asia have also endured soaring temperatures, with major fires and floods wreaking havoc. Scientists say human-caused global warming is exacerbating natural hazards, making them both more likely and more dangerous.
POLL
GLOSSARY
biochemist: a scientist that studies chemical processes in living organisms
decimated: destroyed
surveyed: studied or mapped out
wake: the period after something
probe: an official investigation
exacerbating: making something much worse
EXTRA READING
Humans factor in record heat
Greek fires spark mass evacuation
Inside the ocean's big blue … bin
QUICK QUIZ
1. What is Nicole Kidman's Hawaiian name?
2. How old was she when she moved to Australia?
3. How many structures in Lahaina were damaged from the wildfire?
4. Which Lahaina landmark still stands after the fire?
5. What other country in North America has experienced bad wildfires this year?
LISTEN TO THIS STORY
CLASSROOM ACTIVITIES
1. Hawaiian devastation
The terrible wildfires on the island of Maui in Hawaii have left thousands of locals homeless.
What are some of the things these people would need urgently to assist them in dealing with this tragedy, having nowhere to live and no belongings?
Work with a partner to design a care package that could be given out to these individuals to help them survive at this crucial time.
List 10 items that your care package may include:
–
–
–
–
–
–
–
–
–
–
Time: allow 20 minutes to complete this activity
Curriculum Links: English, Personal and Social, Critical and Creative Thinking
2. Extension
Residents in Maui are angry, saying they weren't given warning of the devastation about to occur.
What sort of notice should be given in these situations?
How could more notice of an impending disaster help residents prepare?
Time: allow 10 minutes to complete this activity
Curriculum Links: English, Science, Personal and Social, Critical and Creative Thinking
VCOP ACTIVITY
Expressing empathy and encouraging support
Write a letter expressing empathy for the people affected by the wildfires in Hawaii and encouraging support, using information from the article.
With a partner, read the article and understand/discuss your thoughts and opinions about Nicole Kidman's response to the wildfires in Hawaii and the devastation caused by the blaze. Then discuss how you feel when you see news about natural disasters affecting people. How can you express empathy and support for those affected?
Organise Your Thoughts: Jot down your ideas. What message would you like to convey to the people in Hawaii? How can you encourage others to help? Plan how to show that you understand how difficult the situation is for the people affected and how to best express your feelings of sadness and concern. Consider the importance of coming together to help those in need. How can you encourage your readers (the people who will read your letter) to support charities and relief efforts?
Consider your V.C.O.P. skills: How can they help to portray your message and enhance your writing?
Vocabulary: Use words like "devastation," "concern," "support," "encourage," "affected," etc.
Connectives: Use words like "because," "and," "so," and "if" to connect your ideas.
Openers: Start your sentences in different ways, perhaps using opinion or a plan of action like; "I can't imagine how hard it must be," "It's important that we," "We can make a difference by," etc.
Punctuation: Use full stops, capital letters, and commas correctly.
Begin your letter with a greeting like "Dear People of Hawaii," and then write a heartfelt message expressing your empathy and support. Use the information from the article to back up your thoughts.
Encourage your readers to take action by supporting charities or relief efforts. Explain how even a small contribution can make a big difference.
End your letter with a closing, like "With heartfelt thoughts" or "Thinking of you."
Edit and Uplevel: After writing, read through your paragraph to make sure your ideas are clear and compassionate. Ensure there are no omissions, and the writing makes sense. Next you can check for any spelling or grammar mistakes that you can fix.
Remember, your goal is to share your feelings of empathy and encourage support for those affected by the wildfires. Write from your heart and inspire others to join in helping the community in Hawaii.