Welcome to kidsnews.com.au in 2019. We have been busy making a few improvements to the site for the new year.
The new features and fresh look will make it easier to navigate the site and find relevant content for teachers and students.
The homepage has clearly defined sections at the top to help you find stories. Categories include the existing News and Sport. Now we have added the following Key Topics: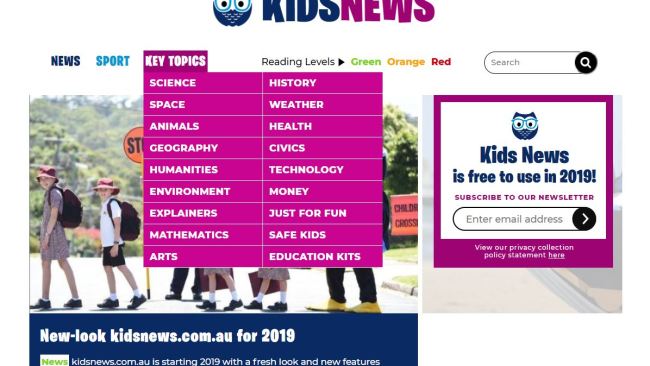 You can also find content by Reading Level at the top of the home page under Green, Orange or Red to suit the comprehension level of students.
Searching for specific content on kidsnews.com.au is much easier now with the Search Bar on the right-hand side. You can type in any key word for a list of stories on that subject or which include the key word in our rich archive.
Finding the latest copy is a breeze on the homepage. Our four latest stories sit right at the top. Then lower down the homepage is a Latest News section that houses all content published in the past few weeks in an easy to view list.
Special features such as the free Book Club for students, education kits which are a quarterly comprehensive learning resource, our entertaining Quiz Word crossword puzzle and the new Just for Fun section are also listed on the homepage for quick access.
Printing text from stories is now possible with a new icon added to the top right-hand side of articles.
We hope you enjoy the new-look kidnews.com.au, which will continue to be free into 2019.