SPEND the night in a museum, face off with a croc, drool over drones or marvel* at the beauty behind an illness — these are just some of the experiences to be had this weekend as part of National Science Week.
The country's biggest week for science continues with a stack of wacky events scattered across our huge island.
On Sunday, Sydney Olympic Park will be awash with free activities, displays and booths all in the name of science for the Innovation Games.
You can learn about coding, check out the latest in drone technology or learn about the physics of kicking a footy.
Fizzics Education managing director Ben Newsome said the event was a chance to showcase the learning opportunities and innovators around Sydney.
"The Innovation Games are all about fun and novel approaches to everyday problems " he said.
"Innovation to me means creatively solving important problems by connecting concepts that may not seem as apparent to others."
The free event is being held at The Yulang and Cathy Freeman Park at Sydney Olympic Park on Sunday from 11am until 3.30pm.
At Melbourne's Federation Square a group of scientists have come together for an exhibition to showcase the surprisingly beautiful intersection of science and art.
Scientist Simona Seizova's artwork captures the rarely seen beauty of the parasitic disease toxoplasmosis.
When she first looked through the microscope at the Toxoplasma gondii she was amazed by the flower-like structures of the harmful parasite.
Her work, Parasite Bouquet, shows off brightly coloured rosettes as seen through a microscope lens.
Crocodiles are on show at the Territory Wildlife Park in the Northern Territory.
The centre's new Scientific Hub of Crocodiles is bursting with information on the biology of the ancient creatures, as well as insights into research and management across the state.
Several juvenile Saltwater Crocodiles are also on site so you have a safe look up close.
The park will be open on Saturday and Sunday from 9am until 5pm.
For those feeling particularly brave, the Queensland Museum could be the perfect pit stop.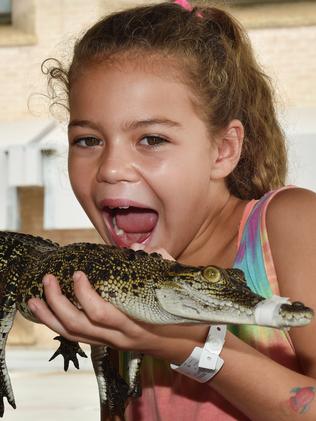 The Museum has released a select number of tickets for kids aged 5-12 for a sleepover in the Museum. Kids can explore four levels of displays and marvel at the collections on a spooky torchlight tour.
There will be pop-up displays and a movie, before everyone is tucked up in their sleeping bags.
Queensland Museum Network acting CEO Alexander Hayward said it was exiting to be running the fiction-inspired event for the first time.
"Children's books — and movies like Night at the Museum — have long left audiences fantasising* about what a museum sleepover might be like," he said.
"Do dinosaurs really come alive at night?
"Well this is a great opportunity to see for yourself and delight in the night time wonders of the museum."
For more information about these events and to see what else is on head to the National Science Week website: https://www.scienceweek.net.au/
GLOSSARY
marvel: look in awe
fantasising: imagining
LISTEN TO TODAY'S STORY
CLASSROOM ACTIVITIES

Activity 1.
List all of the different Science Week activities in the story.
Which activity do you think would be the best one? Write a description of what you think would happen in the activity and what you might learn. Then, list the reasons why you chose it.
​
Extension:
Plan and write a story that starts with: "I knew that a sleepover at the Museum would be exciting, but I never expected …" You might want to find out what's in the Queensland Museum to help you to plan your story.
Time: allow 60 minutes to complete this activity
Curriculum Links: English, Critical and Creative Thinking, Science
Activity 2.
In the story you have read about Scientist Simona Seizova's artwork.
Create an artwork inspired by something scientific.

Extension:
Simona Seizova used a microscope to look at the parasite in her artwork. Do you know how a microscope works? Find out and use the information to create a Kid's Guide to Microscopes. Remember to include diagrams.
Time: allow 90 minutes to complete this activity
Curriculum links: Science, Visual Arts
VCOP ACTIVITY
(Vocabulary, Connectives, Openers, Punctuation)
Whack it in a bracket!
Brackets () allow us to add some extra information into our writing that may not be essential for meaning but gives the audience more information.
Your goal is to try and insert a clause of information into the article!
Example: Spend the night in a museum, face off with a croc (I'm talking a 12 metre monster, not a tiny lizard thing), drool over drones or marvel at the beauty behind an illness.
How much more information you add? Does it change the tone of the article? Does it make it more or less interesting?
Time: allow 20 minutes to complete this activity
Curriculum links: English, Big Write, VCOP
EXTRA RESOURCES
CROC HUNTER'S BIG CATCH GOES VIRAL
IN A SENTENCE, SHARE YOUR THOUGHTS ON TODAY'S STORY
Kids News loves reading your best grammar, vocabulary and spelling.
We publish the best comments.