Mummies presented to Mexican government claimed 'non-human'
A controversial journalist presented the Mexican government with what he claims are the mummified remains of two 'non-human' life forms from 1000 years ago, but they look very familiar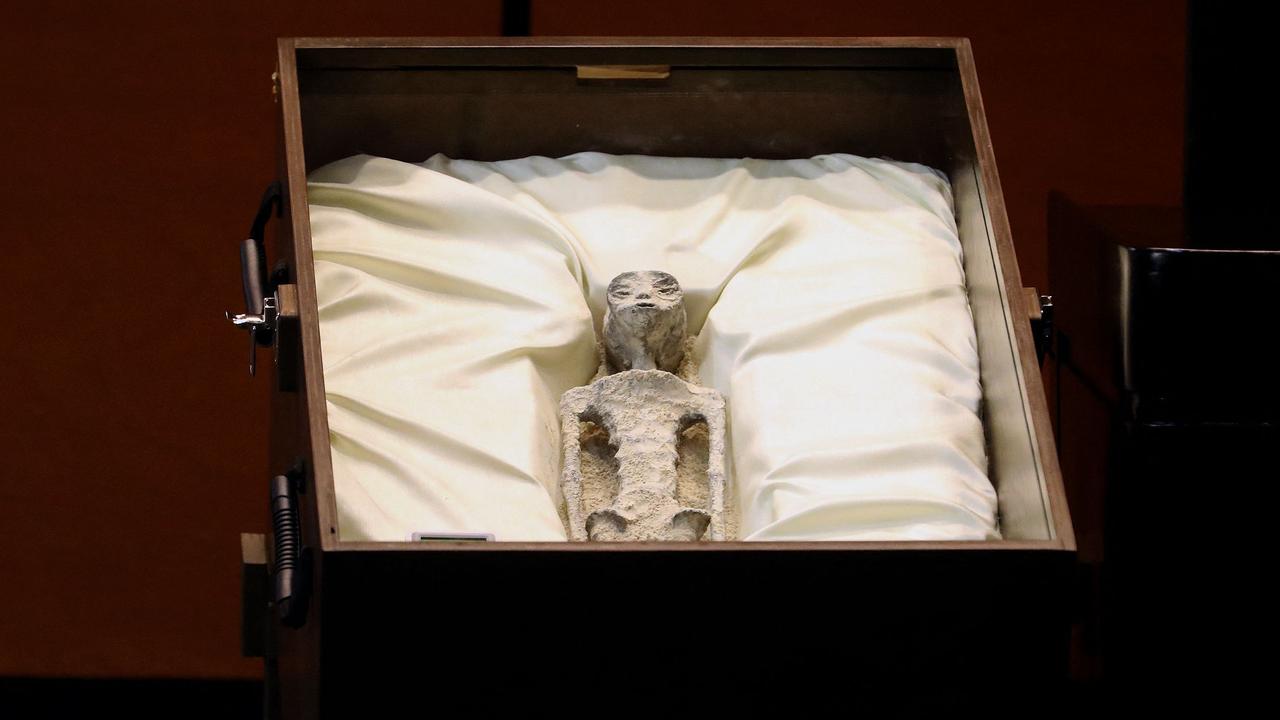 The body of an alleged non-human creature was exhibited at the Mexican Congress. Picture: Mexico's Congress/AFP
Two Yoda-like mummies have been presented in a government meeting in Mexico, causing social media users to question whether the alien figures were real.
Described as the mummified remains of two "non-human" beings by controversial Mexican journalist and researcher Jaime Maussan, the figures look very much like a mixture of Yoda from Star Wars and the alien creature from the movie E.T.
Mr Maussan said he had found the remains in Peru in 2017 and that they were not human.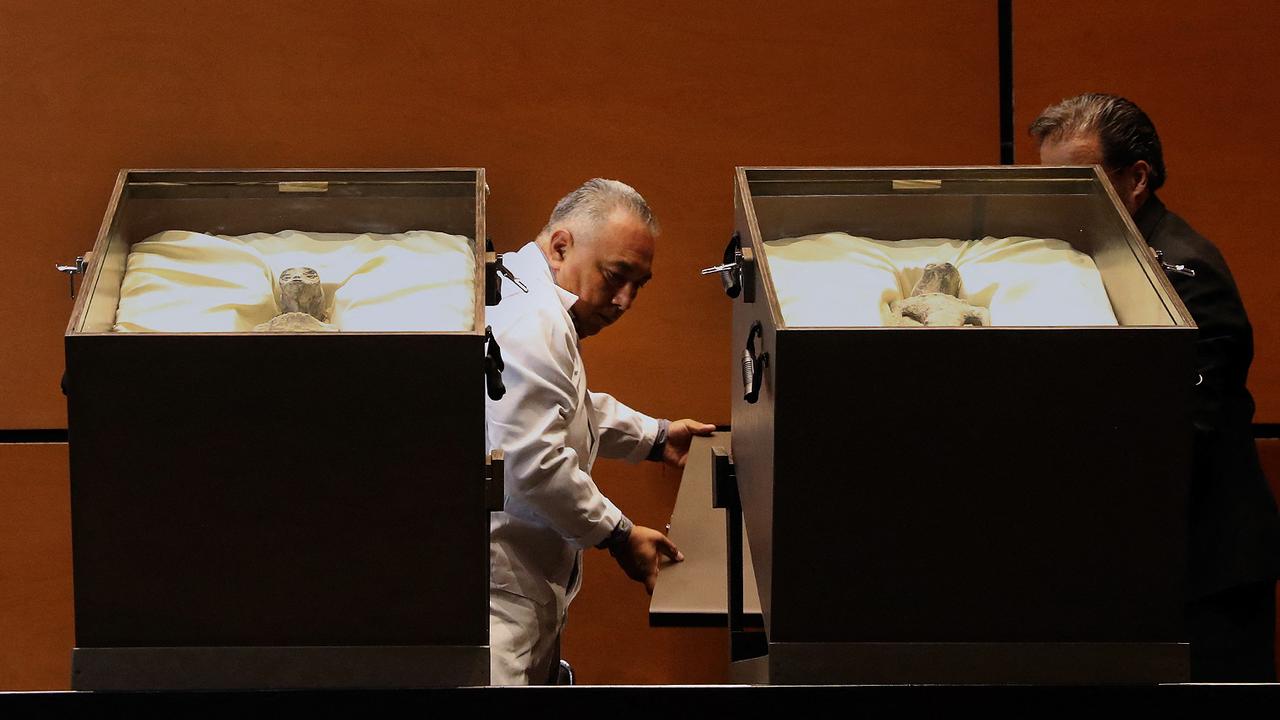 They were presented in a glass display cases to Mexican politicians on Wednesday. Picture: Mexico's Congress/AFP
"They are non-human beings. We don't want to call them extraterrestrials because we don't know," Maussan said during the session called by government official Sergio Gutierrez, who said the presentation was in the "public interest".
Maussan said carbon dating analysis by the National Autonomous University of Mexico showed the creatures were 1000 years old.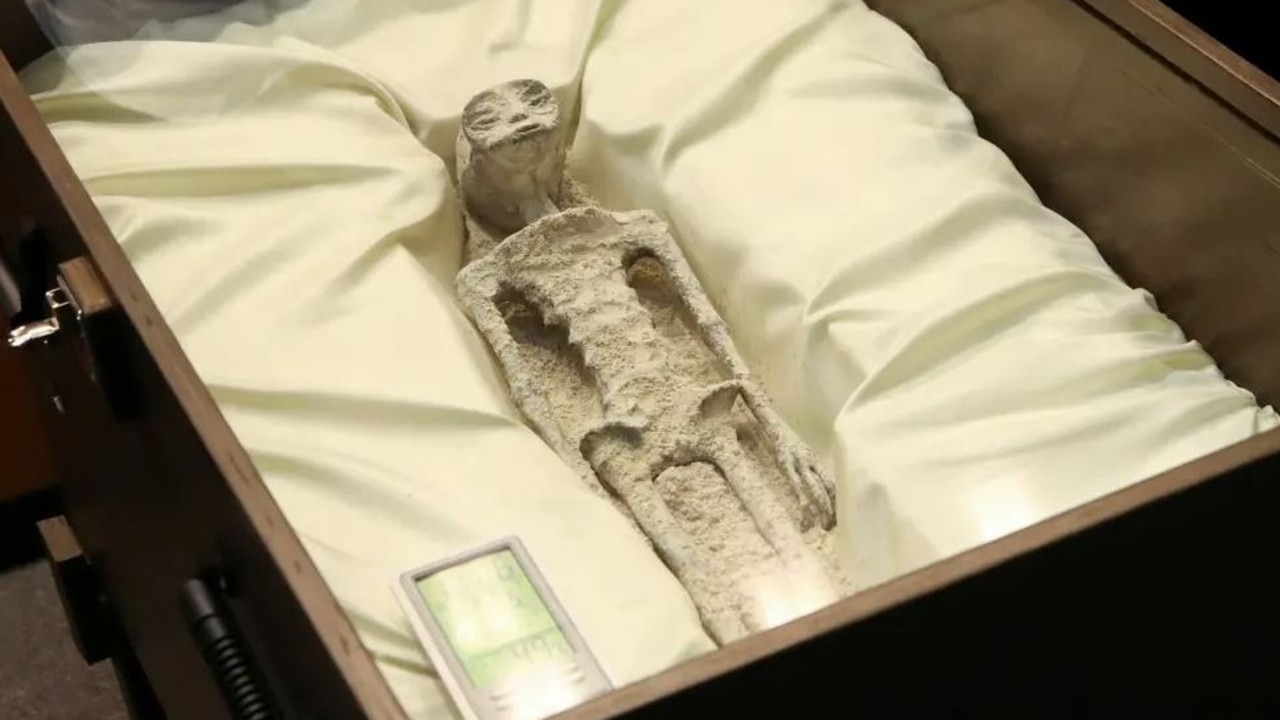 The bodies look like a mix of E.T. and Yoda.
The presentation has caused a stir on social media.
Gutierrez asked the speakers to swear to tell the truth. He said Maussan had asked to hold the session after a person working for the US government claimed in July that humans were not alone in the universe and American authorities were covering up the evidence.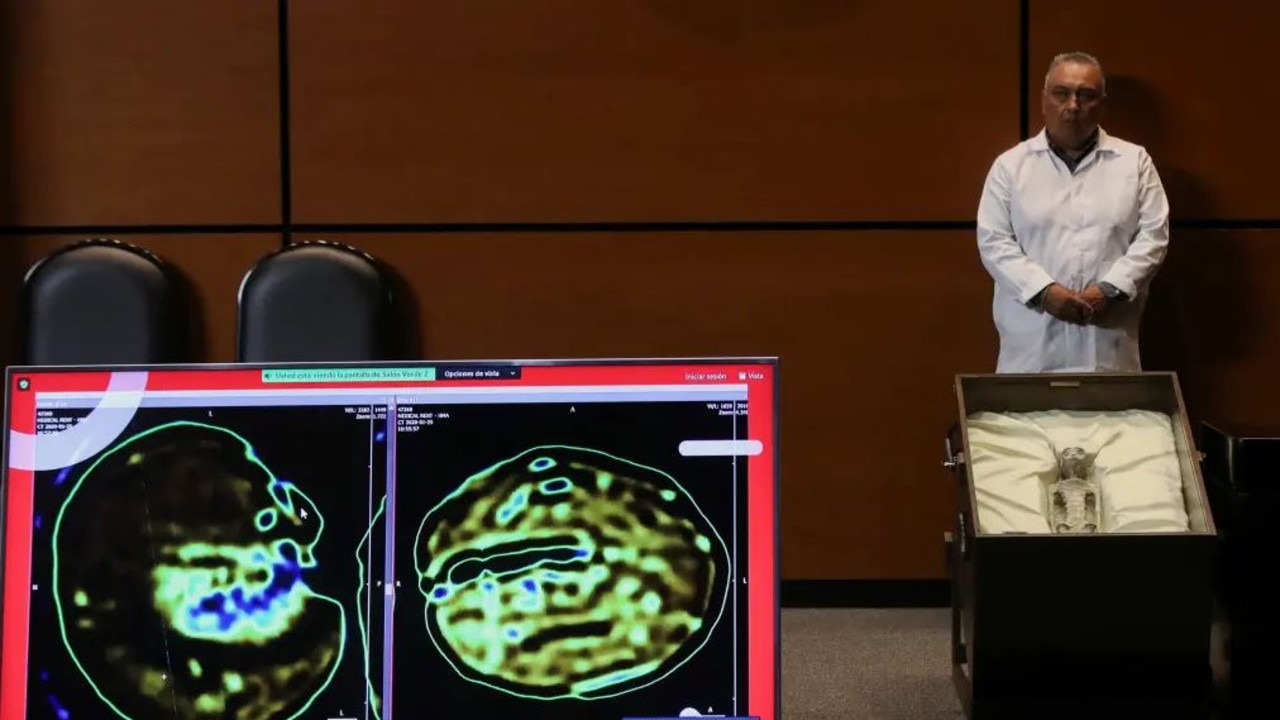 X-rays of the specimens supposedly showed that one of the bodies has "eggs" inside.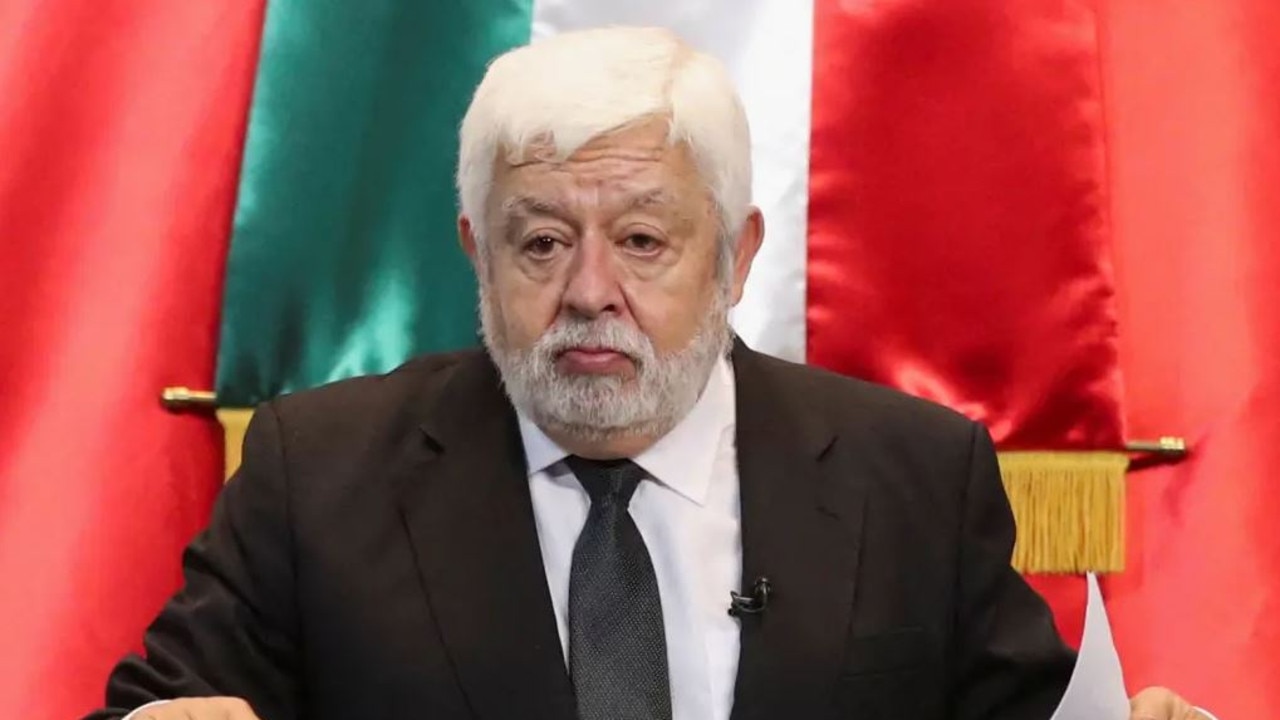 Jaime Maussan claims he found the mummies when researching in Peru.
In May, the US space agency NASA held its first public meeting about the possibility of aliens, and urged for a scientific way to confirm where unidentified anomalous phenomena (UAPs), or things unknown to our world, came from.
The Mexican hearing brought both shock and ridicule from people around the globe, with social media users posting photos of the alien creature in the movie E.T. and making jokes about the remains being fake.
The event "shows the contempt that this country has for science", one user wrote on the social media platform X, formerly called Twitter.
Others shared videos of the event with the words "The Martians have arrived", while there was a tongue-in-cheek call for Maussan to be named "president of intergalactic relations".
– with AFP
POLL
UPDATE: DOCTORS CLAIM SKELETONS AREN'T MAN-MADE
Mexican doctors have found no evidence to suggest the mummies were made by humans.
The scientists did a number of tests on the two specimens at the Noor Clinic on Monday, and livestreamed the entire procedure on Jaime Maussan's YouTube channel, the New York Post reported.
Director of the Health Sciences Research Institute in the secretary of the Mexican navy's office José Zalce Benitez said the studies proved the so-called aliens belonged to a single skeleton and were not put together with human objects.
He also said his team found that one "was alive, was intact, was biological and was in gestation", pointing to large lumps inside the creature's abdomen — which he suggested could be eggs.
The pair have long, stretched out heads with three fingers on each hand but the shapes of their bodies look similar to humans, with two arms and two legs each.
Mr Maussan said they had strong, light bones and no teeth, and had implants of cadmium and osmium — which is one of the rarest elements on Earth.
Almost one-third of their DNA is "unknown", he said, claiming the beings were not linked to human evolution.
But many scientists doubt the discovery is genuine, saying so-called alien discoveries in the past were in fact human-made fakes put together with different animal bones.
Physics professor and documentary presenter Brian Cox, has called for a sample to be sent to biologic tech company 23andMe for independent verification that the specimens are aliens, Sky News reports.
"It's very unlikely that an intelligent species that evolved on another planet would look like us," he said last week.
Julieta Fierro, a scientist at Mexico's National Autonomous University's Institute of Astronomy, said there was no evidence to suggest the creatures came from another planet.
GLOSSARY
mummified: a dead body that has been preserved using chemicals, embalming and wrapping
controversial: something that causes long public debate
extraterrestrials: creatures from another planet
carbon dating: a technique that measures the level of carbon stored in an object to figure out how old it is
authorities: people in charge
unidentified anomalous phenomena: unusual things that are unknown to earth, UAP
contempt: lack of respect
intergalactic: relating to outer space
independent verification: another group not involved with the Mexican government proving they are aliens
specimens: creatures being studied
gestation: pregnant with offspring
intact: still together
biological: a living creature
EXTRA READING
Claims US collected UFOs in secret program
Can you believe this snake cat photo is for real?
Can we bring frozen humans back to life?
QUICK QUIZ
How old are the mummies thought to be?
Which scientific technique was used to find out their age?
In which country are they claimed to have been found?
To which country's government were the creatures presented?
How did social media users react to news of the presentation?
LISTEN TO THIS STORY
LISTEN TO THE UPDATE
CLASSROOM ACTIVITIES
1. What is it really?
What do you think these objects really are? What would you do to investigate this question? Write a list of steps that you would take to find the answer to this question.
Time: allow at least 20 minutes to complete this activity
Curriculum Links: English, History
2. Extension
Use your research skills to find out more about carbon dating and other methods that archaeologists and scientists use to investigate ancient objects. Use the information that you have found to write a list of steps that you would recommend governments to test claims like those made in the story.
Time: allow 60 minutes to complete this activity
Curriculum Links: English, History
VCOP ACTIVITY
Imaginative dialogue
Imagine you were there during the event being discussed in the article, or for the interview.
Create a conversation between two characters from the article – you may need or want to include yourself as one of the characters. Don't forget to try to use facts and details from the article to help make your dialogue as realistic as possible.
Go through your writing and highlight any punctuation you have used in green. Make sure you carefully check the punctuation used for the dialogue and ensure you have opened and closed the speaking in the correct places.