MELBOURNE teenager Jade Hameister has already completed two "once in a lifetime" adventures, battling through some of the world's toughest terrains and breaking records while doing it.
On June 4, the day before her 16th birthday, Jade became the youngest woman to ever complete the Greenland Crossing, a 27-day skiing expedition covering 540km across ice and snow.
Travelling with a team of five which included her father Paul, the Hampton schoolgirl battled ferocious* winds and painful frostbite* and blisters.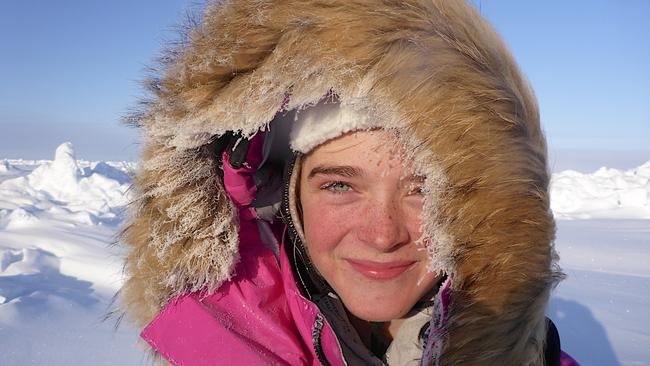 The crew even prepared to face off with a Polar bear after stumbling across the tracks of a mother and cub midway through their journey.
Jade spent months preparing for the expedition*, devoting hours to strength training including pulling tyres up and down the beach near her Bayside home.
In 2015, she made history becoming the youngest person to ski to the North Pole.
Knowing that she already had one huge achievement ticked off helped her mentally prepare for the challenge of Greenland, Jade said.
Despite travelling to the other side of the globe to trek across the world's second largest icecap, it was the heat that nearly derailed the trip before it had a chance to begin.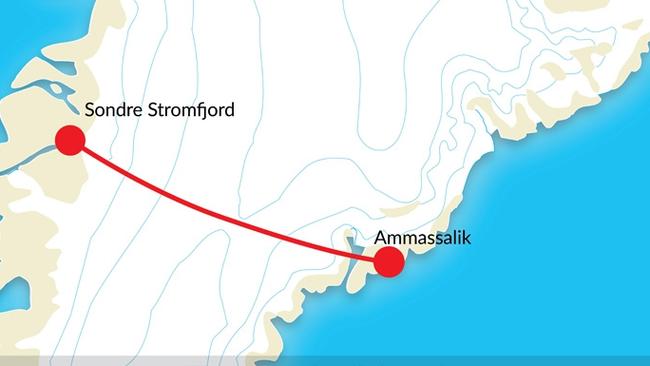 Because of some warmer than expected weather the ice had receded*, meaning their planned starting point was more than a kilometre away. The team were forced to carry their sleds* over the melted ice to a new launch site
"The very first day was probably the most difficult of the entire trip," Jade said.
"I thought, 'what have I got myself into? This is only the first kilometre and I've got 550 to go," Jade said.
It was in moments like this that Jade said she learnt the most about herself.
"I learnt how to control the voice in my head, the one that was telling me I couldn't do it," she said.
Jade said it was the advice of one her team members, a former Special Forces officer in the Australian Army, that got her through the toughest days.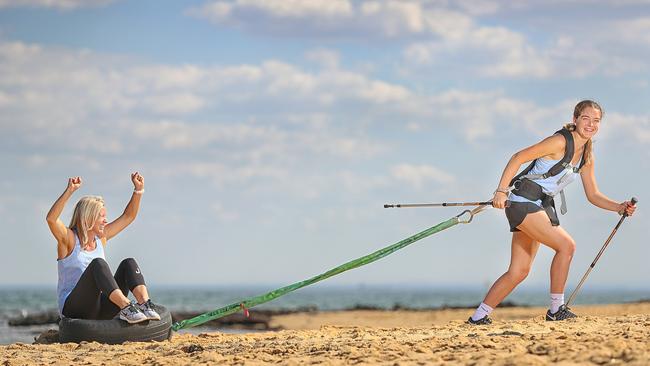 "He told me that when you're struggling the most, just smile…take yourself to another place and push yourself even harder," she said.
"Sometimes when I just wanted to give up, that's when I would make myself ski faster and stronger."
That determination has seen Jade succeed where others haven't.
A harsh blizzard that pelted the icecap for days on end saw 16 people attempting the crossing evacuated during Jade's journey.
"It was sort of motivating," she said.
"I just set myself the goal that I would reach the end before my 16th birthday and did everything I could to get there."
Jade arrived at the finish point, Isortoq Hut, on June 4, with just one day to spare and said the enormity of what she has achieved is still sinking in.
"I am probably one of the only people in my generation that has been able to experience these incredible places on earth," she said.
Jade said she is looking forward to a break over the next month before ramping up her training again ahead of a South Pole expedition.
GLOSSARY
ferocious: savagely fierce
frostbite: injury to body tissues caused by exposure to extreme cold
expedition: a journey undertaken by a group of people with a particular purpose
recede: go or move back or further away from a previous position
sleds: a vehicle having runners and used for carrying people or loads over ice and snow
LISTEN TO TODAY'S STORY
CLASSROOM ACTIVITIES
Activity 1: Dream Big!
Jade Hameister has completed something that no other 16-year-old has. Explain what her latest achievement is in as much detail as possible.
What were the obstacles that Jade had to overcome while completing this latest challenge?
What training and preparation has Jade undertaken?
Does her story inspire you to undertake a challenge like this?
What goal would you like to achieve and why?
What training/preparation would you need to do to achieve your goal?
Extension: Test of character
What are some of the qualities that Jade Hameister most likely possesses to make her ability to achieve these dreams a possibility?
Make a list of qualities and explain how, when they might have helped her.
Time: allow 40 minutes to complete this activity
Curriculum links: English, Health and Physical Education, Personal and Social Capabilities
Activity 2: Greenland
Jade has trekked across Greenland.
What do you know about Greenland?
There is some information in the article, use this and some further research to write a fact sheet about Greenland.
Include at least the following:
Head of state, capital city, flag, population, culture, language spoken, brief history, other interesting facts
Include a world map with Greenland highlighted.
Extension:
Imagine you were with Jade trekking across Greenland.
It is evening on your 20th day, and you are writing your daily diary…
What are your thoughts, and feelings as you reflect on what it has been like and what you still have to conquer?
Extra resources: Information about Greenland
Time: allow 60 minutes to complete this activity
Curriculum links: English, Geography, Intercultural Capabilities
VCOP ACTIVITY
(Vocabulary, Connectives, Openers, Punctuation)
Activity: No E's Please!
Try and write a paragraph using words that don't have the letter E in them. In the short sentence below, notice how there is no letter e in any of the words?
eg: This is it. How did this occur…
It's challenging to write without using the letter e. Especially a whole paragraph! So start off with sentences and see how you go.
Extension: Once you get familiar with writing without the letter 'e', challenge yourself to write about the Greenland Crossing without using 'e'
Time: allow approximately 15 minutes
Curriculum links: English, Big Write, VCOP
EXTRA RESOURCES
ICE MELT THREAT TO DOOMSDAY VAULT
AUSSIES SEEK OUT EVEREST ADVENTURE
RUG UP AUSTRALIA, WINTER IS HERE!