LAND should be set aside in the next five years for a new major Melbourne airport, the State Government has pledged*.
A new airport would be in addition* to the current main international airport at Tullamarine and the secondary Avalon airport, located closer to Geelong and could cost up to $5 billion to build.
With Melbourne's population expected to reach eight million by 2050, the State Government is considering how it should plan for future transport needs.
A pocket of land beyond Koo Wee Rup in Melbourne's southeast has been tipped as the favourite site for a third Melbourne airport.
The area is particularly* well-known for its asparagus and also grows other vegetables but soon some of that land could be preserved for the airport.
A southeast airport would serve one-third of the state's population and be near tourist attractions such as Phillip Island and the Mornington Peninsula.
The southern and eastern regions of Melbourne are predicted to grow by up to one million people by 2050, so the airport could service around three million people.
The third airport idea is a key feature of the Government's Plan Melbourne 2017-2050 — a document outlining projects that could help Melbourne prepare for what's to come.
The idea has been put forward by the Labor Government under Premier Daniel Andrews.
Planning Minister Richard Wynne said that while Tullamarine and Avalon still had capacity to grow, it was important to plan ahead.
"We need to plan ahead for aviation to avoid being blindsided* as Victoria grows," Mr Wynne said.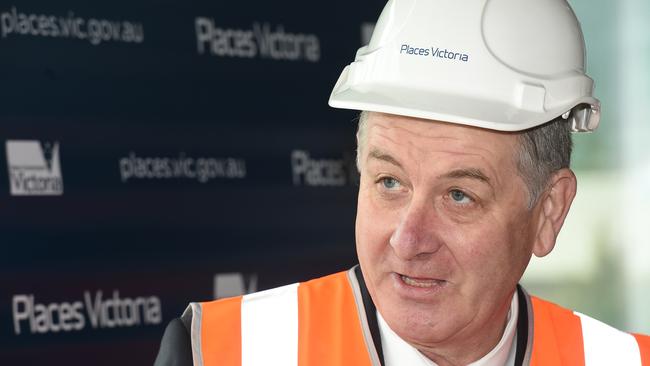 Even though the state government can plan for an airport, it is up to the federal government to approval it and private money would have to be sourced to build it.
The Shire of Cardinia is the local government that oversees the area where the airport would be located and it supports the idea.
Mayor Brett Owen said the region would continue to grow and an airport would be a major boost for the region supplying many jobs.
But not everyone is happy with the idea. Planes are noisy and so are the cars, buses, trucks and railway required to service airports so some residents concerned by the impact an airport could have on their area and farmland protected* under what are called Green Wedge zones.
Rosemary West, from an organisation called the Green Wedges Coalition, said the group was against the plan.
"We don't want another airport covered in shopping centres and other commercial developments not normally allowed in the Green Wedges," she said.
G LOSSARY
pledged: committed to
particularly: very
blindsided: surprised by something they couldn't see
protected: kept safe
LISTEN TO TODAY'S STORY
CLASSROOM ACTIVITIES
Activity 1.
Read the story carefully and answer these questions
1. How many airports are there in Melbourne?
2. Why is the State Government thinking about how it should plan future transport needs?
3. Give three reasons in the story why the southeast is tipped to be a good site for a new airport.
4. Who has to approve a new airport?
5. Who would pay for a new airport?
6. What does the Mayor of Cardinia think about a new airport?
7. What does Rosemary West think about a new airport?
Time: allow 25 minutes for this activity
Curriculum Links: English
Extension:
Imagine that a meeting is going to be held. This meeting is a chance for ordinary people to talk about what they think about a planned new airport at Koo Wee Rup. You have been invited to speak at this meeting to give your opinion about this. Decide wether you are for or against this. Write a speech explaining your reasons for your opinion. Remember, your purpose is to convince people that your opinion is correct and to agree with you.
Time: Allow 25 minutes for this activity
Curriculum Links: English
Activity 2.
In the story, Mayor Brett Owen says that building a new airport would supply many jobs.
Who are all the people who work at an airport? What are their jobs?
Find out and list as many jobs as you can. Choose a job that you would like to do.
Write paragraphs that:
1. describe the job.
2. explain why you think it would be a good job.
3. explain why this job is important.
Time: allow 40 minutes for this activity
Curriculum Links: Economics and Business
Extension:
Find out about the history of flying, or aviation in Australia.
Use this link from the Australian Government website to help you.
http://www.australia.gov.au/about-australia/australian-story/early-austn-aviation
​
Use the information you have found to create an illustrated timeline about aviation in Australia. An illustrated timeline uses pictures and drawings as well as dates and words.
Time: allow 30 minutes for this activity
Curriculum Links: History
VCOP ACTIVITY
Look at the words from the article that are included in the glossary. Can you write a synonym and antonym for each one?
Extension:
Put each of the glossary words in a sentence of your own. Can you use all elements of VCOP?
Time: allow 30 minutes for this activity
Curriculum Links: English, Big Write and VCOP
Activity provided by Andrell Education www.andrelleducation.com.au
EXTRA RESOURCES
SUPERSIZED HOTEL GETS GREEN LIGHT
METRO "MOLES" MAY BE LEFT BELOW CITY
PROTESTERS DRAGGED FROM PARKVILLE TREE
IN A SENTENCE, SHARE YOUR THOUGHTS ON TODAY'S STORY
Kids News loves reading your best grammar, vocabulary and spelling.
We publish the best comments.