India's Prime Minister Narendra Modi praises 'big hearted' Aussies
Thousands of Indian Australians cheered India's Prime Minister Narendra Modi as he and his Australian counterpart Anthony Albanese announce a new centre and the founding of 'Little India'
Thousands of cheering fans gave India's Prime Minister Narendra Modi a rock star welcome to Australia, as Anthony Albanese unveiled* plans for a new centre to strengthen relations between the two countries.
Standing before a 20,000 strong crowd of Indian Australians gathered at Qudos Bank Arena in Western Sydney, the Prime Minister revealed Parramatta would be the site of the new Centre for India-Australia Relations.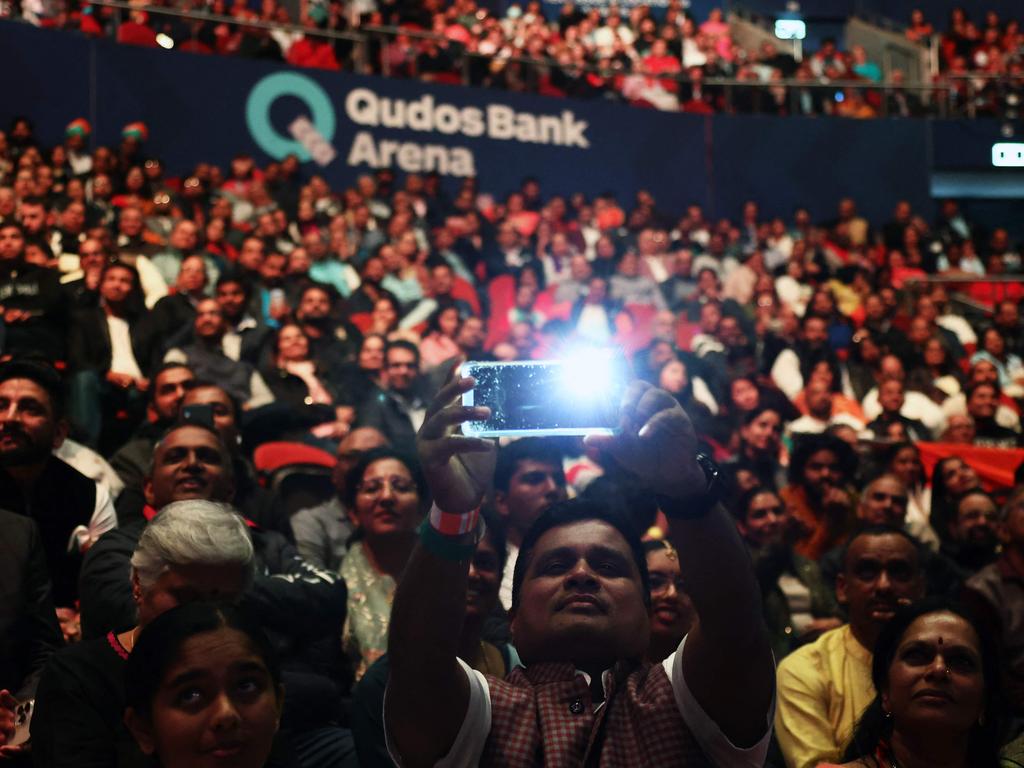 Members of the Australian Indian community turned out in droves to catch a glimpse of the popular Indian leader at Qudos Arena in Sydney on May 23, 2023. Australia vowed to take ties with India to the "next level" on May 23. Picture: David Gray/AFP
With an advisory board made up of business, education, diplomatic*, sport and cultural leaders, including cricketing legend Adam Gilchrist and Universities Australia chief Catriona Jackson, the centre aims to increase connections between the nations.
Flags waving, faces painted and homemade signs in hand, thousands of people gathered early at the stadium in Sydney's Olympic Park precinct in anticipation of catching a glimpse of Mr Modi on Tuesday night.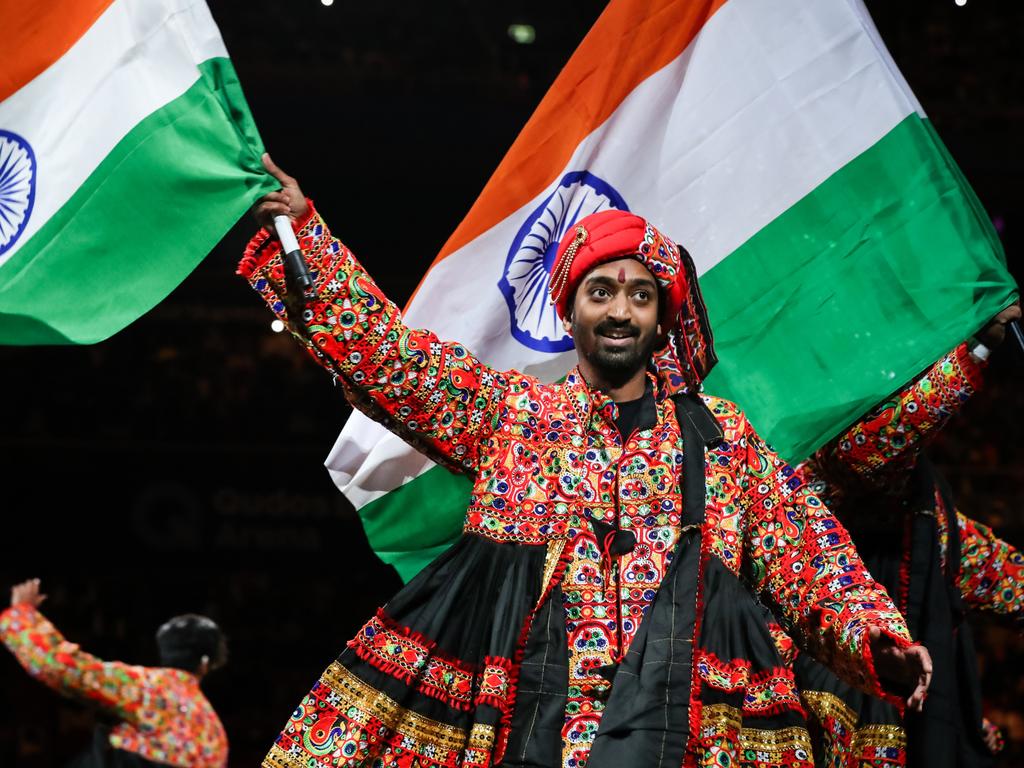 Dancers performed in traditional Indian costume at the stadium event. Picture: Lisa Maree Williams/Getty Images
They chanted "Modi," "India" and "Aussie, Aussie, Aussie, Oi, Oi, Oi" as they waited – and cheers erupted when the popular leader finally stepped up to the podium.
Mr Modi said the two countries' relationship went far beyond cricket, curry and a love of yoga, praising "large hearted" Australians for accepting Indians, including their language, culture and customs, into society.
"The single biggest basis of all of these relations … is mutual* trust and mutual respect," he told the crowd.
"This mutual trust and mutual respect have not developed only due to India-Australia diplomatic relations, the real reason … is you, each and every Indian who lives in Australia."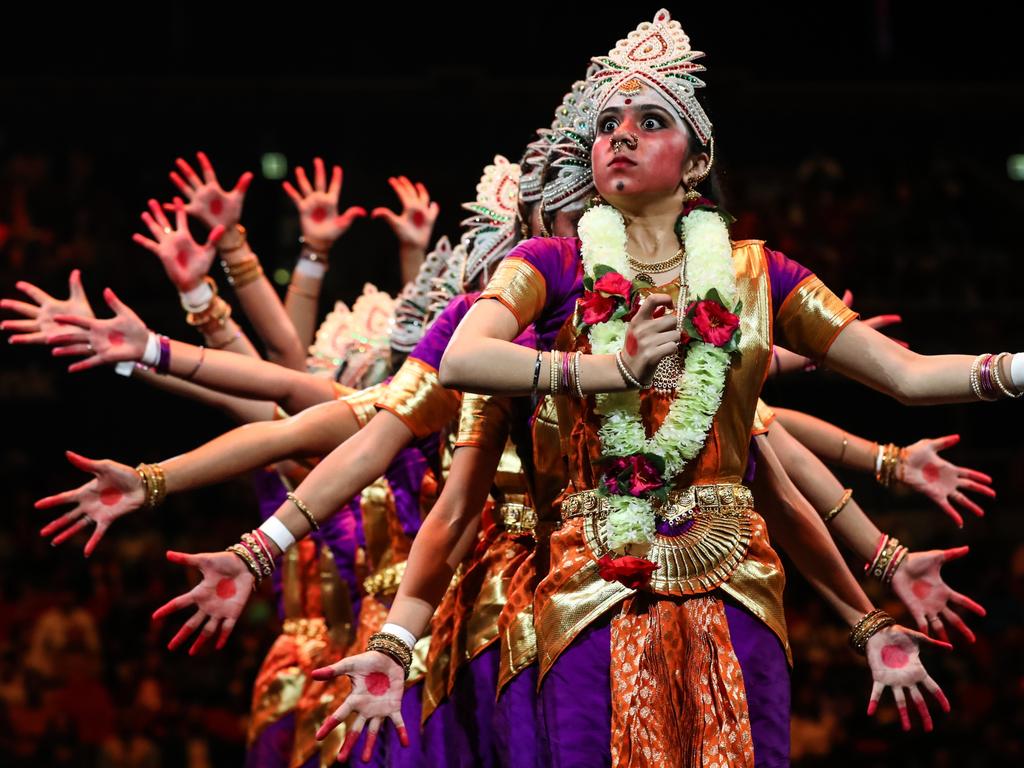 Qudos Bank Arena in Sydney was the scene of a stunning display of traditional Indian music and dance to welcome Prime Minister Modi on the heels of his and Australia's Prime Minister Anthony Albanese's participation in the G7 Summit in Japan. Picture: Lisa Maree Williams/Getty Images
Mr Albanese said he believed Mr Modi had received a bigger rock star welcome than music legend Bruce Springsteen* the last time he visited Sydney.
"I get to speak to some pretty big crowds as prime minister, but I have to say, the warmth and the energy here tonight is second to none," he said.
Mr Albanese said the new centre would be a "testament* to the vitality* of the Indian-Australian experience".
"We want to see more connections, more Australian and Indian students living and studying in each other's countries, and bringing those experiences home," he said.
"More business leaders and artists and families sharing your experiences and your knowledge and your ideas."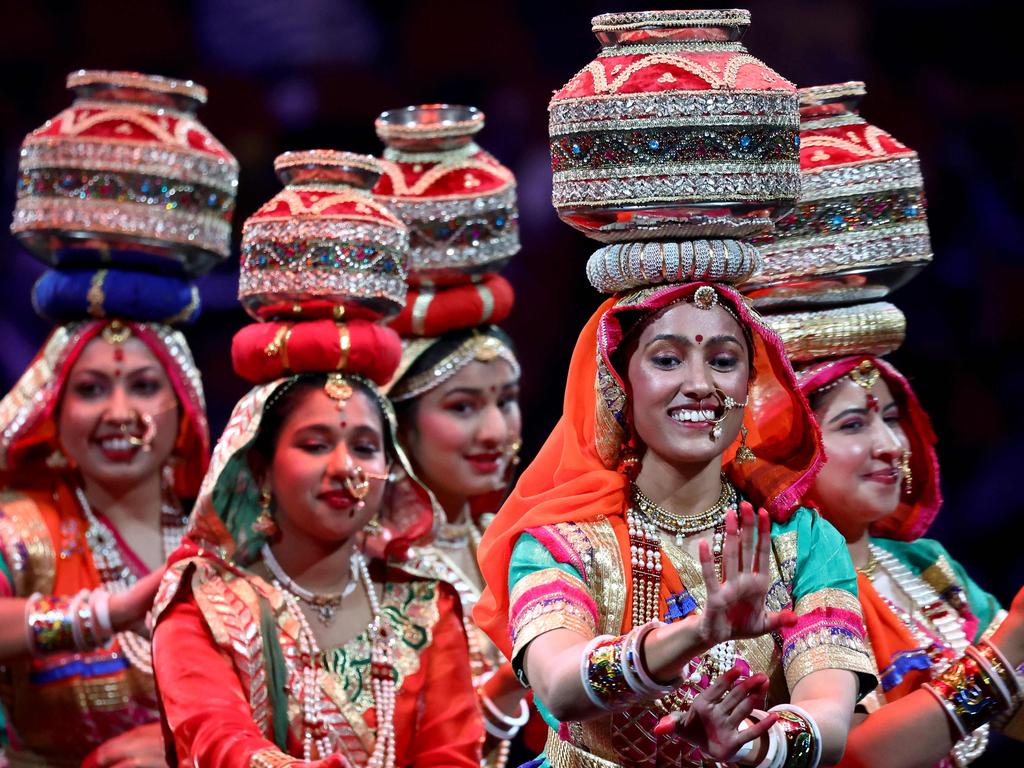 As part of the visit, Australia's Prime Minister Anthony Albanese announced the establishment of the Centre for India-Australia Relations in Parramatta, which will have an advisory board made up of business, education, diplomatic*, sport and cultural leaders. Picture: David Gray/AFP
Mr Modi said he was "grateful" for the opportunity to also join Mr Albanese in unveiling a foundational* plaque in Harris Park, Western Sydney, which is being officially renamed "Little India".
"This 'Little India' is also a recognition of the contribution of the Indian community in the development of Australia," Mr Modi said.
Dozens of politicians and community leaders attended the event, which began with garba performances — a traditional dance form originating from the visiting Prime Minister's state of Gujarat.
As well as enjoying the spectacular stadium event, as seen above, the two leaders also unveiled a foundational plaque for 'Little India'. Picture: David Gray/AFP)
Opposition* leader Peter Dutton, Foreign Minister Penny Wong, NSW Premier Chris Minns and former prime minister Scott Morrison were among the senior politicians in attendance at the event.
Ahead of the stadium event, Mr Modi met with Australian celebrities including singer Guy Sebastian, who described the Indian leader as "incredibly humble*, warm and generous with his time".
"I was humbled to be able to discuss many things, including my mother's Indian heritage*, how proud I am of my own Indian heritage, as well as the arts and my music," Sebastian said in an Instagram post.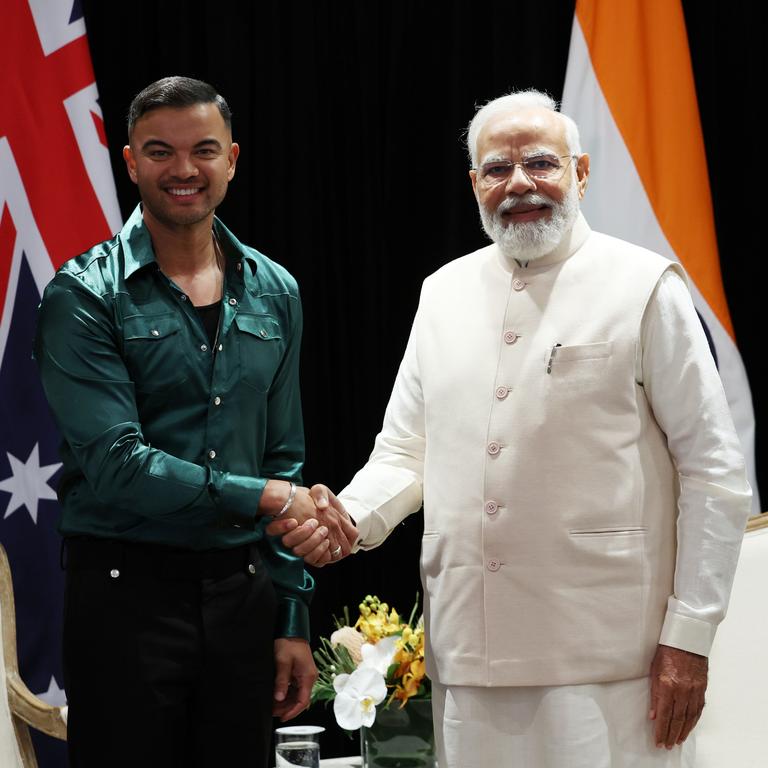 Indian Prime Minister Narendra Modi met with Guy Sebastian in Sydney. Picture: Twitter/@narendramodi
NSW Treasurer Daniel Mookhey, who is of Indian heritage, was among the politicians who welcomed Mr Modi when he landed in Sydney.
"Welcoming the Indian Prime Minister to Sydney in Hindi on behalf of the people of NSW was the honour of a lifetime," he said. "He was full of energy, especially after a long flight."
NSW Opposition leader Mark Speakman, health spokesman Matt Kean, former multicultural minister Mark Coure and Labor Liverpool MP Charishma Kaliyanda were also spotted in the crowd.
GLOSSARY
unveiled: revealed, presented, made something known for the first time
diplomatic: involving diplomats or managing relationships between countries
mutual: feeling the same way, doing the same thing to or for each other
Bruce Springsteen: a global superstar, he is an American singer-songwriter born in 1949
testament: something that shows or proves the truth of something else
vitality: state of being strong, energetic, animated and spirited
foundational: relating to or forming the base or foundation
Opposition: the largest political party that is not in government
humble: not considering yourself of
heritage: someone's racial, cultural, ethnic and/or religious background
EXTRA READING
India overtakes China to have biggest population
Census reveals changing shape of Australia
Rishi Sunak becomes British PM
QUICK QUIZ
What is the name of India's visiting prime minister?
Harris Park in Western Sydney is going to be officially renamed what?
What is the name of the traditional Gujarat dance form performed at the stadium event?
Which Australian singer of Indian heritage met with Mr Modi?
How many Indian Australians gathered at Qudos Bank Arena to see Mr Modi?
LISTEN TO THIS STORY
CLASSROOM ACTIVITIES
1. Choose the photos
The job of a photo editor is to make sure that news stories have the right photos. They use photos to help tell the story, add information or bring the story to life. Look carefully at the photos that are in the story. Imagine that you are the photo editor for Kids News. For each photo write sentences explaining why you chose that particular photo.
Time: allow 25 minutes to complete this activity
Curriculum Links: English; Visual Communication Design
2. Extension
Why is it important for Australia to have good relations with a country like India? Use information from the story and use your research skills to write a list of reasons.
Time: Allow 60 minutes for this activity
Curriculum Links: English; Civics and Citizenship; Economics
VCOP ACTIVITY
Read this!
A headline on an article – or a title on your text – should capture the attention of the audience, telling them to read this now. So choosing the perfect words for a headline or title is very important.
Create three new headlines for the events that took place in this article. Remember, what you write and how you write it will set the pace for the whole text, so make sure it matches.
Read out your headlines to a partner and discuss what the article will be about based on the headline you created. Discuss the tone and mood you set in just your few, short words. Does it do the article justice? Will it capture the audience's attention the way you hoped? Would you want to read more?
Consider how a headline or title is similar to using short, sharp sentences throughout your text. They can be just as important as complex ones. Go through the last text you wrote and highlight any short, sharp sentences that capture the audience.