Iceland's state of emergency waiting game after evacuation
The threat of an imminent volcanic eruption has Iceland on edge days after evacuations began and a state of emergency was declared as more smoke seeps from giant cracks in empty streets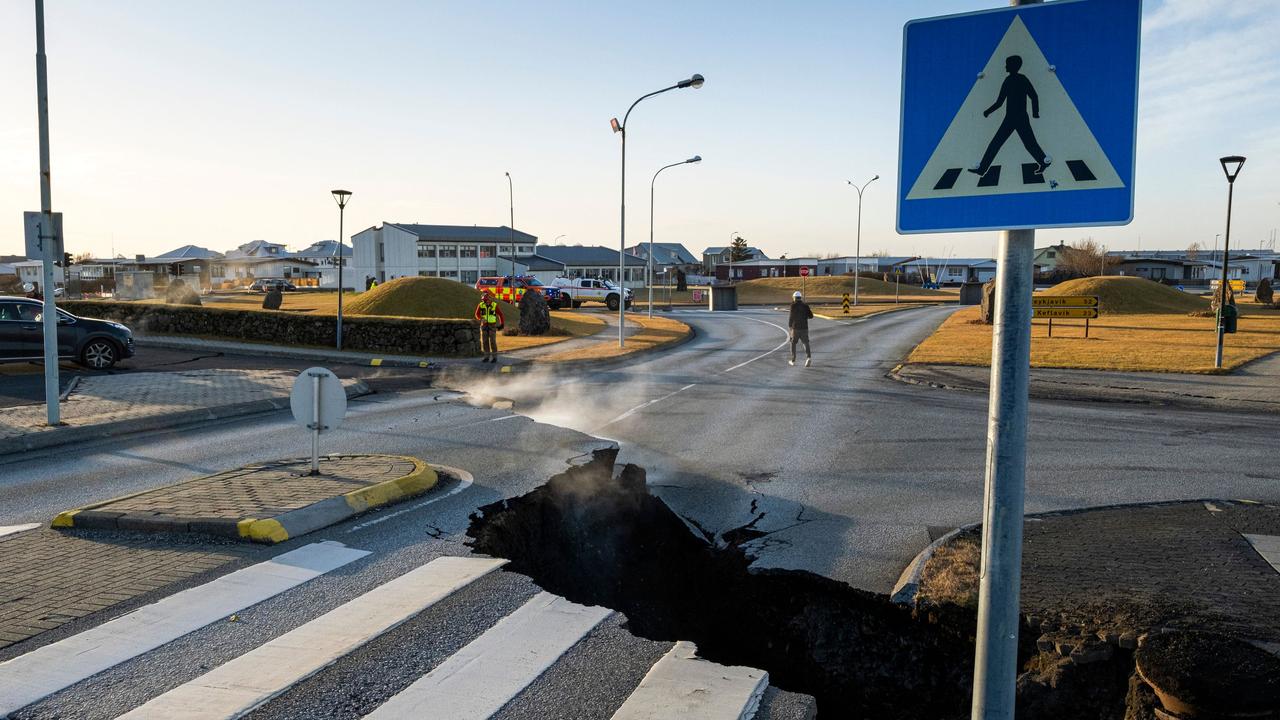 It's an eerie wait for Iceland as smoke seeps from cracks cutting across the main road of Grindavik as the threat of a volcanic eruption keeps the Nordic island nation on edge. Picture: Kjartan Torbjoernsson/AFP/Iceland OUT
Residents have been evacuated* and a state of emergency* declared in Iceland this week as an uneasy waiting game continues.
People living in the fishing town of Grindavik in southwestern Iceland left their homes as early as Saturday, when concern about a potential volcanic eruption* first prompted civil defence authorities to increase the threat level in the region.
Seismic* activity in the area had moved south toward the town and monitoring indicated that a corridor of magma*, or semi-molten rock, had extended under the community, Iceland's Meteorological* Office said. The town of 3400 residents is on the Reykjanes Peninsula, about 50 km southwest of the capital, Reykjavik.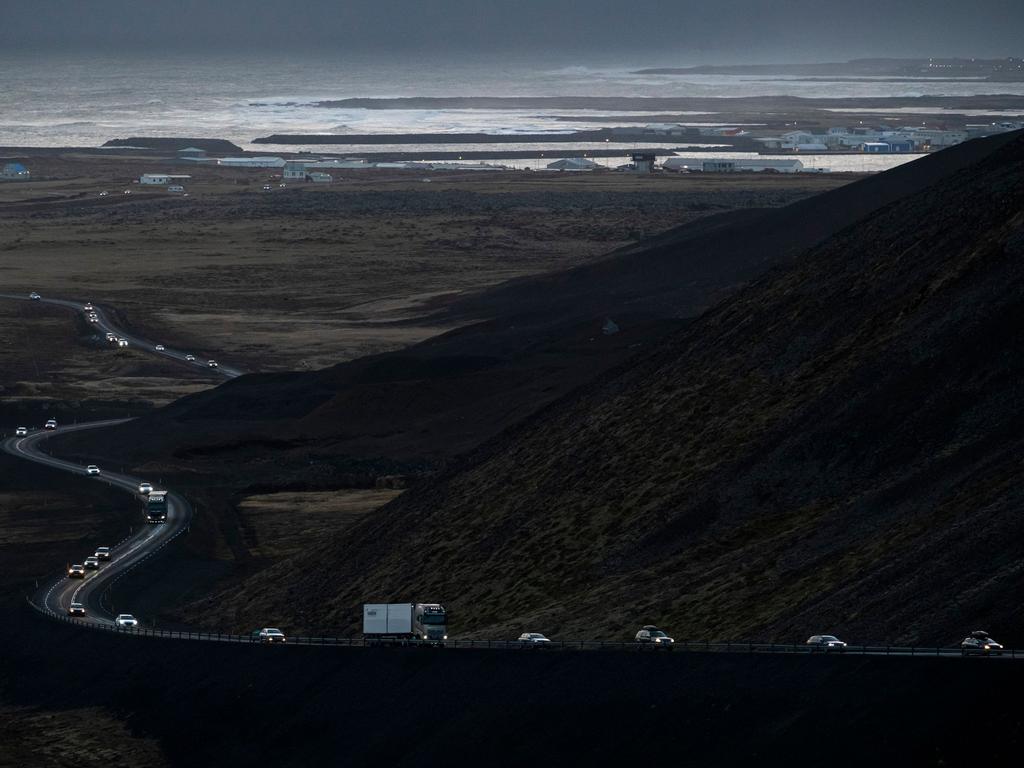 Vehicles are seen leaving the town of Grindavik on November 13. Evacuation began in the early hours of Saturday 11 November after magma shifting under the Earth's crust caused hundreds of earthquakes in what could be a precursor to a volcanic eruption. Picture: Kjartan Torbjoernsson/AFP/Iceland OUT
"At this stage, it is not possible to determine exactly whether and where magma might reach the surface," the Meteorological Office said.
Authorities also raised the aviation alert to orange, indicating an increased risk of a volcanic eruption. Volcanic eruptions pose a serious hazard* to aviation because they can spew highly abrasive* ash high into the atmosphere, where it can cause jet engines to fail, damage flight control systems and reduce visibility.
A major eruption in Iceland in 2010 caused widespread disruption to air travel between Europe and North America, costing airlines an estimated $US3 billion as they cancelled more than 100,000 flights.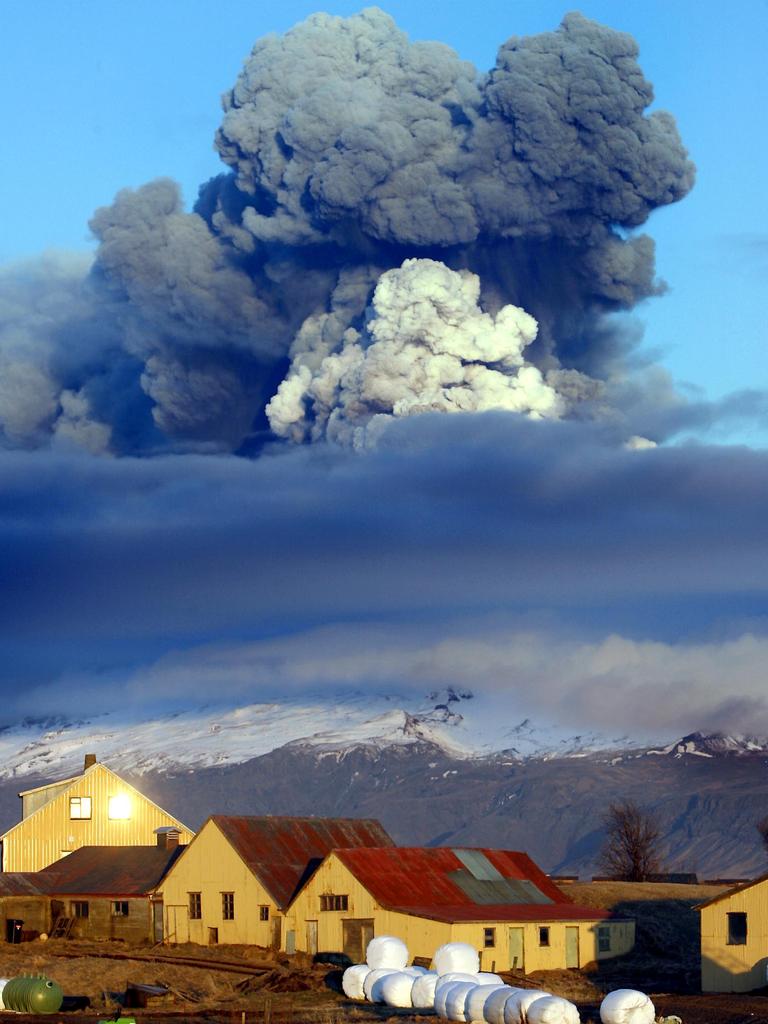 The major volcanic eruption in southern Iceland's Eyjafjallajokull glacier on April 16, 2010, sent ash into the air just prior to sunset and caused chaos for the aviation industry in Europe and the US. Picture: file image
The evacuation order was issued after the region was shaken by hundreds of small earthquakes every day for more than two weeks, as scientists continue to monitor a build-up of magma some 5km underground.
Concern about a possible eruption increased in the early hours of November 9, when a magnitude* 4.8 earthquake hit the area.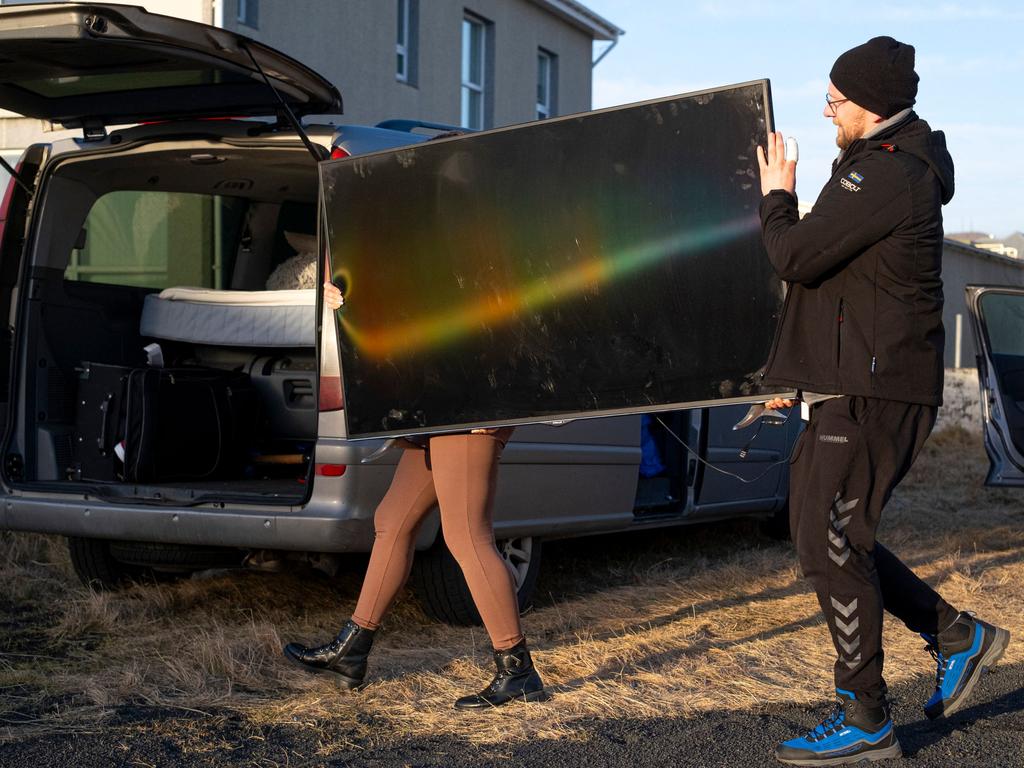 Residents of Grindavik prepare to evacuate on Monday 13 November – the town is just 40km southwest of the capital Reykjavik. Picture: Kjartan Torbjoernsson/AFP/Iceland OUT
The seismic activity started in an area north of Grindavik, where there is a network of 2000-year-old craters*, geology* Professor Pall Einarrson told Iceland's RUV.
"The biggest earthquakes originated* there, under this old series of craters, but since then, (the magma corridor) has been getting longer, went under the urban area in Grindavík and is heading even further and towards the sea," Prof Einarrson said.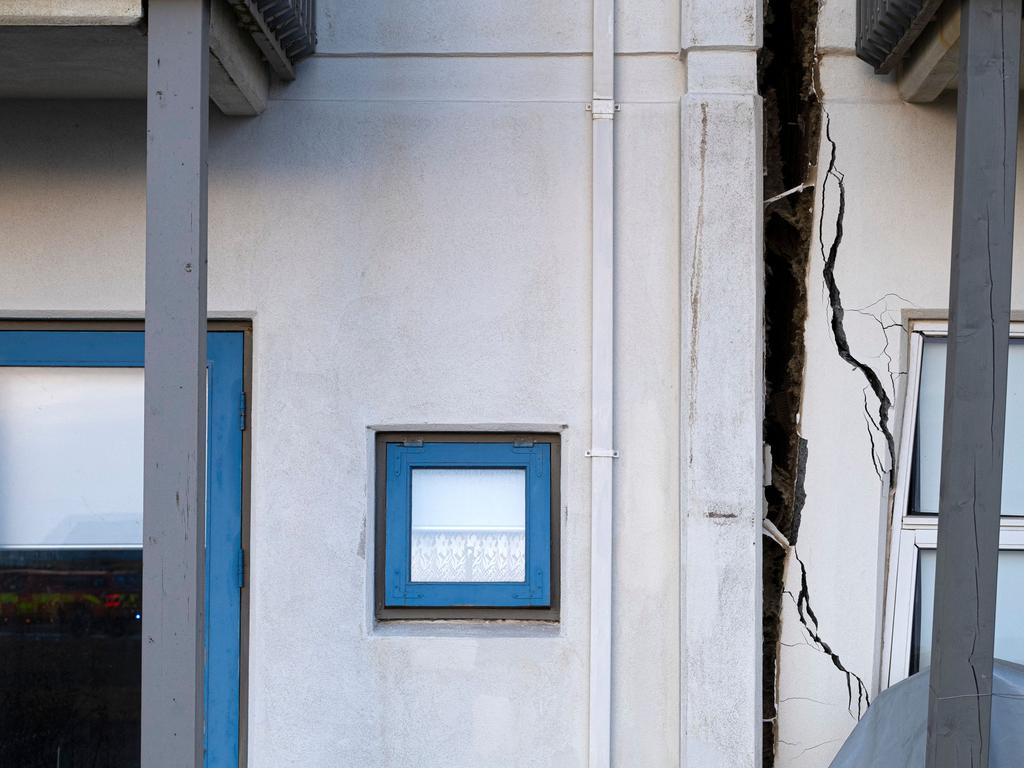 A large crack had cut through the facade of a house in Grindavik by the time this picture was taken on Monday, two days after the evacuation order and state of emergency was declared in the region. Picture: Kjartan Torbjoernsson/AFP/Iceland OUT
According to the Icelandic Met Office (IMO), the magma tunnel that formed is approximately 15km long and beneath the ground between Sundhnúkur in the north and Grindavík. The area affected also includes the Blue Lagoon geothermal* spa — a tourist hotspot that attracts hundreds of thousands of visitors annually.
At the time of writing, the IMO's latest update at midnight on Tuesday 14 November, stated that over 700 earthquakes have been located along the magma corridor.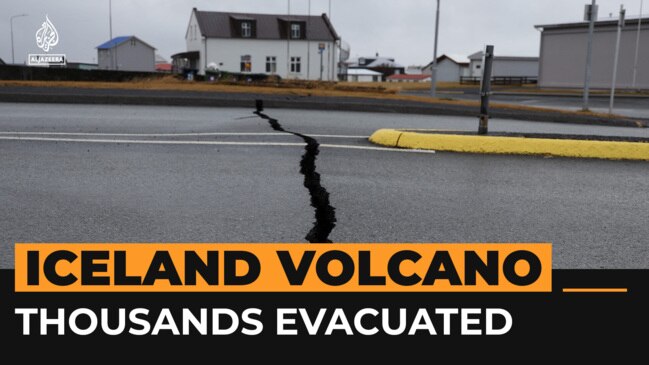 POLL
GLOSSARY
evacuated: removed from a dangerous place to a safe location
state of emergency: when a government is given emergency legal powers to get a country through a serious situation
eruption: when a volcano explodes and flames and rocks burst out of it
seismic: relating to, impacted by or caused by an earthquake
magma: hot liquid rock found just below the surface of the earth
meteorological: relating to the atmosphere and its phenomena, including weather and climate
hazard: a source or a situation with the potential for human harm, injury or ill-health
abrasive: sharp, hard material that wears away the surface of softer, less resistant materials
magnitude: an earthquake's size, a measure of the amount of energy released by an earthquake
crater: bowl-shaped, hollowed-out area in the ground, produced by the impact of a meteorite, volcanic activity, or an explosion
geology: the study of the Earth's structure, surface and origins
originated: came from or began in a particular place or situation
geothermal: refers to energy and heat generated inside Earth
EXTRA READING
Boom time: hot facts about volcanoes
One of world's most dangerous volcanoes erupts
Towering ice volcanoes found on Pluto
QUICK QUIZ
Residents from which Icelandic fishing village began evacuating as early as Saturday?
How many people live in the village?
What are three main aviation hazards caused by volcanic eruptions?
How old are the craters found north of the town?
How long is the magma tunnel or corridor estimated to be?
LISTEN TO THIS STORY
CLASSROOM ACTIVITIES
1. Do you know why?
Do you know why earthquakes are a warning sign that the volcano will erupt? Use information in the story to write your answer. Then, use your research skills to check if you are correct.
Time: allow at least 25 minutes to complete this activity
Curriculum Links: English, Science
2. Extension
What do you think the different threat levels for seismic (or volcanic) activity would be? Use information in the story to create a warning poster that would help people understand the levels and the warning signs to look out for.
Time: allow at least 30 minutes to complete this activity
Curriculum Links: English, Science
VCOP ACTIVITY
Explicit lesson plan: Volcanic adventure
This activity aims to spark the children's curiosity about volcanoes, seismic activities, and the impact they can have on communities, fostering both their imaginative and factual understanding of the subject matter.
Objective: Explore the topic of volcanoes, seismic activity, and the potential risks associated with volcanic eruptions through a discussion-oriented activity.
Instructions:
Frontload with an introduction to volcanoes: Start the session by explaining what a volcano is. Briefly talk about how volcanoes form, what causes volcanic eruptions, and the potential dangers associated with volcanic activities, such as earthquakes and ash clouds.
Conclude the introduction by summarising the main points about volcanic eruptions, safety measures during emergencies, and the importance of being informed about natural disasters.
Read the article to the students or play the recording.
Reinforce their understanding by summarising the key points from the article about the potential volcanic eruption in Iceland and the evacuation of Grindavik. Highlight the seismic activity, the magma corridor, and the alerts issued by authorities.
Engage the students in discussion pairs or threes using these questions or some of your own:
a. What is happening in Iceland according to the article?
b. Why do you think people are being evacuated from Grindavik?
c. What are some dangers of a volcanic eruption?
d. How do you think scientists monitor volcanoes?
e. What do you think the residents of Grindavik might be feeling right now?
Creative storytelling: Encourage the children to imagine they are residents of Grindavik and have been asked to evacuate. Ask them to create a short story or describe what they might pack in their backpack before leaving home. (This can be completed as a written or oral-language task.)
Additional task:
Volcano drawing activity: Provide materials for a drawing session where students can draw their own version of a volcano, illustrating its structure and how it might erupt.
Allow the children to share their drawings or stories with the class. Encourage discussions about what they included in their stories or drawings and why they made those choices.