THE devastating effects of Hurricane Harvey have been felt in the US despite the weather event being downgraded to a tropical storm as it made landfall* at the weekend.
Emergency services have been working overtime in Texas to help those affected.
Five people are confirmed dead, hundreds more injured and every highway in Houston yesterday was under water as "catastrophic*" rainfall on the US Gulf Coast prompted warnings of conditions "beyond anything experienced".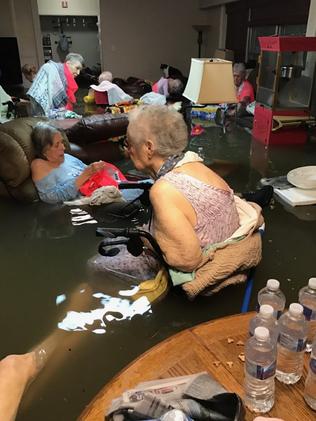 Among more than 1400 rescued yesterday were 18 elderly residents of a nursing home in Galveston, who were pictured in a shocking photo, some of them stuck in wheelchairs with water up to their necks.
National Guard and local emergency crews pulled the seniors from the building.
"We were airlifting grandmothers and grandfathers," David Popoff of Dickinson County Emergency Management said later.
President Donald Trump will today visit Texas, where the clean up from the "unprecedented*" flooding and tornadoes is expected to take years.
"This disaster is going to be a landmark event," Federal Emergency Management Agency chief Brock Long told CNN.
"We're setting up and gearing up for the next couple of years."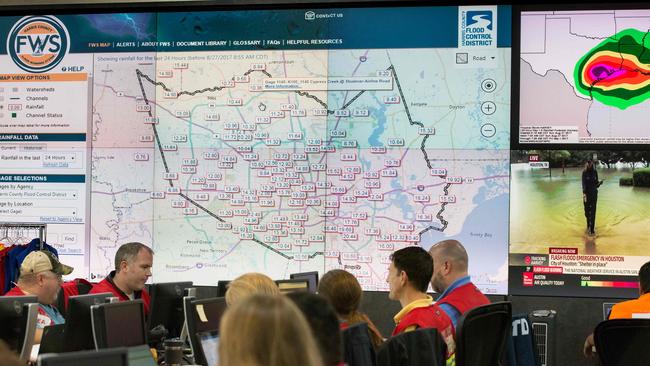 More than a year's worth of rain is set to fall on Texas this week as the hurricane-turned tropical storm hovers over the state, and Mr Trump said his planned visit would cause minimum disruption.
"The focus must be on life and safety,'' he tweeted.
Damaging tornadoes* have accompanied the storm.
WHAT IS A HURRICANE AND DO THEY HAPPEN HERE?
Hurricanes are a type of rotating tropical storm that can bring winds of more than 257kmh and nine trillion litres of rain in a day.
But a hurricane is almost the exact same thing as a typhoon or a cyclone and they are all types of tropical storms.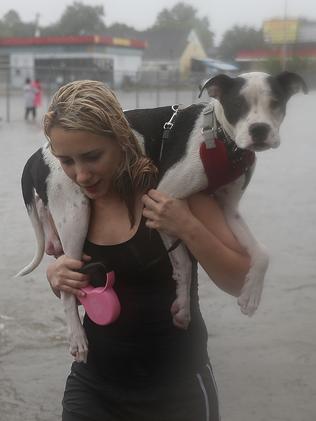 They all build in the tropics, near the equator, and then either rotate clockwise in the Southern Hemisphere, where Australia is, or anticlockwise in the Northern Hemisphere, where America is.
Hurricanes are tropical storms that build in the Atlantic Ocean and northern Pacific Ocean. They affect the East coast of the US, the Caribbean and, less frequently, the US mainland and Mexico.
Typhoons are tropical cyclones formed in the western Pacific Ocean. These affect Japan, China, the Philippines and other counties in the region.
Tropical cyclones in the southeast Indian Ocean or the southwest Pacific Ocean spin clockwise and affect Australia, India and Bangladesh.
This year Queensland and NSW were hit by Cyclone Debbie.
So while we don't get hurricanes in Australia, we get similar events with a different name.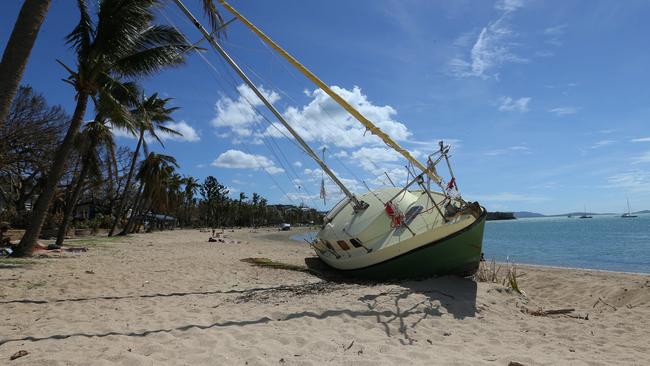 HOW ARE STORMS NAMED?
Large storms are given names to help with clear communication when instructing residents or reporting on the event, but across the world countries have different ways of naming storms
In Australia, the Bureau of Meteorology (BOM) has a list of 104 names that are used for tropical cyclones in the region.
Once a name for a new tropical cyclone is chosen from the list the World Meteorological Organisation Regional Tropical Cyclone Committee for the SE Pacific has to approve the name.
Sometimes names are altered* or rejected.
The committee does this if they think the name is hard to pronounce, has a more common spelling or is too similar to another storm's name in recent times.
When a cyclone is significant and has lasting impacts on the country, like Cyclone Tracy in 1974, the name is "retired" and replaced.
GLOSSARY
made landfall: storm hit land after time over water
catastrophic: very bad
tornadoes: funnel-shaped vortex of violently rotating winds
unprecedented: never before experienced
altered: changed
LISTEN TO TODAY'S STORY
CLASSROOM ACTIVITIES
Activity 1. A matter of perspective
Hurricane Harvey has had a devastating effect in the US.
But if we pay attention to the details in the article, there are many ways the impact could have been much worse.
Rewrite the first part of this article, putting greater emphasis on the positives. Think about the lives that were able to be saved and the way people have come together to help and show support.
Extension:
Come up with two sensational news headlines about the storm, one negative and one positive.
Time: allow 20 minutes to complete this activity
Curriculum links: English, Science, Critical and Creative Thinking
Activity 2: Wondering about tropical storms
Now that you know a bit about tropical storms, think of three more questions you would like answered and write them down.
Use books or the internet to find out and record the answers to your questions.
Extension:
Turn the information you now know about tropical storms into a poster.
Time: allow 30 minutes to complete this activity
Curriculum links: English, Science
VCOP ACTIVITY
(Vocabulary, Connectives, Openers, Punctuation)
After a severe storm or natural disaster locals need support of the community.
Create a poster campaign to ask for household items, food and services to help the people of Texas.
Think carefully about the items the locals may need, as well as how to best word the campaign to appeal to people for support.
Time: allow 15 minutes to complete this activity
Curriculum links: English, Big Write, VCOP
EXTRA RESOURCES
QUEENSLAND COUNTS CYCLONE COST
ICE MELT THREAT TO "DOOMSDAY" VAULT