History helps us understand what is happening in the Middle East
Sudden, shocking events in faraway places can be pretty confusing and scary – but it helps to know what is going on, how it started and what the UN and world leaders are doing to respond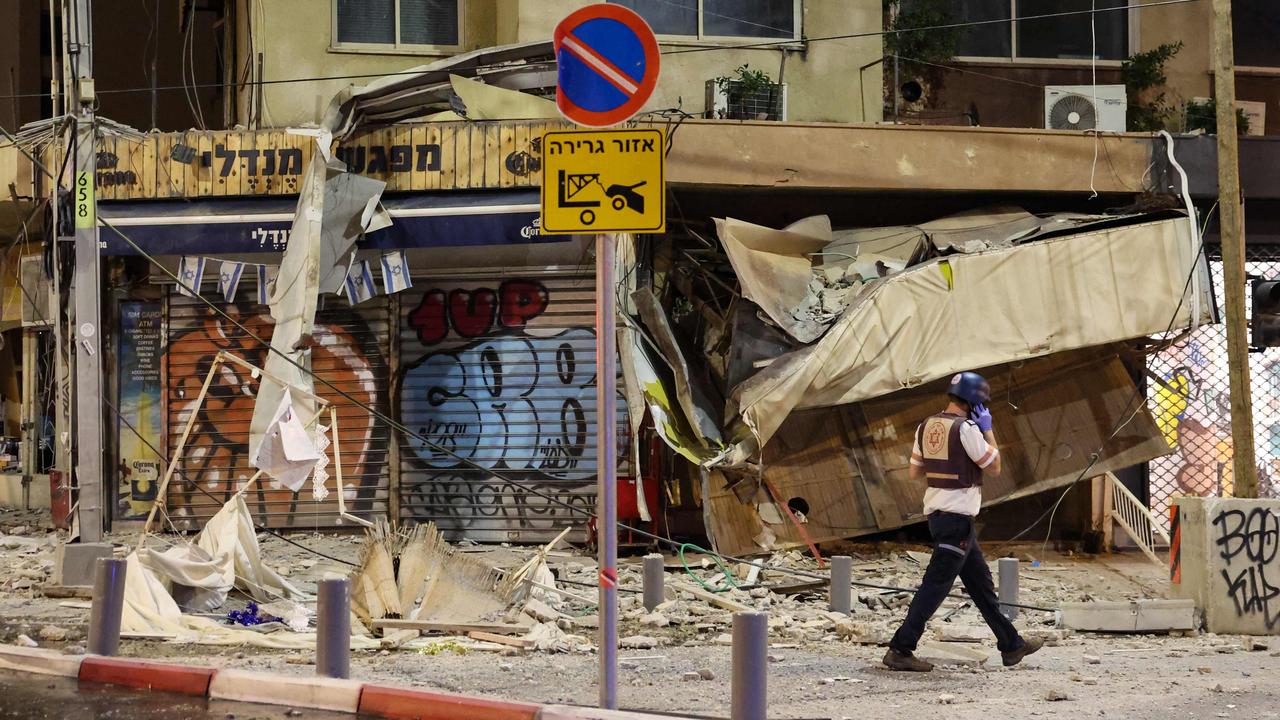 The Israeli government has officially declared war on Hamas, after the Palestinian militant group launched a surprise large-scale attack against Israel on October 7. The two countries have a very troubled history. Picture: Jack Guez/AFP
You may have seen in the news that serious fighting has broken out in the Middle East* between Israel and its neighbour Palestine.
The reports are a little frightening and it is normal to feel worried; world leaders are also concerned about the sudden outbreak of violence.
It started over the weekend, when Hamas* terrorists* launched a surprise attack on the Jewish state on Saturday 7 October.
A rescuer walks in front of a damaged shop in Tel Aviv after the city was hit by a rocket fired by Palestinian militants from the Gaza Strip on October 7. Picture: Jack Guez/AFP
Hundreds of Hamas fighters crossed the Gaza border* and attacked at least 20 Israeli communities without warning. The combined land, air and sea operation caught Israel – and the world – off guard.
Unfortunately civilians have already been hurt or killed and some have been taken hostage*. At least 300 Israelis were killed, another 1590 were wounded and dozens more were taken hostage in what has been described as Israel's 9/11*.
Israel responded immediately, with heavy air strikes targeting Hamas compounds* in Gaza. These first counter-attacks killed at least 234 Palestinians and injured more than 1600, but the death toll on both sides has risen in the days since.
Israeli Prime Minister Benjamin Netanyahu warned of a long military campaign ahead.
"What happened today has never been seen before in Israel and I will make sure it doesn't happen again," he said in an address to the nation.
"This war will take time. It will be difficult … We will win this war, but the price is unbearable."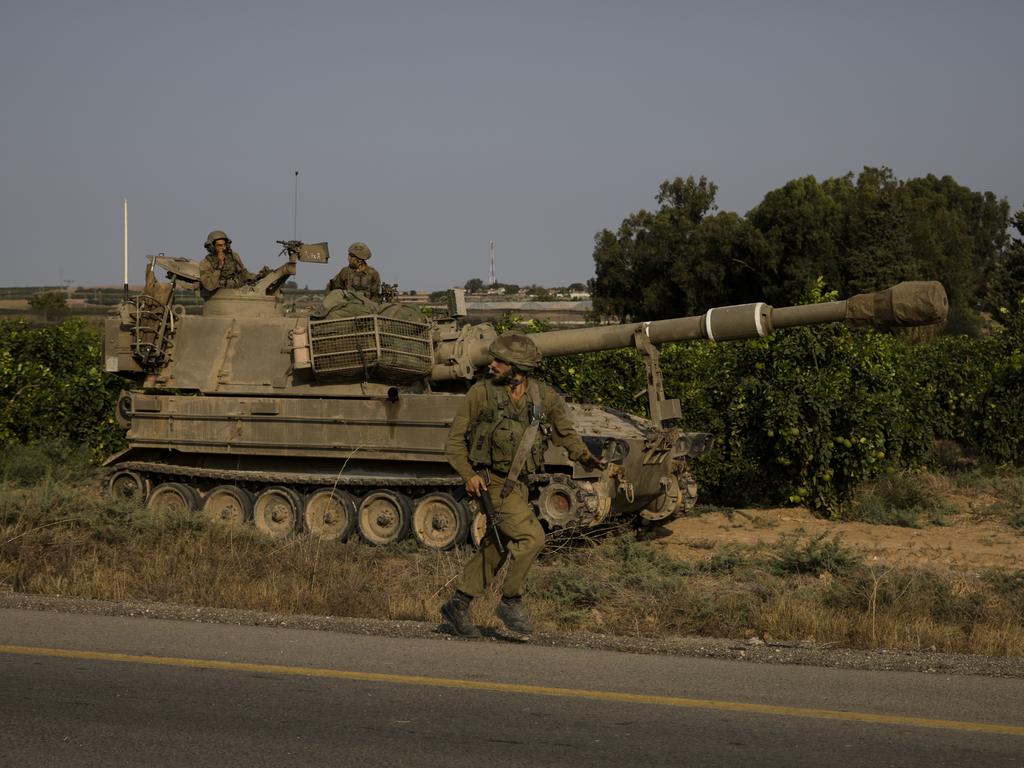 Armoured vehicles head towards the southern border with Gaza on October 8, 2023, in Sderot, Israel. Picture: Amir Levy/Getty Images
But why are these two nations fighting? There is no easy answer – but the relationship between Israel and Palestine has always been fraught*. Here are key moments in their troubled history.
WORLD WAR II
Seventy-five years ago, Israel was born as the homeland for the Jewish people after the Holocaust, the Nazi genocide* of six million Jews in World War II.
Jews had been promised "a national home" by Britain in 1917.
In 1947, the UN voted to make that home a reality by partitioning Palestine into separate Jewish and Arab states.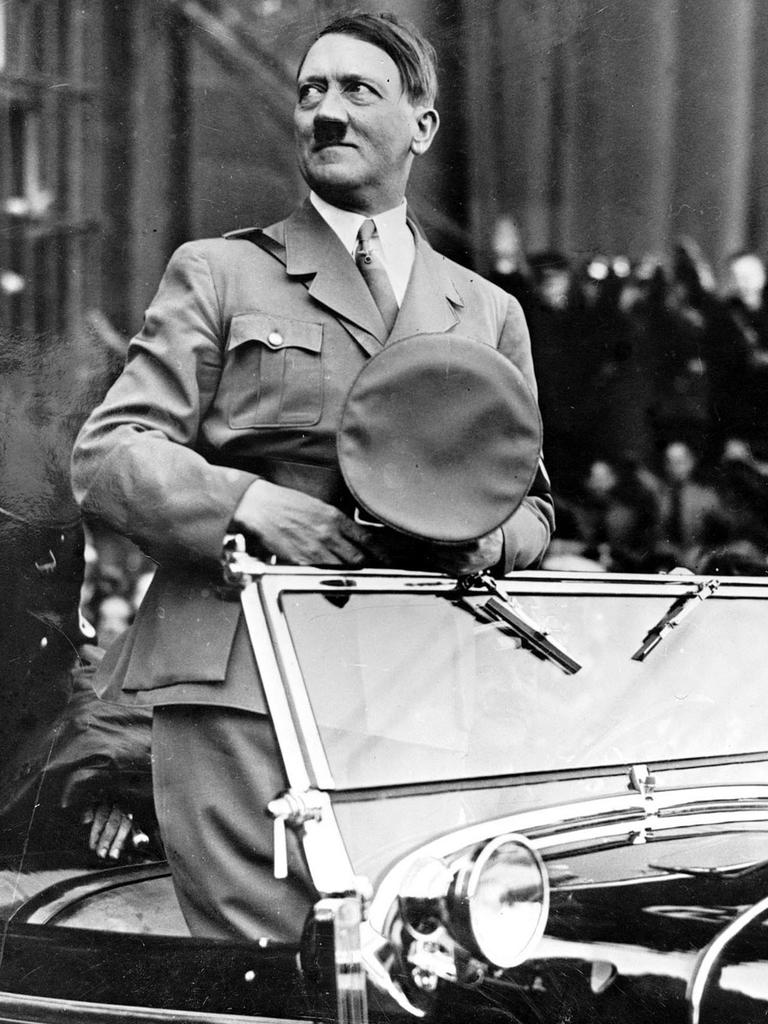 Adolf Hitler led the Nazi genocide of six million Jews in World War II. Picture: file image/AP
JEWISH STATE BORN
On 14 May, 1948, Zionist* leader David Ben-Gurion proclaimed the independence of the state of Israel, formed out of the British Mandate* of Palestine.
The dawn of the new state was cause for rejoicing among Jewish immigrants* to Palestine, but mass displacement* and suffering for their Palestinian Arab neighbours created a conflict that has defined Israel ever since.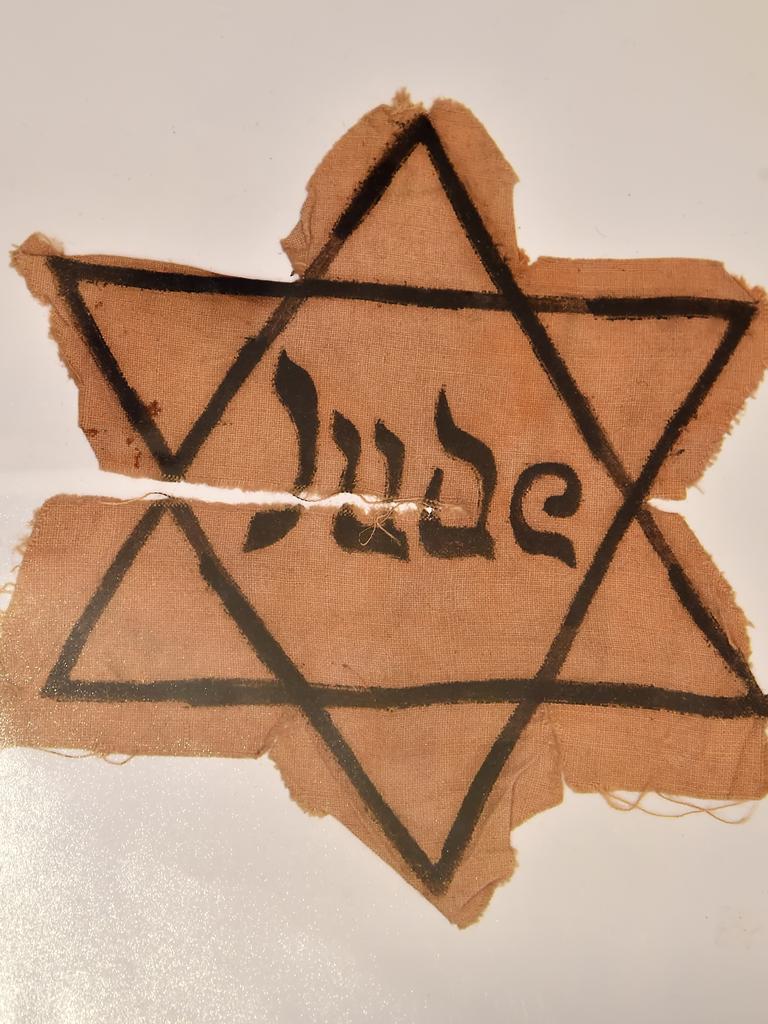 Jews were identified by the Star of David they were forced to wear during the Nazi occupation of Europe in WWII. Picture: AP Image/Troy Snook
Over 760,000 Palestinians were driven from their homes or fled when Israel was created in 1948, an event Palestinians call the "Nakba" (catastrophe).
Israel's Arab neighbours opposed the founding of Israel, which led to an eight-month war.
Jordan occupied the West Bank, including east Jerusalem, while Egypt took the coastal Gaza Strip.
SIX-DAY WAR
In June 1967, Israel crushed its Arab neighbours in the Six-Day War, seizing the West Bank including east Jerusalem from Jordan, the Golan Heights from Syria, and the Gaza Strip and Sinai Peninsula from Egypt.
On day one, Israel staged an air assault that destroyed more than 90 per cent of Egypt's air force on the tarmac.
It went on to occupy 70,000 square km of Palestinian territory, which it began to settle.
The United Nations declared the occupation of Palestinian territory illegal.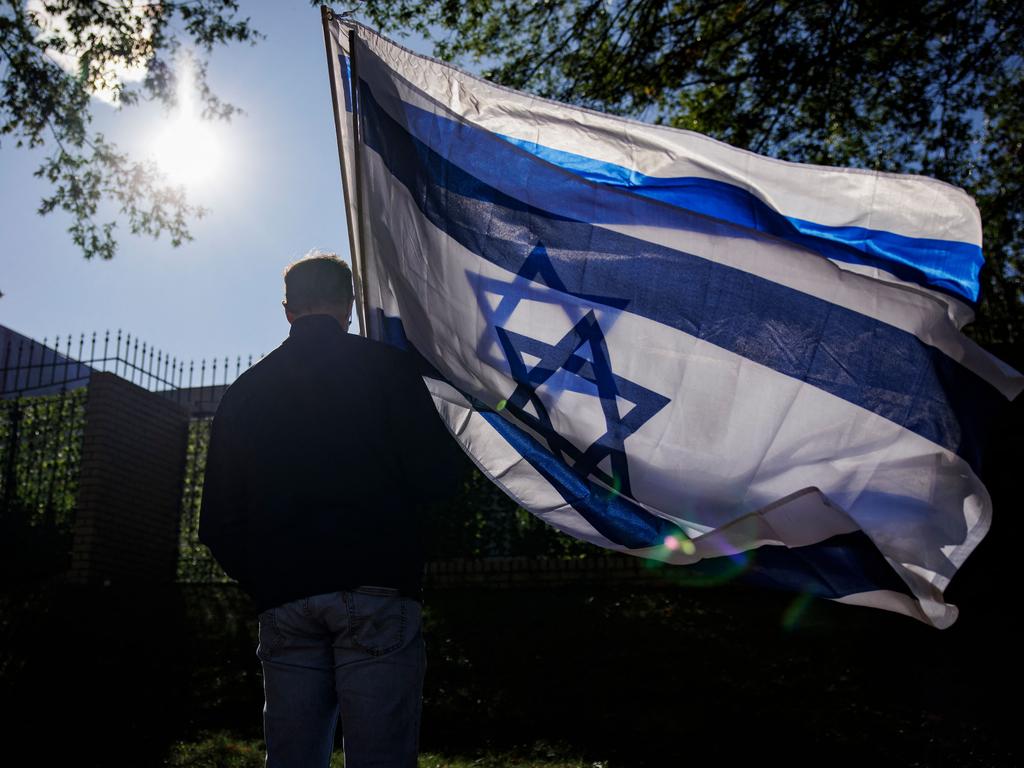 A man carries two Israeli flags during a pro-Israel rally outside of Israeli Embassy on October 8, 2023 in Washington, DC, after the Hamas attack. Picture: Samuel Corum/Getty Images North America/AFP
YOM KIPPUR WAR
On 6 October, 1973, Egypt and Syria launched a surprise attack on Israel on the Jewish fast of Yom Kippur* to tried to win back their lost territories, but were repelled*.
PEACE WITH EGYPT
The September 1978 US-brokered Camp David Accords between Israel and Egypt led the following year to the first peace treaty between Israel and an Arab neighbour.
ISRAEL INVADES LEBANON
Four years later, Israel invaded Lebanon in June 1982, in the middle of the country's civil war. It was an attempt to drive out Palestinian militants* based there.
In September that year, Israeli-backed Lebanese Christian militia massacred* hundreds of Palestinians living in the Sabra and Shatila refugee camps in Beirut.
Israeli troops remained in southern Lebanon until 2000.
In 2006, after the Lebanese Shiite militant group Hezbollah abducted* an Israeli soldier, Israel launched a devastating month-long offensive in Lebanon.
OSLO ACCORDS
In 1993, Israel and the Palestine Liberation Organisation (PLO) signed a peace agreement after secret negotiations in Oslo, the capital of Norway.
The deal, which called for a phased Israeli withdrawal from the occupied territories, came six years after the start of the first intifada*, or Palestinian uprising, against Israeli rule.
Israeli prime minister Yitzhak Rabin and exiled PLO leader Yasser Arafat made history by shaking hands at the White House after the signing of the accords.
Arafat returned to the Palestinian territories in July 1994 after 27 years in exile.
RABIN ASSASSINATED
In 1994, Rabin, Arafat and Israeli Foreign Minister Shimon Peres shared the Nobel Peace Prize* for their peace efforts.
The following year, Rabin was assassinated* in Tel Aviv by a Jewish right-wing extremist* opposed to the Oslo Accords.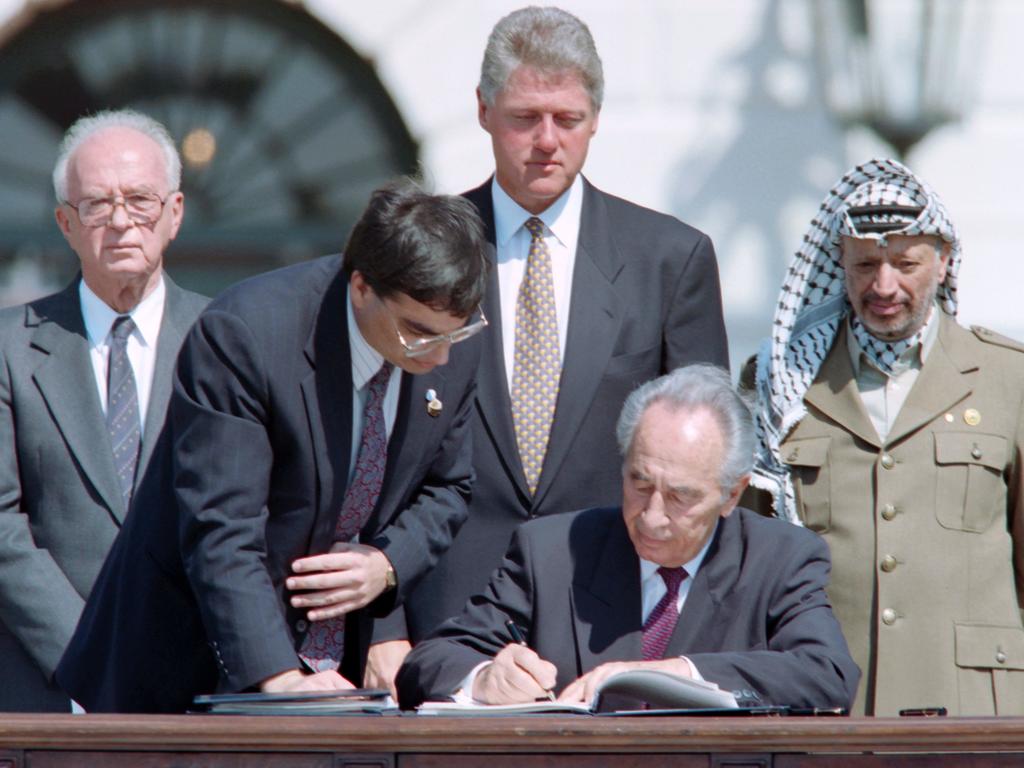 Israeli Foreign Minister Shimon Peres signs the historic Israel-PLO Oslo Accords at the White House in Washington, DC, on September 13, 1993. From left are Israeli Prime Minister Yitzhak Rabin, an unidentified aide assisting Peres, US President Bill Clinton and PLO Chairman Yasser Arafat. Picture: AFP Photo/J. David Ake
SECOND INTIFADA
In September 2000, right-wing Israeli opposition leader Ariel Sharon visited annexed* east Jerusalem's Al-Aqsa mosque compound. The third-holiest site in Islam, it is known as Temple Mount to Jewish people, who also revere* it as their most sacred site.
The visit was seen by Palestinians as a provocation* and sparked a second intifada.
Following a wave of suicide bombings*, in 2002 Israel launched its largest military operation in the West Bank since the 1967 war.
GAZA WITHDRAWAL
The last Israeli forces left Gaza after a 38-year occupation in September 2005, but soon afterwards imposed a stifling* land, air and sea blockade on the territory.
Tensions rose after the radical Islamist movement Hamas took control of Gaza in 2006 after election wins.
Israel fought four wars with Hamas in 2008, 2012, 2014 and 2021, launching devastating air strikes on Gaza after coming under rocket fire from the territory.
Over 1400 Palestinian civilians were killed in the 2014 offensive alone, as well as six Israeli civilians, according to UN figures.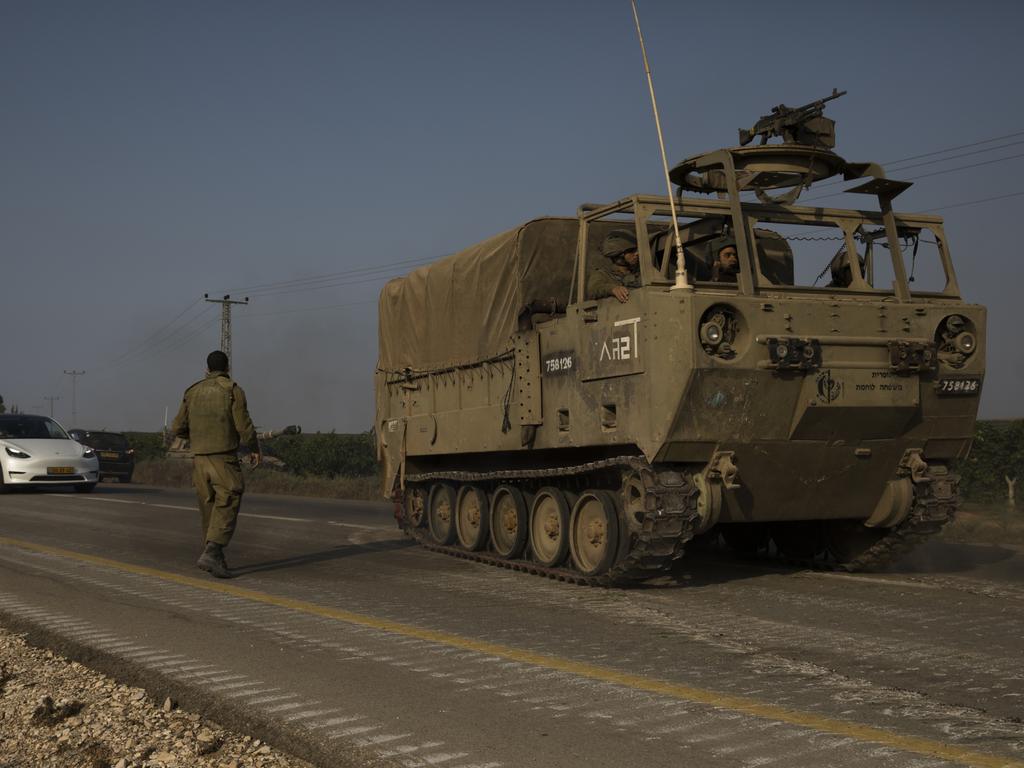 The Hamas attack prompted retaliatory strikes on Gaza and a declaration of war by the Israeli prime minister. Picture: Amir Levy/Getty Images
NETANYAHU IN POWER
Head of the right-wing party Likud, Benjamin Netanyahu returned to power in March 2009, a decade after his first stint as prime minister.
He has gone on to enjoy a record-breaking run as Israel's leader.
During his tenure*, ongoing settlement expansion has left the prospect of a separate Palestinian state hanging by a thread.
The Israeli leader currently faces charges of corruption and heads the country's most right-wing government ever.
In 2023, his government unveiled controversial judicial reforms* that sparked months of mass protests, with demonstrators accusing Netanyahu of undermining* Israel's democracy.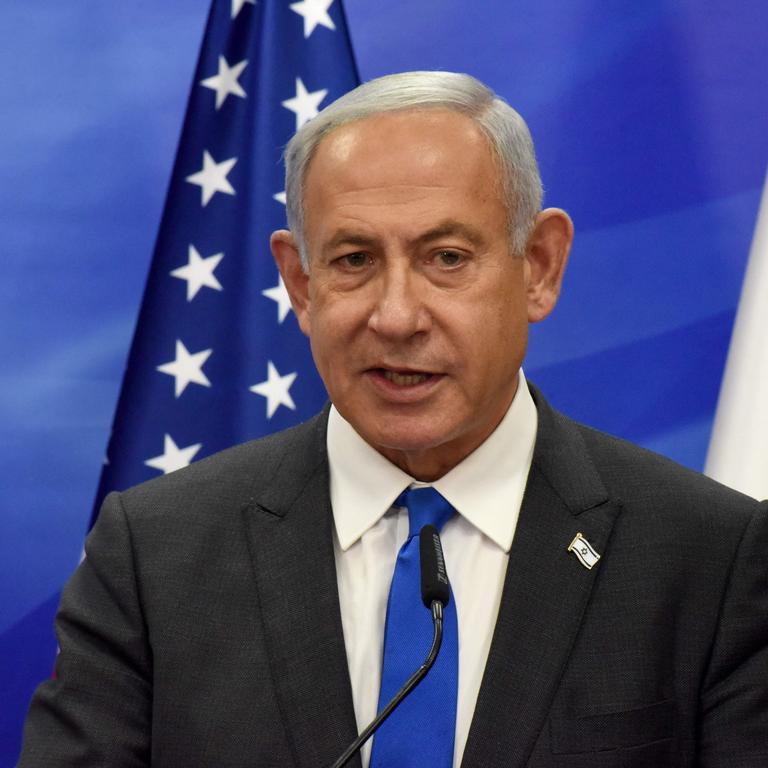 Israeli Prime Minister Benjamin Netanyahu is Israel's longest-serving leader but faces corruption charges and has been accused on undermining Israel's democracy Picture: Debbie Hill/POOL/AFP
WHAT HAPPENS NOW?
The Israeli government has officially declared war on Hamas and the conflict is already very serious.
World leaders have condemned the Hamas invasion, including Ukraine President Volodymyr Zelensky, whose country remains at war after Russia's invasion on February 24, 2022.
Egypt President Abdel Fattah al-Sisi warned "against the danger of the situation deteriorating and sliding into more violence".
US President Joe Biden has ordered navy ships and warplanes closer to Israel.
"The President directed additional support for Israel in the face of this unprecedented terrorist assault by Hamas," the White House said in a statement.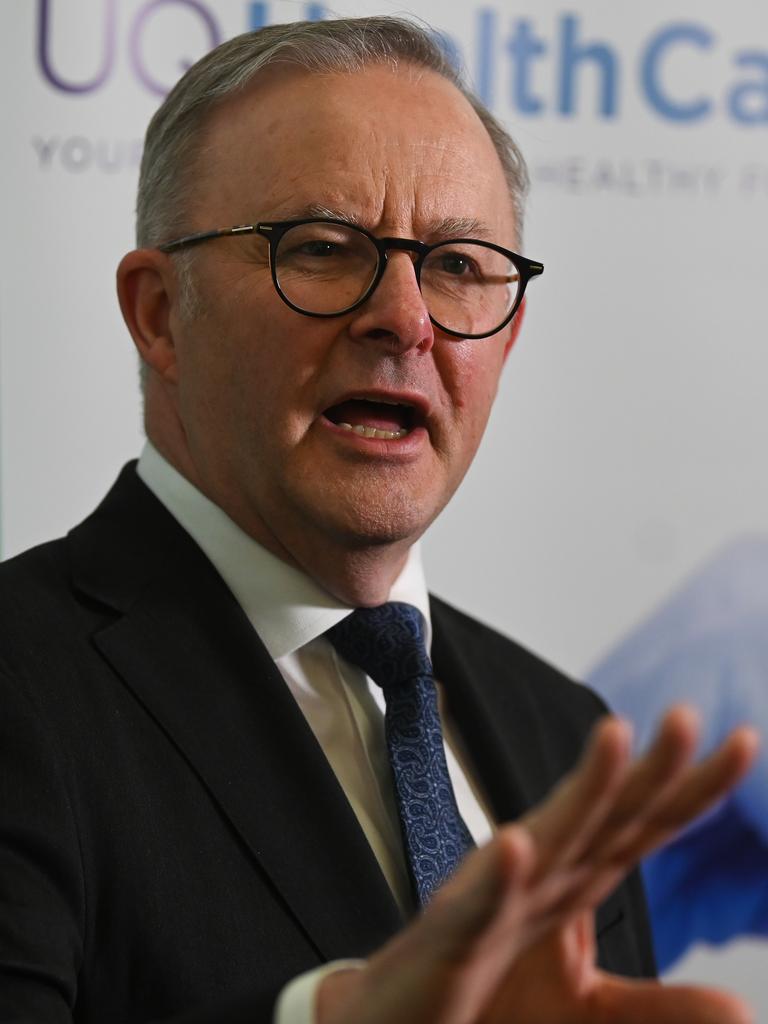 Prime Minister Anthony Albanese has condemned the "abhorrent attack on Israel". Picture: Dan Peled/NCA NewsWire
Australia's Prime Minister Anthony Albanese on Sunday morning condemned the "abhorrent* attack on Israel".
"This is a dreadful circumstance that people didn't see coming," he later told ABC's Insiders.
"We of course are worried about escalation*. There is no precedent for what is occurring here."
The UN Secretary-General António Guterres has also condemned "in the strongest terms" the terrorist attack by Hamas against Israeli towns, said UN spokesman Stéphane Dujarric.
Additional reporting by staff writers
If you find this article upsetting, please talk about what is upsetting you with an adult you trust or visit kidshelpline.com.au or call KidsHelpline on 1800 55 1800 at any time for any reason.
POLL
GLOSSARY
Hamas: a nationalist group, dedicated to establishing an independent Islamic state in Palestine, including via terrorism, that controls the Gaza Strip, the Palestinian section of the Mediterranean coast
terrorists: individuals or groups who commit criminal, often violent acts – often targeting civilians – to further political, religious, social, racial or environmental ideologies
Jewish state: refers to Israel
Gaza: coastal territory along the Mediterranean Sea just northeast of the Sinai Peninsula, bordering Israel and Egypt
taken hostage: when someone is taken as a prisoner by an enemy in order to force others to do what the enemy wants
9/11: On September 11, 2001, Islamic terrorists flew commercial planes into the Twin Towers of the World Trade Center in New York and the Pentagon in Washington, DC; both towers collapsed and nearly 3000 civilians died, including 10 Australians
compounds: enclosed areas of land and/or buildings used for a particular purpose
fraught: stressful, difficult, full of unpleasant things like danger and problems
genocide: deliberate, systematic destruction of a group of people because of their ethnicity, nationality, religion, or race
Zionist: someone who wants self-determination and statehood for the Jewish people in Israel
mandate: a command or authorisation to act in a particular way on a certain issue
displacement: when people are expelled, deported, made to leave or to flee their home or country
Yom Kippur: the most important holiday and holiest day of the year for Jewish people
repelled: forced away, driven back
militants: vigorously active or aggressive in support of a cause
massacred: killing a large number of often defenceless people in a horrible way
abducted: kidnapped, forcing someone to go somewhere, often using threats and violence
intifada: violent uprising by Palestinian people opposed to Israel's occupation of the West Bank
Nobel Peace Prize: since WWII, the Peace Prize has mainly been awarded to honour efforts in arms control and disarmament, peace negotiation, democracy and human rights and work aimed at creating a more peaceful world
assassinated: the murder of someone important, often for political reasons
right-wing extremist: someone who supports conservative or reactionary political views to a radical or extreme degree
annexed: possession taken of an area of land and added to a larger area, usually by force
revere: respect, admire, hold in the highest regard
provocation: action or statement that is intended to make someone angry
suicide bombings: when a person or group of people commits suicide by exploding a bomb in order to kill others
stifling: suffocating, oppressive, unpleasant, restricted
tenure: term of office, length of time holding an official position
judicial reforms: changes to law, the social system and/or institutions
undermining: making something less effective or less powerful
abhorrent: morally very bad, reprehensible
escalation: when something becomes greater in extent, volume, number, amount or intensity
EXTRA READING
What is happening between Ukraine and Russia?
Sword from Crusades salvaged at sea
Remembering the Light Horse heroes
QUICK QUIZ
When was Israel established and why?
What did the UN vote on in 1947 and what was the solution?
Who won the Nobel Peace Prize in 1994?
What is the name of the third holiest site in Islam?
What do Jewish people call the same site and how important is it to them?
LISTEN TO THIS STORY
CLASSROOM ACTIVITIES
1. The price of war
The Israeli Prime Minister stated that, "We will win this war, but the price is unbearable".
Reflect quietly to yourself on what this unbearable price of war is.
Write a short poem about this new and disturbing conflict in Israel.
Before you start writing your poem, make a list of words that describe the conflict and how you feel about it.
Use your senses to come up with words. What could you smell or hear? What would you see? How do you feel? If you choose to write a rhyming poem, use a dictionary to help you find rhyming words.
Read over your poem to check if it's descriptive enough so the reader knows how you feel about it and they feel some sort of emotion when reading it.
Proofread and edit your work ready for a final draft to share with the class.
Time: allow 45 minutes to complete this activity
Curriculum Links: English, Humanities, Personal and Social, Critical and Creative Thinking
2. Extension
How do you think the Australian Prime Minister Anthony Albanese and other world leaders could help Israel and Palestine leaders in solving conflict without starting another war?
Are there any winners from war? Explain your answer.
Time: allow 10 minutes to complete this activity
Curriculum Links: English, Personal and Social, Ethical, Critical and Creative Thinking
VCOP ACTIVITY
Wow word recycle
There are plenty of wow words (ambitious pieces of vocabulary) being used in the article. Some are in the glossary, but there might be extra ones from the article that you think are exceptional as well.
Identify all the words in the article that you think are not common words, and particularly good choices for the writer to have chosen.
Select three words you have highlighted to recycle into your own sentences.
If any of the words you identified are not in the glossary, write up your own glossary for them.