HOT on the heels of the recently released $5 bill comes a second update to Australian currency with the announcement of a new look $10 note.
Reserve Bank of Australia governor Philip Lowe said the updated currency will go into general circulation from September 20 and offer the same features as its less valuable pink sibling.
"The new notes contain the same world-leading security benefits as the $5 note, including a clear top-to-bottom window, and a tactile* feature so that it can be recognised by vision-impaired members of the community," he said in his opening statement to the House of Representatives Standing Committee on Economics.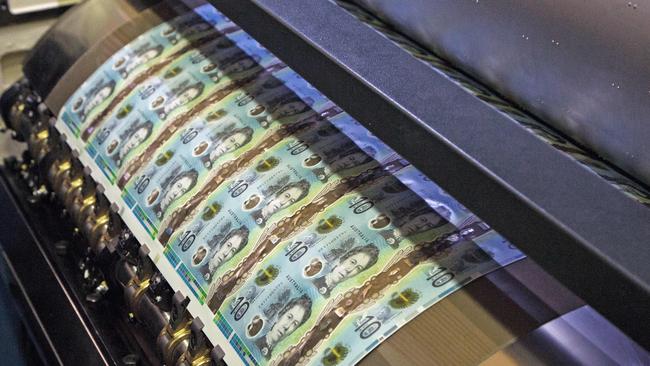 The note will feature two of Australia's most famous writers — Dame Mary Gilmore and Banjo Paterson.
Dame Mary Gilmore was an Australian writer, poet and journalist born in 1865. Her most famous work was No Foe Shall Gather Our Harvest, which served as a morale booster during World War II.
Banjo Paterson was an Australian bush poet, writer, journalist and horseman who also served as a soldier. His most well known poems include The Man from Snowy River and Waltzing Matilda.
To ensure* the new banknotes can be used in day-to-day transactions* across the country, the Reserve Bank has been working with cash handlers, businesses and cash and deposit machine manufacturers* in the lead up to the launch.
According to the Reserve Bank, the note will have the following features:
• A rolling colour effect when you tilt the banknote.
• Multiple security features in the clear top-to-bottom window.
• An image of the nib* of a pen to represent Gilmore and Paterson's works as writers.
• A flying cockatoo that will move its wings and change colour when the note is titled.
• A sulphur-crested cockatoo.
• A reversing number 10.
• An interpretation of the Bramble Wattle.
• Two raised bumps on each of the long edges of the banknote, which work as a tactile* feature.
• A portrait of Banjo Paterson that is based on a photograph taken when he returned from the Boer War in 1900
• The designer's interpretation of a horseman from the era of Paterson's writing.
• Tiny parts of text in multiple locations on the banknote that include excerpts from The Man from Snowy River.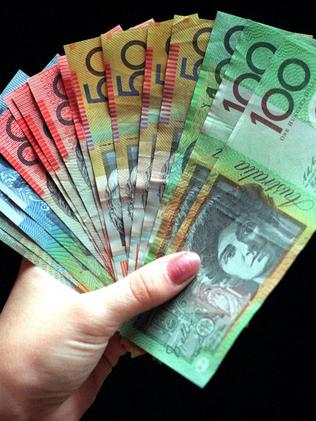 • A cockatoo and wattle branch printed with fluorescent* ink and visible under UV light.
Once the new $10 is released, people will be able to continue using the existing series of banknotes with all previously issued banknotes remaining legal tender*.
GLOSSARY
tactile: textured
e nsure: make sure
tr ansactions: buying and selling
manufacturers: makers
nib: top of a pen where the ink comes out
fluorescent: type of bright, light-emitting colour
tender: money
LISTEN TO TODAY'S STORY
CLASSROOM ACTIVITIES
Activity 1. The new $10 note
Read or listen to the article carefully then complete the following tasks.
• List the security features of the new bank notes.
• Why do bank notes need to have security features?
• What are the benefits of the new notes?
• Who in the community will benefit most by the introduction of these notes?
• Who and what is featured on the new $10 and what is their significance to Australia?
• Who or what is the Reserve Bank?
Extension: Famous Australian Poets
Find a copy of The Man from Snowy Ri ver by Banjo Paterson or Dame Mary Gilmores most famous piece Foe Shall Gather our Harvest.
Read the poem you chose carefully.
What is it about?
Draw a picture of what you visualise while reading the poem.
Time: allow 40 minutes to complete this activity
Curriculum links: English, The Arts — Visual Arts
Activity 2: Design the new $20 note
Assume that the $20 note will be the next note to be upgraded in this series of new bank notes. Who and what would you like to see on it?
The $5 note features a portrait of Queen Elizabeth II, Parliament House, Prickly Moses flower, Wattle flower and the Eastern Spinebill bird. Read the article to find out what the $10 note will feature.
Think of a significant Australian person as well as some Australian flora and fauna to include on the new $20 note and explain why you would include each one.
You might include a sports person, an explorer, a musician, an artist or perhaps a politician.
It could be someone living or someone from our history.
The only criteria for your selection is that the person, flora and fauna is Australian and you can explain why you have selected them.
What is their contribution or significance to Australia?
Extension: What will it look like?
Use a computer program to create a labelled diagram of each side of your design for the new $20.
Make sure you include and label all the security features that need to be included as well as including pictures of the person, flora and fauna.
Don't forget to choose the colour of your note.
Print out your note and present it with your explanation from the activity above.
Time: allow 60 minutes to complete this activity
Curriculum links: English, Humanities — History and Civics and Citizenship, Design and Technology, Digital Technologies
VCOP ACTIVITY
(Vocabulary, Connectives, Openers, Punctuation)
You have just been chosen to write the speech for the announcement of the new $10 note.
Think of some different and exciting ways to catch the attention of everyone using the opener keys resource.
Include some important facts about the note and what features it will showcase.
Time: allow 15 minutes to complete this activity
Curriculum links: English, Big Write, VCOP
EXTRA RESOURCES
DO FRIENDLIER MACHINES DETER THEFT?
CYBER ATTACKS TRIGGER WARNINGS
IN A SENTENCE, SHARE YOUR THOUGHTS ON TODAY'S STORY
Kids News loves reading your best grammar, vocabulary and spelling.
We publish the best comments.