It's early morning and across four rooms at the HP Experience Centre, mini-minds are shaping big things for the future.
Forty-eight children have been invited to the inaugural* HP Kids Day which aims to reinvent learning.
Four workshops are shaped to get the creative juices flowing and open a world of technological possibilities in the kids' imaginations.
First stop is checking out the one and only Sprout computer in Australia right now and how it helps create virtual reality.
The kids take a fluffy teddy bear and scan it into the Sprout machine, which allows you to scan 2D and 3D objects and documents.
Once the teddy bear is given a 3D structure, they colour him in and can place him in a digital world such as games, movies, virtual reality scenes or they can even 3D print it.
"This is so cool," one student remarks.
Within minutes the kids are grasping* the concept and scanning all sorts of toys into a virtual world.
In the room next door is code camp. For many adults, coding is still jibberish but for kids it is a language that's becoming all too common and will shore up jobs of the future.
The kids are immersed in Code Camp World by codecamp.com.au. They are trying to get a girl with a jetpack to navigate through obstacles and make different movements.
They use code to make her do certain movements and act in a certain way.
One young man is way ahead of the pack and finishes each step super fast. When he's asked if he's coded before his answers cooly; "Yeah, I code a lot at home. I've downloaded lots of apps."
Even the four year olds in the room could follow along with some adult assistance*.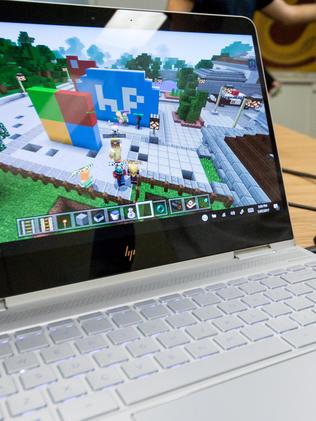 Education through gaming is on offer in the Minecraft room.
Eager eyes fall on the Minecraft world as the students are asked to simply start exploring.
Microsoft instructor Dan Bowen says just playing the game helps kids with problem solving, working collaboratively*, inspires creativity and gets them making things.
"It's a balance of watching others do it and learning themselves," he says.
Within minutes kids are exploring worlds, building bridges and gardens.
"This is fun, It has lots of people in it and you can do whatever you want," says Sunny.
"I found a fire truck," yells another kid with delight while another just wanted to kill zombies.
It's no wonder the Education Department is exploring buying computers with Minecraft already loaded for educational learning.
In the final room for the Makers session, kids are using conductive electricity to make a control with wires and playdoh. Done correctly, the control will play music.
"You guys are all scientists, all computer engineers of the future," session leader Gil Poznanski tells the students.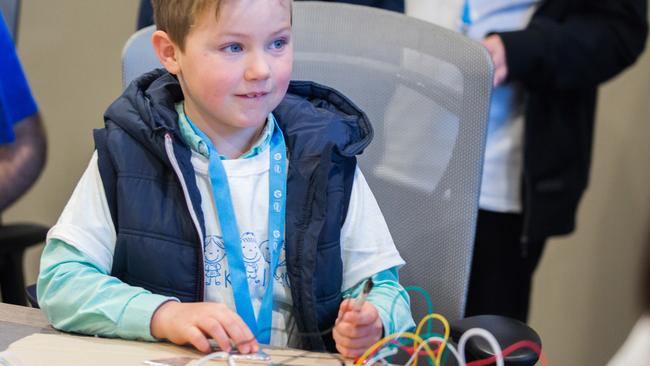 If this Kids Day is anything to go by, it looks like the future is in good hands.
"We are hoping to replicate the day and offer this to schools directly and truly inspire and innovate as many children as we can," says HP Commercial Sales Program Manager Katrina Yon.
HP will hold Innovation events for students and teachers in the near future with exact dates to be determined.
GLOSSARY
inaugural: first
grasping: understanding
assistance: help
collaboratively: with others
LISTEN TO TODAY'S STORY
CLASSROOM ACTIVITY
Fun and Learning
There was lots of learning happening at the HP Kids Day across the four workshops offered.
Draw up a table with each workshop as the heading for each column.
SPROUT, CODE CAMP, MINECRAFT, MAKERS
For each workshop write:
• What were students doing?
• What skills were they learning?
• Would you like to see this used in your school? Why/why not?
Of the four workshops, which one sounded like the most beneficial to be included in your school curriculum?
Extension:
The article says that HP will hold Innovation events for students and teachers in the near future. Would you like to be involved or would you like your teacher to be involved?
Choose one of the following tasks:
Write an application letter for yourself to be included in one of these Innovation session.
Make sure you state why you would like to be involved.
What skills do you already have?
What would you hope to learn?
What would you do with the new skills you might learn on this day?
How will it help you with a career in the future?
OR
Write an application letter for your teacher to be selected to be a part of an Innovation day.
Why should your teacher be chosen?
How do they already use digital technologies at school?
Why would sending your teacher to this event be beneficial for you and your school?
How will it help the students at your school in the future?
Make sure correctly address and set out your letter.
Time: allow 60 minutes to complete this activity
Curriculum links: English, Digital Technologies, Science
EXTRA RESOURCES
CYBER ATTACKS TRIGGER WARNINGS
STUDENTS DEVELOP SPACE FACE CREAM