CATS are known to turn up their noses at all sorts of things and, compared with their canine counterparts, are notoriously* picky.
But it seems felines' fine noses could actually help humans and put dogs out of a job, according to research published in the journal Applied Animal Behaviour Science.
The wideranging study found cats have a more sensitive sense of smell than dogs.
Specifically, their genes reveal they have a significantly better ability to discriminate* between a greater variety of smells.
That means they could be employed in the same way search-and-rescue dogs are, to seek the scent of anything from diseases, including cancer and tuberculosis, to explosives and humans.
And cats' small, lean bodies could much easier access difficult spaces — such as collapsed buildings — when compared with emergency service personnel or dogs.
"Given the importance of olfaction* in cat sensory perception, cats could be trained to discriminate between a variety of odours, therefore serving in working roles for detecting specific humans, medical scent detection, bomb sniffing, or drug sniffing," Oregon State University's Department of Animal and Rangeland Sciences researcher Kristyn Vitale Shreve told science news site Seeker.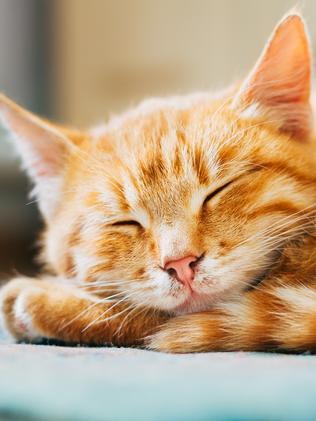 "It may be possible to train cats for search and rescue or other scent detection applications in settings where a cat's physical agility or size would make them a superior choice," she said.
While cats aren't known for their obedience, the key to getting a cat to conform is its stomach, Shreve said.
But forget carbohydrate-packed biscuits. Cooked chicken or tuna is much more likely to succeed.
"Although many hold the false belief that cats are untrainable, both empirical* and applied evidence has demonstrated that cats can be trained — including the skill of walking on lead — especially when started early in life," the study reads.
There are three different kinds of scent receptor proteins in mammal noses. One of them, V1R, is believed to control a mammal's ability to separate one scent from another.
Dogs have nine variants of the V1R protein, humans have two and cats have 30.
Cats may have more sensitive noses than dogs. But rats top the lot, with 120 V1R protein variants.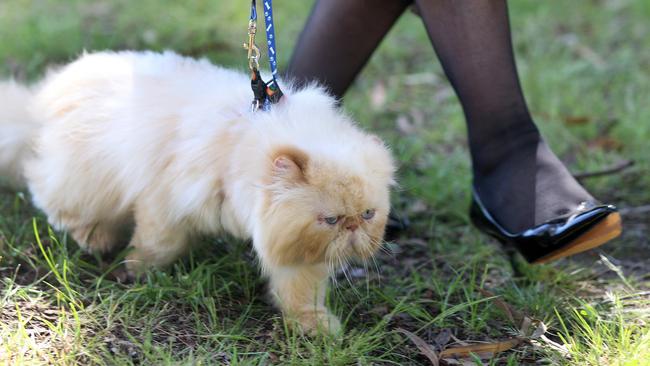 Rodents are already being employed in the hunt for buried mines and others are being put through their paces in detecting medical conditions and tracking down people trapped in a collapsed buildings.
GLOSSARY
notoriously: famously, for a negative reason
discriminate: treat unfairly
olfaction: smell
empirical: factual
LISTEN TO TODAY'S STORY
CLASSROOM ACTIVITIES
Activity 1. Read and respond
Write a paragraph summarising the main points of this article.
What roles could cats be employed in?
Why might cats be a better choice for these roles than dogs?
Which animal mentioned in the article has the best sense of smell?
Extension: Sniffer cats or sniffer dogs?
What are the benefits of using cats instead of dogs in these roles?
Create a chart that lists the benefits of sniffer cats in comparison to sniffer dogs.
Time: allow 30 minutes to complete this activity
Curriculum links: English, Science
Activity 2. Wanted — sniffer cat!
Design a job advertisement for a sniffer cat.
Include:
• A job description
• What types of things the successful cat will be required to do
• How they will be paid for their efforts
• Where the job might be held
• What training they need to have
Use the article to give you clues of what should be included.
Extension: Dangerous work
The article suggests that cats, like dogs and rats, may be used to enter collapsed buildings to track down trapped people.
Should we use animals in dangerous roles such as this?
Think on your own and then discuss with a partner whether you agree with animals being used in roles like this.
Write a paragraph stating your opinion of whether animals should be used in these dangerous situations.
Time: allow 45 minutes to complete this activity
Curriculum links: English, Science, Critical and Creative Thinking
VCOP ACTIVITY
(Vocabulary, Connectives, Openers, Punctuation)
Rhyming words!
Choose 10 words from the article. Come up with five or more words to rhyme with each.
Can you find any good WOW words?
Example:
Cats — hats, bats …
Extension:
Write an opening paragraph to a narrative story about a cat that includes some rhyming sentences.
Time: allow 15 minutes to complete this activity
Curriculum links: English, Big Write, VCOP
EXTRA RESOURCES
TASMANIAN TIGER 'PROOF' ON FILM
GUIDE DOGS CELEBRATE 50 YEARS OF HELPING
GHOSTLY WHITE GIRAFFES SPOTTED
IN A SENTENCE, SHARE YOUR THOUGHTS ON TODAY'S STORY
Kids News loves reading your best grammar, vocabulary and spelling.
We publish the best comments.