WHAT started as a humble family operation 70 years ago has become one of Australia's most beloved sugary treats, and now Wizz Fizz is celebrating its success with events across Victoria.
The Melbourne-based sherbet brand was launched by businessman Arthur Campbell in the 1940s and has stood the test of time.
"Arthur was very much the entrepreneur*," Wizz Fizz chief executive Gillian Powell said.
"His wife made jam in the backyard at home.
"To make jam, you need to get a hot boil, and Arthur being the way he was, decided to make lollipops.
"But from that, he decided that he wanted something with a bit of a kick on the tongue, so he developed a recipe for sherbet as something to dip the lollipop into."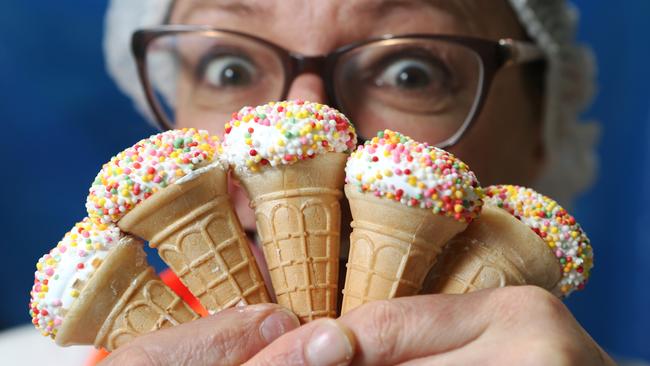 Mr Campbell started a small business in Melbourne's inner northern suburb of North Fitzroy with 12 staff, and it wasn't long before his employees were raving about the sherbet taste sensation.
"He created Ring Fizz, which was a product (where you dipped a lollipop ring) into the sherbet; then eventually the sherbet took over in its own right," Ms Powell said.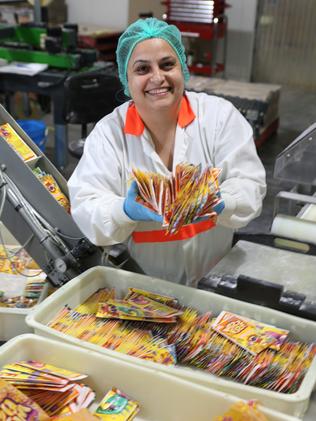 Today, known as Fyna Foods, the fizz factory employs 88 full-time staff and between 10-20 casuals depending on the time of the year.
More than 50,000 sachets and plastic spoons are produced every day.
"The spoon over the journey has a very long history. There are numerous iterations of the spoon.
"It morphed out of the fact we had to replace the lollipop," Ms Powell said.
"One thing we've always said about Wizz Fizz is it's very interactive, you have to work hard to eat it."
Ms Powell said Fyna Foods had experienced a large climb in business in the past two financial years.
"There's no doubt there was a plateau* for a period, particularly with all the talk of the health affects of sugar, but we've seen a big climb in the last two years," she said.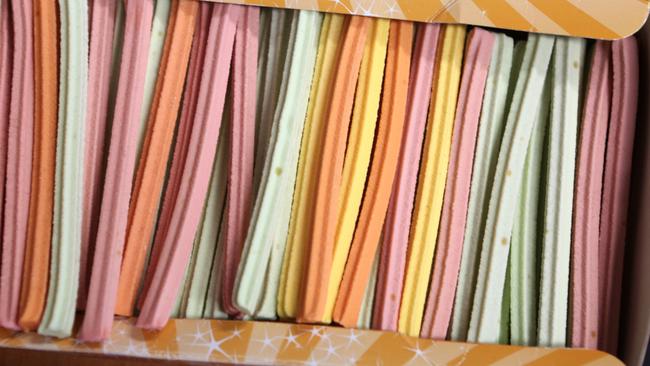 "We find that a lot of people love the old-fashioned brands, the brands they are comfortable with. We love the fact that children who grew up in the '70s and '80s love Wizz Fizz and we want their children to love it too."
As part of the 70th celebrations Wizz Fizz will star at Melbourne's Luna Park's four-day Halloween Party, Luna Dark, and at the St Kilda Town Hall from October 27-31. Wizz Fizz will also be at Boo at the Zoo at Werribee Zoo.
GLOSSARY
entrepreneur: person who starts their own business
plateau: point when something stops going up and evens out
LISTEN TO TODAY'S STORY
CLASSROOM ACTIVITIES
Activity 1. My spoon was missing!
Each packet of Wizz Fizz is supposed to come with a spoon but sometimes packets are sold without the plastic implements and customers get frustrated.
Imagine that you are a disgruntled Wizz Fizz customer who received a packet without a spoon.
Write a letter to the company to let them know about your problem.
Be dramatic as you like about the inconvenience it has caused you.
Be polite and include a proposed solution that would make you a happy customer again.

Extension:
Write down 10 things you have learnt about Wizz Fizz from the article.
Time: allow 30 minutes to complete this activity
Curriculum links: English
Activity 2. New and improved
Think about how the packaging of a Wizz Fizz and spoon could be improved for the best and most enjoyable customer experience.
Sketch a front on and side diagram of your new design with labels and a short description.

Extra resources
A picture of or an actual Wizz Fizz so students can see the current size and design of the packaging and spoon.
Extension:
Write a list of as many words as you can to describe tastes and sensations of a Wizz Fizz.
Time: allow 20 minutes to complete this activity
Curriculum links: Design and Technologies, English
VCOP ACTIVITY
(Vocabulary, Connectives, Openers, Punctuation)
Tally VCOP elements in the article.
Draw a table with four headings: Vocabulary, Connectives, Openers and Punctuation.
Highlight the VCOP in the article and then tally how much of each has been used.
Extension:
Create a graph displaying the data you have discovered. What VCOP is present the most throughout the article?
Time: allow 15 minutes to complete this activity
Curriculum links: English, Big Write, VCOP
EXTRA RESOURCES
MAYBE WE ARE HAPPY LITTLE VEGEMITES
BRIDE SAYS 'I DO' TO DOUGHNUTS