IMAGINE not having a home to go to after school and having to figure out where to sleep and stay warm each night.
This is the experience of tens of thousands of homeless Australians every day.
In recent years there has been an increase in the number of people living rough, sleeping on the streets and on friends' couches, camping in parks and living out of their cars.
According to Homelessness Australia there are more than 100,000 Australians experiencing homelessness to some degree across the nation.
This month in Sydney a tent city popped up at CBD location Martin Place where about 60 homeless people lived until they were moved on into alternate situations or different parts of the city.
Homeless man Lanz Priestley became known as the 'Mayor of Martin Place' after organising the tent city and speaking about the struggles of homeless people in Sydney.
"Getting the campers into hotels and long-term housing is a partial victory but it's nowhere near a long-term solution," he said.
"This is about getting people off the streets for good so that our grandchildren don't have to go through what we have."
Homelessness Australia estimates there are more than 22,000 people in Melbourne experiencing homelessness.
Workers at St Kilda Sacred Heart Mission shelter said they had seen an increase in demand for services.
"On average between seven and 15 people took shelter on the veranda each night, compared to two or three people a year ago," chief executive Cathy Humphrey said.
"This is evidence of the growing homelessness crisis across Melbourne."
Last week Moreland city council in inner Melbourne proposed new rules to allow homeless people to camp in public places.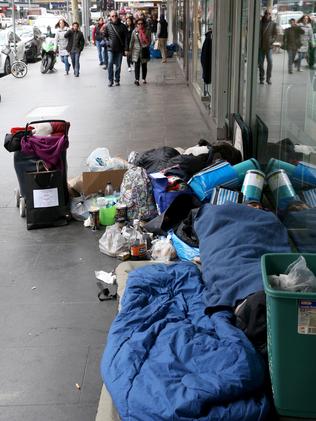 Earlier this year in Brisbane a homeless man came up with a plan to make his life, and the lives of other homeless people, a little easier.
Nigel suggested Brisbane City Council install free lockers about the size of a standard suitcase for the homeless to keep a few belongings safe.
"For a lot of streeties* the problem is … there's no place to put your stuff and you can't carry it with you all day, it's impossible," Nigel said.
Nigel leaves his belongings hidden under bushes or at the bottom of wheelie bins to try to stop them being stolen or thrown away.
"It comes night-time and no blankets, no personals, no nothing," he said.
"You're sleeping on concrete."
Nigel is one of about 19,000 homeless people in Queensland, while almost 7000 people are experiencing homelessness in South Australia.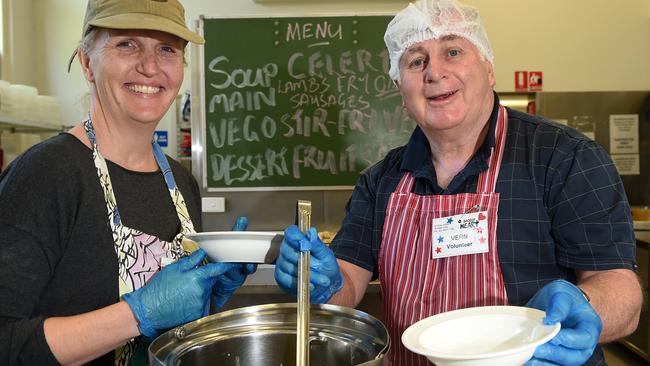 Yesterday it was announced that the St Vincent de Paul Society would open a new emergency women's shelter in Adelaide next month with child minding and a play area for kids.
The 20-room facility will provide short-term housing for women and their children.
"Women will find themselves in a nurturing* environment to support decision making and change at a distressing time when they have found themselves without a choice for safe accommodation," Vinnies state president Cathy Beaton said.
Homelessness is a complex issue with many causes and no obvious long-term solutions.
A 2017 study by leading welfare organisation Sacred Heart Mission indicated mental health issues and a lack of social support were behind most cases of chronic homelessness.
Parental and caregiver conflict at home was a significant reason why people experienced homelessness, the report also showed.
Domestic issues and violence at home were also contributing factors.
Study lead Professor Paul Flatau said understanding the factors contributing to homelessness was important.
"Only when we understand these factors … can we interrupt the cycle of homelessness and create better outcomes by supporting their journey to improved health and wellbeing, and getting them into housing that is affordable and sustainable," he said.
GLOSSARY
streeties: what Nigel called people who lived on the street
nurturing: caring
LISTEN TO TODAY'S STORY
CLASSROOM ACTIVITIES
Activity 1.
According to Homelessness Australia, how many people are homeless in Australia?
Is the problem of homelessness getting better or worse?
Give three pieces of information from the story to back up your answer.


Extension:
What causes someone to become homeless?
Brainstorm as many reasons as you can and check the story for ideas.
Can you think of something that could be done to help when this happens to stop a person becoming homeless?
Time: allow 35 minutes to complete this activity
Curriculum links: English, Critical and Creative Thinking
Activity 2.
In the story, you have read about some solutions to the problems faced by homeless people.
List the problem and the solution.
Then think of some problems that a homeless school student would face. Write them down in a mind map.
Extension:
In the story, you read about Lanz Priestley.
Imagine that you are a reporter for Kids News. Your job is to interview Mr Priestley about homelessness in Sydney and the tent city.
Write a list of questions that you would ask.
Then, write down the answers that you think he would give.
Use all of the information in the story to help you.
Time: allow 55 minutes to complete this activity
Curriculum links: English, Critical and Creative Thinking, Personal and Social Capability
VCOP ACTIVITY
(Vocabulary, Connectives, Openers, Punctuation)

Choose three words from the text you are not completely familiar with.
Look up the word if you need to be sure of its meaning.
Download and use the vocabulary template to write a definition in your own words.
Draw an illustration of the word in context.
In the More box, come up with three synonyms for this word.
Time: allow 15 minutes to complete this activity
Curriculum links: English, Big Write, VCOP
EXTRA RESOURCES
IS THE WORLD RUNNING OUT OF WATER?
SLEEPING POD HOTEL OPENS IN OZ