Australian boy, 10, opens up on 'terrifying' Gaza war zone
An Australian boy trapped in the Gaza Strip with his family has written about what it's been like in the middle of a war zone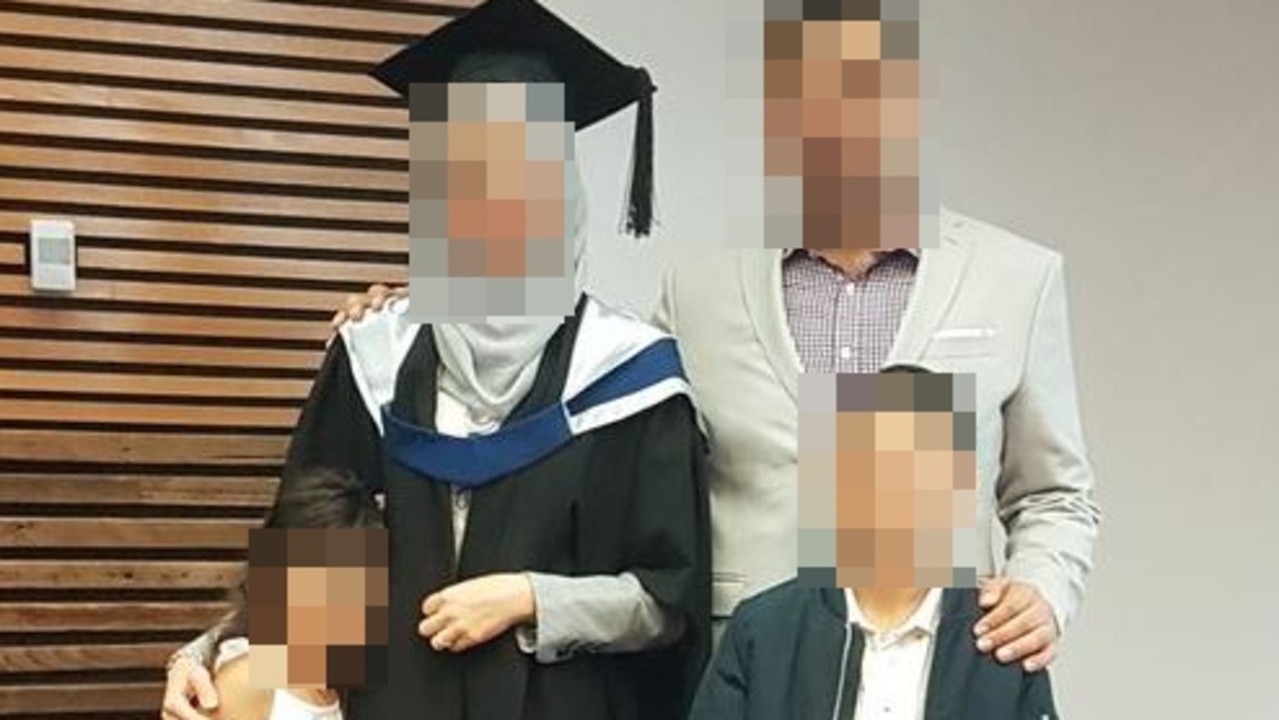 An Australian family from Adelaide is trapped in Gaza and unable to cross the Rafah border. Picture: Supplied
An Australian family trapped* in the Gaza Strip* are unsure if and when they will be able to return home.
The Palestinian-Australian man, his wife and their two young children aged seven and 10 have been waiting at the Rafah border crossing* to Egypt for more than a week, with food and water very hard to come by.
The family held out hope they could get escape through the Rafah crossing on Saturday as the border between Egypt and Gaza opened for the first time to allow in a small number of aid trucks*. Yet no foreign nationals* were allowed through.
The 10-year-old boy has written a first person piece*on his experience. Read it below.
From Fantastic to Miserable!
By: M. A
Year 5, Adelaide, South Australia
Please don't ask me: RUOK? Because I'm not. I don't feel safe at all and I just want to go back to Australia where there's peace. I will tell you my story.
Picture this, we are finally here at my grandpa's house in Gaza. Can you imagine my dad hasn't seen his family for 12 years! He is very excited to see his family. Yes!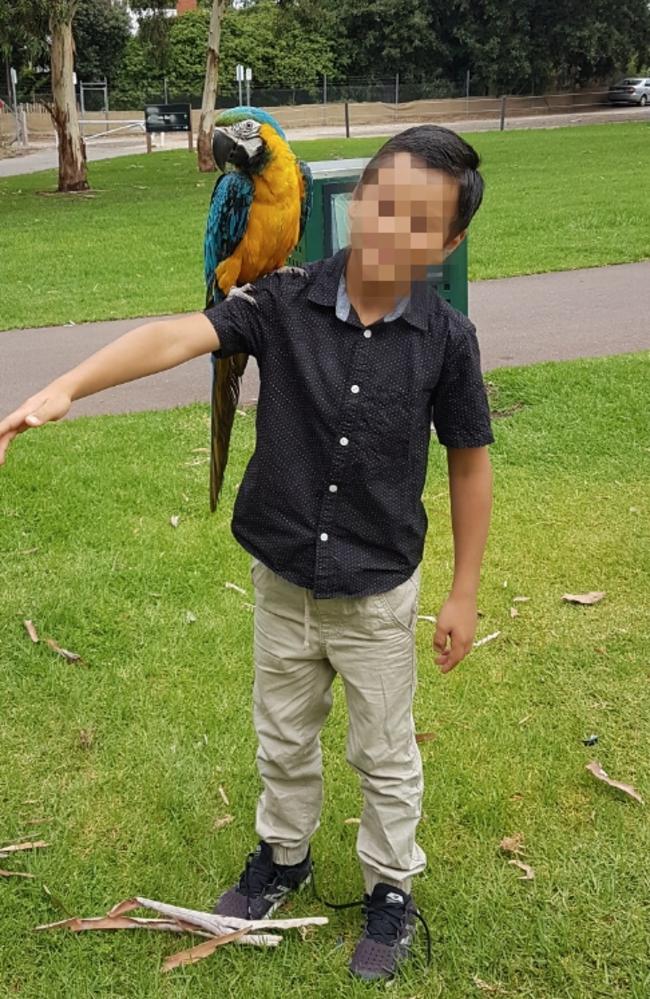 MA with a parrot at Bonython Park in South Australia
We have planned a holiday for four weeks in Gaza. It felt like we were going to have lots of fun. We went to the beach, and it was really exciting since the waves were not very high.
My cousins came to Grandpa's house for a sleepover. We kept chatting all the time until midnight and that's when we sneaked out to the kitchen and prepared a midnight feast (do not tell my mum!!).
A few days later we had our boys' day out when we ate at a burger restaurant and then enjoyed ice-cream. Obviously my grandma makes better food than any restaurant! She made us pizza, spaghetti and many traditional Palestinian foods that include: fatta, makluba and many more.
The thing that made my day all the time were my two cats: a kitten called Choco and a bigger cat called Miko. Because of these two cats I was never bored.
After all these fun events, I'm in my bed, it is around six o'clock (on) a strange Saturday morning. I heard a bombing* sound! Everything changed … Dad said that something very serious just took place and he was worried about us.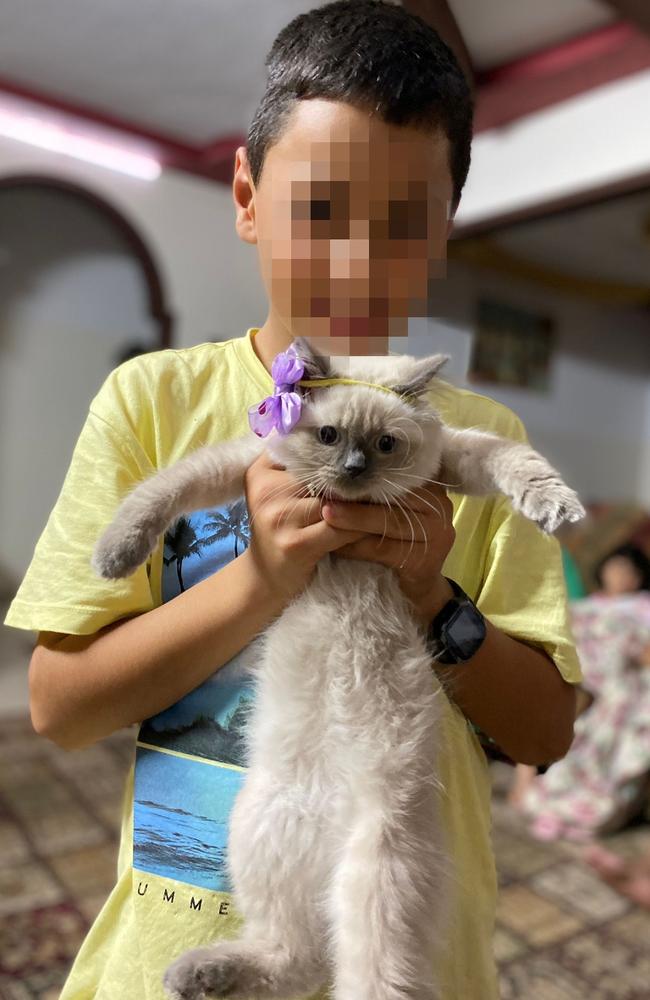 MA and Choco in his grandpa's house.
We were very surprised and scared at the same time. As the day went by, we would hear bombing that got louder and louder. Not only that, but it was also very close.
My grandpa's neighbour's house exploded, and we could've died. Choco was frightened by the sounds of bombings too. She started to vomit, and we took her to the vet who gave her medicine.
Our area was targeted, which meant it is either life or death. One day a building in the neighbourhood got hit by jets. We decided to escape to the hospital, and we were kind of half safe. Sadly we had to sleep on the floor … Due to rushing, we forgot a bag, so my uncle ran back to get it and while he was getting it, he noticed that Choco our kitten was dying.
Luckily Miko was alive, but we forgot to take it with us. That was very sad, Choco and Miko were my best friends, it broke my heart.
The next day we went to the borders*, spent the day under the hot sun but the borders remained closed. So, we went to my uncle's friend's house near the borders and the next thing I know was a hospital got bombed, 500 people died.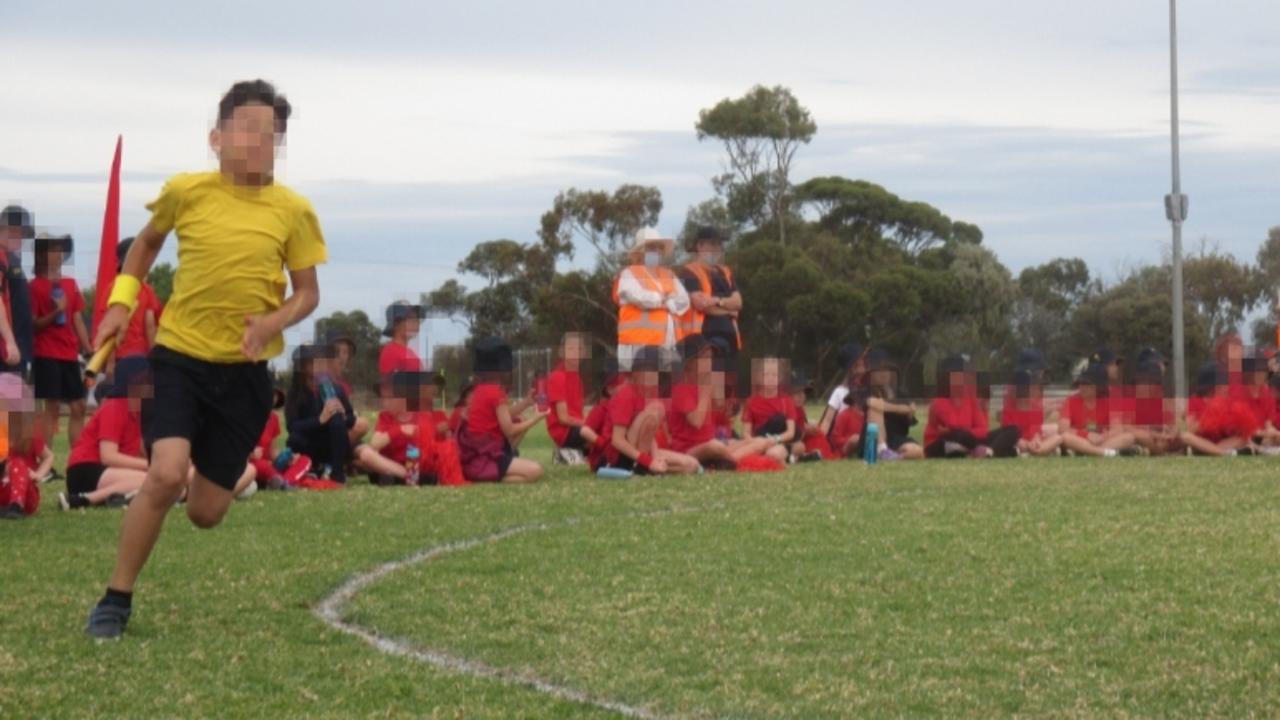 MA competes at a school athletics carnival.
My grandpa's house also got damaged. It is very sad; I'm literally crying right now. So still we were trapped and still there are terrifying air strikes*. So, if the hospital isn't safe, WHAT PLACE IS!
This is why I want to go back to Australia. I'm stuck here in Gaza, terrified of what will happen tomorrow? Will I be become an orphan*? Will my parents be safe? Will we be able to make it to Australia?
So many questions going in my head. Why can't we just go back … I miss playing soccer with my friends, riding my bike in the neighbourhood, this is an important one.
Have you realised I'm getting dumber, I need to go back to school, I really love solving math problems too. And lastly I want to be in my own house, in my own room, in my own bed where I feel safe and cosy.
Help for children caught up in the conflict
UNICEF, or the United Nations International Children's Emergency Fund, is an organisation that plays a vital role in times of conflict and wars.
Their mission is to protect and support children who are caught up in these difficult situations.
During wars, UNICEF provides essential help to children and their families by ensuring they have access to necessities* like food, clean water, and medical assistance.
They also establish safe environments, such as schools and recreational areas, where children can continue to learn, play and recover.
According to UNICEF, More than 638,000 people from the Gaza Strip have had to flee their homes as a result of the Israel and Palestine conflict, with the majority taking shelter in schools, hospitals and emergency shelters.
Despite the challenging situation, UNICEF and its partners are on the ground in the Gaza Strip delivering immediate humanitarian support*, including medical supplies, water and providing mental health support* and recreational kits to children and families to help them manage through this crisis.
Many humanitarian groups, including UNICEF, are preparing supplies to help children and families when access is available through the Rafah crossing from Egypt.
UNICEF is shipping critical supplies to El Arish Airport such as thermal blankets*, water purification tablets*, medicines and medical equipment, latrines* and water bottles.
If you find this article upsetting, please talk about what is upsetting you with an adult you trust or visit kidshelpline.com.au or call KidsHelpline on 1800 55 1800 at any time for any reason.
GLOSSARY
trapped: unable to escape or leave a place
Gaza Strip: a narrow strip of land between Israel and the Mediterranean Sea, and has a small border with Egypt
Rafah border crossing: a place where people can cross from Gaza into Egypt or vice versa
aid trucks: vehicles carrying essential supplies like food and medicine for those in need
foreign nationals: people from other countries
first person piece: story or writing where the author shares their personal experiences and feelings
bombing: a violent explosion, often caused by weapons
orphan: a child whose parents have died
air strikes: attacks from the air, often by military aircraft
borders: the dividing lines between countries or areas
necessities: things that are absolutely needed, like food and water
humanitarian support: assistance and help provided to those in need
mental health support: help and care for people's emotional wellbeing
thermal blankets: warm blankets
water purification tablets: tablets used to make water safe to drink
latrines: basic toilets
EXTRA READING
What is the Israel and Palestine conflict?
What is happening between Ukraine and Russia?
Sword from Crusades salvaged at sea
QUICK QUIZ
What's the name of the place where the family is stuck?
How long did the family wait at the border crossing to Egypt?
What happened when the border between Egypt and Gaza opened?
Why does the boy want to come back to Australia?
What does UNICEF do to help children and families during wars?
LISTEN TO THIS STORY
CLASSROOM ACTIVITIES
1. Fantastic to miserable
Complete a gratitude tree stating all the things you are grateful for in your life here in Australia.
Your tree should have a trunk and the branches should be all things you are grateful for, decorated nicely on the tree.
Share your tree with your classmates.
Time: allow 20 minutes to complete this activity
Curriculum Links: English, Visual Arts, Personal and Social, Critical and Creative Thinking
2. Extension
Can you imagine being in this boy's shoes? What would you miss the most if you were stuck in a country with a war going on around you?
What would you like to say or do for this boy at this scary and unpredictable time?
Time: allow 10 minutes to complete this activity
Curriculum Links: English, Personal and Social, Critical and Creative Thinking
VCOP ACTIVITY
Read this!
A headline on an article – or a title on your text – should capture the attention of the audience, telling them to read this now. So choosing the perfect words for a headline or title is very important.
Create three new headlines for the events that took place in this article. Remember, what you write and how you write it will set the pace for the whole text, so make sure it matches.
Read out your headlines to a partner and discuss what the article will be about based on the headline you created. Discuss the tone and mood you set in just your few, short words. Does it do the article justice? Will it capture the audience's attention the way you hoped? Would you want to read more?
Consider how a headline or title is similar to using short, sharp sentences throughout your text. They can be just as important as complex ones. Go through the last text you wrote and highlight any short, sharp sentences that capture the audience.