Ash Barty among fans of Vegemite as famous spread turns 100 today
Happy little Vegemites have extra spring while they spread as Australia's unofficial national spread clocks a century, with fans including retired tennis ace and new mum Ash Barty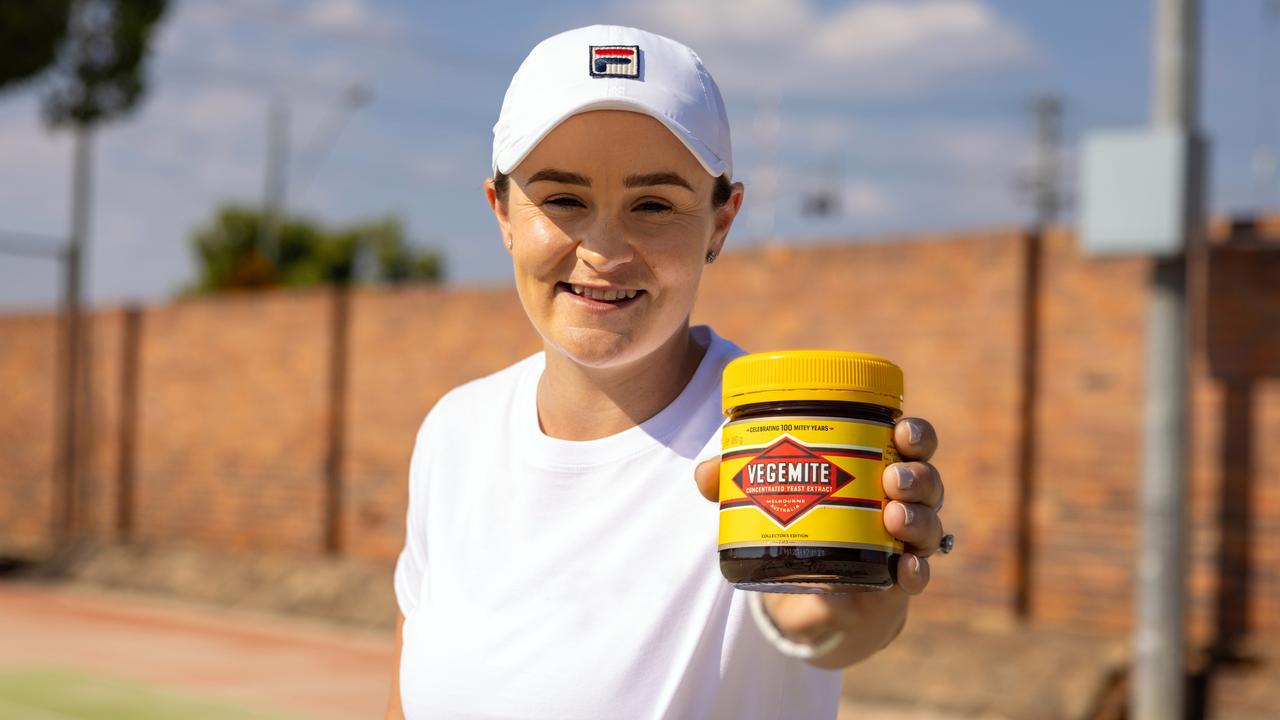 Ash Barty is a Vegemite fan and enjoyed getting international players to try it – after 100 years of Vegemite and a jar in around 80 per cent of homes, many Australians have a story of their own. Picture: Marc Llewellyn
It's the Aussie staple* you either love or hate.
And by his own account, the grandson of Vegemite inventor Cyril Callister said it was remarkable the spread had notched up a century given it was a "complete and absolute dud*" when it first rolled off the production line.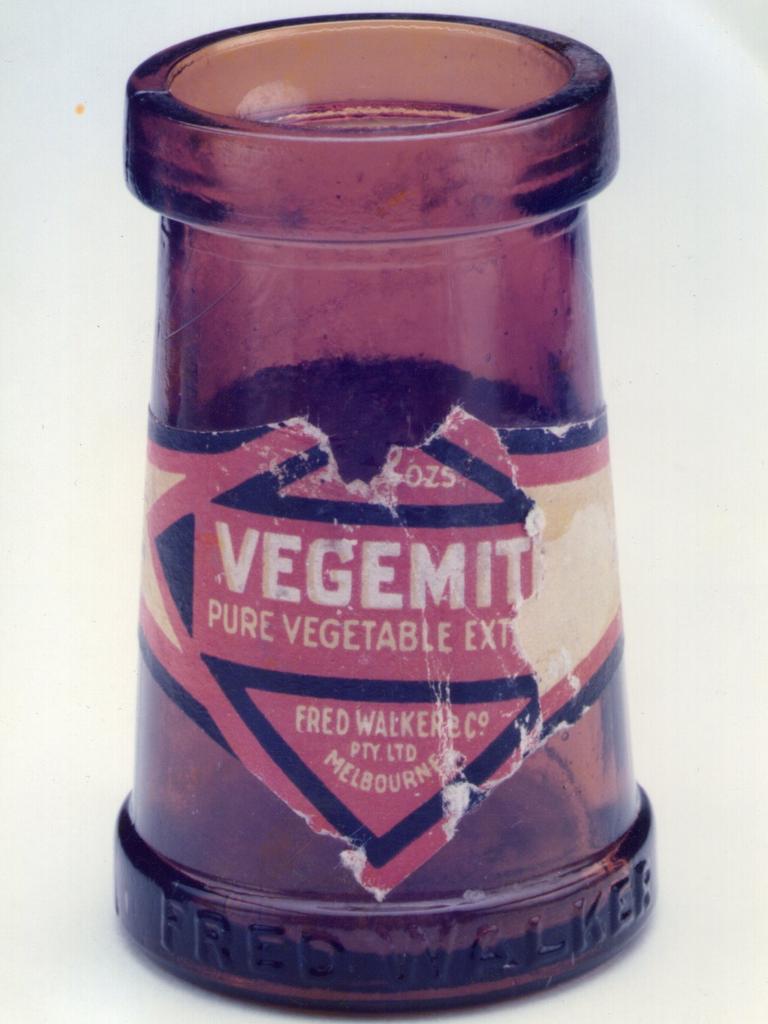 The first jar of Vegemite as it looked in 1923, when it was manufactured by Fred Walker Foods. Vegemite was initially a "complete dud" but it gained popularity after Fred Walker decided to give it away free with blocks of Kraft cheese in the 1920s. Picture: supplied
Jamie Callister said the product became more popular after company founder Fred Walker, who "invested his life's savings" into it, came up with the idea of giving away a small jar of Vegemite with every block of Kraft cheese.
At the time, the company was also the Australian manufacturer of the American cheese.
"People started to like it and by the Second World War, it was written into the army ration book*," Mr Callister said.
"It's a very Australian story that spans the globe".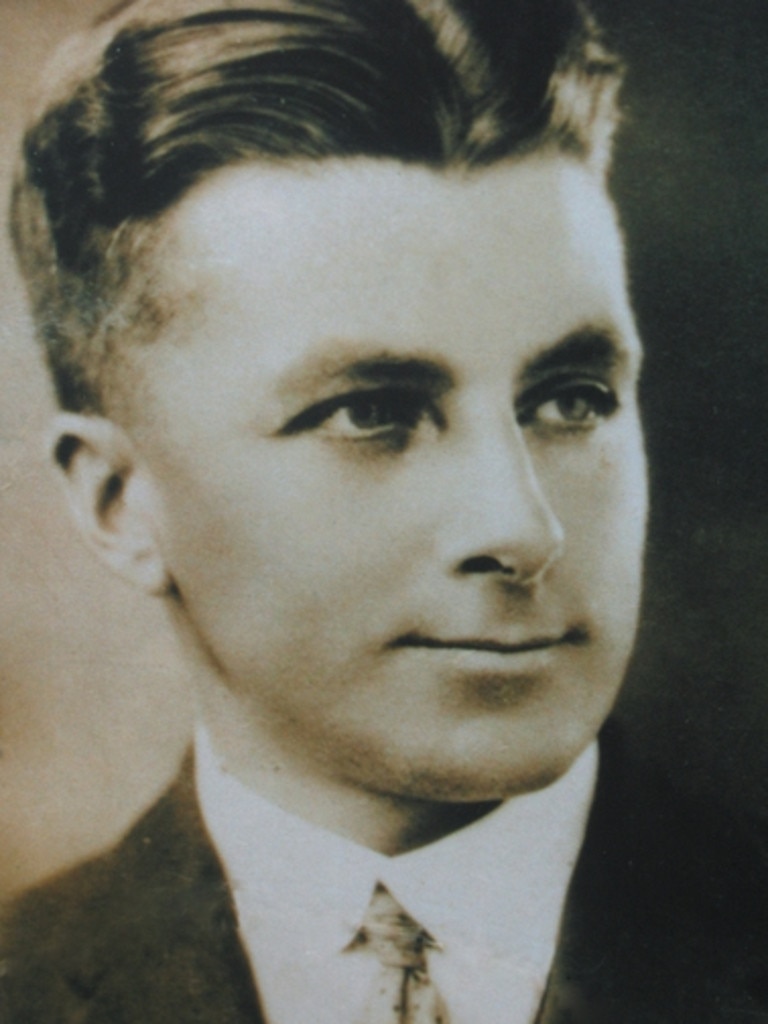 Scientist Cyril Callister, who invented Vegemite in 1923. Picture: Supplied Supplied
Mr Callister said his grandfather would be "enormously proud" of how big the spread had become.
"It's not just my family's story, it's all of our story as Australians," he said. "Love it or hate it, it's so quirky* and so us."
"I think he would be enormously proud of his contribution to food science in Australia and the lasting legacy*.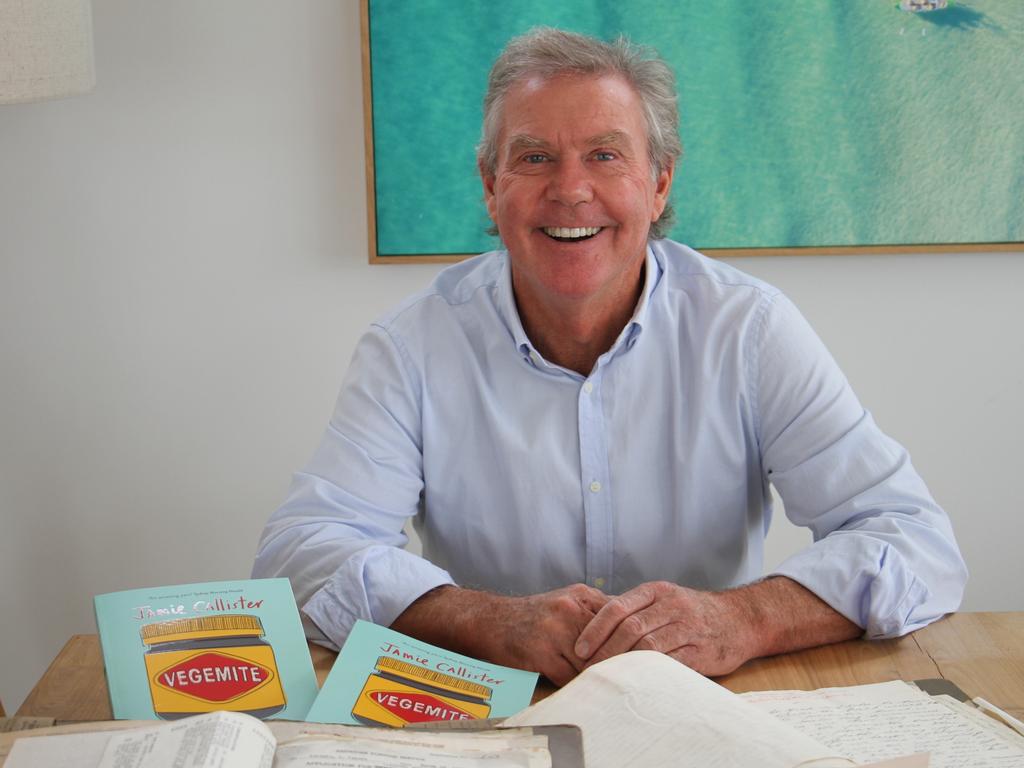 Jamie Callister, grandson of Vegemite creator Cyril Callister, with his book about the product and some old letters from the family album. Picture: supplied
"He always firmly believed in it, he knew the benefits, but the fact that so many households have it (about 80 per cent), he would be blown away by that."
To mark 100 years of sales, Vegemite is releasing 1000 mini fine silver replicas of Vegemite toast that it hopes will become collector items.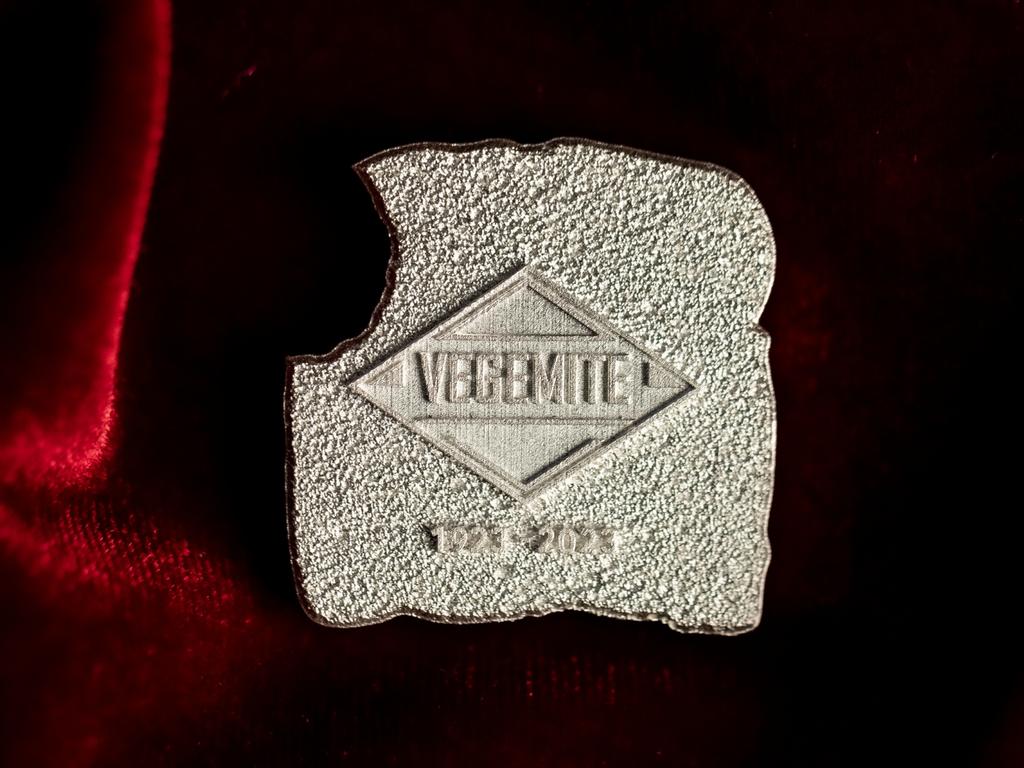 A toast to Vegemite as the spread celebrates its 100th birthday! No, really: to mark the occasion, the iconic brand will release a new limited edition collector's item, a 1oz fine silver Vegemite toast. Picture: supplied/Bega
It follows the release of mini replica fine silver and gold-plated jars, which sold out in four hours, with one of the gold-plated versions fetching $6,350 on eBay in September.
Retired Australian tennis champion Ash Barty, who has a limited edition collector's jar of Vegemite, said she was looking forward to introducing the spread to her son Hayden.
She was confident that "he will love it when he does try it".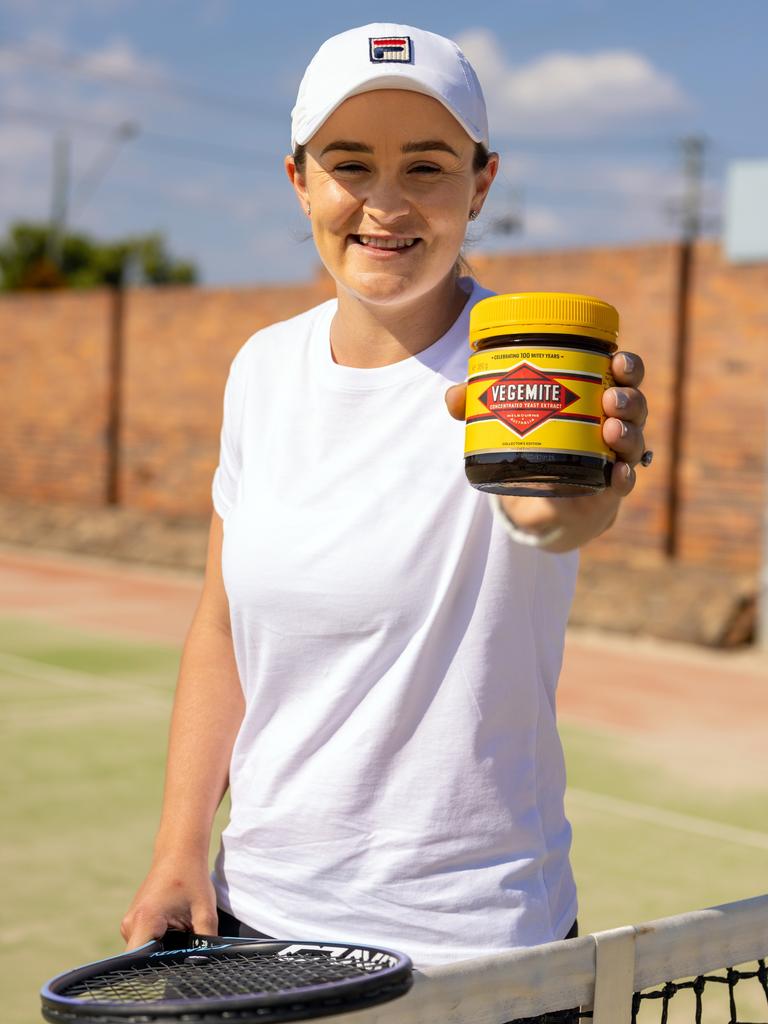 Happy Birthday from one Aussie legend to another: Ash Barty said she was looking forward to baby son Hayden's first taste of Vegemite. Picture: Marc Llewellyn
While touring, Barty said it was "always a bit of fun to get (fellow athletes) to try Vegemite", explaining there were "a lot of mixed reactions from the international players".
"Some loved it, some definitely did not," Barty said. "One of my doubles partners, American Jen Brady, was a big fan. She even wore a Vegemite T-shirt for her trip to the Australian Open."
Vegemite will make the fine silver mini toasts available for purchase from 9am on Thursday, October 26.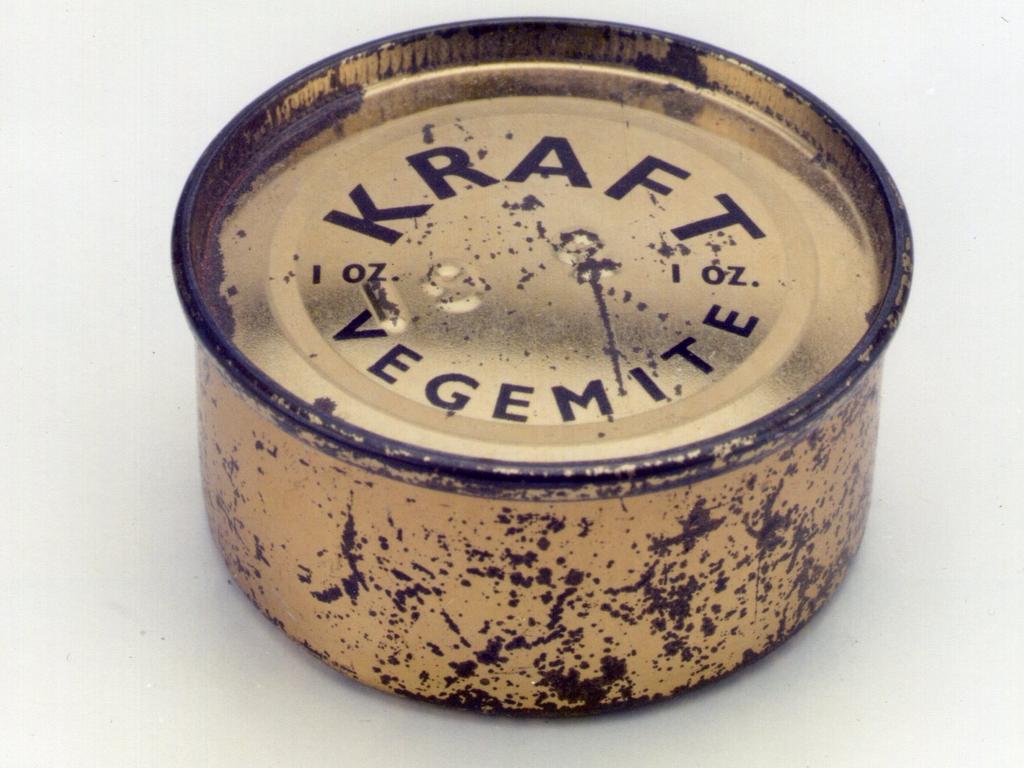 After a slow start, by World War II, Vegemite was included in army ration packs. Picture: supplied
POLL
GLOSSARY
staple: fixture, everyday item
dud: failure, something deemed unsatisfactory and worthless
army ration book: a book with coupons or stamps for limited items, like sugar, meat, cooking oil and canned goods
quirky: unusual, distinctive
legacy: something of lasting value or importance handed down from the past
EXTRA READING
Vegemite smell a key part of site's heritage
Vegemite icypoles – a cool idea or not?
QUICK QUIZ
Who invented Vegemite?
Vegemite's fortunes changed when it was paired with which popular food?
Vegemite became popular when it was added to what kind of book after which world event?
How many mini fine silver replicas of Vegemite toast have been produced?
What price did a mini replica gold-plated Vegemite jar fetch on eBay in September?
LISTEN TO THIS STORY
CLASSROOM ACTIVITIES
1. Design a collector's item
What's your favourite snack? Design a special collector's item that celebrates your snack. Don't forget to think about whether it will be worn, used or displayed as that will influence your design. Use information in today's story to give you ideas.
Time: allow 30 minutes to complete this activity
Curriculum Links: English, Design and Technologies, Visual Communication Design
2. Extension
Imagine that you are a reporter for Kids News. You want to write a story about how Vegemite and eBay can make it difficult for people to make and sell fake fine silver replicas of Vegemite toast. You are going to interview an authentication expert and the person who designed the commemorative toast. Write five questions that you would ask each of them. Then, use your research skills to write the answers that you think that they would give.
Time: allow 30 minutes to complete this activity
Curriculum Links: English, Economics and Business
VCOP ACTIVITY
Opener up-level it
Make a list of all the openers in the article. Pick three that repeat and see if you can replace them with another word, or shuffle the order of the sentence to bring a new opener to the front.
Don't forget to re-read the sentence to make sure it still makes sense, and that it actually sounds better.