Australia's new $50 banknote has been revealed and it's as advanced and secure as any currency* in the world.
It features raised bumps to help vision-impaired* people, the result of a campaign* led by Sydney teenager Connor McLeod, who is blind.
Connor, now 17, started a petition* at the age of 12 after he was given money for Christmas but couldn't tell how much it was. He collected 57,000 signatures of people who agreed banknotes should be changed, leading to tactile* features on the new $5, $10 and now $50 notes.
The $50 note is Australia's widest-circulated banknote and the inclusion of simple bumps on the top and bottom is important for the more than 300,000 blind and visually-impaired people in Australia.
Melbourne man Chris Edwards got to handle the new currency this week and said it's going to make paying for family meals a lot easier.
The legally-blind* man who gets around with help from guide dog Odie said the new tactile feature on the note was a "massive step forward".
"With the previous $5 and $10 tactile notes I could go to a cafe and feel confident to buy a cup of coffee and now I can have the same confidence paying for a meal with the family," Mr Edwards said.
The 50-year-old said the old system of comparing note lengths using a cardboard guide provided by the Reserve Bank* was not ideal.
"If you were receiving a note you never had the full confidence you were getting the right note," Mr Edwards said.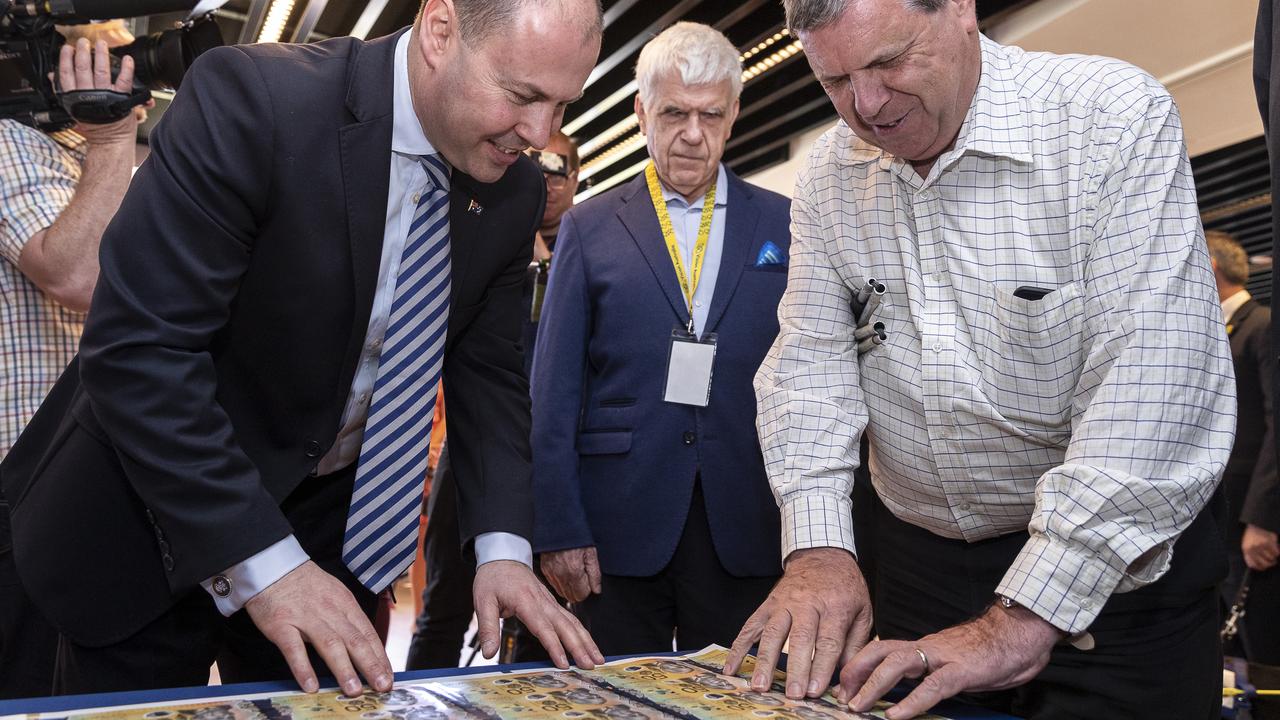 After years of campaigning by blind people and Connor McLeod's petition, the Reserve Bank agreed to make an upgrade.
"The beauty of it is it's very simple, you don't need to know braille* to understand it," Mr Edwards said.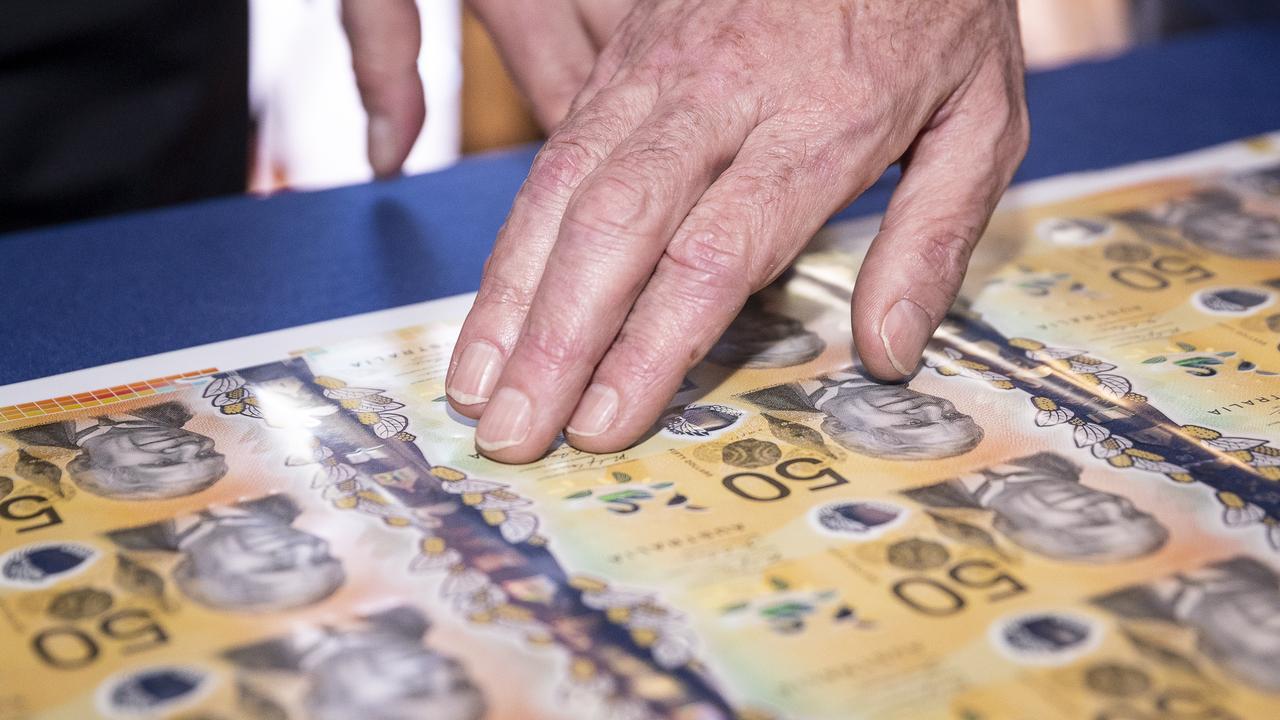 Australia's first tactile note was the $5 note, in 2016, followed by the $10 note last year.
A new $20 note is expected to be released in 2019 and a $100 note will follow in 2020.
The new note looks a lot like the existing $50 note, with portraits from the existing note of David Unaipon and Edith Cowan also appearing. A closer look reveals many fancy features that make it practically impossible to forge*.
There is a clear panel from top to bottom, a change in size and a black swan that appears to fly through the air when the note is tilted.
Inside the clear panel is a hologram* of a church with the number 50 embossed* on it. When you move the note from side to side, the 50 reverses itself.
There are also two patches — one on either side of the note — that change colour when the note is tilted up and down and tiny writing next to the face of David Unaipon.
RBA Assistant Governor Lindsay Boulton said the new features will make it "very difficult for counterfeiters*" to copy the $50 note.
The new $50 note will enter circulation* on October 18.
CONNOR MCLEOD
Connor's campaign for changes to Australian banknotes led to a meeting with decision makers at the Reserve Bank of Australia in 2014.
He has received a Daily Telegraph Pride of Australia Award, a Young Leader Medal and the American National Braille Press (NBP) Hands On Award.
In 2017 he was honoured by Vision Australia with a Youth Award. Vision Australia Chief Executive Officer Ron Hooton said Connor's banknote campaign was central to the introduction of tactile currency.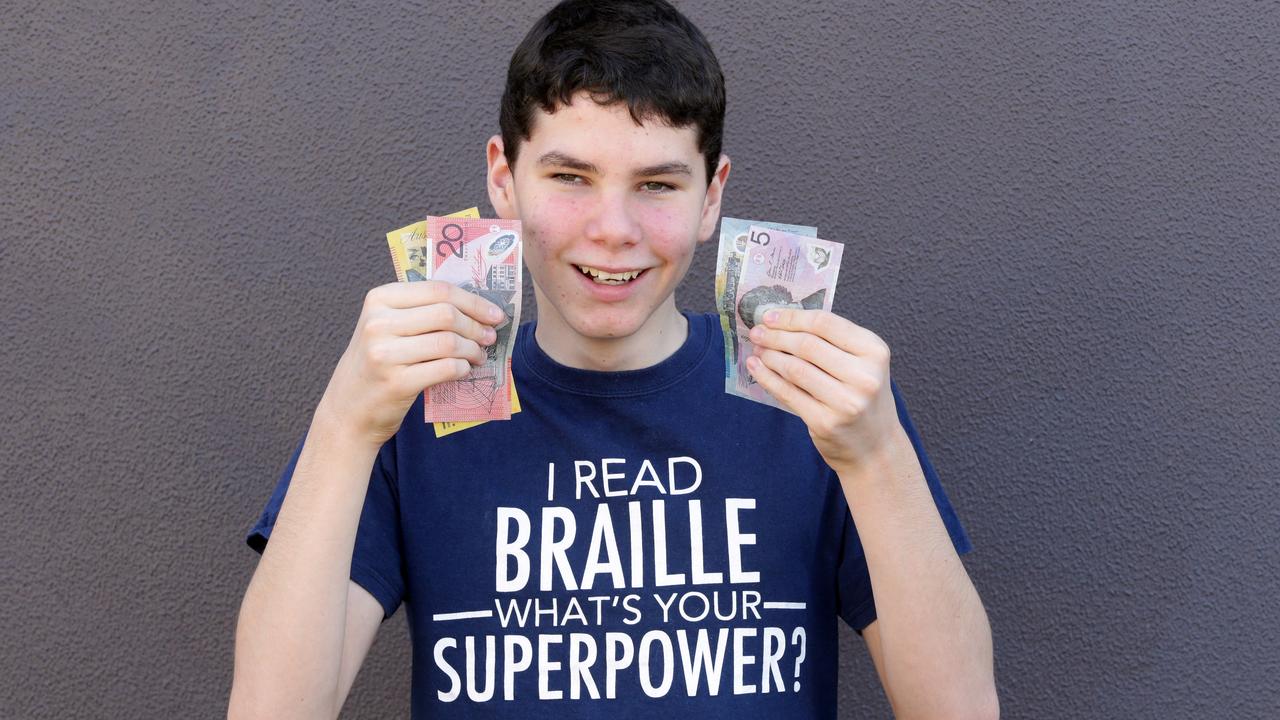 DAVID UNAIPON
Mr Unaipon was a Ngarrindjeri man of South Australia. He was born in 1872 and died in 1967 at the age of 94.
He was an inventor, author and a spokesman for Aboriginal people.
He has often been called the "Leonardo of Australia", comparing him to the Italian genius Leonardo da Vinci, who painted the Mona Lisa.
Mr Unaipon's inventions included a sheep-shearing tool, a type of motor, a fixed-blade helicopter and a new type of wheel but as an Aboriginal person was mostly unable to get funding to develop his inventions. Some of his ideas were stolen and developed by other people who pretended they were their own ideas.
He wrote poetry and stories and was the first published Aboriginal author.
EDITH COWAN
Ms Cowan was born in Western Australia in 1861 and died in 1932 at the age of 70.
She was a social worker and politician who worked to advance the rights of women.
She was the first woman to be elected to an Australian parliament. She won election in 1921, only the year after women were allowed to run for parliament.
Edith Cowan University in Western Australia is named for her.
EXTRA READING
Going cashless at hi-tech tuckshops
World-first bionic eye ready to see
GLOSSARY
currency: money
vision-impaired: blind or less-than perfect sight
campaign: work in an organised way to achieve something
petition: collection of signatures from people who support your campaign
tactile: can be felt
legally blind: someone who can't see something that is 6m away that a person with normal vision can see at 60m away
Reserve Bank (of Australia): central bank that issues money and sets interest rates for borrowing and lending money
braille: writing system that can be felt
forge: copy illegally
hologram: a photo of a light field
embossed: carved or stamped design that stands out so it can be felt
counterfeiters: forgers
circulation: in use
LISTEN TO TODAY'S STORY
QUICK QUIZ
1. What feature will help vision-impaired people?
2. Do you need to know braille to use this feature?
3. Which other notes also have features to help vision-impaired people?
4. Name three important things David Unaipon achieved.
5. Why was Edith Cowan's election to parliament important?
CLASSROOM ACTIVITIES
New and Improved
Rule a line down a piece of paper to create two columns, one narrow column on the left and a wider column on the right. Outline the new features of the updated $50 note down the left column and state why a feature is an improvement in one sentence for each feature in the right column.
Extension: What features do you believe need to be incorporated into the new $20 being updated next year?
Time: Allow 15 minutes
Curriculum Links: English, Mathematics
VCOP ACTIVITY
After reading the article, with a partner, highlight all the openers you can find in blue. Discuss if they are powerful and varied openers or not. Why do you think the journalists has used a mix of simple and power openers? Would you change any, and why?
HAVE YOUR SAY: Blind people have difficulty telling old notes apart. What other things can you think of that are hard to do if you can't see well? Do you have ideas for solutions to these difficulties? Use full sentences to explain your thinking. No one-word answers.