Trailer for upcoming Toy Story 4 movie shows Woody and new friend Forky on a trip of discovery
New friends, old friends, daring rescues and what it means to be a child's toy are all part of the storyline for the new Toy Story 4 movie. Watch the full-length trailer
Woody and Bo Peep in Toy Story 4.
New friends, old friends, daring* rescues and what it means to be a child's toy are all part of the storyline for the new Toy Story 4 movie.
Disney Pixar has released the first full-length trailer for the fourth movie in the series about Woody the cowboy toy and all his mates.
In the trailer, fans get a proper look at the newest character, the lovably homemade toy Forky, who becomes the most important toy to Buzz Lightyear and Woody's child owner Bonnie.
Woody tells the other toys that Forky must be protected at all costs — but, during a road trip, their new cutlery-based friend has an identity crisis* and makes a run for freedom, with Woody following in hot pursuit*.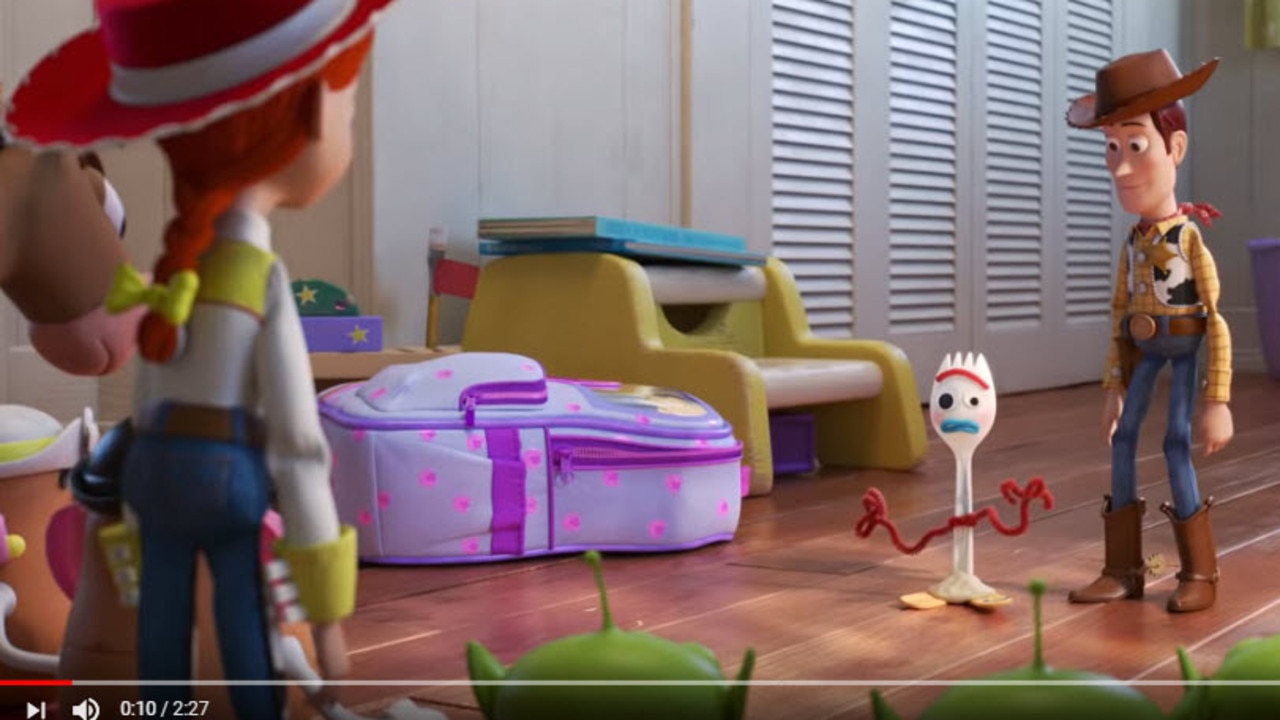 A scene from Toy Story 4 where Woody introduces Forky to the other toys.
Woody ends up on an accidental detour and runs into his long-lost friend Bo Peep.
In the end, it's up to the rest of the toys to find Forky and Woody and return them to safety.
Toy Story 4 is set for cinema release on June 21.
GLOSSARY
daring: adventurous
identity crisis: wondering who you are in the world
pursuit: chase


EXTRA READING
Can you pass the Quiz Word test?
QUICK QUIZ
How many Toy Story movies have there already been?
What type of toy is Woody?
What has Bonnie made her Forky toy from?
Which long-lost friend does Woody run into in the 4th movie?
Who creates the Toy Story movies?
LISTEN TO TODAY'S STORY

CLASSROOM ACTIVITY
1. Learning from toys
Name three toys you have loved in your childhood and what skills, qualities or lessons you think they have taught you about life.
Time: allow 20 minutes for this activity
Curriculum Links: English
2. Extension
Think of a new type of toy you could create. What would it be and what educational or life skill qualities could it have to help children? Draw the toy and list its qualities beside it.
Time: allow 30 minutes for this activity
Curriculum Links: English, Arts
VCOP ACTIVITY
After reading the article, with a partner, highlight as many wow words or ambitious pieces of vocabulary that you can find in yellow. Discuss the meanings of these words and see if you can use them orally in another sentence.
HAVE YOUR SAY: What is (or was) your all-time favourite toy and why?
No one-word answers. Use full sentences to explain your thinking. Comments will not show until approved by editors.