As the Easter Bunny prepares to deliver millions of chocolate eggs to chlidren all around the world next weekend, Kids News wondered where all the Easter eggs on the supermarket and store shelves across Australia come from.
So we found out.
While there are hundreds of chocolate factories in Australia, one of the busiest at Easter time is the Cadbury's factory in Ringwood, Melbourne, operated by Mondelēz International.
It makes an epic* 30,000 tonnes of chocolate every year — that's the same weight as two school buses!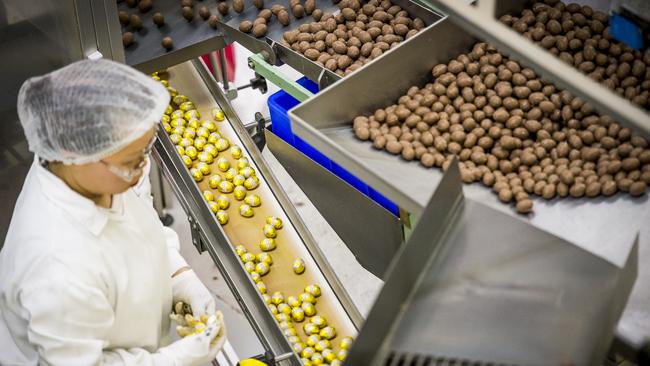 The suburban* factory, which celebrated its 50th birthday last year, is the engine room for supplying Australia with its chocolate fix each Easter and is brought to life by more than 600 workers.
This year for Easter the factory will make 70 different Easter products including a staggering:
— 250 million tiny eggs
— 63 million small eggs
— 17 million bunnies
It's all done alongside the factory's usual production of chocolate bars including the Cherry Ripe, Crunchie and Boost.
Cadbury's Easter area lead Tom Castle said production "ramped up"* in December to meet the expected demand.
"At the start of the year it gets crazy for us, and it's been pretty intense the last two months," he said.
"We're trying to get everything to the marketplace and onto the shelves right on time, it's right down to the wire."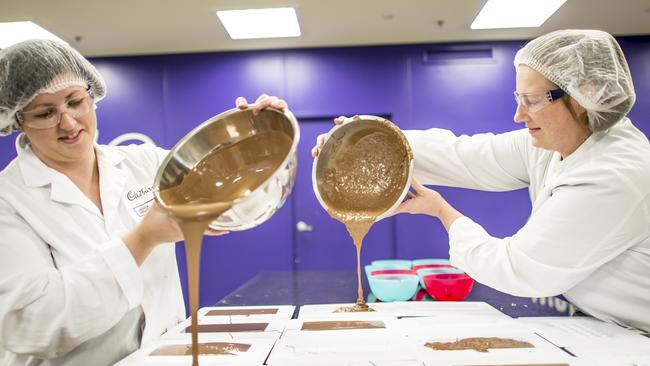 During a rare tour of the factory's Easter production line, Kids News could see conveyor belts full of bunnies and eggs ready to be wrapped, packed and sent to stores.
There were also Smarties flying down chutes and dedicated labelling machines for the Humpty Dumpty eggs, Crunchie Bunnies and Red Tulip Bunnies being made that day.
Coldstream's Esther Pezzimenti, a dedicated "wrapper and packer" for 16 years, said the buzz of Easter made working at the factory extra special.
"Production is pretty full on, because we're getting bunnies out and getting eggs out for the whole world," Ms Pezzimenti said.
"But the company and the people make it a good place, the vibe* inside the room is great."
"We're making chocolate — what could be better than that?"
While workers don't get to take home any free chocolate over Easter, Mr Castle said they were all involved in taste testing.
GLOSSARY
epic: large
suburban: located in a suburb
ramped up: increased
vibe: atmosphere
LISTEN TO TODAY'S STORY
CLASSROOM ACTIVITIES
1. Life of an Easter egg
Before each Easter egg fulfils its destiny of being eaten, it first must be created and then make its way to the lucky person who will consume it. Make a sequential list of all of the things that an Easter egg goes through during its life – from production line to your belly. Some of the things that happen to it are mentioned in the article, other things you will be able to come up with if you think very carefully. Once you have completed your list, create a comic strip depiction of the "Life of an Easter egg".
Extension: Draw a diagram of a machine that you think could be used in one of the production steps of an Easter egg, including captions explaining the components and how the machine works.
Time: Allow 40 minutes
Curriculum links: English, Technologies
2. Easter egg maths
a. Australia's population is close to 25 million. If the tiny eggs produced at the Cadbury factory were shared equally between all of us, how many eggs would each person get?
b. Miller has a choice — he can have 2 chocolate bunnies that weigh 120 grams each or he can have 20 chocolate eggs that weigh 10 grams each. Which option do you think Miller should choose and why?
c. The Easter bunny has hidden 32 eggs in the Lee family's garden and so far they have only found 17, how many more are left to find?
d. If Cadbury 'wrapper and packer' Esther Pezzimenti had wrapped and packed 10,000 Easter eggs each year that she has done this job, how many has she wrapped and packed altogether?
e. Humpty Dumpty eggs come in a rectangular prism shaped box. Draw a sketch of what the net of this box would look like.
Extension: Use a ruler to properly draw the net you sketched for question 5 above on a piece of thick paper or cardboard. Carefully cut out your net and construct your rectangular prism. Decorate it to look like a Humpty Dumpty egg box.
Time: Allow 20 minutes
Curriculum links: English, Mathematics
VCOP ACTIVITY
With a partner see if you can you identify all the doing words/verbs in this text? Highlight them in yellow and then make a list of them all down your page. Now see if you and your partner can come up with a synonym for the chosen verb- make sure it still makes the context it was taken from.
Try and see if you can replace some of the original verbs with your synonyms and discuss if any are better and why.
Curriculum Links: English, Big Write and VCOP
IN ONE SENTENCE, TELL US WHAT YOU LIKE ABOUT TODAY'S STORY
Please do not use one-word answers. Tell us what you enjoyed or found interesting about the story. Use lots of adjectives.