Sydney Opera House joins world landmarks turning green for St Patrick's Day
The Sydney Opera House joins a list of world landmarks to turn green to celebrate St Patrick's Day.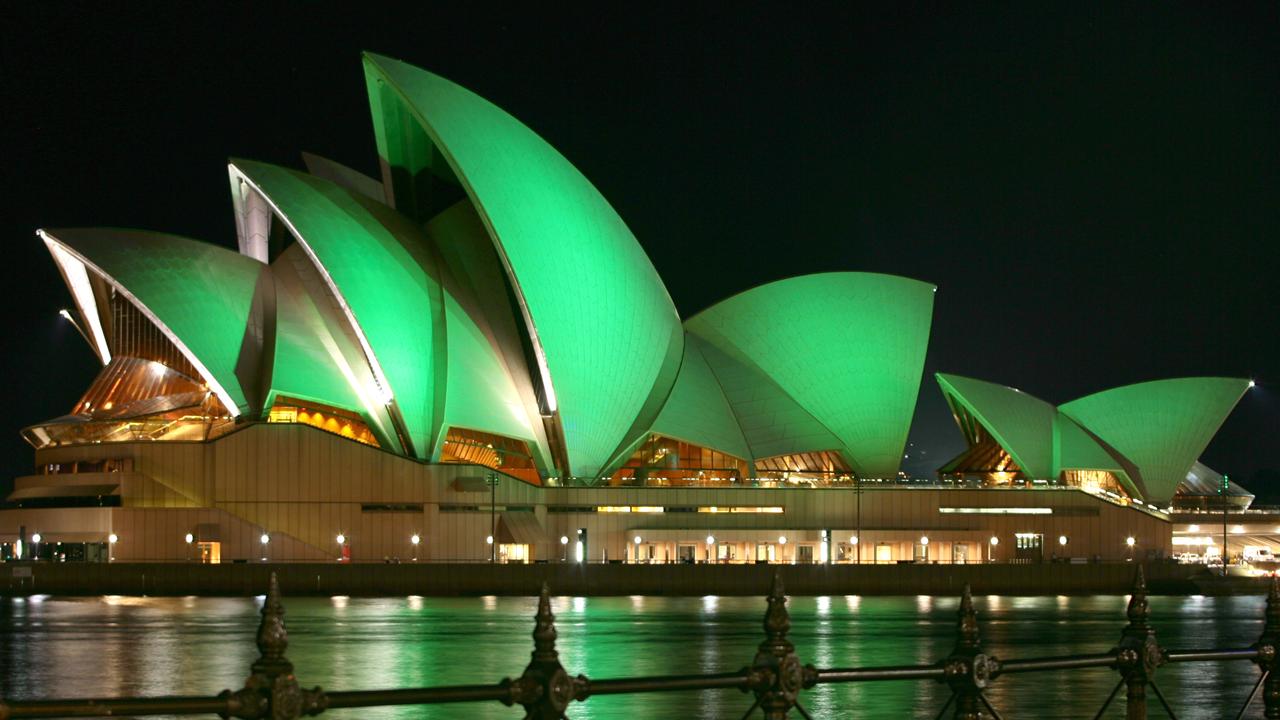 The Sydney Opera House is bathed in a green glow to celebrate St Patrick's Day.
The Sydney Opera House will turn green tomorrow to celebrate St Patrick's Day.
The famous building in Sydney Harbour is taking part in the Global Greening program in partnership with Tourism Ireland to mark the Irish holiday.
The traditionally white sails of the Opera House will change into an emerald colour along with other Australian sites including the Hyde Park Barracks in Sydney, Elizabeth Quay in Perth and QPAC in Brisbane.
The last time the Opera House went green was in 2014.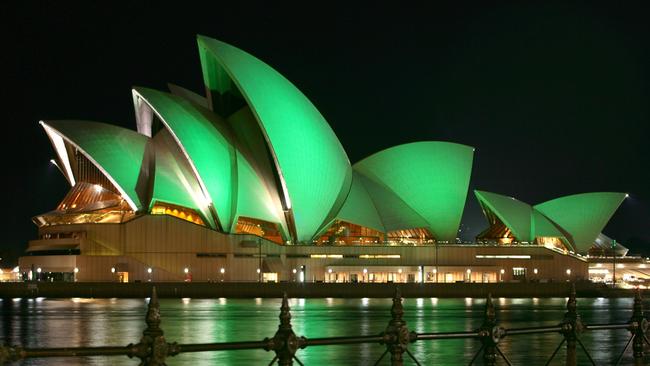 The Sydney Opera House's famous sails turn emerald.
International landmarks* joining the St Patrick's Day fun include the fountains in London's Trafalgar Square, the Colosseum in Rome, the Leaning Tower of Pisa in Italy, the Chicago River in the US city of Chicago, the Sky Tower in Auckland in New Zealand, Niagara Falls and the London Eye.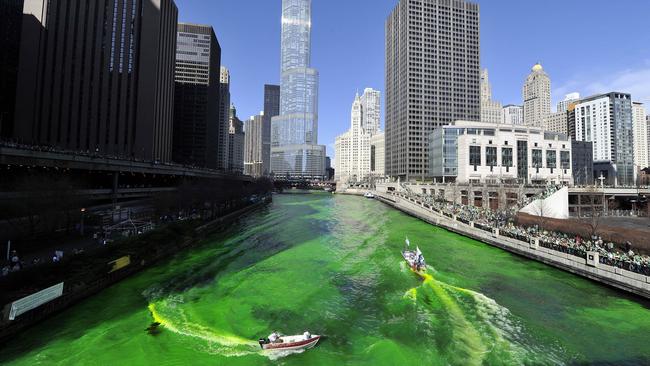 Members of the plumbers' union dye the Chicago River green for St Patrick's Day in Chicago, US, each year.
President of the Sydney St Patrick's Day Committee Robert Kineavy said: "As the national holiday that is celebrated in more countries around the world than any other, St Patrick's Day is the day when everyone wants to be Irish. Renowned as a day that fills our hearts and minds with Irish pride and the streets with all things green, 2018 is shaping up to be another big year for Sydney."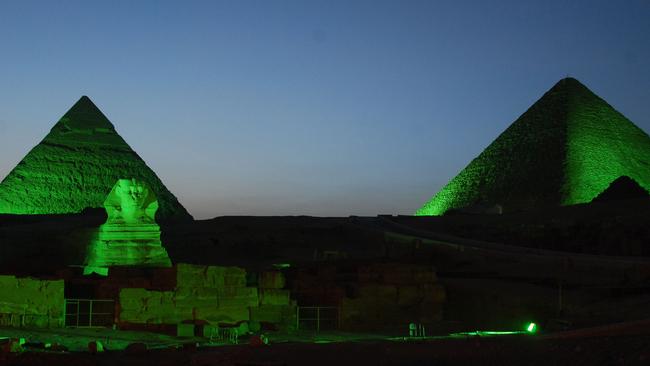 Two of the three Giza Pyramids and the Sphinx lit up in green in 2013. Picture: AFP
WHAT IS ST PATRICK'S DAY?
Saint Patrick's Day is a cultural and religious celebration that happens every year on March 17 to mark the death of the patron saint of Ireland, Saint Patrick.
He is credited with bringing Christianity* to Ireland.
It is believed Saint Patrick was actually born in Wales in the UK, but is now better known for his links to Ireland.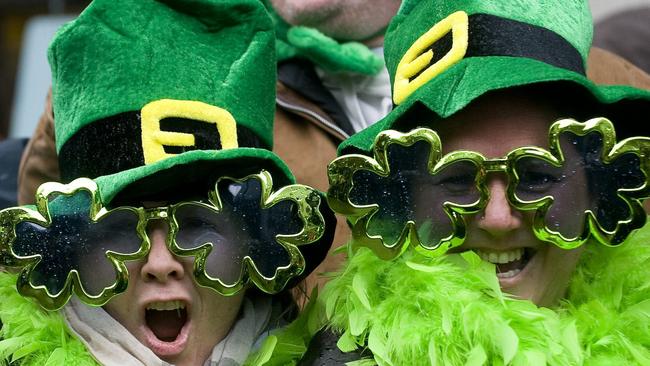 Spectators enjoys the festivities at the St Patrick's Day parade in Montreal, Canada.
WHY DO WE CELEBRATE IT IN AUSTRALIA?
Because it's fun! The day has become a celebration of all things Irish with parties and parades all around the world.
Most people, whether they are Irish or not, wear green on this day. One of the Irish traditions is to pinch anyone who is not wearing green.
Corned beef and cabbage are traditional foods eaten on St Patrick's Day.
Other Irish symbols such as pots of gold, shamrocks and leprechauns are often associated with the celebration.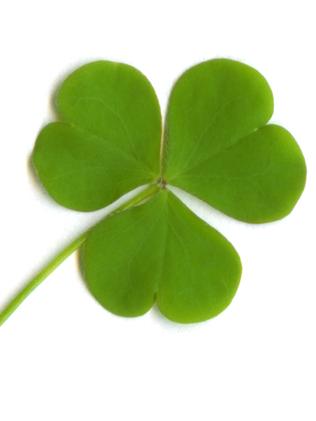 The shamrock is a symbol of St Patrick's Day. Picture: supplied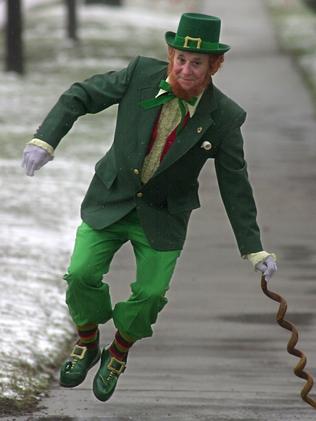 Leprechauns are a popular choice when people dress up for St Patrick's Day. Picture: AP
The shamrock was worn as a badge on the lapel* of coats. Three is Ireland's magic number and the three petals that make up the shamrock are supposed to bring good luck. The three leaves also represent the Father, Son and Holy Ghost in the Christian religion.
The leprechaun is a small Irish fairy. He is dressed like a shoemaker, with pointed shoes and hat. Leprechauns are supposed to be unfriendly little men who live alone in the forest, spending all of their time making shoes and guarding their treasures. If someone catches a leprechaun, he will be forced to tell where he hides all his pots of gold. However, the leprechaun must be watched at all times. If his captor looks away, the leprechaun will vanish along with his treasure.
GLOSSARY
landmarks: an object or feature of a city or place that is easily recognised
Christianity: the religion based on the person and teachings of Jesus Christ
lapel: the part on each side of a coat or jacket immediately below the collar
LISTEN TO TODAY'S STORY

QUICK QUIZ
1. Name the famous Australian landmarks to light up for St Patrick's Day this year.
2. Which traditional foods are eaten on St Patrick's Day?
3. Name any two symbols of St Patrick's Day.
4. What happens if you catch a leprechaun?
5. What event is commemorated on St Patrick's Day?
CLASSROOM ACTIVITIES
1. Party Pack
Create a St Patrick's Day Party Pack for a class celebration! Your party pack should include an invitation, a poster advertising the party and a plan or timetable of activities or games. Don't forget to decorate everything in a St Patrick's Day way.
Time: Allow 45 minutes
Curriculum Links: Visual Communication Design.
Extension: St Patrick's Day is an Irish celebration. Find out about the biggest celebrations, or national days of another country (not Australia) You could choose any country you like, maybe the country that you or your family comes from. Create a poster that will help students understand what the celebration is, why it is important and how it is celebrated.
Time: Allow 45 minutes .
Curriculum Links: Geography
2. Leaping Leprechauns
Plan and write a creative story starting with these sentences: "I had never seen a real Leprechaun before, but there was one standing right in front of me ... "
Time: Allow 30 minutes
Curriculum Links: English
Extension: Rewrite the story that you have just written. Tell the story from the Leprechaun's point of view.
Time: Allow 30 minutes
Curriculum Links: English
VCOP ACTIVITY
After reading the article, with a partner, highlight as many pieces of punctuation as you can find in green. Discuss how these are being used, where and how often. What level of the punctuation pyramid is the journalist using in this article?
IN ONE SENTENCE, TELL US WHAT YOU THINK ABOUT TODAY'S STORY
Please do not use one-word answers as they will not be published. Explain what you enjoyed or found interesting about the article. Use lots of adjectives.