One runner in the London Marathon had a bad time at the end.
Lukas Bates, 30, of the Paddock Wood Athletic Club in Kent, England, was attempting to break the world record for a runner dressed as a landmark building.
He was dressed as the tower that houses Big Ben, the big clock in London, UK.
But as he finished after running the 42.2km marathon course, his costume's peaked roof, which stretched 1.5m above his head, ran into the overhead scoreboard. After several failed attempts to get under the barrier, a race steward* helped him to cross the line.
Bates' quest* to break the world record also suffered a setback. He finished in 3 hours, 54 minutes, 21 seconds, almost 20 minutes slower than the record set by Richard Mietz, who ran the 2018 Berlin Marathon dressed as the Holstentor, which is a building at the city gate to Lubeck in Germany.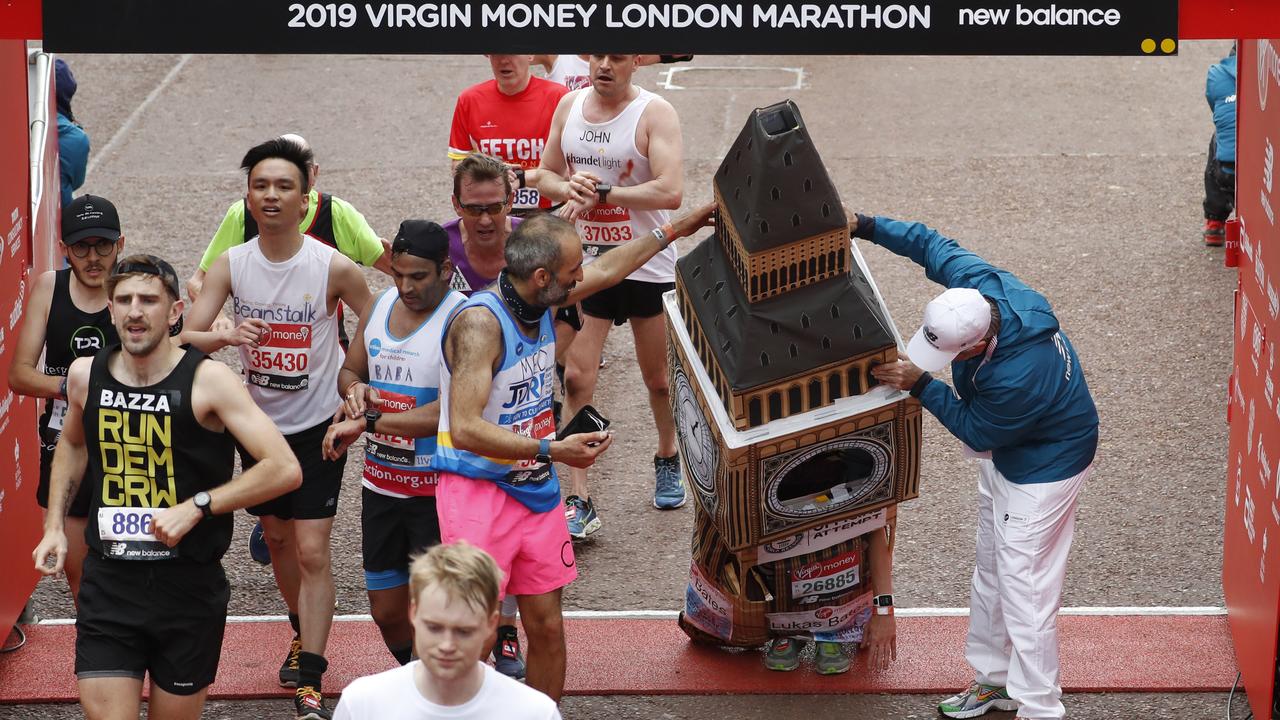 GLOSSARY
steward: official
quest: a long and difficult search
EXTRA READING
Funny food hats will have you in stitches
Australians on quest to be best
Cycling around the world in 79 days
QUICK QUIZ
How far is a marathon?
Which marathon was he running in?
How high was the costume roof?
Who holds the current world record for a marathon in a building costume?
What was the costume of?
LISTEN TO THIS STORY
CLASSROOM ACTIVITIES
1. Fancy Dress Fun Run
Imagine you were planning to try and break this world record. What landmark building would you dress as? Take into account the difficulties that Lukas Bates had with his costume and come up with something that may make the run and crossing the finish line easier.
Draw a design brief of your costume idea. Label the design features that allow you to run with it on, stop you from overheating and allow competing in a race with lots of people (and crossing the finish line) possible.
Think about — what it will be made out of and how it will look like the building landmark.
Time: allow 20 minutes to complete this activity
Curriculum Links: English, The Arts — Visual Arts, Technologies — Design and Technology
2. Extension
Lukas Bates didn't achieve his goal to break the world record on this attempt. He is likely feeling a little disappointed. Write him a letter of congratulations for the effort that he put into this event and offer him some advice and encouragement for his next attempt.
Time: allow 20 minutes to complete this activity
Curriculum Links: English, Health and Physical Education, Personal and Social Capabilities
VCOP ACTIVITY
With a partner see if you can you identify all the doing words/verbs in this text. Highlight them in yellow and then make a list of them all down your page. Now see if you and your partner can come up with a synonym for the chosen verb. Make sure it still makes sense in the context it was taken from.
Try to replace some of the original verbs with your synonyms and discuss if any are better and why.
HAVE YOUR SAY: If you ran a marathon, would you dress up? Why or why not? What would you dress up as?
No one-word answers. Use full sentences to explain your thinking. No comments will be published until approved by editors.