Felines usually fear getting wet but beloved pet cat Nathan has proven whiskers and water can work.
Five-month-old Nathan, who is female despite her unusual name, was rescued from the RSPCA in Bundaberg, Queensland by Rian Crandon and Melissa Pietrobuono. She had been left in a box with her mum and siblings* beside the highway.
She was an indoor cat at first but her owners wanted her to experience the great outdoors so they took her to nearby quiet Elliott Heads beach to explore.
"We brought her down to the beach and thought we'd teach her how to walk on a lead," Mr Crandon said.
"I wandered into the water and there splashing at my legs was Nathan who had followed us out there.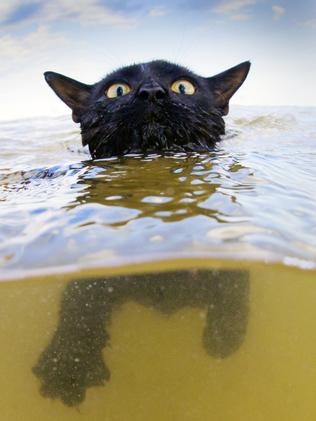 "She just kept following us out further and further and now she swims."
As well as drawing a reaction from locals out swimming or walking their dogs in the couple of months she's been with them, Nathan has also attracted plenty of attention online.
Her Instagram account has attracted more than 85,000 followers.
"She doesn't really go on a lead now, she just follows us around," Ms Pietrobuono said.
GLOSSARY
siblings: brothers and sisters
LISTEN TO TODAY'S STORY
CLASSROOM ACTIVITIES
1. Whiskers and Water
Why do you think that traditionally cats don't like water?
What could be different about Nathan to make her like splashing in the water?
Do you think cats should have to be on leads like dogs when walking in public or on public beaches? Why/Why not?
Why do you think Nathan has 85,000 Instagram followers?
Extension:
Design a flotation device for cats to use in the water.
Time: allow 15 minutes to complete this activity
Curriculum links: English
2. RSPCA Rescue
Nathan was a rescue cat from the RSPCA in Bundaberg, Queensland. She was abandoned beside the highway.
Work with a partner and design a responsible pet ownership brochure that people should read before they go and buy a cat or dog.
Your brochure should include information about how to choose the right pet, what kind of pets suit different homes, if they need a backyard, why pets should not be given as parents and anything else you think is relevant.
Design your brochure using a computer.
Extension:
Research the RSPCA organisation and find out how you can fundraise for them to help them continue doing their important work.
Time: allow 40 minutes to complete this activity
Curriculum links: Personal and Social, Digital Technologies, English
VCOP ACTIVITY

Roll a dice. Write the word that is located on this number in the article.
For example, if you roll a five you would write down the word "wet".
Roll the dice four more times, counting on from where you finished each time.
Can you write these five words in a sentence?
Extension:
Write a conversation that you might overhear at the beach between two locals who have spotted Nathan swimming in the sea.
Be sure to use correct punctuation and make sure that talking marks are placed in the right spot.
Time: allow 20 minutes to complete this activity
Curriculum Links: English, Big Write, VCOP
EXTRA READING
WHY CATS COULD STEAL DOGS' JOBS
ABUSED DOG'S SPECIAL BOND WITH BABY
SEAL PUP'S EPIC SWIM FROM THE ANTARCTIC
AUSSIE SPIDER HITCHES RIDE TO UK
IN A SENTENCE, SHARE YOUR THOUGHTS ON TODAY'S STORY
Kids News loves reading your best grammar, vocabulary and spelling. We publish the best comments.