Giant pumpkin breaks world record plus some fun facts about pumpkins
An American has broken the world record for the heaviest pumpkin after he grew a mammoth squash weighing more than four polar bears put together
The 1247kg champion pumpkin grown by Travis Gienger. Picture: AFP Photo / Half Moon Bay's World Championship Pumpkin Weigh-Off
A new world record has been set for the world's heaviest pumpkin.
American horticulture teacher Travis Gienger won the 50th World Championship Pumpkin Weigh-Off in Half Moon Bay, California, after he grew a pumpkin weighing 1247kg.
The giant jack-o'-lantern gourd was heavier than four male polar bears put together and had enough orange flesh to make 687 pumpkin pies.
The previous world record for heaviest pumpkin was set by a grower in Italy who grew a 1226kg squash in 2021.
"I was not expecting that. It was quite the feeling," Mr Gienger said, after winning the World Championship.
Mr Gienger has grown pumpkins for nearly 30 years. Last year he set a new US record for growing a giant squash.
He said this year he decided to give his plants extra care, watering them up to 12 times a day and giving them more fertiliser.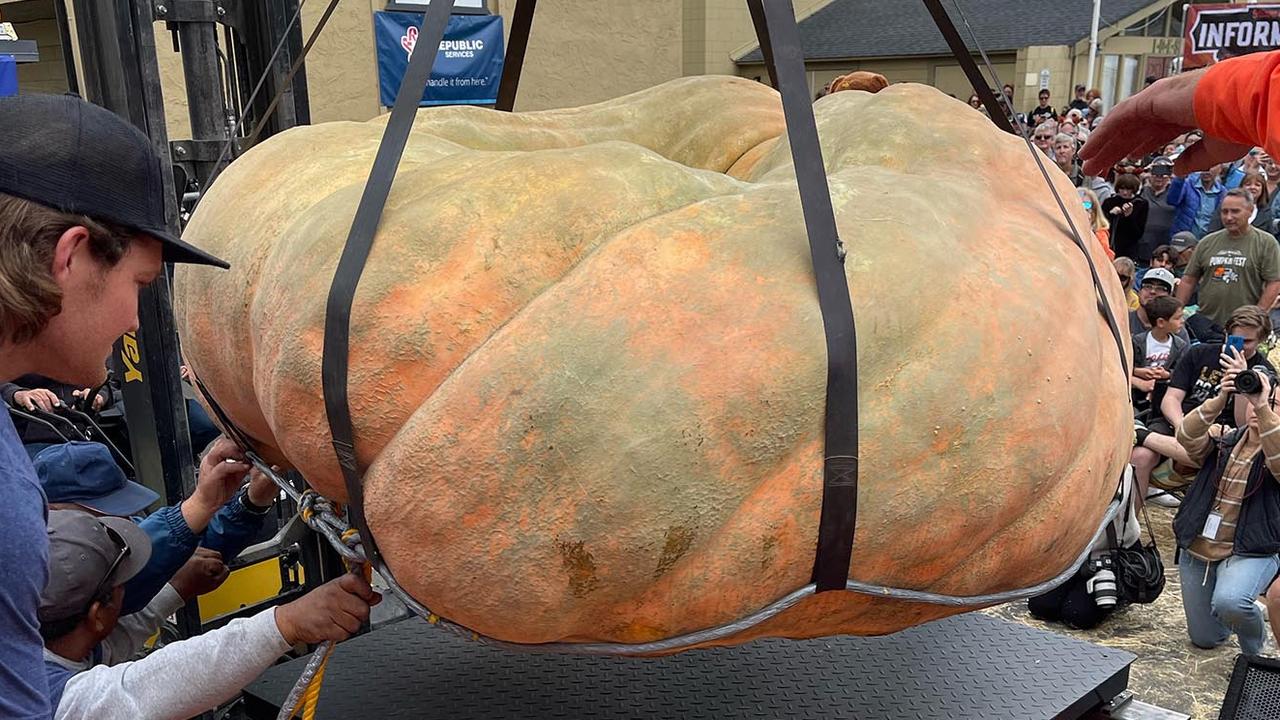 The pumpkin weighs more than four male polar bears in total. Picture: AFP Photo / Half Moon Bay's World Championship Pumpkin Weigh-Off
He first competed in Half Moon Bay's annual weigh-off in 2020 and has won three of the city's last four giant pumpkin contests.
"I put in the work so that I can put a smile on people's faces and it's just so nice coming out here to see everyone in this town," he said.
The pumpkin champ won a $30,000 prize for growing the biggest pumpkin and setting a world record. The giant pumpkin will be on display in Half Moon Bay along with the three runners-up through next weekend when visitors to the city's Art and Pumpkin Festival will be able to take photos with Mr Gienger and the enormous gourd.
FACTS ABOUT PUMPKINS
Did you know pumpkins aren't really vegetables? Here are five things you may not have known about pumpkins.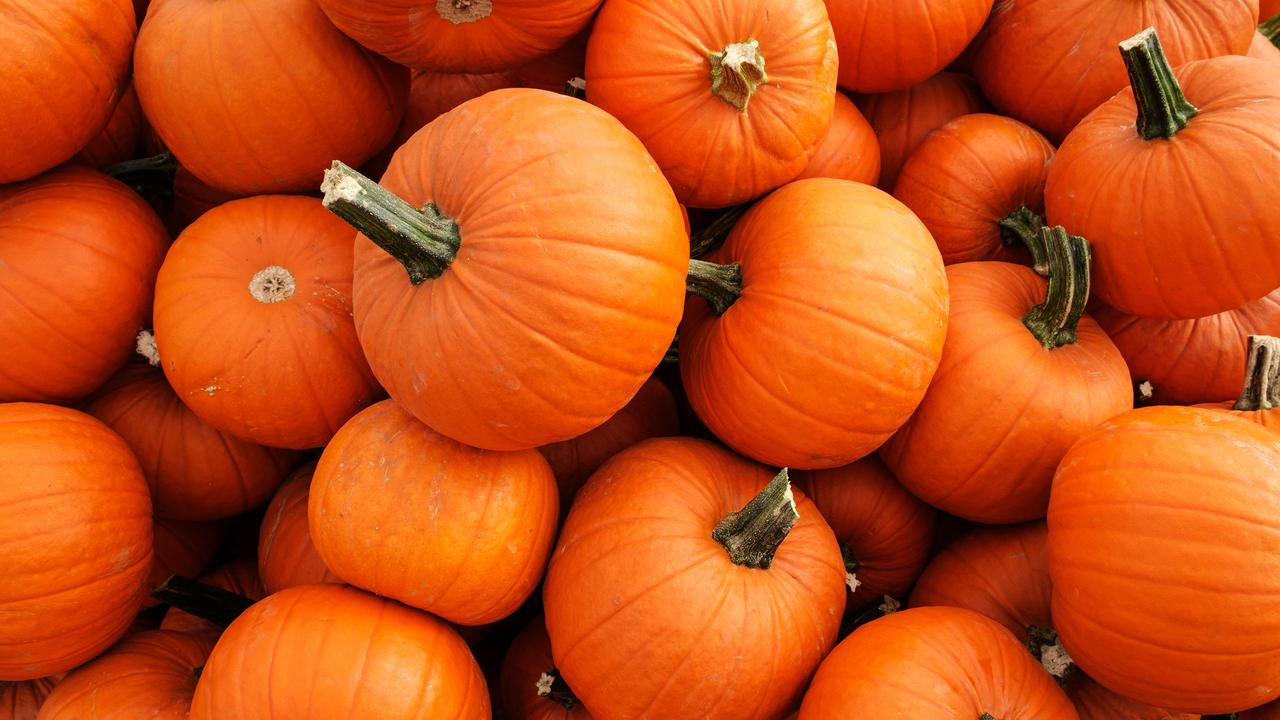 Carotenoids give pumpkins their bright orange colour.
1. Pumpkins are fruit, not vegetables
They may not be juicy like an apple, but since pumpkins grow from a flowering plant, they are actually a type of fruit from the squash or gourd family.
Other fruits commonly mistaken as vegetables include cucumbers, zucchinis and tomatoes.
2. Pumpkins aren't always yellow or orange
While known for their deep orange or yellow colour, they can also be green, red, white, blue and beige. The reason many pumpkins are orange is because they have carotenoids, the same thing that gives carrots their orange colour.
3. There are about 45 different types of pumpkins
You may only see two or three different types of pumpkins for sale at the supermarket, but there are dozens of pumpkin types grown all over the world. These include large ones, like the jack-o'-lantern gourd grown by Mr Gienger and small ones such as Baby Boos.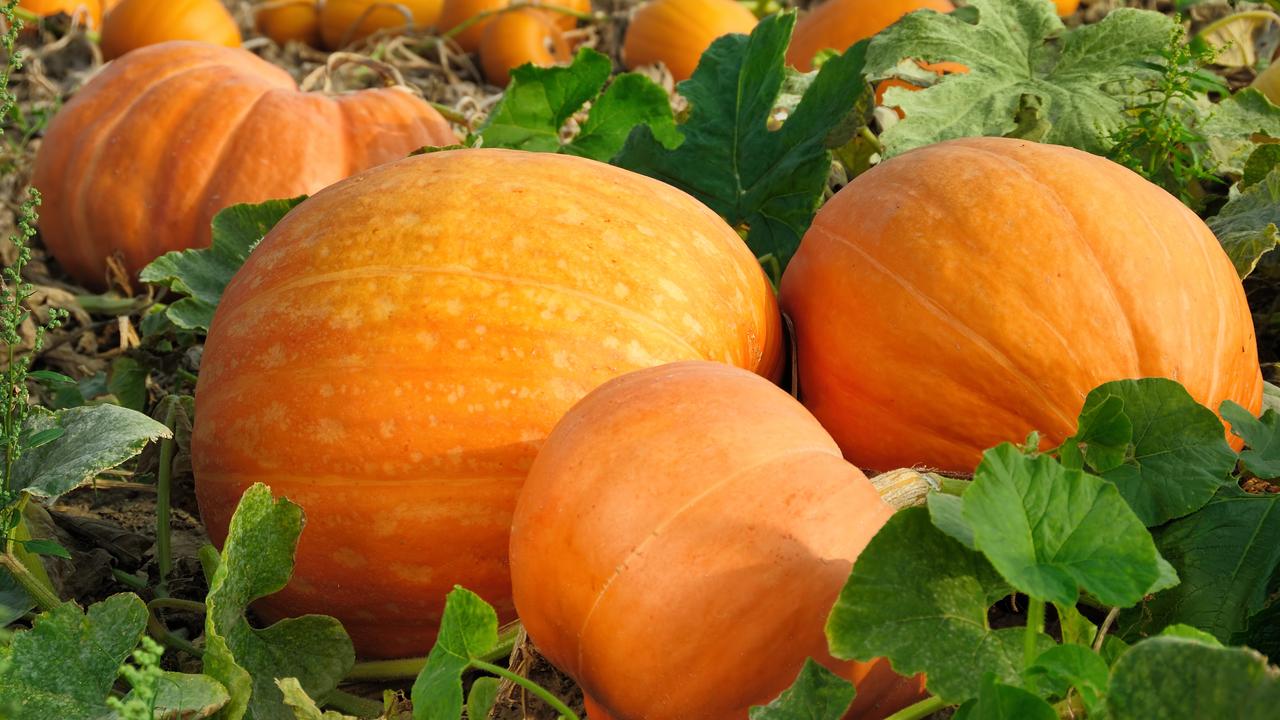 It takes as long as four months to grow a pumpkin.
4. Pumpkins are one of the oldest domesticated plants in the world
People have been growing pumpkins for thousands of years. The oldest pumpkin seeds ever found were discovered in Mexico and have been dated back to around 7000BC.
It is thought pumpkins came from North America and Central America before being spread across Europe and the rest of the world.
5. It takes up to 120 days to grow a pumpkin
If you want to grow pumpkins at home, you need lots of patience for this slow growing fruit. Once you have planted the seeds, it could take up to four months before the pumpkins are ready to pick.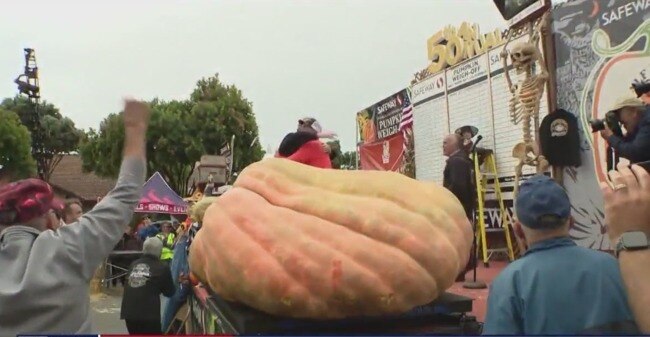 POLL
GLOSSARY
horticulture: the study of plants and how they grow
gourd: a fruit from a flowering plant species in the family Cucurbitaceae, which includes pumpkins
squash: fruit from a type of flowering plant in the gourd family, including pumpkins and zucchinis
fertiliser: plant food
carotenoids: plant pigments that give an orange colour to some vegetables and fruit that are good for eyesight and general health
domesticated: plants that have been selectively bred by humans, often grown for the purpose of creating food
EXTRA READING
Aussie 'chicken wing king' breaks world records
Zucchini isn't the bomb
Beetroot boosts sporting performance
QUICK QUIZ
1. How long does it take to grow a pumpkin?
2. What did Mr Gienger do differently when growing this year's giant pumpkin?
3. How much did Mr Gienger win for growing his 1247kg pumpkin?
4. How many types of pumpkins are there?
5. What gives most pumpkins their orange colour?
LISTEN TO THIS STORY
CLASSROOM ACTIVITIES
1. What's the hardest part?
What do you think would be the hardest thing about growing a giant pumpkin? Write at least one paragraph explaining your answer to this question.
Time: allow at least 20 minutes to complete this activity
Curriculum Links: English, Critical and Creative Thinking
2. Extension
What do you think are the rules for a giant vegetable growing championship competition? Write a list of at least ten rules that would make for a fair contest.
Time: allow at least 20 minutes to complete this activity
Curriculum Links: English, Critical and Creative Thinking
VCOP ACTIVITY
Read this!
A headline on an article – or a title on your text – should capture the attention of the audience, telling them to read this now. So choosing the perfect words for a headline or title is very important.
Create three new headlines for the events that took place in this article. Remember, what you write and how you write it will set the pace for the whole text, so make sure it matches.
Read out your headlines to a partner and discuss what the article will be about based on the headline you created. Discuss the tone and mood you set in just your few, short words. Does it do the article justice? Will it capture the audience's attention the way you hoped? Would you want to read more?
Consider how a headline or title is similar to using short, sharp sentences throughout your text. They can be just as important as complex ones. Go through the last text you wrote and highlight any short, sharp sentences that capture the audience.