Fundraising funnyman pulls a UNO card after penalty at charity game
A cheeky UK comedian playing a sold-out charity football game at London Stadium landed a big laugh after his hilarious response to a yellow card – and it actually worked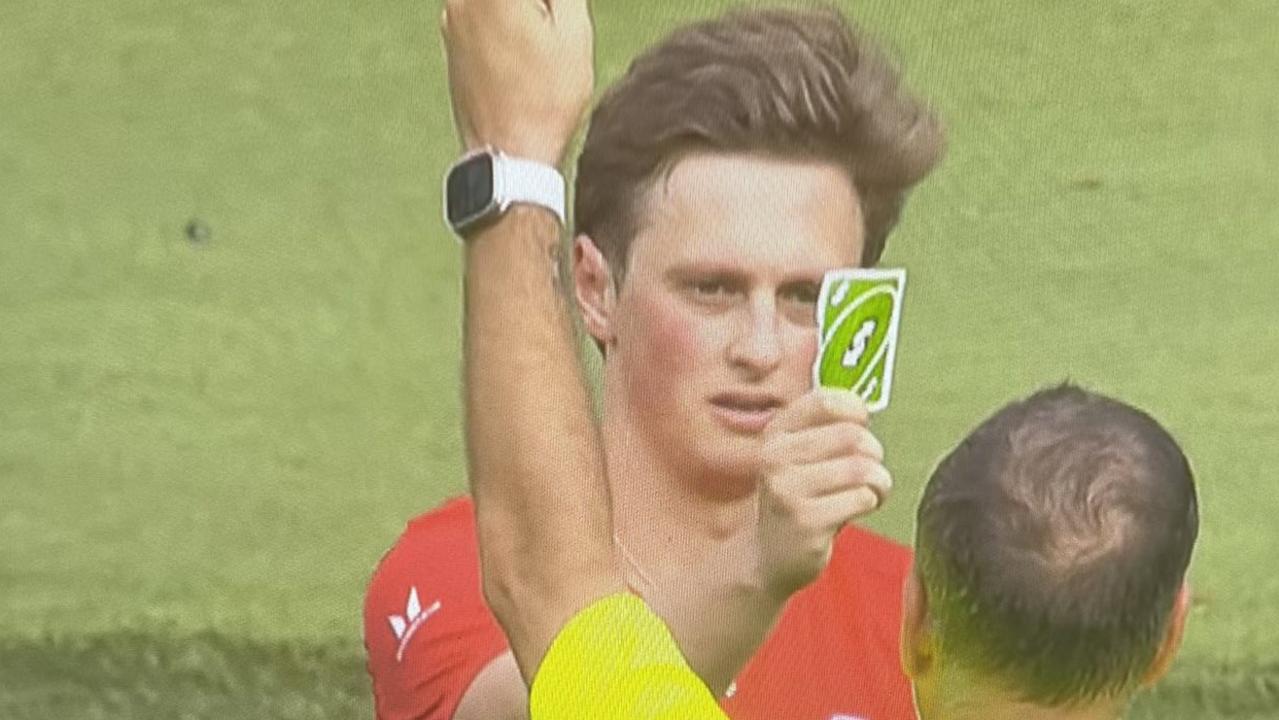 UK comedian Max Fosh produced a UNO reverse card in response to being booked by the referee during a charity match. Picture: screen grab/file image
Footballers worldwide often disagree with referees' decisions, but arguing with the ref rarely goes well for the player.
That is until British comedian Max Fosh decided to try his luck, pulling out a UNO reverse card in response to being booked by ex-Premier League referee Mark Clattenburg.
Playing for the YouTube All-Stars against the Sidemen FC in the annual Sidemen Charity Match at a sold-out London Stadium, Fosh saw yellow after a late challenge in the 77th minute but immediately flashed his green UNO reverse card in response.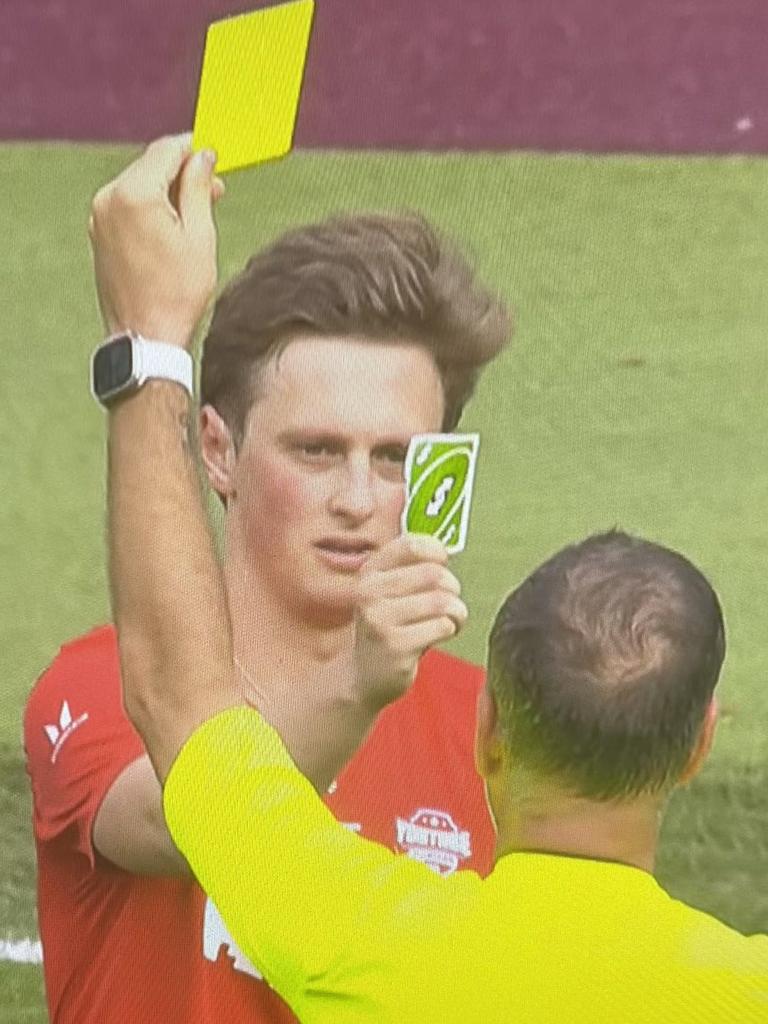 Comedian Max Fosh produces an UNO reverse card in response to being booked in a charity match.
A reverse card in the popular card game, where the aim is to lay down all of one's own cards, reverses the direction of play, and has since become used as a popular meme* used to refer to a comeback* or karmic* change of events.
Leaving aside normal UNO rules, in which the card's mismatched* colour would have made it useless, Clattenburg went along with the joke and quickly withdrew the yellow card.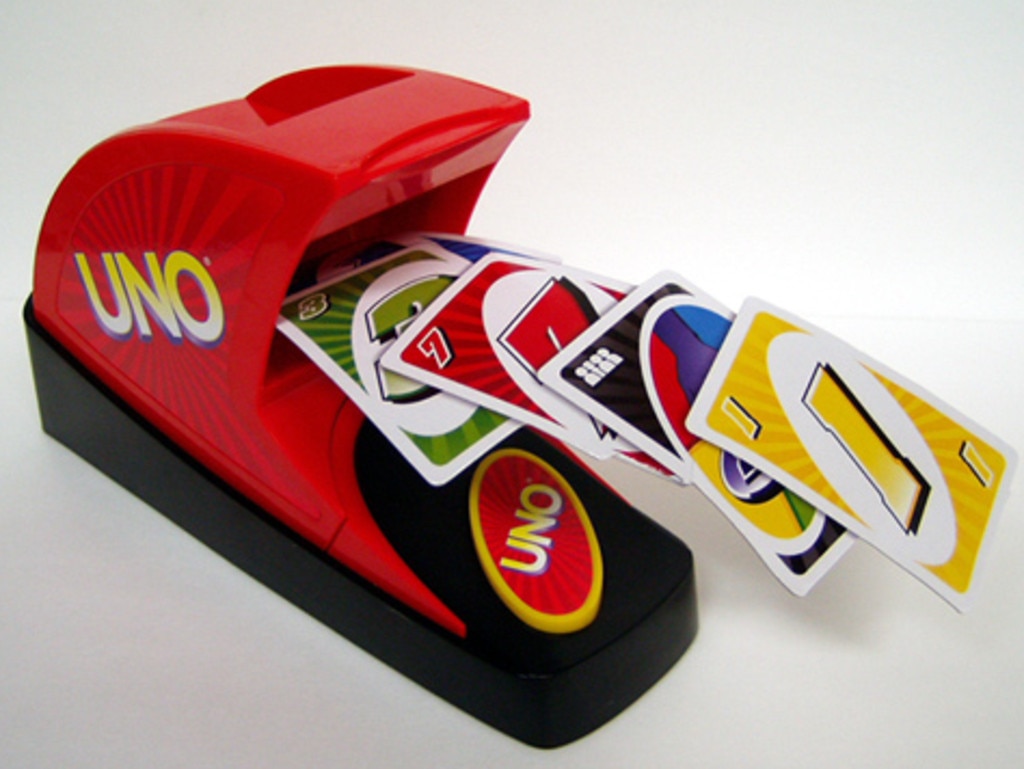 Normal UNO rules would have made the mismatched green card useless – but it was all for charity and the referee was a good sport and played along. Picture: file image
Fosh's stunt* wasn't enough to lift the YouTube All-Stars to victory. They went down 8-5 in a match that raised over $4.7 million for four UK charities, including the Teenage Cancer Trust, mental health organisation CALM, education charity M7 Education and children's charity Rays of Sunshine.
Social media lit up in response to the viral moment.
"Max Fosh just UNO-reversed Mark Clattenburg for a yellow card and it worked, what am I watching?" one fan wrote.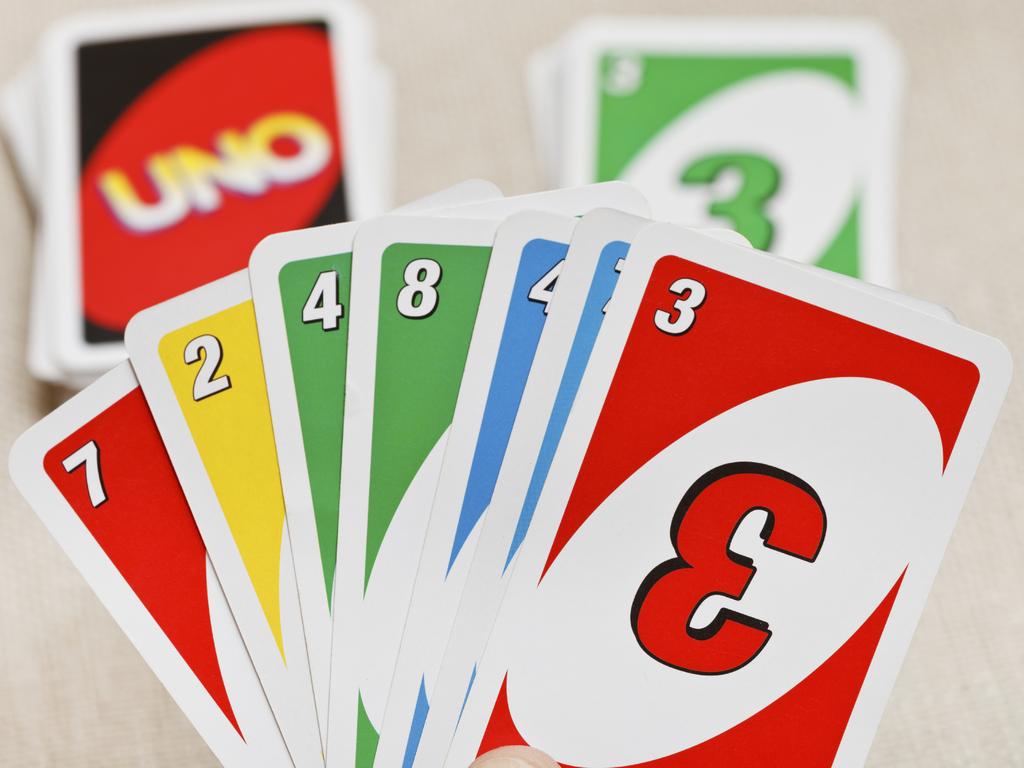 The penalty card joke was a new use for UNO, a game developed by Merle Robbins in the USA in 1971. Picture: iStock
Sports podcaster Matt Mysh called it "the greatest response to a yellow card I've ever seen."
The 28-year-old Fosh, the son of former Cambridge University and Essex first-class cricketer Matthew Fosh, first came to notice after going viral in early 2022 after a spontaneous street interview.
POLL
GLOSSARY
meme: amusing or interesting video or image that spreads very quickly on the internet
comeback: funny and quick reply to something, especially criticism
karmic: from karma, an idea that what you do and how you behave affects your fate
mismatched: not matching, not suitable, wrong, unsuited or incompatible in some way
stunt: something done for effect and usually for attention
spontaneous: unplanned, impromptu, unexpected and sudden
EXTRA READING
Bull riding shotgun stops traffic
Aussie 'chicken wing king' breaks world records
Lost doll's international adventure
QUICK QUIZ
What penalty card did the referee show UK comedian Max Fosh?
What card did comedian Fosh then show the referee?
What would have made Fosh's card useless under normal UNO rules?
How much money did the charity match raise?
Which charities were being supported by the annual fundraiser?
LISTEN TO THIS STORY
CLASSROOM ACTIVITIES
1. Summarise the article
A summary is a brief statement of the main points of something. It does not usually include extra detail or elaborate on the main points.
Use the 5W & H model to help you find the key points of this article. Read the article carefully to locate who and what this article is about, and where, when, why and how this is happening. Once you have located this information in the article, use it to write a paragraph that summarises the article.
Time: allow 25 minutes to complete this activity
Curriculum Links: English, Science
2. Extension
Compare your condensed news story with a classmate. Did you both include the same information or are your stories quite different? Discuss your choices and then work together to create a final condensed version of the story that you both agree tells the important parts that a reader would need or want to know.
Time: allow 20 minutes to complete this activity
Curriculum Links: English
VCOP ACTIVITY
Imaginative dialogue
Imagine you were there during the event being discussed in the article, or for the interview.
Create a conversation between two characters from the article – you may need or want to include yourself as one of the characters. Don't forget to try to use facts and details from the article to help make your dialogue as realistic as possible.
Go through your writing and highlight any punctuation you have used in green. Make sure you carefully check the punctuation used for the dialogue and ensure you have opened and closed the speaking in the correct places.