If you could travel back in time, where would you go?
Tina and Tom's Time-Travelling Toilet author and illustrator Chris "Roy" Taylor says he'd like to experience the 1960s, when The Beatles* burst onto the music scene and man landed on the moon.
"It was such a colourful period and a big time of change, so I would love to go back to the 1960s. I think that would be pretty cool," he said.
Mr Taylor said he also wouldn't mind travelling back to when he was a little kid "just to see what I was like".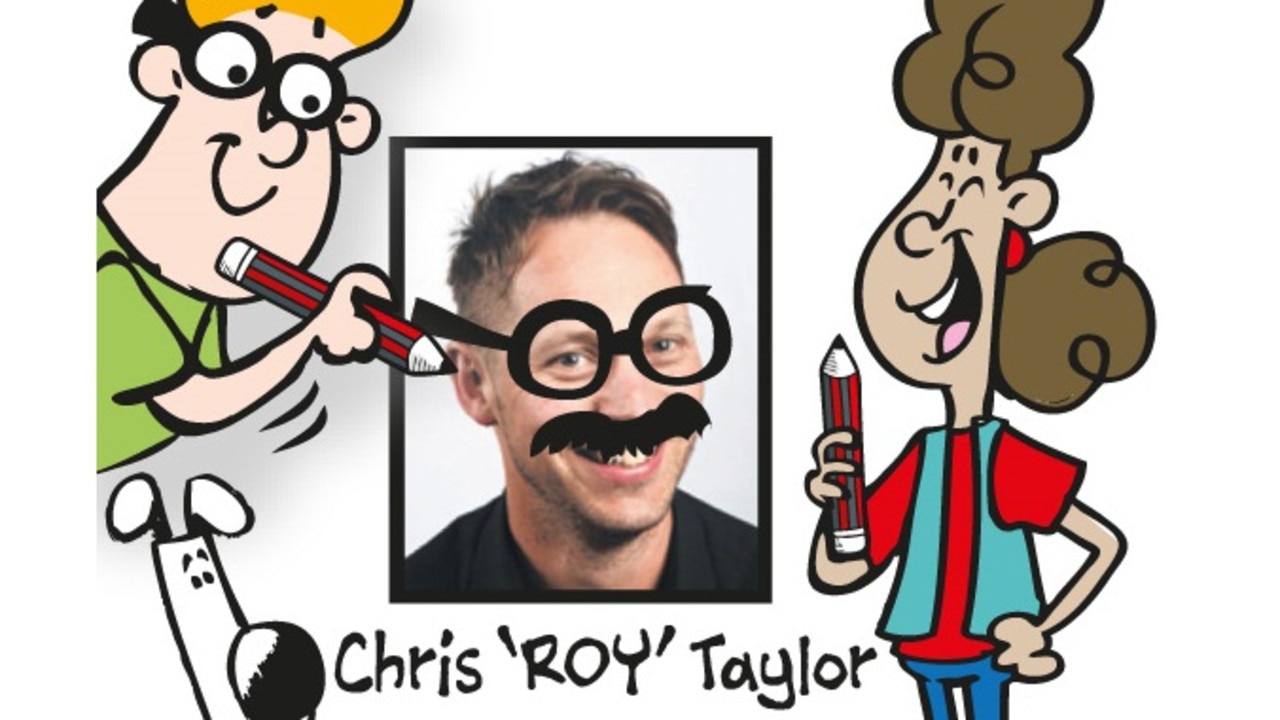 While we can dream of the places and times from the past we'd like to visit, for book characters Tina and Tom time travel is a bit more random*.
One flush of their time-travelling toilet and the friends and their loyal* companion, Dog, are transported to a surprise place in history.
Their first stop in the book is the deck of the Titanic.
The Titanic was a famous ship that sank when it hit an iceberg on its maiden* voyage in April 1912.
It was the most impressive and luxurious* ship of its time, measuring 269m long, 28m wide and 53m high. It was also thought to be the safest ship ever built.
There were more than 2200 people on-board, including 900 crew led by captain Edward John Smith, as the ship travelled from Southampton in England to New York, in the US.
But because Titanic was thought to be almost unsinkable, there were only 20 lifeboats on-board — enough for only about half the passengers.
The giant 30m-high iceberg, most of which was hidden underwater, tore holes in at least four sections of Titanic's hull*.
The front of the ship, known as the bow, went down first. This caused the back of the ship, known as the stern, to rise out of the water.
The ship then broke in two, sending hundreds of people into the freezing water of the North Atlantic Ocean.
The first ship to respond to the Titanic's distress signals arrived more than an hour after the Titanic sank.
About 705 survivors were rescued but more than 1500 people died in the tragedy.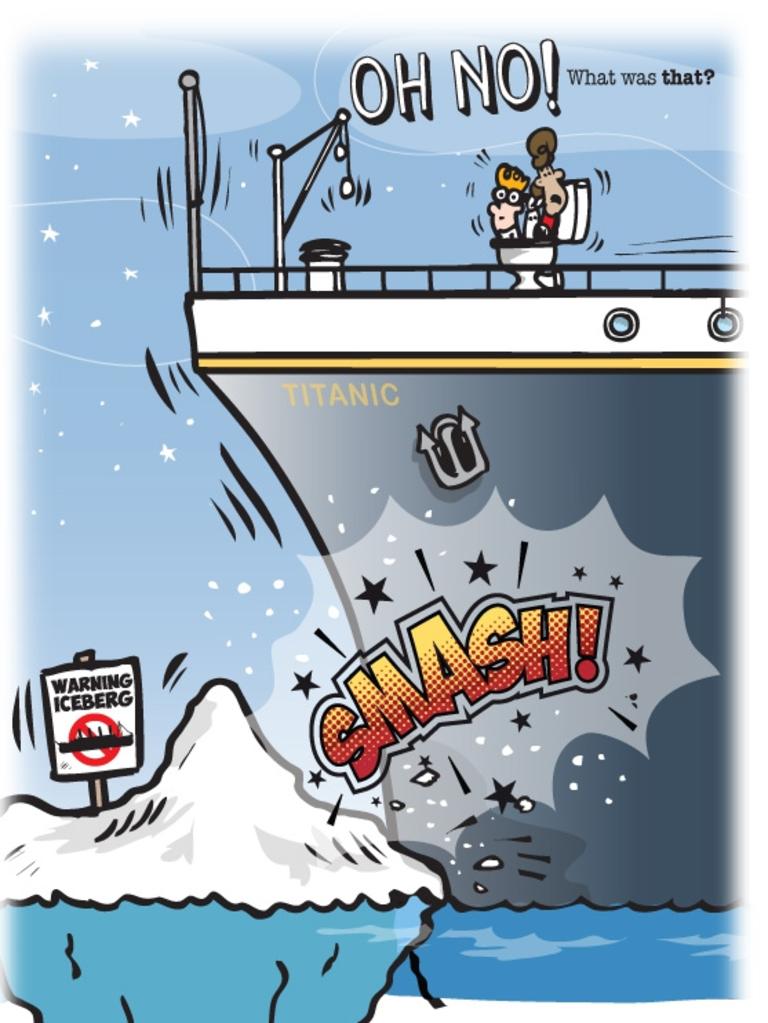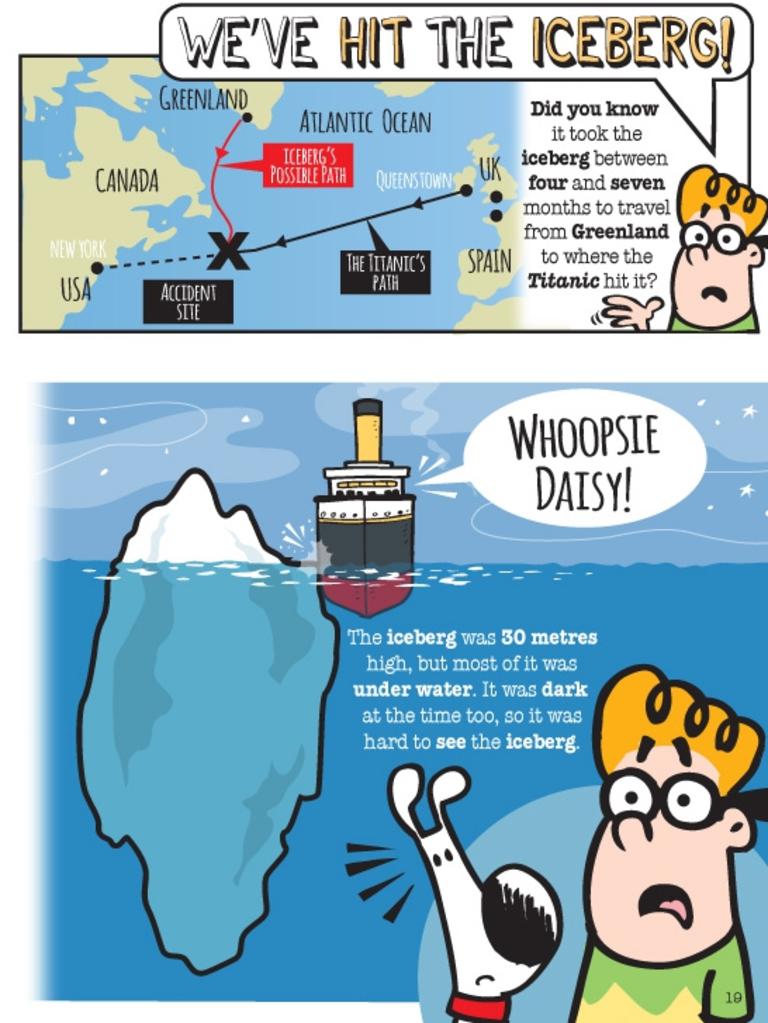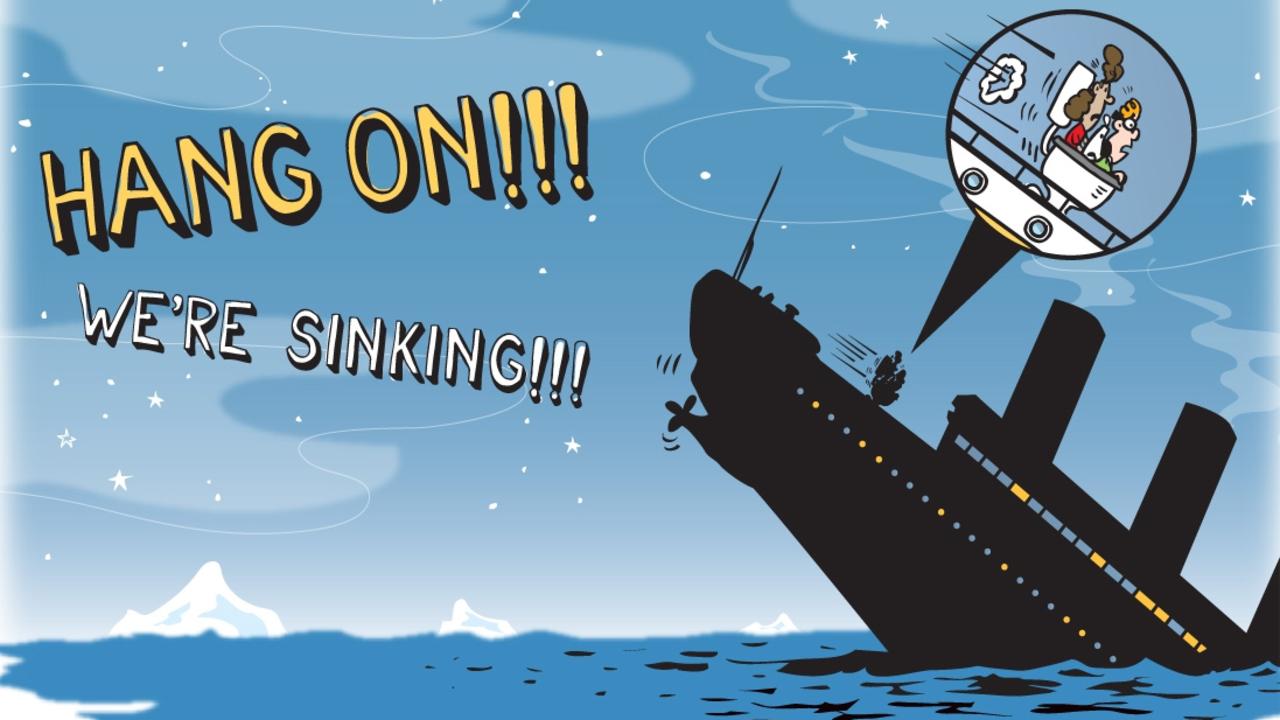 Luckily, in Tina and Tom's Time-Travelling Toilet, the friends and Dog don't have to wait around to be rescued. One flush and they are on their way to their next surprise destination in history.
Mr Taylor said the characters' travels also included the Apollo 11 mission to the moon, Ancient Egypt, the Olympics in Ancient Greece and a close encounter with dinosaurs in the Cretaceous* Period.
"It's a lot of fun, with a lot of facts and a few activities thrown in as well," Mr Taylor said.
"Hopefully kids will learn something without evening knowing it because they'll be having fun at the same time."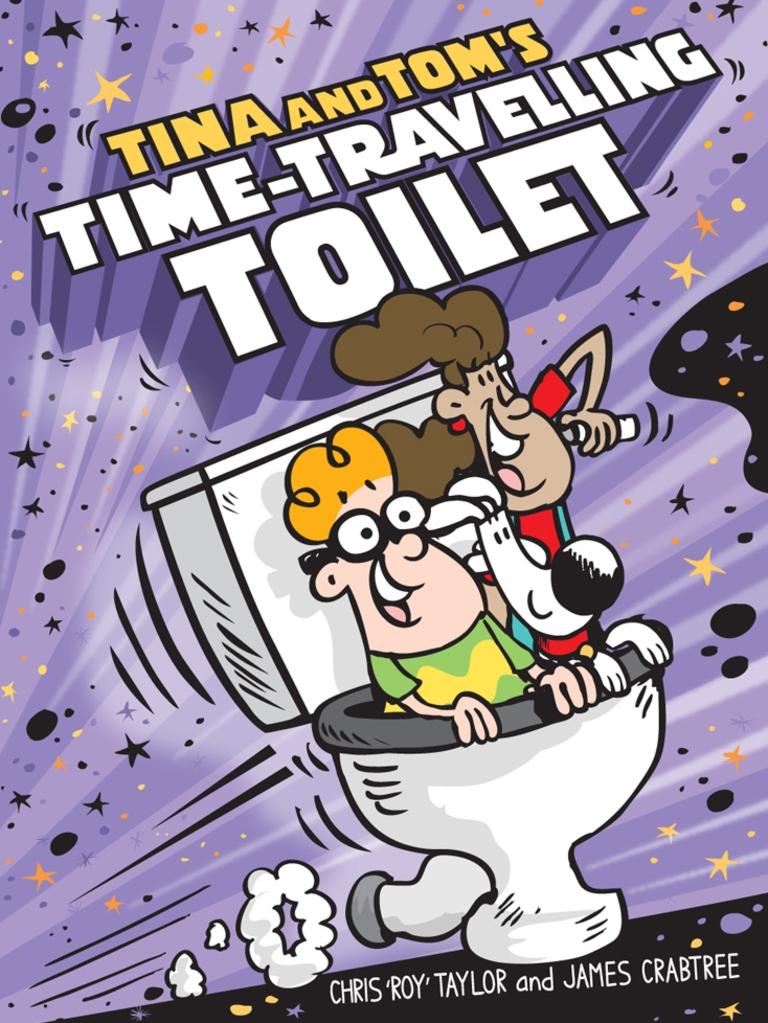 Tina and Tom's Time-Travelling Toilet, by Chris "Roy" Taylor and James Crabtree, is available in shops and online now.
Download Tina and Tom's A-maze-ing mazes HERE and HERE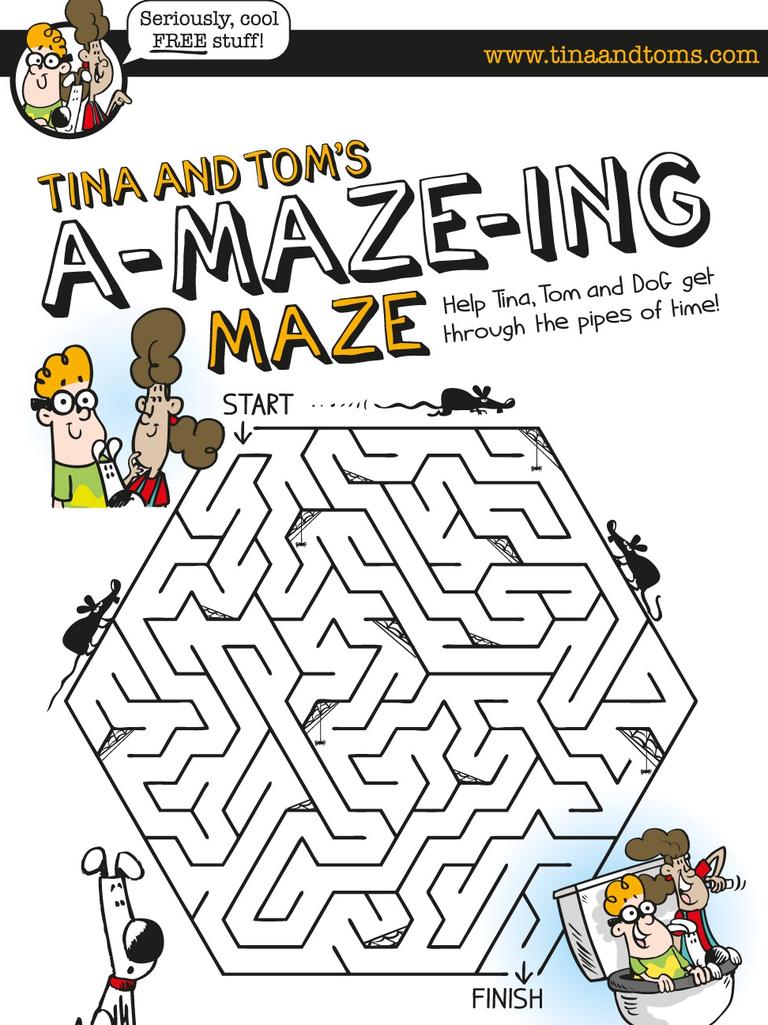 GLOSSARY
The Beatles: very popular English rock band that formed in 1960
random: chosen by chance
loyal: a true and constant friend
maiden: first
luxurious: very expensive and fancy
hull: bottom and sides of a ship
Cretaceous: the period between 145 and 66 million years ago
EXTRA READING
Titanic replica on way to its maiden voyage
Titanic find was part of top-secret war mission
Lego Titanic docks in top museum
QUICK QUIZ
What decade would author and illustrator Chris "Roy" Taylor like to travel back to?
What year did the Titanic sink on its maiden voyage?
How many people were on the ship?
How many lifeboats did the Titanic have?
What do Tina and Tom have to do to make their toilet travel through time?
LISTEN TO THIS STORY
CLASSROOM ACTIVITIES
1. Where Would You Go?
If you could travel back to any time in history, where would you go? Write a report that describes where you would go, what you would expect to find, any problems you might have and why you would go there.
Time: allow 25 minutes to complete this activity
Curriculum Links: English, History
2. Extension
Chris "Roy" Taylor has come up with an idea to help kids learn about history in a really fun way. Imagine that you have been asked to write and illustrate a story that will help kids learn about maths in a really fun way. Write and illustrate your first story.
Time: allow at least 40 minutes to complete this activity
Curriculum Links: English, Mathematics
VCOP ACTIVITY
Adjectives
An adjective is a describing word. They are often found describing a noun. To start with look at the words before the nouns.
Search for all the adjectives you can find in the article
Did you find any repeat adjectives or are they all different?
Extension:
Pick three of your favourite adjectives from the text and put them in your own sentences to show other ways to use them.
Have you used any in your writing?
HAVE YOUR SAY: Where would you go if you could time travel?
No one-word answers. Use full sentences to explain your thinking. No comments will be published until approved by editors.