When Daphne the giant, inflatable* duck went missing at sea about a week ago, it was feared she would never be seen again.
But this quirky* tale has a happy ending after Daphne was found floating at sea yesterday and is now being returned to her owners at the Cockburn Masters Swimming Club.
The huge duck was meant to be the star attraction at the annual Coogee Jetty to Jetty Swim near Perth on Sunday, March 11.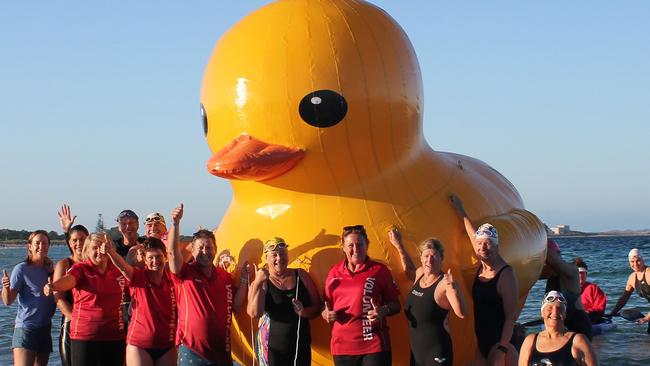 The duck, which is roughly the size of a small caravan, was bought to mark the event's 22nd anniversary as a play on the bingo nickname for 22, being "two little ducks".
But while organisers were moving her from the surf club to the beach about 5am, a strong wind picked her up and Daphne's handler lost his grip allowing her to blow into the ocean.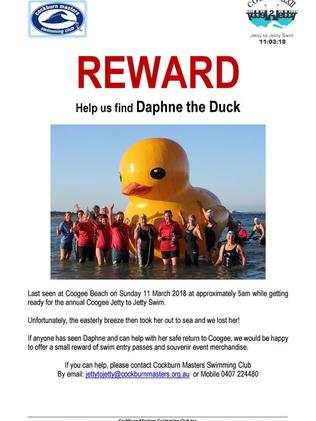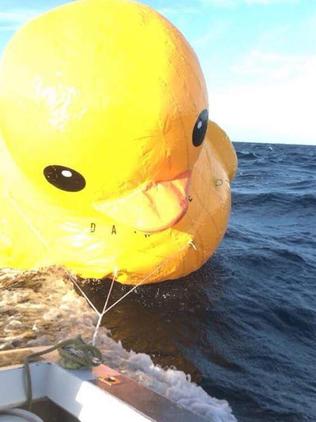 Yesterday, the Coogee Jetty to Jetty Swim facebook page reported a local fisherman found the giant bath toy past Rottnest Island about 30km away and started towing it back to land.
"Good news. Daphne has made it to land. Rescued out at sea. We have made contact with Daphne's rescuer and hope to secure her safe return to Coogee on Wednesday," the post said.
Daphne is not the first rubber duck to go missing at sea.
Back in 1992 a shipping container filled with 28,000 rubber ducks was lost in the middle of the Pacific Ocean … but some of the flotilla* of yellow bath toys are still washing ashore today.
The amazing 25-year sea journey of the bobbing plastic toys has been mapped after they spilled out of a container which had been swept off the deck of the merchant ship* Evergreen Ever Laurel during a storm.
Scientists have been tracking the toys' movements for information about ocean currents, which affect the planet's overall climate.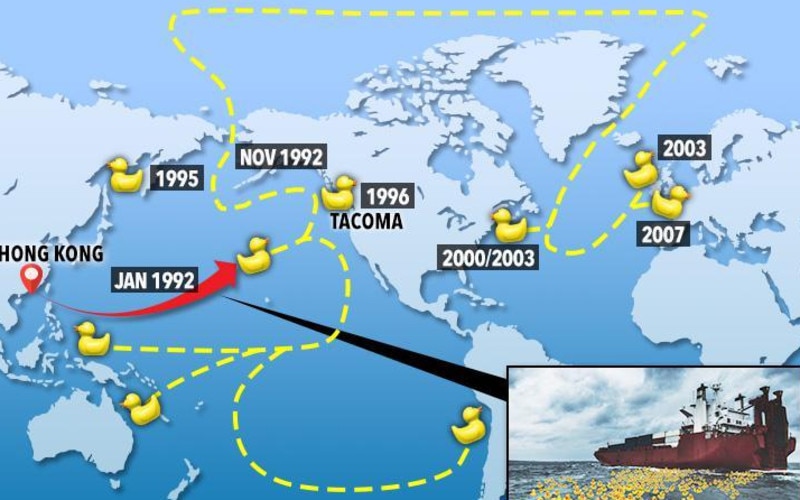 The bathtub favourites have travelled 27,000km, floating over the site where the Titanic sank after hitting an iceberg, landing in Hawaii and even spending years frozen in an Arctic ice pack.
In 2003 and 2007 they even arrived on the shores of the UK as well as South Africa and Australia.
GLOSSARY
quirky: strange or unexpected
inflatable: capable of being filled with air
flotilla: a small fleet of ships or boats (or ducks!)
merchant ship: a ship that transports cargo
LISTEN TO TODAY'S STORY
CLASSROOM ACTIVITIES
1. Daphne's adventure
Use this event as the basis for a picture story book suitable for young children. First create a draft of your story, then proof read and edit it to make it perfect. Next decide on how to break your text up into individual pages. Finally, create your book and draw a picture to go with each of your pages of text.
Extension: Practise reading your story using your best expression to make it entertaining. Perhaps your teacher will allow you to share your story with a class of younger students.
Time: Allow 60 minutes
Curriculum links: English
2.The journey
On a map of the West Australian coastline, plot what is known of Daphne's journey by marking each location and writing a short description of what happened at each place.
Extension: Imagine being on a boat out at sea with a friend and sailing upon a caravan-sized duck! Write the conversation that you think would occur between the two friends as they make this most unusual discovery.
Time: Allow 15 minutes.
Curriculum links: English
VCOP ACTIVITY
With a partner see if you can you identify all the doing words/verbs in this text? Highlight them in yellow and then make a list of them all down your page. Now see if you and your partner can come up with a synonym for the chosen verb- make sure it still makes the context it was taken from.
Try and see if you can replace some of the original verbs with your synonyms and discuss if any are better and why.
Curriculum Links: English, Big Write and VCOP
IN ONE SENTENCE, TELL US WHAT YOU LIKE ABOUT TODAY'S STORY
Please do not use one-word answers as we will not publish them. Explain what you enjoyed or found interesting about the article. Use lots of adjectives.