It's a modern* twist on an old-fashioned art, but crochet artist Phil Ferguson has his fans in stitches over his clever creations.
Twenty-five-year-old Mr Ferguson, from Melbourne, known by his followers as 'Chili Philly', taught himself the woolly craft after he became interested in costume making.
Working at a burger shop proved the inspiration for his first piece, a burger hat. Before long, Mr Ferguson was creating crochet hats of all kinds, with food a common theme.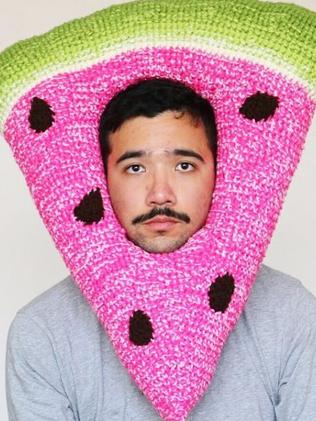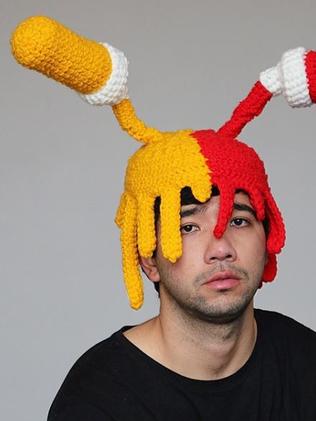 "People always find the humour in something being just food," he said.
The former fine arts student knew he had tapped into something special when he started posting images of his work online. He has collected an impressive 134,000 Instagram supporters, to which he is humbled but not surprised.
"I knew it would inevitably* get popular but it happened a lot sooner than I expected," Mr Ferguson said.
The unusual passion has turned into full-time work for Mr Ferguson, who works with brands and held his first exhibition last year.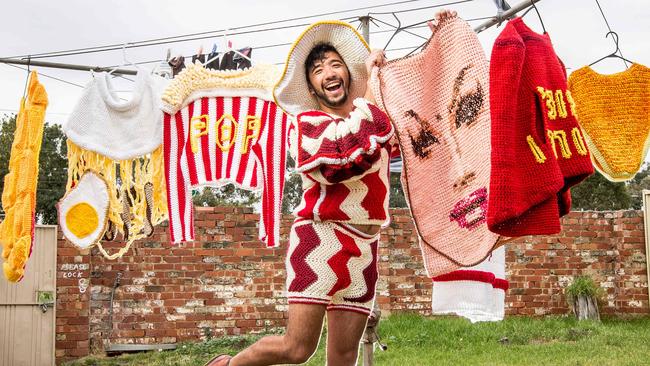 Mr Ferguson hopes to break the stereotype* of knitting and crochet as a 'nanna hobby' by continuing to showcase the modern styles possible with the craft.
Knitting and crochet recently won the title of most popular Australian craft, with Spotlight sales figures showing more than 150,000,000 metres of yarn were sold this financial year.
Next month marks Spotlight National Craft Month. You can get creative at Spotlight stores throughout March, with lots of workshops and activities for children.
GLOSSARY
modern: happens in present or recent time
old-fashioned: things or styles from a long time ago
crochet: a handicraft in which yarn is made up into a textured fabric by means of a hooked needle
inspiration: when you are encouraged to do or feel something
inevitably: will definitely happen
stereotype: a popular and often fixed image or idea about something
LISTEN TO TODAY'S STORY
CLASSROOM ACTIVITIES
1. Popular yarn
What were the steps that led to Mr Ferguson being able to hold an exhibition of his hats last year?
How is Phil Ferguson helping to 'break the stereotype' of knitting and crocheting?
What evidence from the article suggests that knitting and crocheting are gaining popularity?
How many kilometres of yarn were sold at Spotlight this financial year? (You will need to convert to kilometres)
Where would this length of yarn reach if it was laid in a straight-line end to end from your front door? Use google maps. Locate your house, right click on the red pin and select 'measure distance'. Scroll the map out until it shows a world view. Click on black circle near your red pin and drag it out until it measures the length of the yarn.
Extension: Design a hat. Draw a diagram of what you think the following foods would look like as a crocheted hat:
Spaghetti and meatballs,
A pineapple
An ice-cream sundae
Design your own 'food inspired' crocheted hat.
Time: Allow 40 minutes.
Curriculum links: English, The Arts – Visual Arts, Mathematics, Humanities – Geography

2. Breaking the stereotype
In the article traditional crafts such as crocheting and knitting are referred to as 'nanna hobbies'.
What does this mean? Why do you think they have this reputation?
Create a poster that highlights how 'cool' these crafts can be, why people should give them a go and the types of things that can made. It might also be a good idea to suggest where people can learn these skills.
Extension: What interesting facts can you find out about crocheting or knitting? Do some research on the origins of these crafts to find some interesting facts that you can add to your poster.
Time: Allow 60 minutes.
Curriculum links: English, The Arts – Visual Arts.
VCOP ACTIVITY
After reading the article, with a partner, highlight all the openers you can find in blue. Discuss if they are powerful and varied openers or not. Why do you think the journalists has used a mix of simple and power openers? Would you change any, and why?
IN ONE SENTENCE, TELL US WHAT YOU LIKE ABOUT TODAY'S STORY
Please do not use one-word answers. Explain what you found interesting about the article. Use lots of adjectives.