Huge fruits, vegetables, animals and icons started popping up around Australia in the 1960s when statues like the Big Banana in Coffs Harbour were opened to great fanfare.
Now there are more than 200 "Big Things" designed to attract tourists around the country and Victoria is about to get another one.
Cobram, a town on the Murray River, will soon unveil* a giant peach to celebrate the town's agricultural history.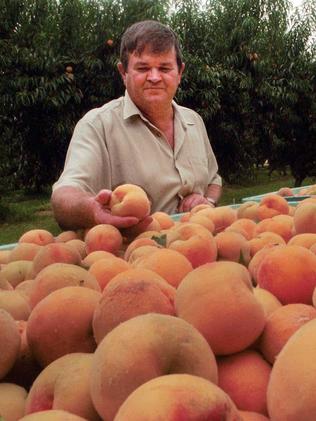 Cobram Barooga Business and Tourism (CBBT) group are forking out $50,000 for the sculpture, which will be unveiled in February.
CBBT member Cath Noonan hopes the giant peach will bring attention to the Cobram.
"We wanted to promote the town," Mrs Noonan said.
"We are hoping they stop, take a photo and head into town."
Here are 10 more famous giant statues and sculptures from around Australia:
The Big Pineapple
Location: Nambour, Queensland
The Big Pineapple, built in 1971, was once one of Australia's most beloved Big Things.
It was once a necessary pit-stop on the Queensland coastal tourist trail.
In 1983, even Prince Charles and Princess Diana visited it.
But in recent years the number of visitors to the Big Pineapple has fallen dramatically*.
In 2009, the Big Pineapple was added to the Queensland State Heritage Register, giving it some legal protection. This move also imposed an expectation that the owners would maintain the structure for future generations.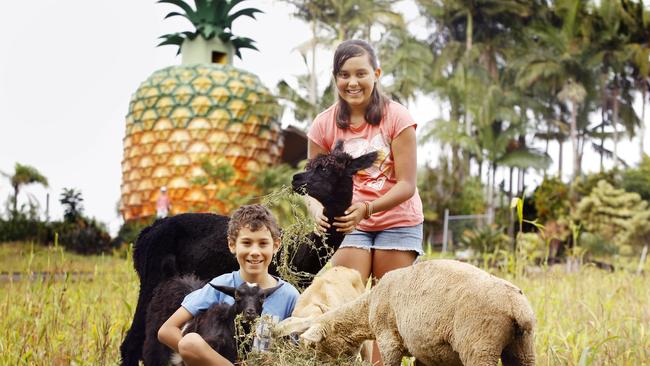 The Big Ned Kelly
Location: Glenrowan, Victoria
Glenrowan was the site of the Kelly Gang's infamous last stand in 1880.
And its big drawcard these days is the huge 6m tall statue of bushranger Ned Kelly, which was erected by local souvenir shop owners at a cost $12,000 in 1992.
While relatives of the victims of the Kelly Gang have called for it to be taken down, the huge Ned and the Ned Kelly Museum remain.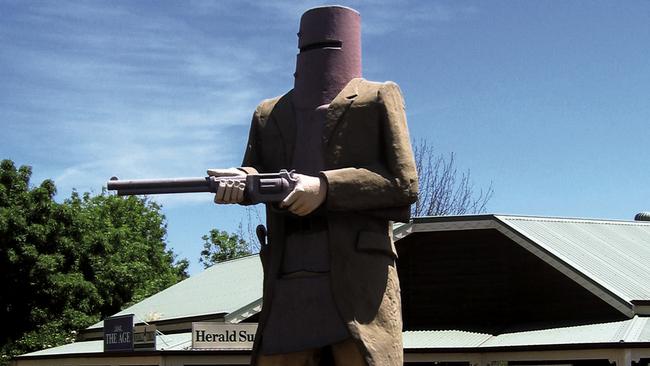 The Big Banana
Location: Coffs Harbour, NSW
The 13m long Big Banana was built in 1964 and remains an Australian icon decades later.
It was one of the first Big Things built in Australia.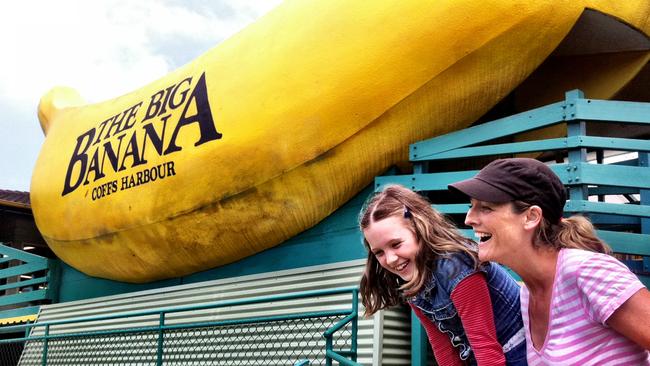 Larry the Lobster
Location: Kingston SE, South Australia
South Australia's giant lobster Larry was built in 1979.
He's 17m tall and made of fibreglass.
The State Government offered $10,000 to help in late 2015 to help bring him back to his former glory.
The Lobster was recently the subject of a nationwide fundraising campaign #PinchAMate led by radio hosts Hamish and Andy.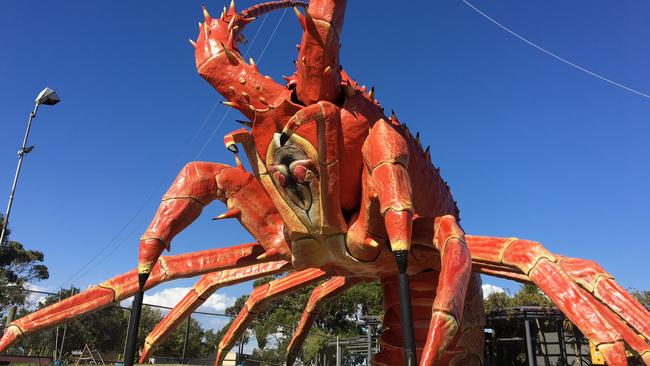 The Big Strawberry
Location: Koonoomoo, Victoria
Koonoomoo's big berry is a drawcard for tourists who stop to snap a picture with the supersized strawberry.
Tourists stop to snap the giant fruit, pick their own berries or enjoy a treat at The Big Strawberry store.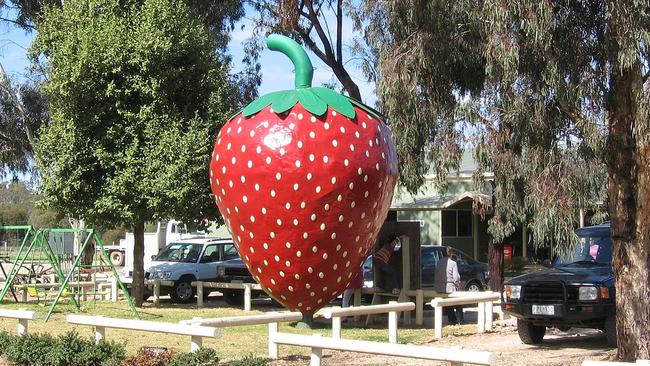 The Giant Murray Cod
Location: Swan Hill, Victoria
It doesn't get much more Aussie than a Giant Murray Cod in Swan Hill.
The fish sits out of water near the main train station and spans 11m in length and 6m in width.
It was originally a film prop for the 1992 film Eight ball but became such a favourite that a home was found and its remained there ever since.
The Giant Koala
Location: Dadswells Bridge, Victoria
The giant marsupial* on the highway in Dadswells Bridge, just outside of Stawell, is part of a bigger tourist attraction complex where you can grab a bite, meet koalas and get up-close with wildlife.
The statue stands 14m tall and weighs 12 tonnes.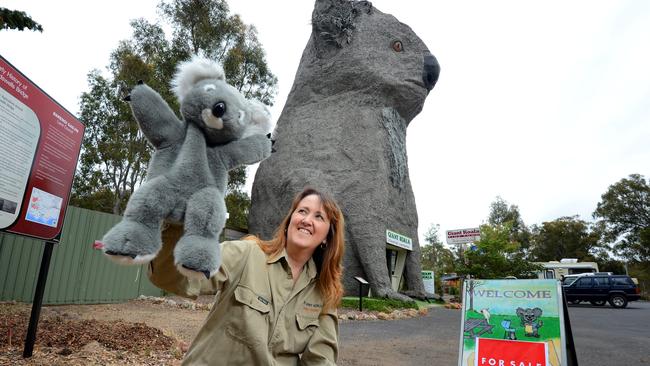 The Big Captain Cook
Location: Cairns, Queensland
The Big Captain Cook stands on the side of the Cook Highway but the hotel that once accompanied it has long been demolished.
Locals are divided over the appropriate fate of the landmark — should he be repainted dismantled, or relocated to a place such as James Cook University where, in 2006, students petitioned* for his adoption?
Indigenous artist Munganbana Norman Miller has proposed the Cook statue be given a Big Boomerang to hold.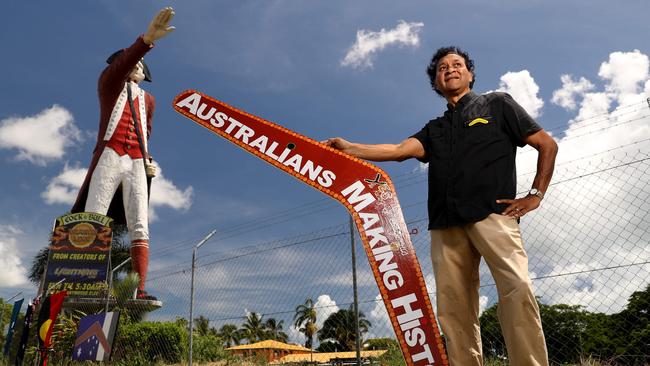 The Big Prawn
Location: Ballina, NSW
This giant crustacean was built in 1989 but in 2009 Ballina council's threatened to demolish it.
Bunnings stepped in to save the huge creature, paying $400,000 for a makeover and the addition of a tail in July 2013.
The Big Prawn stands 9m high and weighs a whopping 35 tonnes.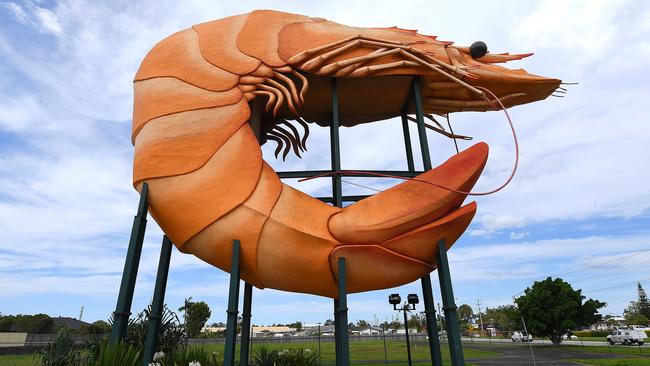 The Giant Gnome
Location: Frankston, Victoria
This 9m stainless steel artwork, Reflective Lullaby, is the creation of sculptor Gregor Kregar and sits on Cranbourne Rd.
The $250,000 gnome is said to watch over motorists and the roads and has become a local treasure.
But some motorists complained it caused glare and was a distraction with motorists slowing to take a look.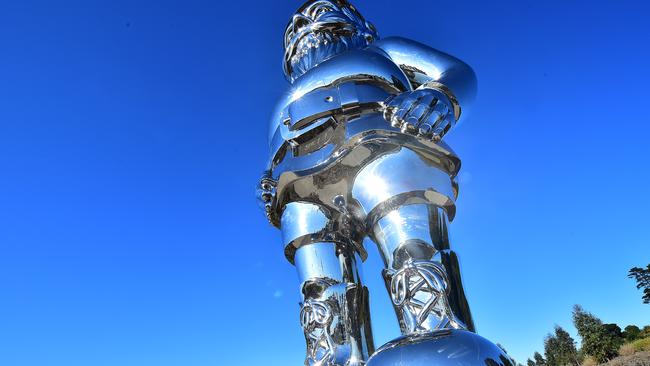 GLOSSARY
unveil: show for the first time
dramatically: by a lot
petitioned: got people to sign in support
LISTEN TO TODAY'S STORY
CLASSROOM ACTIVITIES
Activity 1. My town's big thing
Most of the big things mentioned in the article have some significance to the towns they are located in.
Identify something that relates to the history, industries or nature in your town or suburb that could become your big thing.
Write a letter to your local council to convince them of why this is an appropriate choice and how building your big thing could benefit the community.

Extension:
Make a postcard showing the big thing you chose for your town.
Time: allow 40 minutes to complete this activity
Curriculum links: English, Civics and Citizenship

Activity 2. Mini models
Several of the big things detailed in the article have their heights/lengths/widths stated.
Draw scale pictures of three of them on 1cm grid paper.
Your scale should be 1:100 — so one metre (or 100cm) of the actual big thing equals one centimetre on your paper.
To show how big they are in relation to a human, also draw a picture of yourself using the same scale.
Extension:
In a large clear area, measure out the actual dimensions of the big things so you can get an idea of how big they really are.

Time: allow 15 minutes to complete this activity
Curriculum links: Mathematics
VCOP ACTIVITY
(Vocabulary, Connectives, Openers, Punctuation)
Big things for a big country
Your town has asked you to create a big statue to represent what the town is known for. Research the history of where you live or ask some older members of the community what features are historic and should be captured and celebrated.
Write a pitch to the local council explaining why your statue should be chosen for your town.
Extension:
Design the structure and what features should be displayed inside the object to give a history of why you chose it for your town.
Time: allow 25 minutes to complete this activity
Curriculum links: English, Art, Big Write, VCOP
EXTRA RESOURCES
NED KELLY STILL FASCINATES AUSSIES
RARE EARLY AUSTRALIA MAP FOUND IN ATTIC
IN A SENTENCE, SHARE YOUR THOUGHTS ON TODAY'S STORY
Kids News loves reading your best grammar, vocabulary and spelling.
We publish the best comments.