Australian lolly warehouse opens with crazy 'human claw' harness
Australia's largest lolly shop has rideable dinosaurs, a life-size 'human claw' for maximum scooping, one of the biggest pick and mix aisles on Earth and plans for a Guinness World Record bid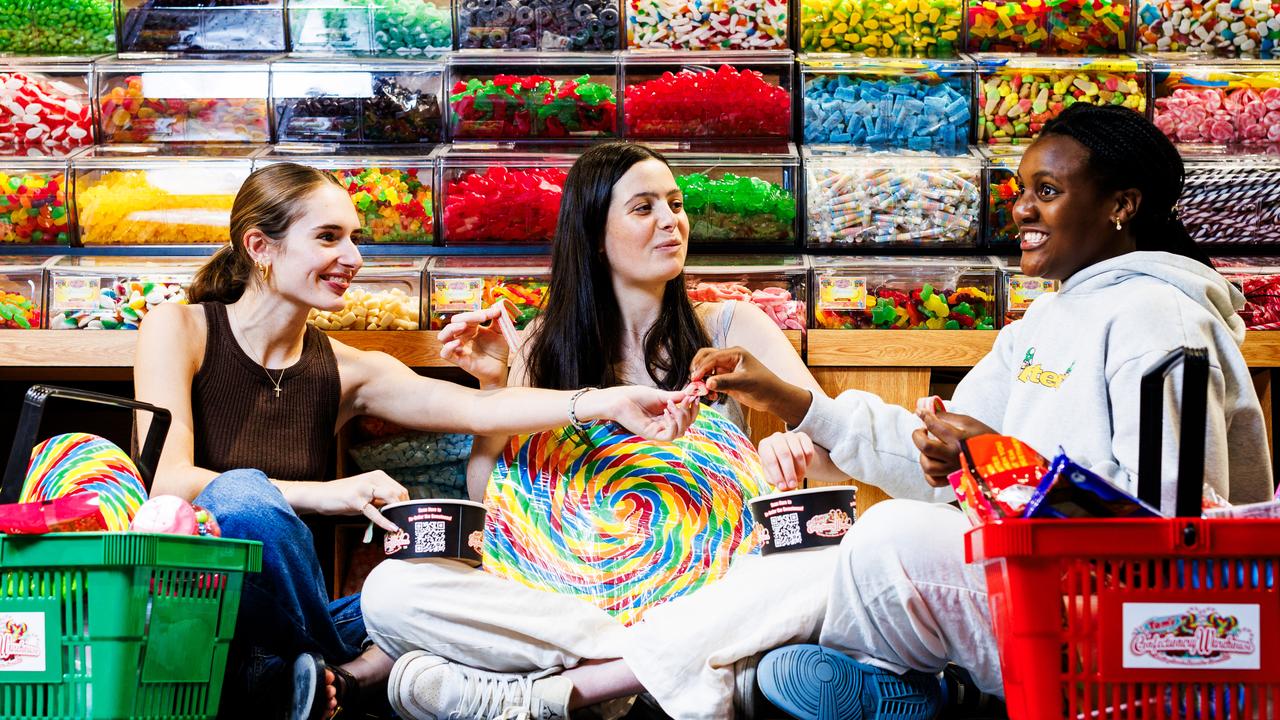 Tom's Confectionary Warehouse has plenty of sweet treats to share. Picture: Aaron Francis/Herald Sun
Willy Wonka, eat your heart out: this lolly shop has a human claw machine.
Australia's largest lolly shop has just opened in Melbourne's Highpoint Shopping Centre and it's sure to be a sweet treat for kids and adults alike.
The shop has one of the biggest pick and mix aisles on the planet, as well as dinosaurs that customers can ride around the shop, a candy throne and a full-sized unicorn.
But the biggest attraction at Tom's Confectionery Warehouse is its life-size "human claw" that lets customers grab as many lollies as they can while suspended above a ball pit full of goodies.
The Herald Sun sent a few lucky reporters to try out the claw and they grabbed a bounty of tasty snacks, including a stocking filled with Christmas lollies and an XL garlic-flavoured pickle.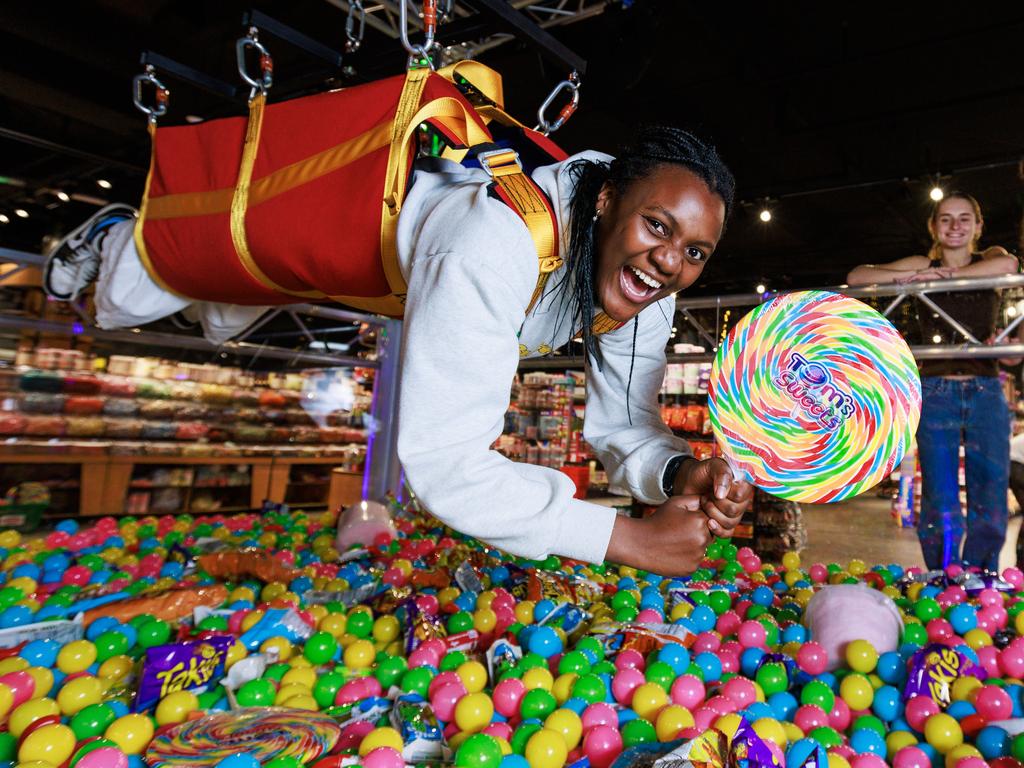 Herald Sun reporters were quick to try the "human claw". Picture: Aaron Francis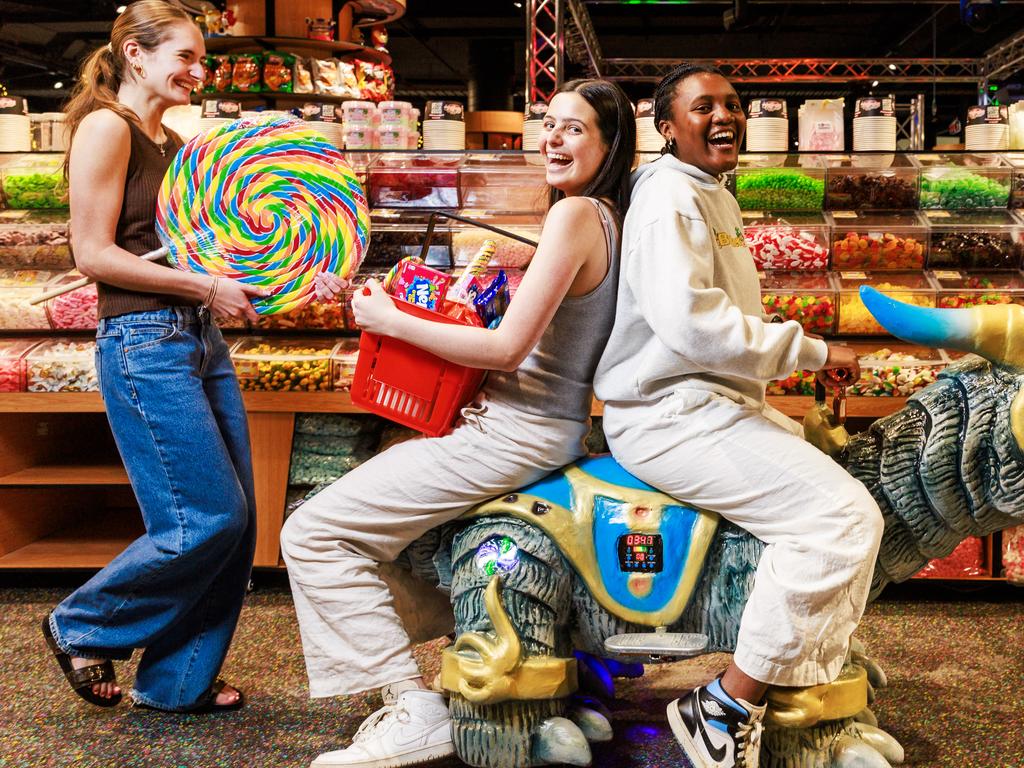 Tom's Confectionery Warehouse is the nation's biggest lolly shop. Picture: Aaron Francis.
The shop is hoping to break a Guinness World Record for the largest pick and mix aisle anywhere on Earth.
The aisle has more than 1000 different types of sweets – and tasting is allowed.
Along with familiar favourites, there are also unusual flavours, like coconut rough with chilli and mango popcorn.
These concoctions are part of a menu created by owner Adiel Ben-Karmona and his business partner, celebrity chef Adrian Richardson.
"It's all about the variety, that's what brings people through the door," Mr Ben-Karmona said.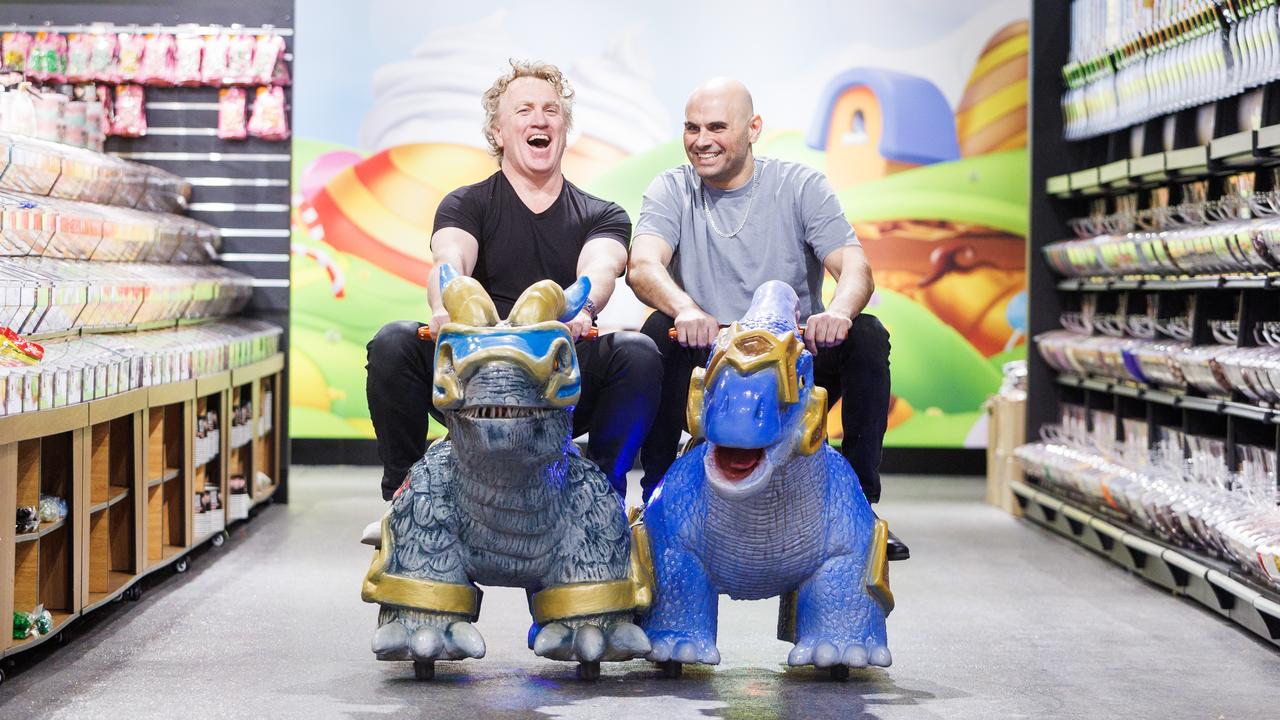 Owners Adrian Richardson and Adiel Ben-Karmona check out the huge pick and mix lolly aisle. Picture: Herald Sun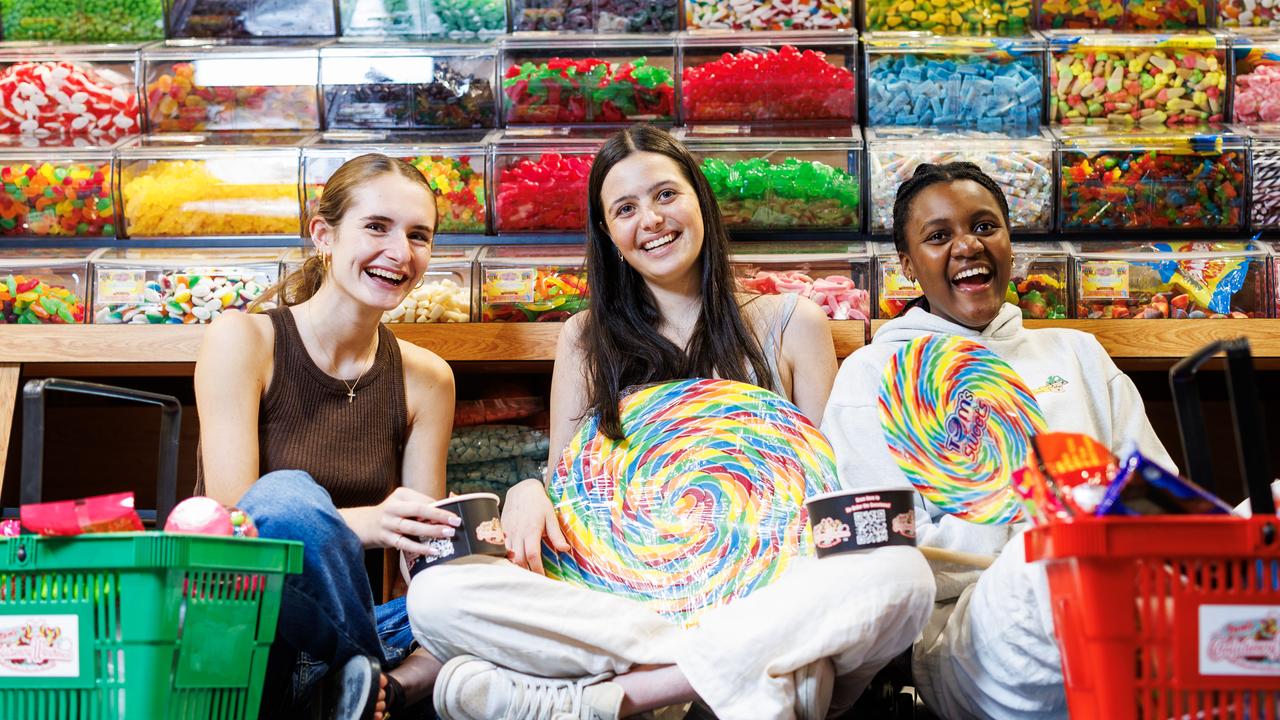 Massive lollipops are among the thousands of sweets on offer.
Tom's was inspired by the Roald Dahl classic Charlie and the Chocolate Factory and will even be running a golden ticket-style competition to give one lucky customer the experience of a lifetime.
"We are more than just a lolly store," Mr Ben-Karmona said. "We want Tom's Confectionery Warehouse to be a place that inspires anyone who walks through our doors, young or old, to bring some fun to their day-to-day lives."
GLOSSARY
aisles: rows of shelves with items to buy
suspended: held up high
bounty: a prized collection
concoctions: creations
EXTRA READING
Aussie's world record on a monster wave
Guinness World Records 2024: 'Crazy, fun, inspiring'
Giant pumpkin squashes world record
QUICK QUIZ
Where is Australia's biggest lolly shop located?
How many varieties of lollies are in the pick and mix aisle?
What famous children's book inspired the lolly shop?
What can customers ride on in the store?
Which Guinness World Record are the owners hoping to break?
LISTEN TO THIS STORY
CLASSROOM ACTIVITIES
1. Lollies galore
The human claw machine will be a big drawcard to get people through the doors at Tom's Confectionery Warehouse in Melbourne.
If the owners used Charlie and the Chocolate factory as their inspiration, what else would you like to see in a store like this to make it an experience like no other?!
Be as imaginative as you like to design your dream lolly lover store. Give it a name, explain what it will sell and the experiences it involves.
Time: allow 20 minutes to complete this activity
Curriculum Links: English, Design and Technologies, Personal and Social, Critical and Creative Thinking
2. Extension
Do you think families will bring their children into a confectionary warehouse such as this?
What sort of people or occasions might bring customers to this new store?
Time: allow 10 minutes to complete this activity
Curriculum Links: English, Health and Physical Education, Personal and Social, Critical and Creative Thinking
VCOP ACTIVITY
Creative vocabulary
Find a bland sentence from the article to up-level. Can you add more detail and description? Can you replace any "said" words with more specific synonyms?
Have you outdone yourself and used some really great vocabulary throughout your writing? Firstly, well done. Secondly, let's ensure everyone can understand it by adding a glossary of terms. Pick three of your wow words and create a glossary for each word to explain what it means.