Australia has chosen a true blue native animal as the mascot* for the Commonwealth Games, which start next month on the Gold Coast.
Borobi the surfing koala will be cheering our athletes on as they go for gold in the Games.
The blue-coloured marsupial* is named after the Aboriginal Yugambeh language word for koala and appears on a surfboard to reflect the beach-loving nature of the Gold Coast region.
Borobi has been busy travelling to different parts of Australia to promote the sporting event which will see 70 countries and territories competing against each other.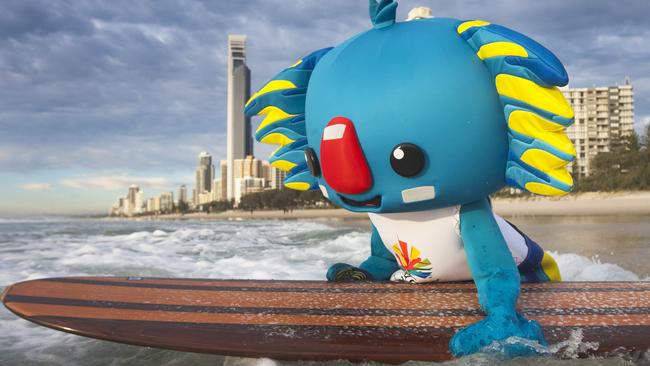 Borobi, whose look was inspired by a drawing by Brisbane schoolteacher Merrilyn Krohn, has even had his face included on special collectable Commonwealth Games pins and a new $2 coin.
His hands and feet are covered with Aboriginal markings showing a campsite, representing the countries of the Commonwealth, and lines on his hands representing the athletes' journey to the Games.
The wavy lines on the fingertips represent the 11 days of the Games and the dots represent all the fans from around the world.
Commonwealth Games Minister Stirling Hinchliffe said Borobi "is a very special and unique koala whose personality embodies* all the values of the Gold Coast and the Australian way of life"
"He is fun, approachable, determined, passionate and active," Minister Hinchliffe said.
Borobi is not the first Commonwealth Games mascot that Australia has had.
At the Brisbane Games in 1992 we had Matilda the Kangaroo and for the Melbourne Games in 2006 it was Karak, a south-eastern Red-tailed Black Cockatoo
You can expect to see Borobi a lot in the coming weeks and children across Australia will be scrambling to collect items with his face on them.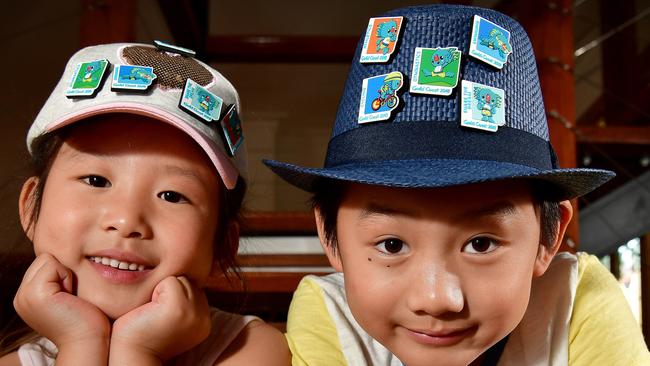 News Corp papers in every state are offering a five-part collection of Borobi pins from April 4 to April 8 — available exclusively for just $2 with the purchase of the paper.
Borobi's pins will see him doing gymnastics, running, cycling and swimming as part of the collection.
Maybe you could start your own Borobi Commonwealth Games collection this year?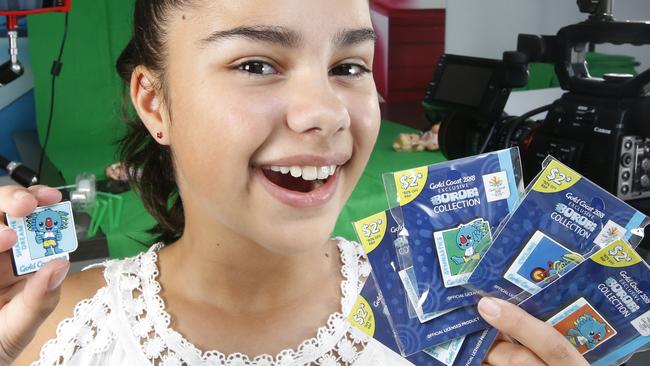 GLOSSARY
mascot: a person or thing that is supposed to bring good luck
marsupial: a mammal whose young are typically born in a pouch
embodies: something that captures a feeling or theme
LISTEN TO TODAY'S STORY
CLASSROOM ACTIVITIES
1. Introducing Borobi
Imagine that your school is lucky enough to have Borobi visit. You have been asked to introduce Borobi at your school assembly. Write a speech that welcomes and introduces him to your school community, who may not have heard of him before. Use information from the article to help you. Think of an interesting way for him to enter the assembly. What might he be there to give away?
Extension: Write an acrostic poem about Borobi the Commonwealth games mascot. If you would like an added challenge you could use 'Koala Borobi' to do your poem. Think of words or phrases that relate to Borobi as mentioned in the article. Each line must begin with the letters in his name.
Time: Allow 45 minutes
Curriculum links: English, Critical and Creative Thinking
2. What is a mascot?
Mascots are used to bring luck and/or represent a group or organisation. There are mascots in many sporting clubs and organisations. Make a list of mascots that you know of – if you know them well you may be able to draw a picture of them too. If you do not know of any mascots, you may be able to research some.
Extension: If it does not already have one, create a mascot for your school. You may choose an animal or an object to be your mascot. Make sure you have a good reason for your choice. What qualities/values does it have? Why is this a good fit for your school? Make sure you think about any school values, mottos that already exist. Your mascot should compliment these. Draw a picture of your mascot and write a brief introduction of it alongside your picture.
Time: Allow 30 minutes
Curriculum links: English, The Arts – Visual Arts, Critical and Creative Thinking
VCOP ACTIVITY
After reading the article, with a partner, highlight as many wow words or ambitious pieces of vocabulary that you can find in yellow. Discuss the meanings of these words and see if you can use them orally in another sentence.
IN ONE SENTENCE, TELL US WHAT YOU THINK ABOUT TODAY'S STORY
Please do not use one-word answers as we will not publish them. Explain what you enjoyed or found interesting in today's article. Use lots of adjectives.