This aeroplane has the whole world talking and, perhaps surprisingly, that's not because of its unusual look.
The Embraer E190-E2 is a brand new type of aeroplane, which is emerging* as a rival to Airbus' A220 plane.
Nicknamed the "Profit Hunter", the plane features a ferocious great white shark livery* that has seen images of it flood social media platform Instagram as it makes its way around the globe on a world tour.
It's even been spotted at Nepal's Kathmandu-Tribhuvan airport when it went to visit Mount Everest.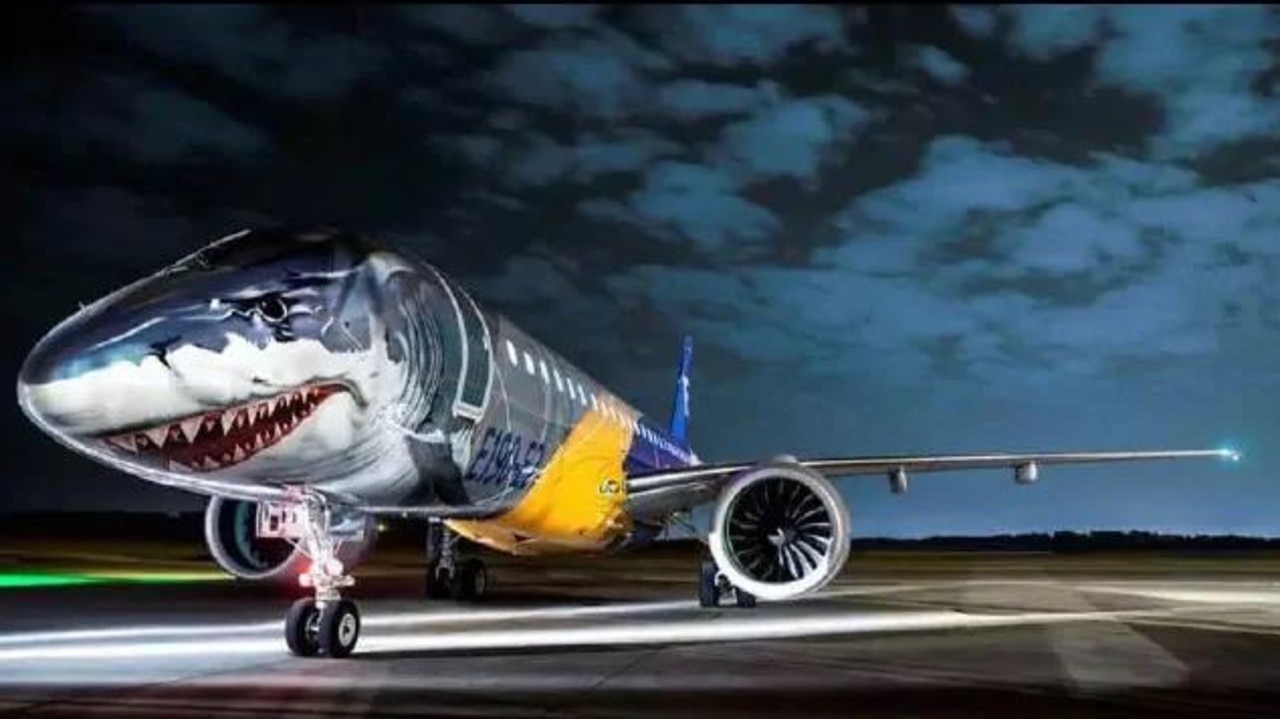 Australian airline Qantas announced in August this year that it was considering the Embraer E190-E2 alongside the Airbus A220 and a Boeing plane for when it needs to buy more aeroplanes of this size.
One feature of the Brazilian-made Embraer passenger jet, which carries up to 150 passengers, is that it has a 2-2 seat configuration*.
That means passengers are assigned to either a window or aisle seat, and there isn't a dreaded middle seat in sight. It has larger windows than its rivals, which means it has brighter cabins, and it has overhead bag compartments that are 40 per cent larger and able to fit standard carry-on luggage wheels-first, and there are no under-seat rails interrupting the leg room, news outlet CNN reports.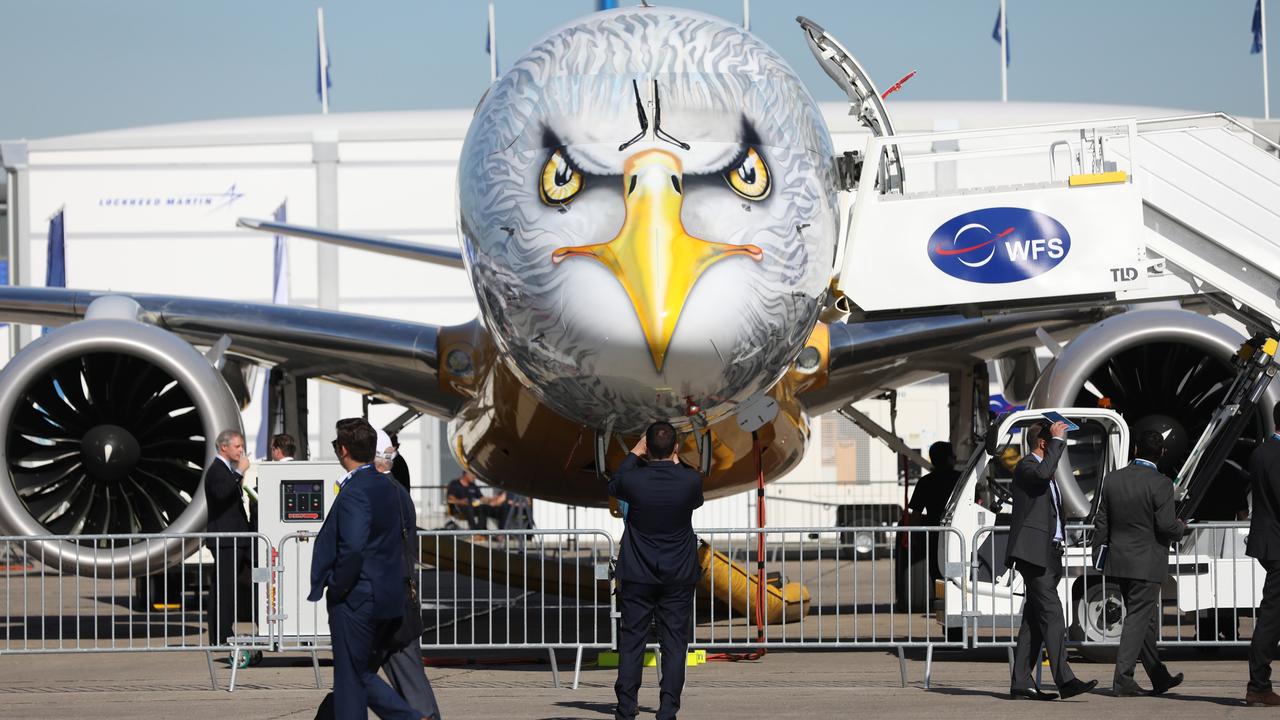 "Preserving passenger personal space is the goal … (to) give passengers the impression of having greater space, or of being on a larger aircraft," Embraer's vice president of marketing Rodrigo Silva e Souza told CNN.
It also burns 17 per cent less fuel than its predecessor*, the E190, which will make it an attractive sell to airlines.
When Embraer debuted the plane in February, it sported an eye-catching tiger livery.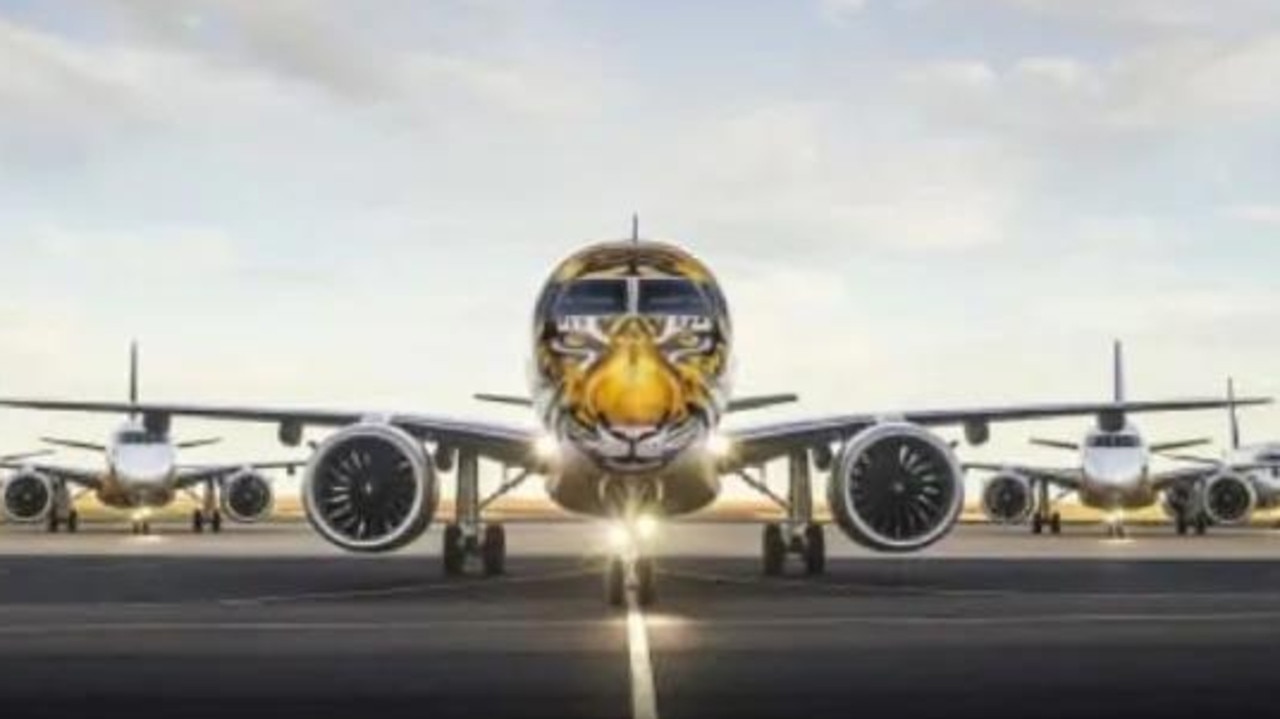 The Embraer E190-E2 is heading to Dublin, Ireland, on its final leg of its world tour. But it has been in operation at Norway's Widerøe airline since April.
About 2800 of the planes will be rolled out in the next 20 years — although they won't all have the great white shark paint job.
VIDEO: How to make a sleek traditional paper aeroplane
EXTRA READING
Hypersonic jet to fly New York-London in two hours
Window seat for all on Dreamliner
Titanic replica on way to its maiden voyage
GLOSSARY
emerging: coming into view
livery: special uniform
configuration: the way things are arranged
predecessor: the one that came before
LISTEN TO THIS STORY
QUICK QUIZ
1. What is this plane's nickname? Can you work out why?
2. What landmark is near Nepal's Kathmandu-Tribhuvan airport?
3. What is special about the way the seats are arranged?
4. Does it burn more or less fuel than previous similar planes?
5. What else has the plane been painted as?
CLASSROOM ACTIVITIES
This aeroplane has been on tour to hunt for potential buyers. It has created quite a lot of interest with its cleverly designed livery. However, buyers are not going to be only interested in how it looks. What other features make this aeroplane an excellent purchase for airlines?
Create a slide show presentation to advertise this aircraft. Aim your presentation at executives in airline companies. Make sure your slide show highlights the attractive features of this aircraft and includes images of it. Prepare a speech to go along with your slide show and practise delivering it with expression and pizzazz so that you are more likely to get a sale. When you are ready present your speech and slide show to your class.
Time: Allow 60 minutes
Curriculum links: English, The Arts — Drama, Technologies — Digital Technologies, Design and Technologies
Extension: This aeroplane has been painted as an "eye-catching tiger" and as a "ferocious great white shark" to attract the attention of potential buyers. Both of these animals are hunters and highlight the aircraft's nickname "Profit Hunter".
What other hunter could this be painted?
Create another design for this aircraft to attract attention. Draw an aeroplane with your design on it. Try to make it look as realistic as possible.
Time: Allow 30 minutes
Curriculum links: English, The Arts — Visual Arts
Extra Resources: Access to digital technology to create a slide show.
VCOP ACTIVITY
After reading the article, with a partner, highlight all the openers you can find in blue. Discuss if they are powerful and varied openers or not. Why do you think the journalists has used a mix of simple and power openers? Would you change any, and why?
HAVE YOUR SAY: If you had an aeroplane, what animal would you paint it as? Why? What would you like it to look like? No one-word answers. Use full sentences to explain your thinking.