Treasurer talks misbehaving boys and glitter nails with cub reporter
Becoming a good interviewer and presenter takes planning and practise – watching how other junior journalists have tackled the challenge is a great place to start WATCH THE VIDEO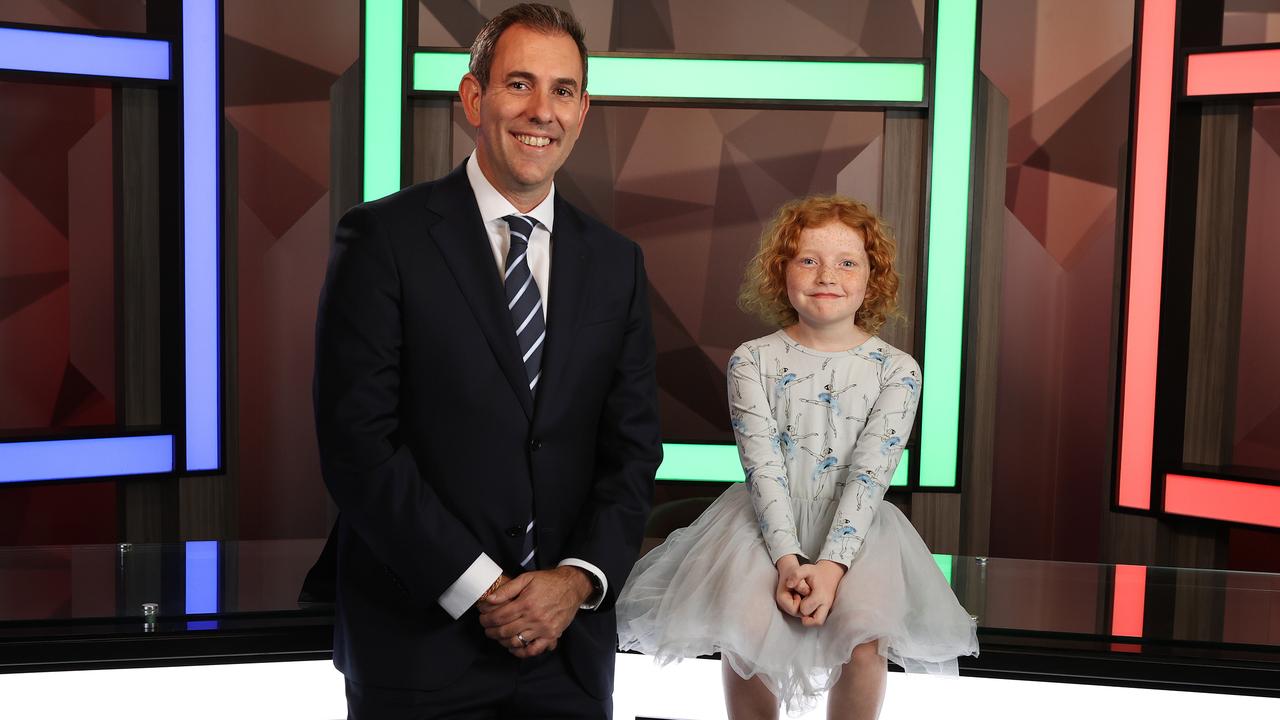 Queensland junior journalist Saffron Deacon, 9, interviewed Treasurer Jim Chalmers as part of the Courier Mail's Tiny Edition series. Picture: Liam Kidston
Junior journalist Saffron Deacon, 9, did not shy away from the big questions when she sat down with Federal Treasurer* Jim Chalmers. Honing* her cub reporter skills as part of the Courier Mail's Tiny Edition series, the Queensland mini media personality used plenty of open questions – meaning questions that did not have a yes or no answer and required Mr Chalmers to reveal more about himself.
Open questions are a terrific interview tool and Saffron dived right in, asking the Treasurer what he was like as a kid.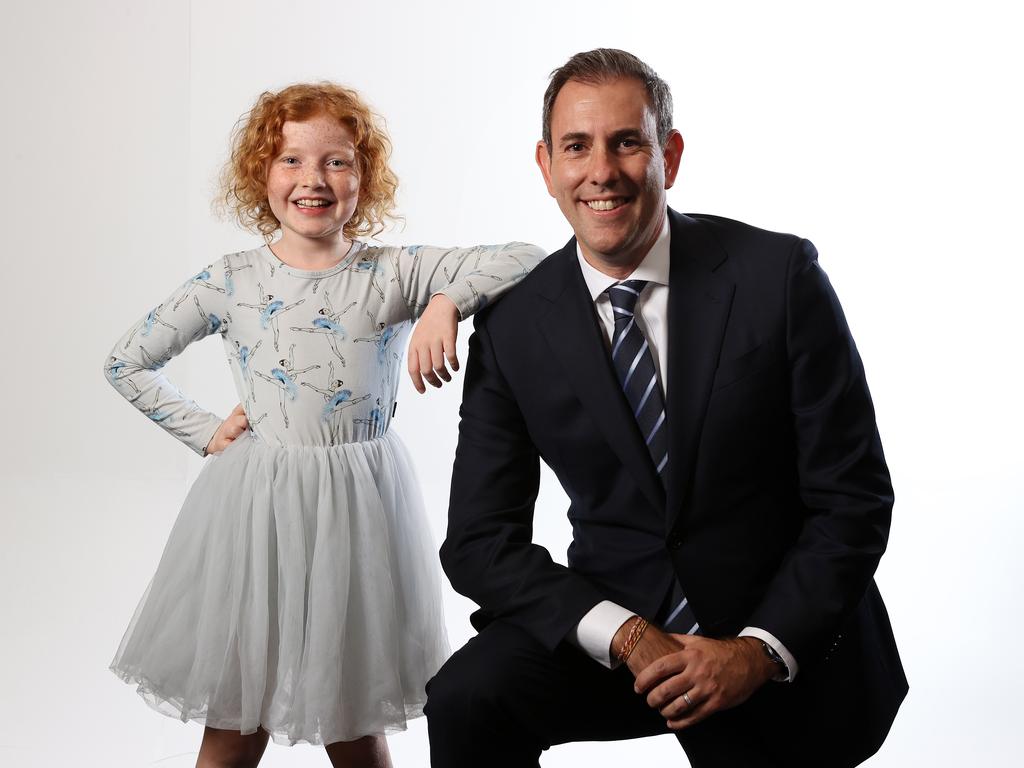 Mr Chalmers said he was "a naughty kid" in his interviewer with Tiny Edition guest presenter Saffron Deacon, 9. Picture: Liam Kidston
"I was a bit of a naughty kid for a while," Mr Chalmers said. "But mostly a good kid."
In response to Saffron asking for a fun fact about himself that people wouldn't know, Mr Chalmers shared a hilarious secret.
"My daughter Annabelle, when I go away to Canberra for work, she paints my toes with glitter nail polish," he said. "So when I'm away, I see that my toes have got glitter on them and I think of her."
Saffron had prepared her questions in advance – a great practice for anyone planning an interview. A good interview like Saffron's is always a balancing act between questions you know you want or have to ask – questions you should research and write down in advance – and questions that come out of the conversation at the time.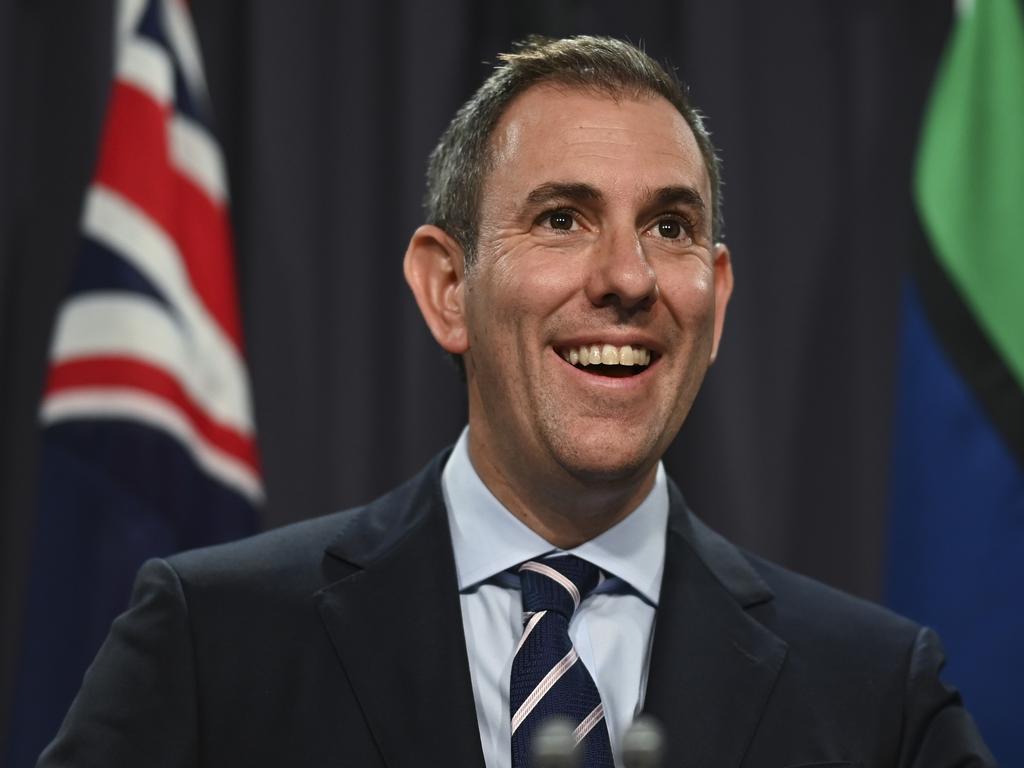 Is Federal Treasurer Jim Chalmers smiling at this press conference because he knows he has glitter polish on his toes? Picture: NCA NewsWire/Martin Ollman
The challenges of Mr Chalmers' role working in the public eye were revealed when Saffron asked him to share "a funny bad moment" about work.
Mr Chalmers recalled bringing his children on the campaign trail* when one of his sons was very small.
"He didn't want to be at the work thing I was at," Mr Chalmers said. "It was election time and I was meeting people that I was hoping would vote for me, and my little boy said to me in front of this lady that I hadn't met before … 'I don't want to talk to this crazy lady'."
Showing all the hallmarks* of a natural interviewer, Saffron reacted with an appropriate level of horror, then asked the all-important next question: "What happened?"
It was a simple question but it was also a really crucial one. Asking that question at that moment performed three really important functions.
The first was that it showed Saffron's interview subject that she was listening to him.
The second was that it showed she was interested in what he was saying.
The third was that it encouraged Mr Chalmers to keep talking and reveal even more, which he immediately did.
"It was pretty awkward," he admitted.
Treasurer Jim Chalmers took kids Jack, 4, Annabel, 6, and Leo, 8, when he and his wife Laura voted in the Voice referendum last Saturday at Springwood Central State School. Picture: Adam Head
Another interview technique that Saffron employed to great effect in her interview was asking Mr Chalmers about everyday things that ordinary people could relate to, like what music he listened to in the car.
Public figures – and politicians in particular – can often seem remote and serious, especially as we usually only see them in the media wearing suits and ties. The effect of Mr Chalmers' candid* response – that he is a fan of American hip hop* – is enhanced* and made more surprising because he is dressed in this familiar professional attire*.
But being honest about his musical tastes makes the viewer question their previous assumptions* about Mr Chalmers – and shows that a good interview also relies on a subject who is willing to tell you things. Mr Chalmers is a very experienced interview subject and a dad; he understands that being a hip hop fan is a personal, fun detail that viewers are likely to remember about him.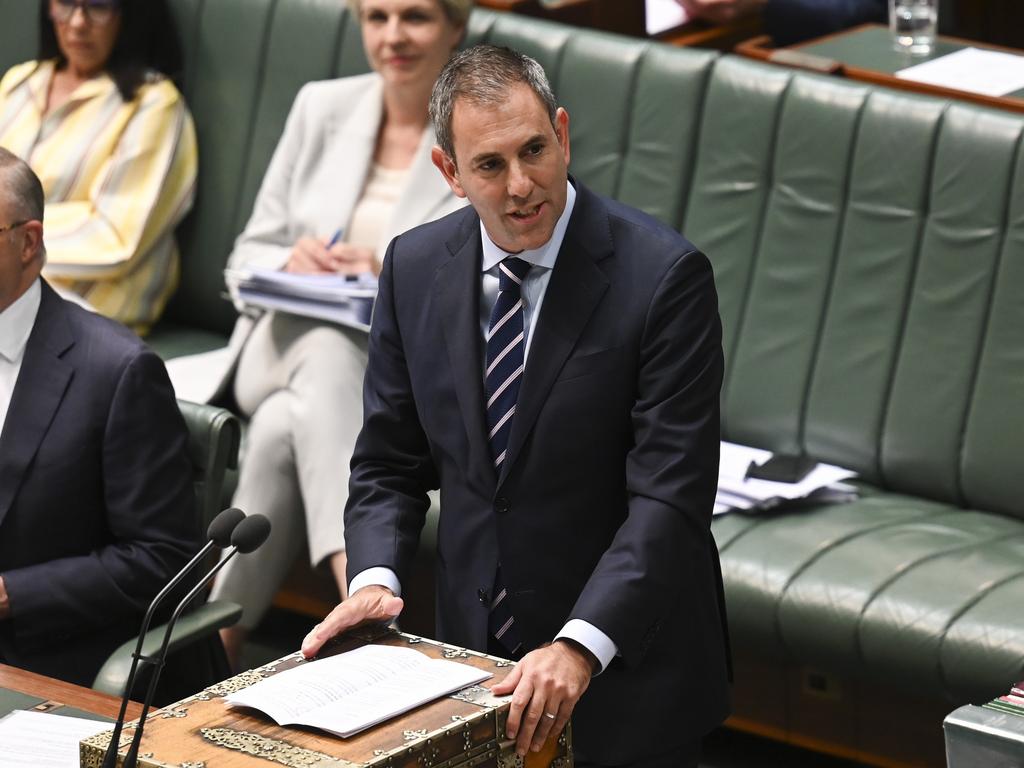 Mr Chalmers may wear a suit for Question Time at Parliament House in Canberra, but in the car he is partial to turning up the volume on American hip hop. Picture: NCA NewsWire/Martin Ollman
Saffron didn't stop there. Watch the whole interview to find out which job Mr Chalmers would like to have if he wasn't Australias's Federal Treasurer, and to discover which famous Australians are on his speed dial.
Cub reporters currently working on their newsreel or print entry for the Kids News Junior Journalist competition can also pick up some great videography and interview techniques watching Saffron in action.
WATCH THE INTERVIEW IN FULL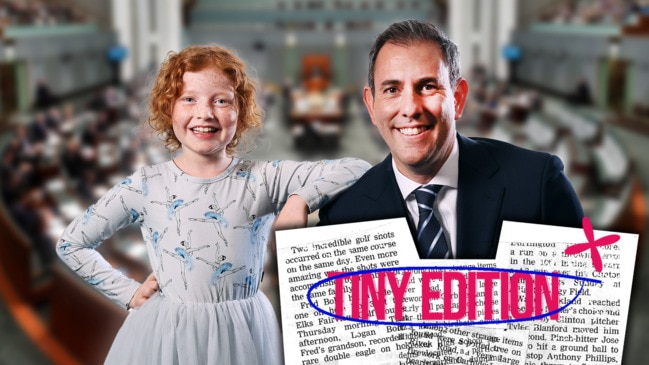 CALLING ALL CUB REPORTERS
The search is on for the next generation of news breakers with the Kids News Junior Journalist competition. A great way for kids to develop a range of literacy skills drawing on writing, editing, producing and presenting, this free competition is open to students across Years 3-9, with four categories for both primary and secondary students:
News story – print
News story – video
Sports story – print
Sports story – video
The grand prize winner will score a guest appearance on Channel 10's Studio 10 program, hosted by Narelda Jacobs. There are also four $1000 gift cards for secondary students and four $750 gift cards for primary students up for grabs.
Kids can submit written and video entries until 5pm AEST on Friday 27 October.
Win great prizes! Students in Years 3-9 are eligible to enter a newsreel or print story in the Junior Journalist competition until October 27.
HOW TO ENTER
Teachers and students can watch Kids News' Junior Journalist videos for tips, then access the entry and consent forms, all at kidsnews.com.au/junior-journo
Email your students' written or video stories, along with the completed consent and entry forms, to juniorjournalist@news.com.au before 5pm on October 27.
Video entries should be submitted as a MP4 file.
POLL
GLOSSARY
treasurer: head of Treasury, the government department that deals with the country's finances
honing: perfecting a skill over time
campaign trail: series of appearances politicians make at different places during an election campaign
hallmarks: typical characteristics or features of a person or thing
candid: very honest, upfront and straightforward in what one says or writes
hip hop: music with a strong rap rhythm in which the words are spoken rather than sung
enhanced: made more so, improved the quality, amount, or strength of something
attire: clothes, particularly of a formal or particular type
assumptions: something that you accept as true without question or proof
EXTRA READING
Junior journalist talks trolls with sporting star
Enter the Junior Journalist competition
PM's Spelling Bee champs named
QUICK QUIZ
What important role does Mr Chalmers hold in the federal government?
What does Mr Chalmers daughter do to before her dad has to travel for work?
What was the simple but crucial question Saffron asked after an embarrassing story?
What were the three important things that her question achieved?
What does Mr Chalmers listen to when he is driving?
LISTEN TO THIS STORY
CLASSROOM ACTIVITIES
1. Write great questions
If you could interview anyone at all, who would it be? Use the information in the story and perhaps the tips in the Kids News Junior Journalist link, write a list of great questions that you would ask them.
Time: allow 20 minutes to complete this activity
Curriculum Links: English
2. Extension
What do you think the judging rules for the Junior Journalist Competition would be? Write a detailed list of at least five rules. The purpose of your rules must be to help the judges to choose the student who has the most potential to be a great journalist.
Time: allow 25 minutes to complete this activity
Curriculum Links: English
VCOP ACTIVITY
Read this!
A headline on an article – or a title on your text – should capture the attention of the audience, telling them to read this now. So choosing the perfect words for a headline or title is very important.
Create three new headlines for the events that took place in this article. Remember, what you write and how you write it will set the pace for the whole text, so make sure it matches.
Read out your headlines to a partner and discuss what the article will be about based on the headline you created. Discuss the tone and mood you set in just your few, short words. Does it do the article justice? Will it capture the audience's attention the way you hoped? Would you want to read more?
Consider how a headline or title is similar to using short, sharp sentences throughout your text. They can be just as important as complex ones. Go through the last text you wrote and highlight any short, sharp sentences that capture the audience.