Indigenous languages and detailed lessons about the Stolen Generation* would be taught to students under a bold curriculum overhaul that would also see dedicated staff teaching First Nations people's "true" history in every Australian school.
Calls are growing for specialist staff to teach more Indigenous history in primary and secondary schools after almost 300,000 people signed a petition* singer and First Nations man Isaiah Firebrace presented to federal parliament in November last year.
With the petition set to become one of the most signed on Change.org, Midnight Oil lead singer and former politician Peter Garrett and Hunters and Collectors former frontman Mark Seymour are among performers backing the push to see dedicated cultural educators in every school via World Vision's Know Your Country campaign.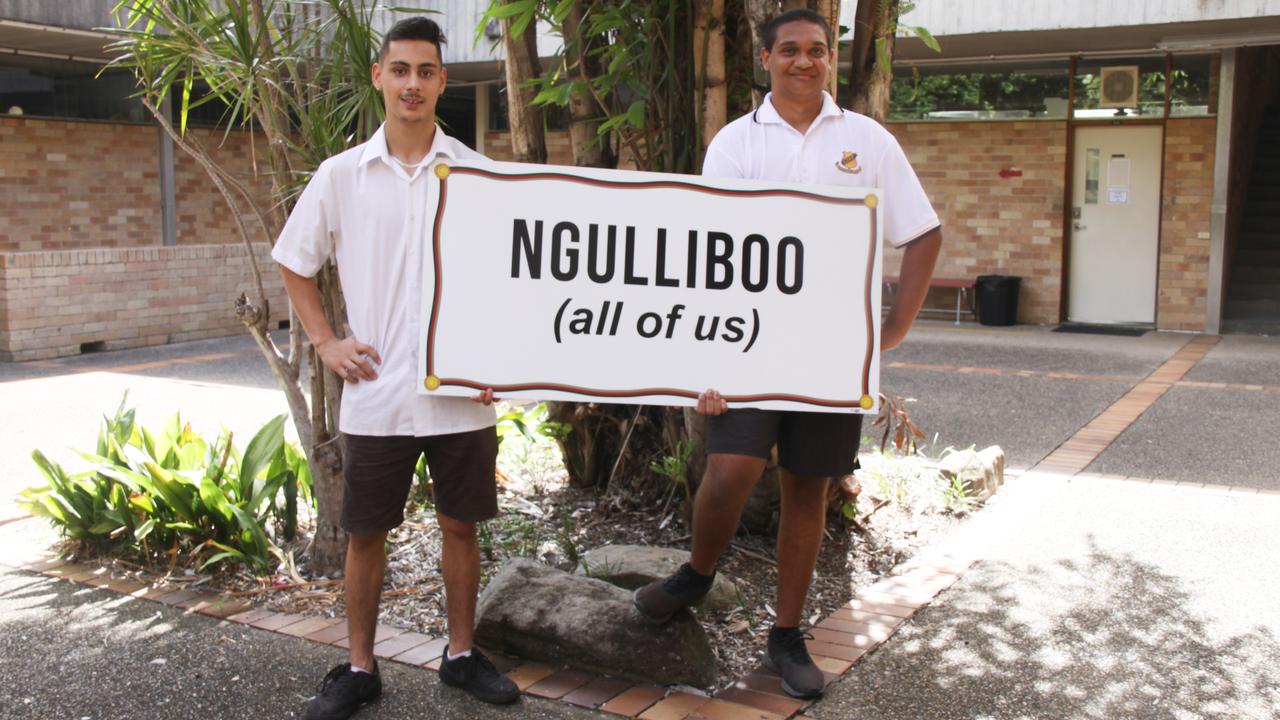 Mr Firebrace, whose single When I'm With You was released February 4, said he remained in talks with the federal government since presenting the petition and will meet with Shadow Education Minister Tanya Plibersek in the coming weeks to discuss ideas such as assigning staff to teach students Aboriginal languages of the land on which their school sits, and naming subjects and classrooms in those languages.
"It would be great to have black history taught because this is a Black Country," Mr Firebrace said. "There are still some people who don't know about things like the Stolen Generation."
Mr Garrett said: "If we're serious about achieving Reconciliation*, if we're serious about implementing* the national curriculum, this is the way to do it."
The renewed push comes after Deakin University's Contemporary History Survey of 5000 Australians revealed support across all age groups for more Aboriginal and Torres Strait Islander content in schools.
Some states have already shaken up their First Nations curriculum, with Victorian students learning about Indigenous history in all grades until Year 10.
But Institute of Public Affairs Foundations of Western Civilisation program director Dr Bella d'Abrera said having a dedicated cultural educator was an "unnecessary" curriculum change to achieve a "balanced" view of Australia's history.
"All Australians are beneficiaries* of the great institutions of liberal democracy*, the rule of law and freedom of speech given to us by the British," Dr d'Abrera said.
Monash University's Indigenous Studies Centre researcher and Jaru woman Jacinta Walsh said calls for more emphasis on Western history risked excluding* First Nations perspectives* on Australia history from the classroom.
Victoria's Education Minister James Merlino said more could be done "to ensure all Victorians have a shared understanding of the state's history."
"Victoria is advocating at the national forum of Education Ministers across Australia for stronger representation of First Nations history in the Australian curriculum," he said.
GLOSSARY
Stolen Generation: between 1910 and around 1970, many First Nations children were forcibly removed from their families due to government policies of the time
petition: a formal written request for change, typically signed by many people
Reconciliation: formal effort to strengthen relationships between Aboriginal and Torres Strait Islander peoples and non-Indigenous peoples
implementing: introducing, putting into place, something coming into effect
beneficiaries: those who will benefit or gain advantage in future
liberal democracy: often used to describe Western democratic political systems
excluding: preventing, leaving out, excepting
perspectives: point of view, position, way of seeing based on experience
EXTRA READING
Footy celebrates Indigenous links
Meet Australia's youngest First Nations filmmaker
Racism pain inspires song about Eddie Betts
QUICK QUIZ
How many people signed Isaiah Firebrace's petition?
Name two other Australian singers who have pledged their support?
Victoria's First Nations curriculum covers which years of schooling?
What is the name of the World Vision campaign for dedicated cultural educators?
Which age groups in Deakin University's survey supported more First Nations content?
LISTEN TO THIS STORY
CLASSROOM ACTIVITIES
1. Indigenous culture lessons
What do you know about Indigenous culture and history? Do you learn about this at school and to what extent?
Divide your page into a four-square table under the four headings below, noting your knowledge and questions regarding Indigenous history and culture:
WHAT I KNOW ABOUT INDIGENOUS HISTORY
HAVE YOU LEARNT ABOUT THE STOLEN GENERATION?
WHAT WOULD YOU LIKE TO KNOW ABOUT INDIGENOUS HISTORY AND CULTURE?
WOULD YOU LIKE A SPECIALIST TEACHER TO TEACH YOU ABOUT THE LAND AND HISTORY IN YOUR AREA? WHY/WHY NOT?
Time: allow 25 minutes to complete this activity
Curriculum Links: English; History; Intercultural
2. Extension
How does your school acknowledge First Nations people in symbols and emblems around the school?
Is Indigenous culture embedded in your school curriculum and practises such as Acknowledgement of Country at school assemblies and so forth?
What would you like to see at your school to better acknowledge the First Nations people?
Time: allow 10 minutes to complete this activity
Curriculum Links: English; Intercultural; Critical and Creative Thinking
VCOP ACTIVITY
1. Summarise the article
A summary is a brief statement of the main points of something. It does not usually include extra detail or elaborate on the main points.
Use the 5W & H model to help you find the key points of this article. Read the article carefully to locate who and what this article is about, and where, when, why and how this is happening. Once you have located this information in the article, use it to write a paragraph that summarises the article.