Parts of Melbourne's CBD may be given dual names
Parts of Melbourne's CBD may be given dual names under a plan to reflect the city's Aboriginal cultural heritage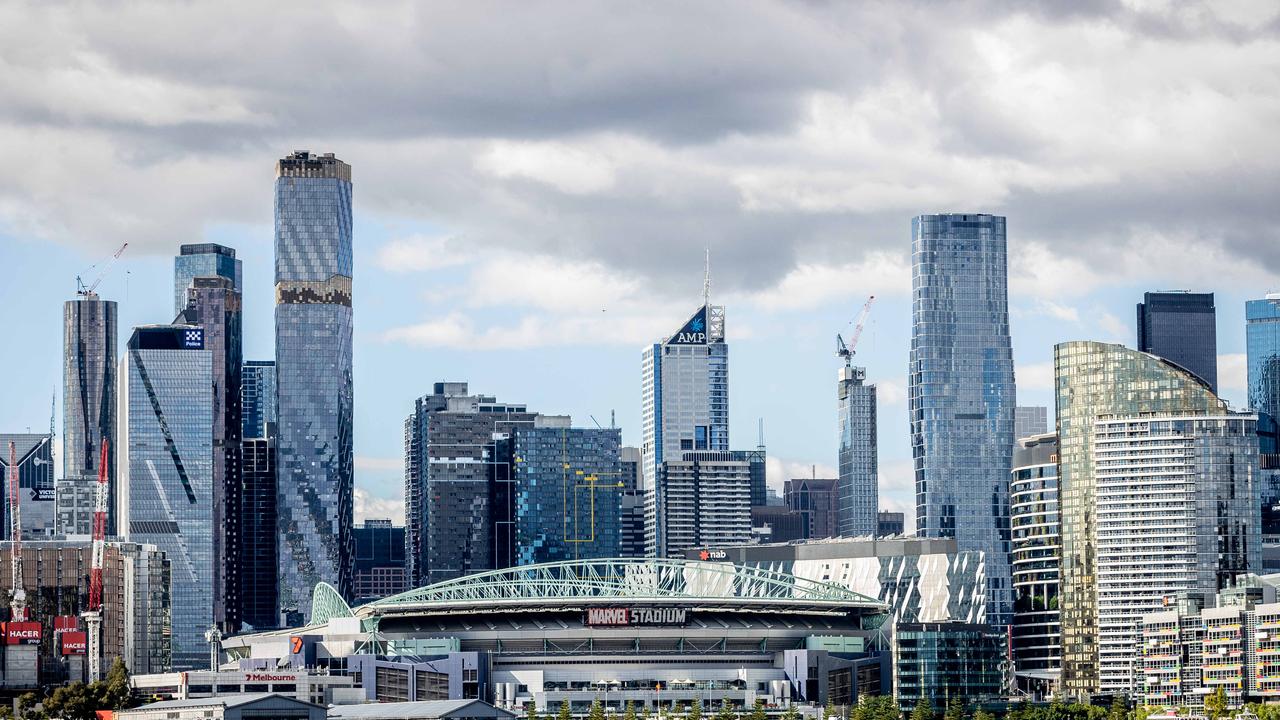 Melbourne's CBD may be given dual names to reflect Aboriginal cultural heritage. Picture: Supplied
Some of Melbourne's CBD spaces could be given dual names under a council plan to better reflect the city's "Aboriginal cultural heritage".
The Hoddle Grid* is set to be redesigned under the City of Melbourne's draft Future Streets Framework* with a strong "Aboriginal City" focus.
Under the strategy, some city streets would be transformed into car free zones to prioritise pedestrians, people on bikes and public transport.
The draft Future Streets Framework will be considered at a council meeting on Tuesday before undergoing public consultation*.
According to the draft framework, which draws on the council's Innovate Reconciliation Action Plan, there are opportunities for Melbourne's streets to "embed* values and approaches of co-authorship* with traditional owners".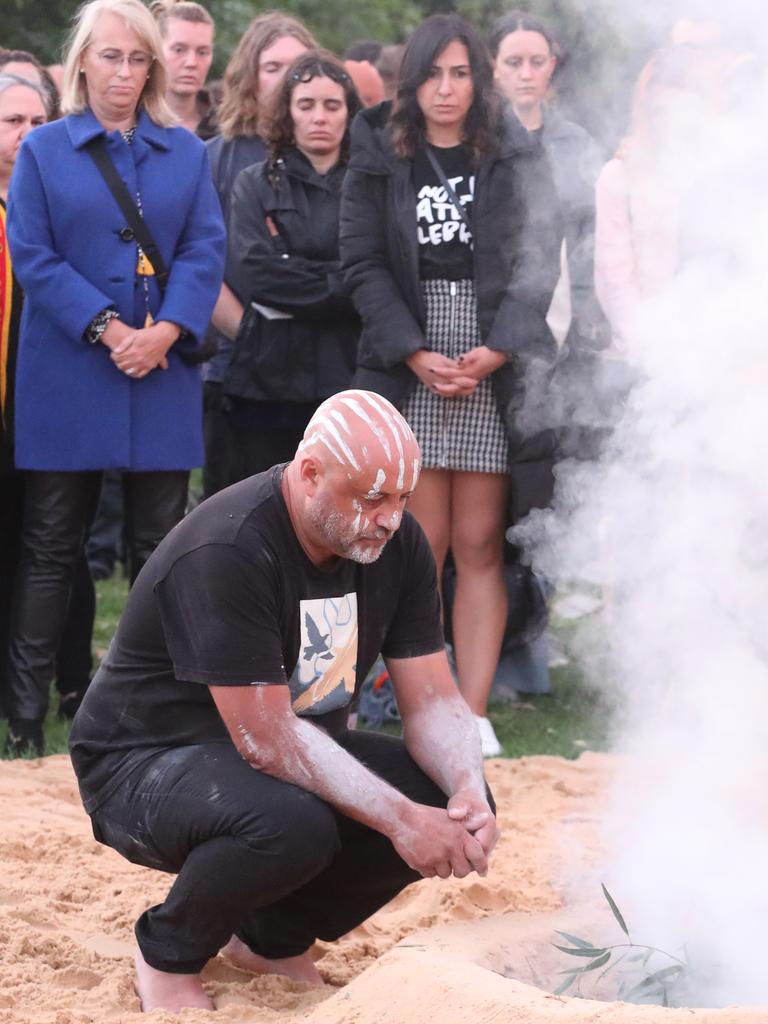 Melbourne mayor Sally Capp at the Invasion day dawn service held in Kings Domain park in Melbourne. Picture: David Crosling
This includes identifying and implementing* "opportunities for the dual naming of spaces to reflect the Aboriginal cultural heritage of the area", which could see both colonial* and Aboriginal names used in some city locations.
The framework also suggests consulting with local traditional owner groups to apply their knowledge to council's work across sustainability, parks and gardens, and ensuring all urban and landscape designs include "appropriate design references to Aboriginal cultures".
"As the city grows, it is our responsibility to recognise and celebrate the traditional owners of this land and Aboriginal community," it stated.
Redesigning the Hoddle Grid with an Aboriginal perspective would require "unlearning and dismantling preconceived* ideas" of development, according to the framework.
The City of Melbourne plans to work in partnership with traditional owners "to share cultural values*, to reflect custodianship* of the land and to welcome and involve the Aboriginal community within the city".
Key proposals include increasing the visibility* and understanding of Woiwurrung* language across the city and "recognising Wurundjeri Woi-wurrung people's ongoing cultural connection to Country through signage, wayfaring*, storytelling, truth-telling*, placemaking* and creative art initiatives".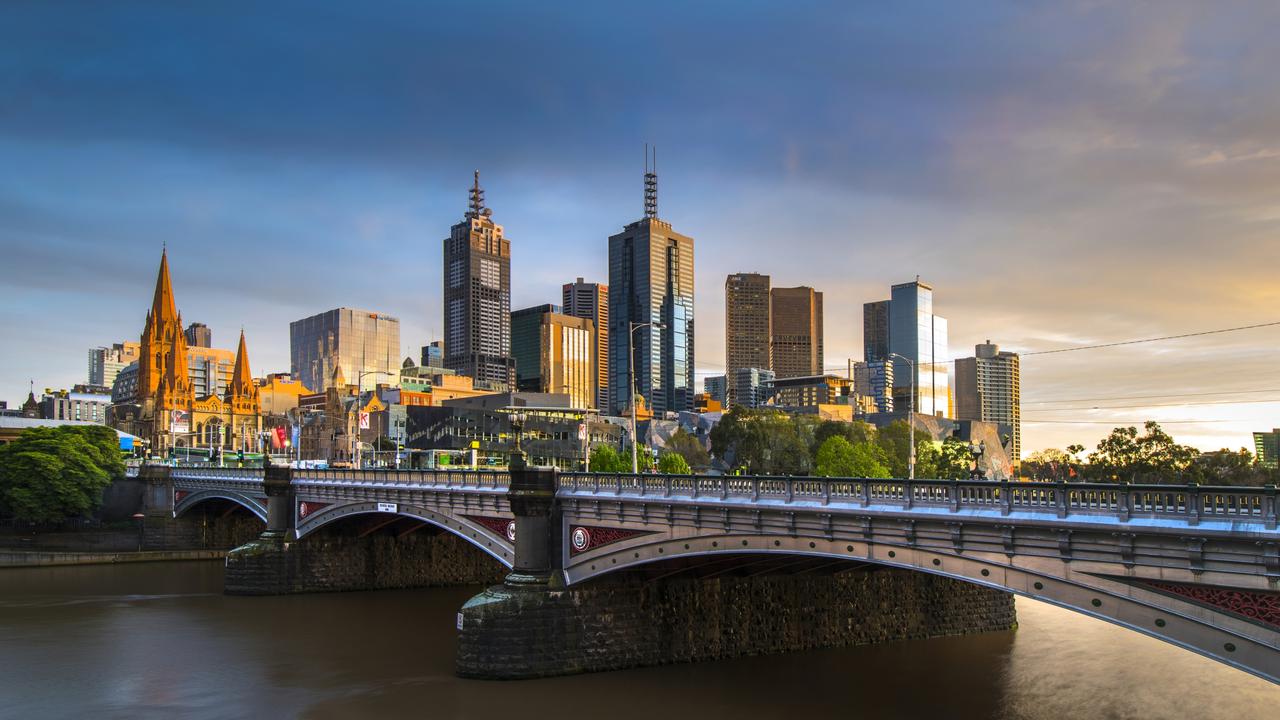 The Future Streets Framework will also protect the Yarra River. Picture: iStock
Working to "protect and enhance" the Yarra River and adopting "innovative solutions" to regenerate* the city's soil and ecosystems* forms another key part of the draft framework.
"The Hoddle Grid has always been a site for social and ceremonial practices imbued with spiritual meaning for the Kulin Nation*," it stated.
"As we consider our future streets, we need to interrogate the processes and outcomes that meaningfully forefront designing with Country."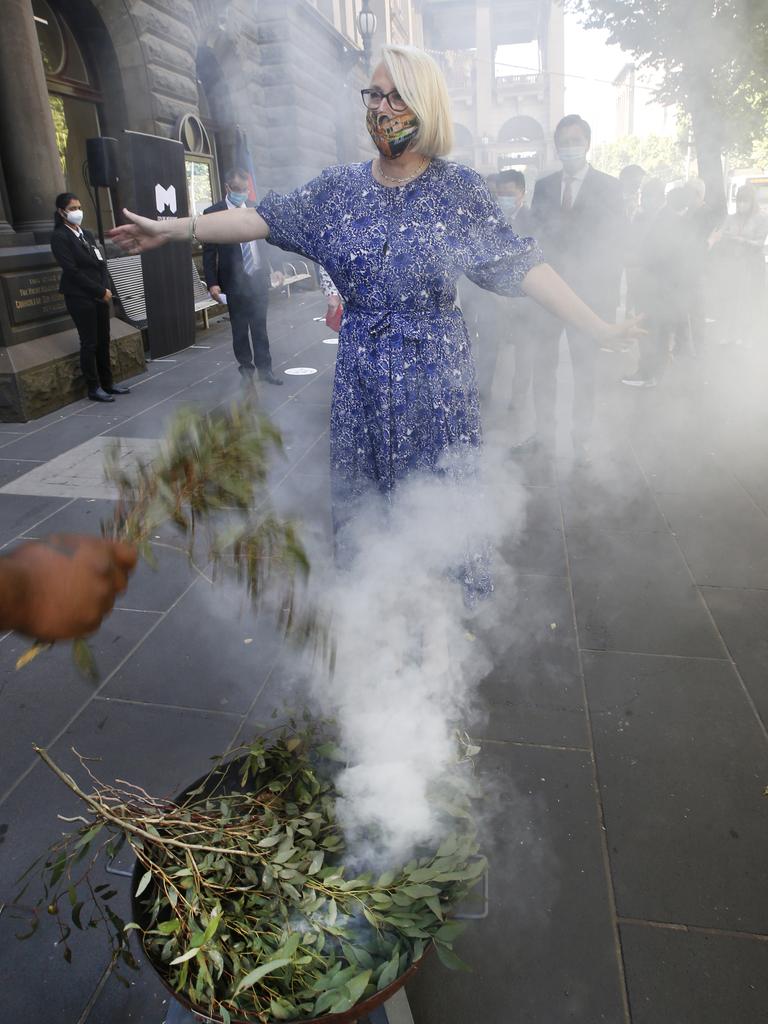 Lord Mayor Sally Capp walks through the smoking ceremony outside before being sworn in at Town Hall. Picture: David Caird
Lord Mayor* Sally Capp said the draft Future Streets Framework aimed to "deliver streets that work for our city".
"We're creating better streets for all road users, with a focus on meaningful design that will accommodate our growing population and reflect our city's identity," Ms Capp said.
"The City of Melbourne is committed to fulfilling our role to strengthen relationships with Aboriginal and Torres Strait Islander* communities.
GLOSSARY
Hoddle Grid: A 1.6km x 0.80km grid of streets in Melbourne that is form the Central Business District (CBD)
framework: a plan or structure that provides guidance or direction
consultation: the process of seeking input or advice from others before making a decision
embed: to firmly and securely place or integrate something within another thing
co-authorship: collaborative participation or joint authorship
implementing: to put into effect or carry out a plan
colonial: relating to the period of time when a country or region was under the control of a foreign power
preconceived: idea formed before having direct experience or knowledge
cultural values: beliefs, customs, and principles that are important to a particular culture
custodianship: the responsibility for protecting, preserving, and managing something
visibility: the degree to which something can be seen or observed
Woiwurrung language: the language spoken by the Wurundjeri people, who are part of the Kulin Nation in Victoria
wayfaring: the act of travelling on foot or finding one's way through an area
truth-telling: sharing historical truths, particularly regarding the experiences of indigenous peoples.
placemaking: the process of creating or improving public spaces to enhance community engagement and wellbeing
regenerate: restore or revitalise something
ecosystems: interconnected communities of living organisms and their physical environment
Kulin Nation: a term for several Aboriginal groups in the central part of Victoria
Lord Mayor: elected head of a city or municipality
Torres Strait Islander: indigenous people of the Torres Strait Islands, located between Australia and Papua New Guinea
EXTRA READING
Why Melbourne is Earth's allergy capital
Largest quake in 120 years shakes Melbourne
Artefacts unearthed from old Melbourne slum
QUICK QUIZ
What is the purpose of the City of Melbourne's draft Future Streets Framework?
How does the draft framework propose to prioritise different modes of transportation in the city streets?
In what ways does the draft framework aim to incorporate Aboriginal cultural heritage in urban and landscape designs?
What are some key proposals mentioned in the draft framework regarding cultural connection and environmental preservation?
Who is the Melbourne Lord Mayor?
LISTEN TO THIS STORY
CLASSROOM ACTIVITY
1. Reimagine your streets
Identify a street or place in your local area that is used by many people in the community. How could it be improved to make it better for all?
Draw a birds-eye-view map of your redesign of this place, providing a caption to describe a least 5 improvements you have made and why these would benefit users of the space. At least one of your changes should acknowledge the Traditional Owners of the land.
Time: allow 30 minutes to complete this activity
Curriculum Links: English; HASS; Design and Technologies
2. Extension
What if instead of redesigning just a small part of an existing town, you had the chance to design a brand new town from scratch? A town that was vibrant, inclusive and easy to use for everyone. The best town in the world! What would your top 10 features to include be? Make a list.
Pair up with a classmate and discuss your lists to see if you have similar ideas about what is important.
Time: allow 20 minutes to complete this activity
Curriculum Links: English; HASS; Design and Technologies
VCOP ACTIVITY
Opener up-level it
Make a list of all the openers in the article. Pick three that repeat and see if you can replace them with another word, or shuffle the order of the sentence to bring a new opener to the front.
Don't forget to re-read the sentence to make sure it still makes sense, and that it actually sounds better.