Fraser Island officially renamed K'gari and more name changes to follow
The traditional name of the world's largest sand island has been restored after nearly 200 years, with other Queensland places set to follow suit
Butchulla dancers at the renaming ceremony of Fraser Island back to its original name of K'gari. Picture: Liam Kidston.
The traditional name of the world's largest sand island has been restored after nearly 200 years, with other Queensland places set to follow suit in quicker succession amid plans to streamline* the process.
K'gari, a word meaning paradise in the language of the traditional owners*, the Butchulla people, will replace the term Fraser Island — similar to Uluru shedding the name "Ayers Rock".
More than 19 hectares of land, the equivalent of about 23 rugby league fields, were also handed back to traditional owners through the Butchulla Aboriginal Corporation on Wednesday.
Premier Annastacia Palaszczuk, addressing hundreds of people at a ceremony on K'gari, said the move — after a period of community consultation* — was "another step" in the path to treaty*.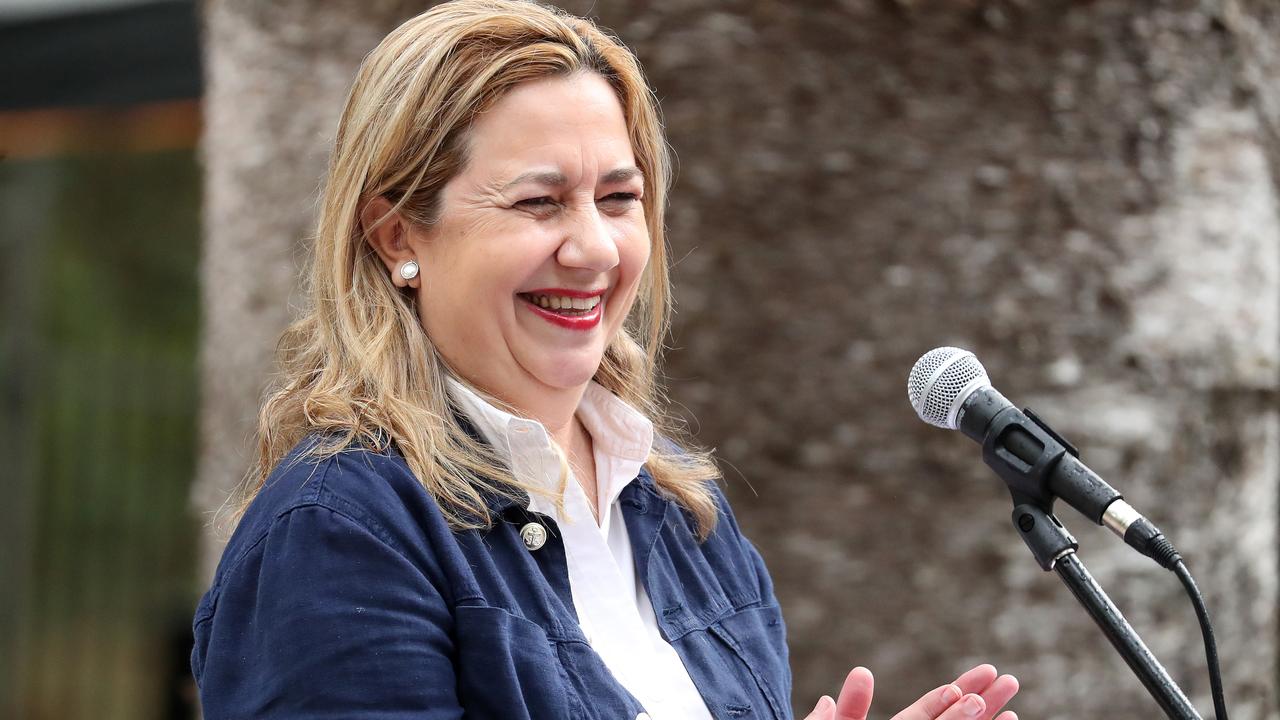 Premier Annastacia Palaszczuk at the renaming of Fraser Island back to its original name of K'gari. Picture: Liam Kidston.
"Our generation has been given the opportunity to begin to put the centuries of wrong right," she said.
"(It's about) acknowledging the wrongs of the past in order to build a better, brighter future."
The tourism icon off the coast of Hervey Bay was rebadged* Fraser Island in the 1800s after Scottish woman Eliza Fraser whose ship ran aground* there in 1836.
Fraser lied about being mistreated by the Butchulla people during her short time on the island and the narrative is considered to have directly led to the massacre* and dispossession* of traditional owners.
Butchulla Aboriginal Corporation chair Aunty Gayle Minniecon said the change would be an experience of "loss" for some people — signifying non-traditional owners — but they would not "have their spirit, heart and soul* broken" as the Butchulla people had.
Switching the island's name back to its traditional K'gari is the largest place name change in Queensland's history to date.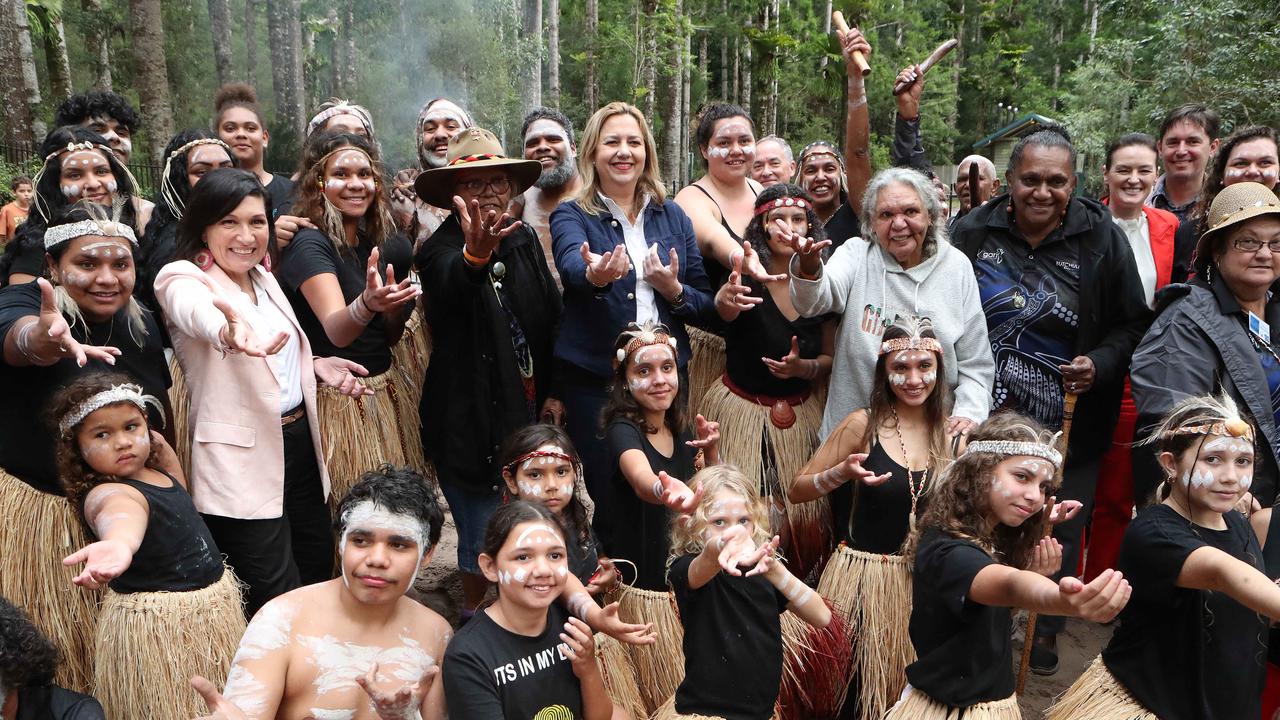 Premier Annastacia Palaszczuk celebrating with the Butchulla people at the renaming of Fraser Island back to its original name of K'gari. Picture: Liam Kidston.
Aunty Minniecon said she hoped the name restoration would lead to the homelands* of other Queensland First Nations groups being rebadged.
"It's not just the Butchulla people that deserve this, all Aboriginal people had their homelands," she said.
It's understood the government will soon begin consulting on current laws that set out the process in hopes of streamlining the system*.
Aunty Minniecon said some of the 19 hectares of land — which can't be bought, sold, or mortgaged and must be used for the benefit of the Butchulla people — were spiritual areas*.
Access to these areas will be restricted* to Butchulla people to practice and strengthen traditional customs.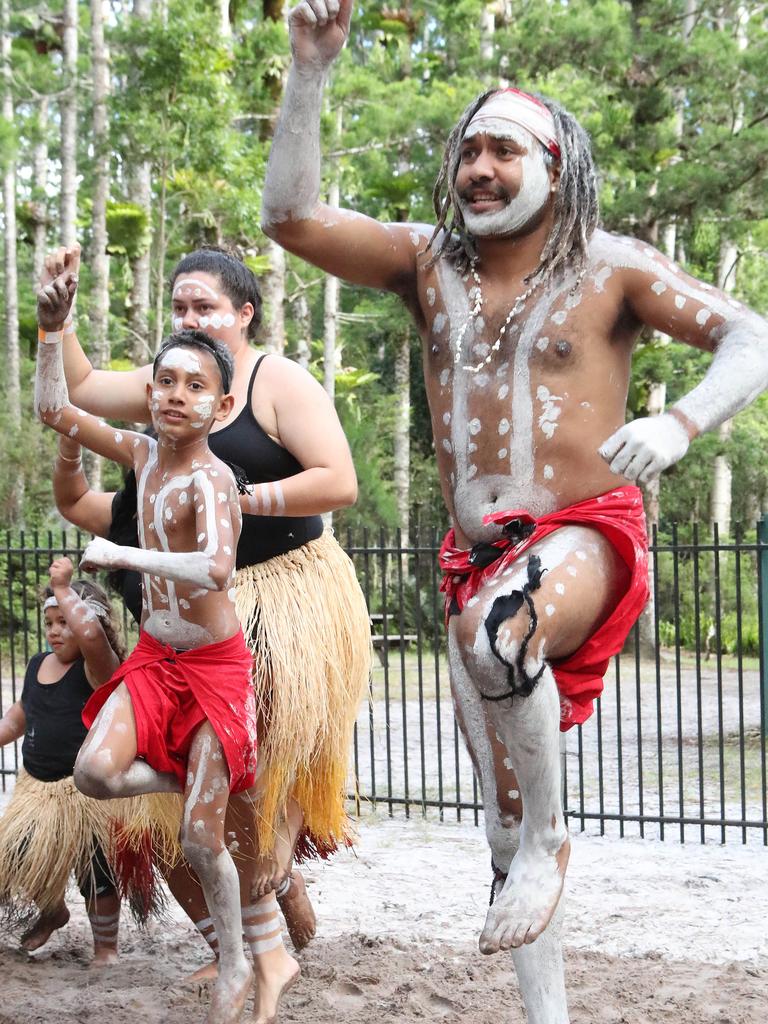 Butchulla dancers. Picture: Liam Kidston.
The land parcels make up 0.01 per cent of K'gari's total area.
The Environment Department rebadged the Great Sandy National Park area of the island as K'gari in 2017, and UNESCO formally adopted the name for the World Heritage* Area in 2021.
Aunty Rachel Killer said the Butchulla people had faced "many seasons and suns and faced many, many, winds to get to this day".
"This day that our lands' rightful name of K'gari is recognised and celebrated," she said.
GLOSSARY
traditional owners: refers to the Indigenous or Aboriginal people who have lived in an area for many generations and have a deep connection to the land
streamline: to make a process more efficient or simplified
community consultation: involving the community in discussions and decision-making processes to gather their opinions and input
treaty: an agreement or contract between two or more parties, often used to settle disputes or establish relationships
rebadged: changed or renamed
ship ran aground: when a ship gets stuck or stranded on land, usually due to running into shallow waters or hitting rocks
massacre: a violent and indiscriminate killing of a large number of people
dispossession: the act of being deprived or removed from land or property that one rightfully owns or occupies
homelands: the ancestral lands or territories that Indigenous or Aboriginal people consider their traditional homes
spirit, heart, and soul: referring to the deep emotional and cultural connection that individuals or communities have with their heritage and identity
streamlining the system: making improvements to make a process more efficient and less complicated
spiritual areas: places that hold significant cultural or religious importance
restricted: limiting entry or use to a particular group of people
heritage: refers to something that is passed down from previous generations, such as cultural traditions, historical sites, or natural landmarks
EXTRA READING
School adopts Indigenous sport Parndo
Cobbo inspires next generation of Indigenous stars
NRL says 'yes' to Indigenous Voice to Parliament
QUICK QUIZ
What is the traditional name of the world's largest sand island, and what does it mean?
Who was Eliza Fraser and what do we now know about her?
How long had it been since the traditional name had been used before it was restored?
Are there any other places in Queensland that are going through the process of restoring traditional names?
How much land will be affected by the name change?
LISTEN TO THIS STORY
CLASSROOM ACTIVITIES
1. Write the speech
Find the quote from Premier Anastasia Palaszczuk's speech. Use these two sentences to write the rest of the speech that you think that she would give during the ceremony.
Time: allow 20 minutes to complete this activity
Curriculum Links: English; History; Civics and Citizenship
2. Extension
In the story Premier Annastacia Palaszczuk, said that the renaming of K'gari was "another step" in the path to treaty. Use your research skills to find out more about the issue of a treaty with First Nations people. Use the information that you have found to create a poster. The purpose of your poster is to help younger kids understand the three important facts or ideas about the treaty.
Time: allow 60 minutes to complete this activity
Curriculum Links: English; History; Civics and Citizenship
VCOP ACTIVITY
Read this!
A headline on an article – or a title on your text – should capture the attention of the audience, telling them to read this now. So choosing the perfect words for a headline or title is very important.
Create three new headlines for the events that took place in this article. Remember, what you write and how you write it will set the pace for the whole text, so make sure it matches.
Read out your headlines to a partner and discuss what the article will be about based on the headline you created. Discuss the tone and mood you set in just your few, short words. Does it do the article justice? Will it capture the audience's attention the way you hoped? Would you want to read more?
Consider how a headline or title is similar to using short, sharp sentences throughout your text. They can be just as important as complex ones. Go through the last text you wrote and highlight any short, sharp sentences that capture the audience.