Closing the gap on field and off is Bronco Selwyn Cobbo's mission
The first ever Indigenous boy named school captain at his Queensland high school, Brisbane Broncos star Selwyn Cobbo has one eye on the ball and the other on permanent, positive change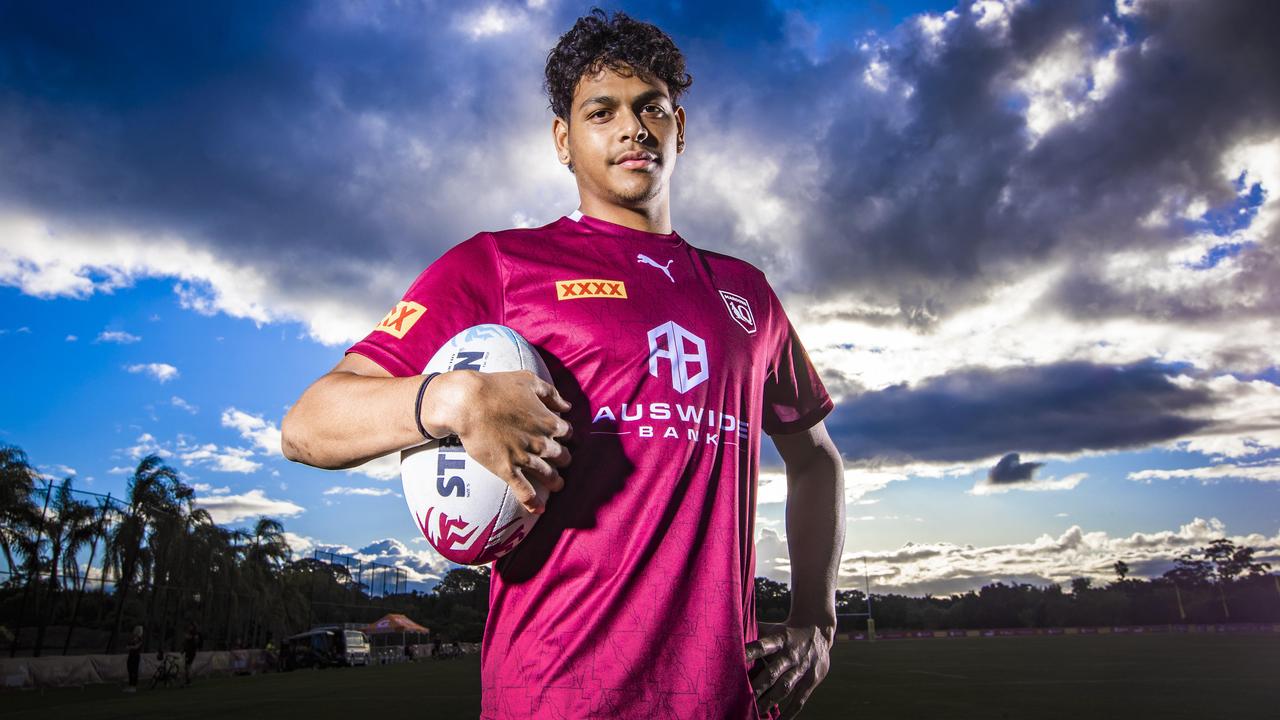 Closing the gap on and off the field, rugby league star Selwyn Cobbo is "trying to make a change for Aboriginal people". Picture: Nigel
Selwyn Cobbo only celebrated his 21st birthday two months ago, but the Broncos rugby league star already feels the power of flying the flag for his Indigenous people.
The kid from Cherbourg with the 1000-kilowatt smile once idolised* Queensland Origin legend Greg Inglis and dreamt of playing for the Broncos.
Now, Cobbo is living his dream. And beyond NRL fame, Cobbo has a greater purpose: while he charges through gaps on the football field, he wants to close the gap off it.
Selwyn Cobbo is living the dream and has big plans to create a lasting legacy. Picture: NRL Images
"I'm trying to make a change for Aboriginal people," Cobbo said.
"Growing up, I idolised Greg Inglis. The way he played on the field and also how he carried himself off the field, he's done a lot for his mob.
"It puts a smile on my face every time I go home and see the little kids. They come up to me saying, 'You're my hero'. That makes me proud.
"It means a lot to me. I see myself as a young leader."
Before he even understood the term, Cobbo has been a trailblazer*.
He attended Murgon State High, 6km from his hometown, and in the school's 75-year existence, no Indigenous boy had ever been school captain.
But Cobbo broke the mould. Made history. Closed the gap. Since his captaincy, two other Indigenous kids have followed behind him.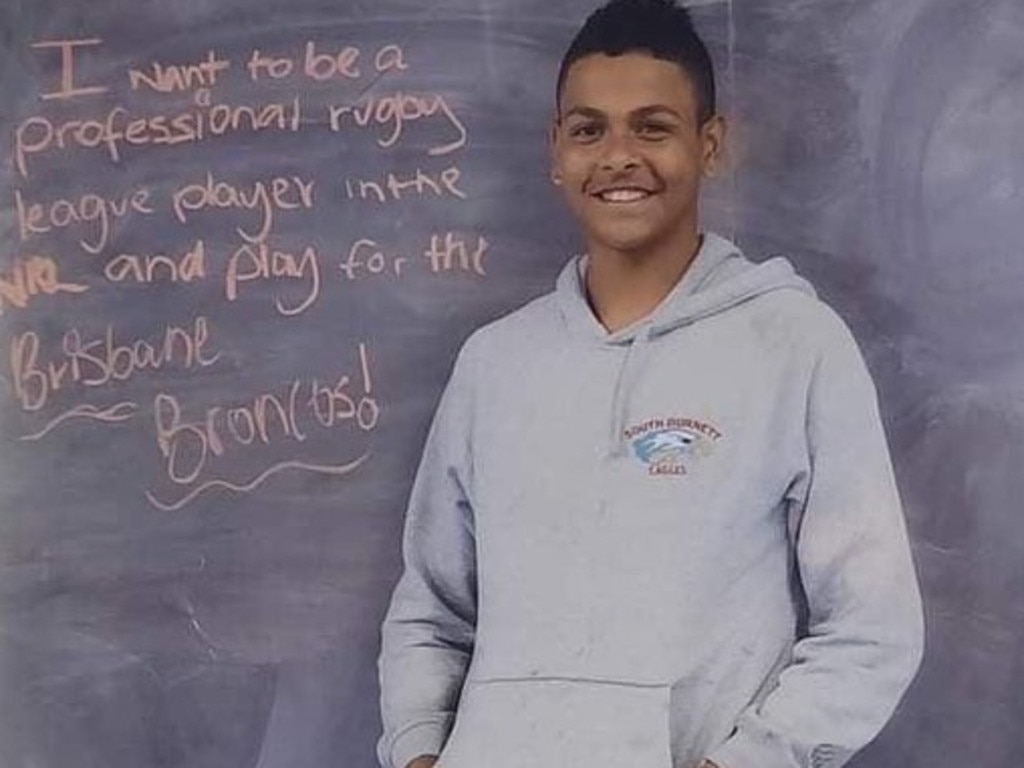 This Instagram picture shows Cobbo in his school days, his bold ambitions written on the blackboard. Picture: Instagram
"That achievement, becoming school captain, did a lot for me as a person," Cobbo said.
"I actually went for the sports captain, but everyone said I should put my hand up to be school captain.
"They said I had the ability and the leadership to do it, so I applied and I got it.
"It was a huge shock for me. I didn't think I was good enough for that position, but I feel that role helped prepare me for life after school."
Cobbo made his State of Origin debut* three days after his 20th birthday.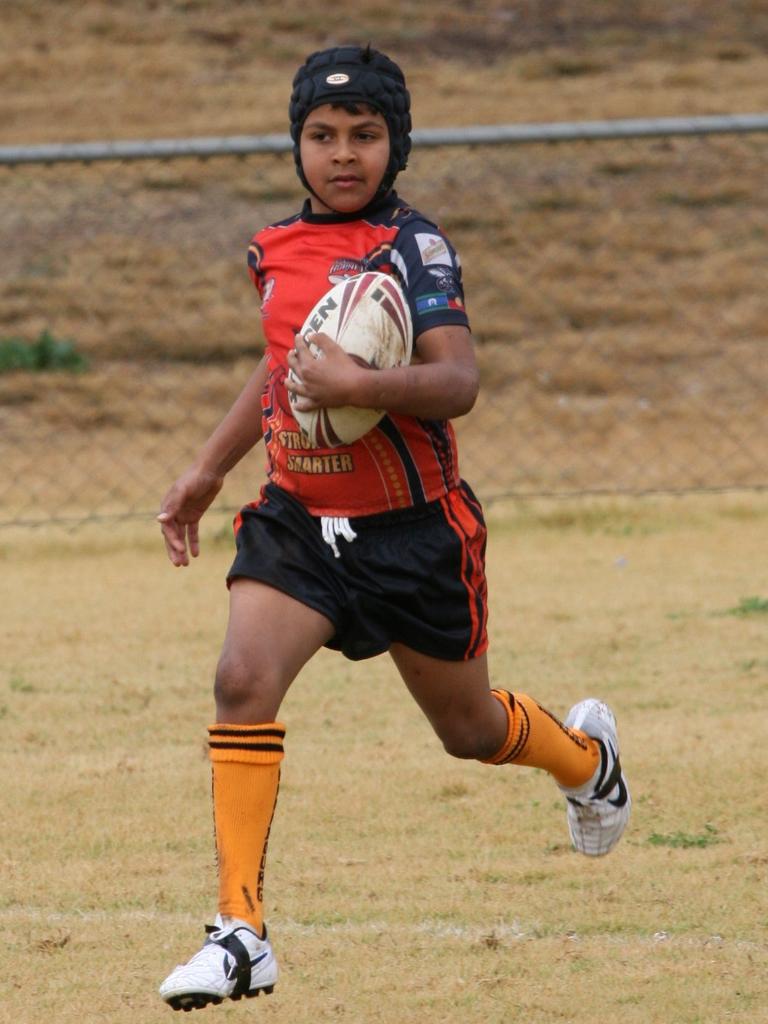 Cobbo steaks down the wing while playing for the Cherbourg Under-10 Hornets in an early sign of things to come. Picture: Dan Elliott/South Burnett Times
The Broncos rookie's* family tree extends to Queensland cricket icon* Eddie Gilbert, who is his great, great grandfather.
Gilbert famously dismissed* the legendary* Don Bradman for a duck* in a Sheffield Shield game at the Gabba in 1931. Bradman later described the five balls from Gilbert as the fastest spell he faced in his career.
But 90 years ago, under the Aborigines Protection Act, Gilbert needed written permission to travel from his Indigenous settlement in Cherbourg each time he played for Queensland.
The dark-skinned fast bowler was banned* from rooming with his white teammates and made to sleep in a tent on a nearby practice pitch.
Such segregation* stories still drive the Cobbo family today.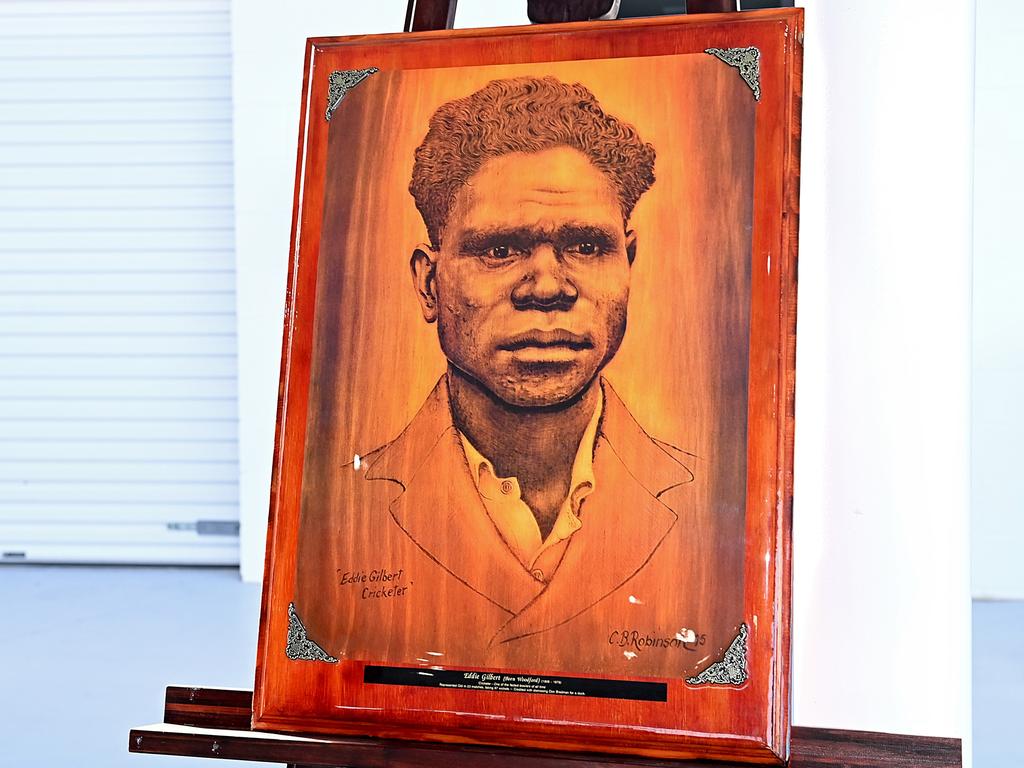 A portrait of Cobbo's great, great grandfather, cricketer Eddie Gilbert. Picture: Bradley Kanaris/Getty Images for Cricket Australia
"Everything starts at home," says Cobbo's father Shamus.
"We taught all our kids, including Selwyn, what's right from wrong. We taught respect and discipline. We always told Selwyn, 'You treat people how you want to be treated'.
"I'm so proud of the man Selwyn has become. When I drive to work, kids will be singing out to me, 'Where's Selwyn Cobbo, when's he coming home?' I say he's training at the Broncos.
"I can't put into words what he is achieving for Indigenous kids out here in the bush. Just his encouragement.
"Kids say they want to be like Selwyn Cobbo. The attendance numbers at school are higher because kids want to do what Selwyn is doing."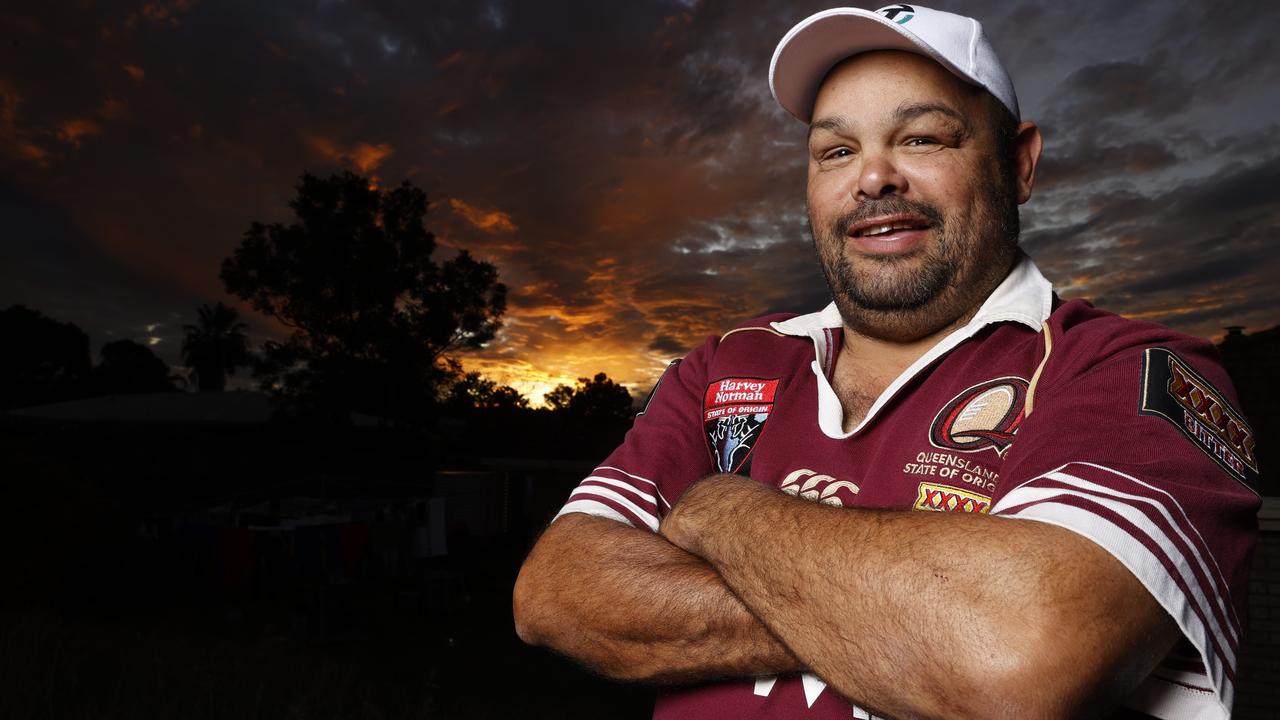 Shamus Cobbo, pictured at home in Cherbourg, said he is "so proud of the man Selwyn has become." Picture: Lachie Millard
Cobbo's manager Tas Bartlett said whether it's a 10-year-old Indigenous kid or an 80-year-old grandmother, "they flock to him".
"Every conversation we have now is how does he build a legacy*, create influence, mentor* the younger generation and create opportunities for younger Indigenous kids?" Mr Bartlett said.
"It might not be a sporting career, but how do we educate that person to keep their dream alive and chase their dreams?
"He wants kids to know there is a pathway to a better life."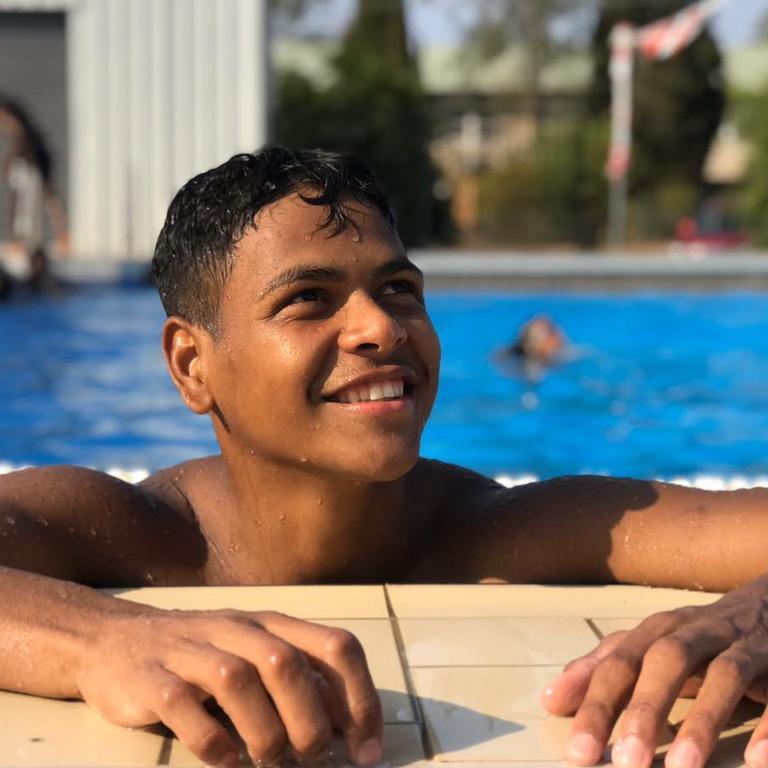 Facebook picture of new Brisbane Broncos sensation Selwyn Cobbo, who grew up in Cherbourg, Queensland
POLL
GLOSSARY
idolised: greatly admired and respected
trailblazer: the first to do something that other people do later
debut: perform, play or appear in public for the first time
rookie: someone new to an activity, role or organisation
icon: person or thing widely admired, with great influence
dismissed: when the batter's innings is ended by the opposing cricket team
legendary: very famous, celebrated, admired and often spoken about
a duck: a batter's dismissal with a score of zero or no runs
banned: officially prevented from doing something or excluded from a place or activity
segregation: policy of keeping one group of people apart from another and treating them differently
legacy: what a person represents, their lasting impact
mentor: someone with experience who supports and advises someone with less experience
EXTRA READING
Bilingual books take centre stage
Jess Mauboy and Mitch Tambo sing the same tune
Healthy Harold empowers Indigenous youth
Song to save Indigenous languages
QUICK QUIZ
Who did Selwyn Cobbo idolise when he was growing up?
What leadership role was Selwyn Cobbo the first Indigenous boy to hold at his high school?
What memorable event took place three days after Cobbo's 20th birthday?
Cobbo's great, great grandfather Eddie Gilbert dismissed which legendary batsman at the Gabba?
Gilbert was treated differently to the rest of the team in what two ways?
LISTEN TO THIS STORY
CLASSROOM ACTIVITIES
1. Make a list
List the leadership qualities that you can see in Selwyn.
Time: allow 10 minutes for this activity
Curriculum Links: English, Personal and Social Capability
2. Extension
How do you think schools can help kids " … to keep their dream alive and chase their dreams"? Brainstorm things that you think will help all kids at your school to do this.
Time: allow 20 minutes to complete this activity
Curriculum Links: English, Personal and Social Capability
VCOP ACTIVITY
Imaginative dialogue
Imagine you were there during the event being discussed in the article, or for the interview.
Create a conversation between two characters from the article – you may need or want to include yourself as one of the characters. Don't forget to try to use facts and details from the article to help make your dialogue as realistic as possible.
Go through your writing and highlight any punctuation you have used in green. Make sure you carefully check the punctuation used for the dialogue and ensure you have opened and closed the speaking in the correct places.