Busking for Change fundraiser the chance to learn First Nations song
Primary students are invited to learn a song in English and Kriol to raise funds for more books in native languages for Aboriginal and Torres Strait Islander children in remote communities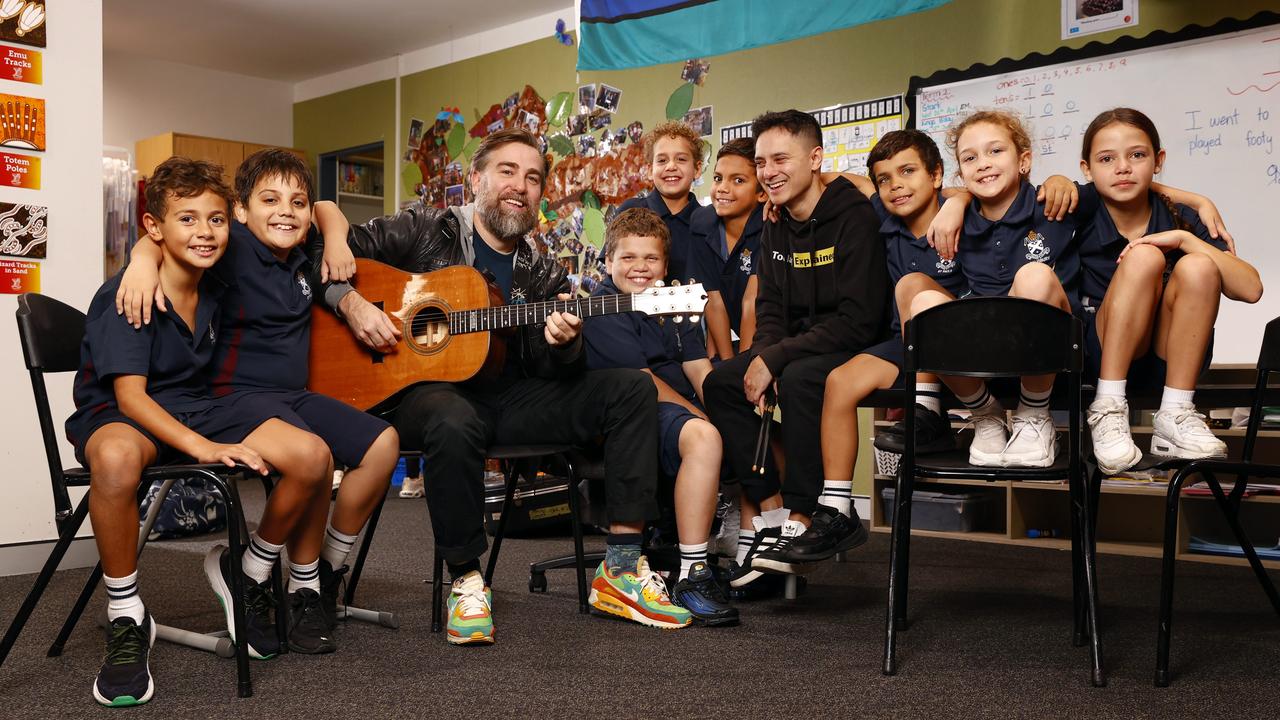 Pictured at St Andrew's Cathedral Gawura School in Sydney is Australian singer-songwriter Josh Pyke and hip hop artist Rhyan Clapham (DOBBY), with students Yuin-River Johnson, Latrell McGrath, BJ Carr, John Saulo, Marlon Coulthard, Shane Jackson, Bokhara Rossiter and Samara Lyons. Picture: Richard Dobson
Award-winning musician Josh Pyke is on a mission to champion* Indigenous languages the best way he knows how: through music and song.
The Indigenous Literacy* Foundation (ILF) ambassador* is calling on primary schools across the country to join the Busking For Change fundraising campaign, where students learn a song in English and Kriol while raising funds.
These funds enable the ILF to help more Aboriginal and Torres Strait Islander children in remote communities access and create books in their native languages.
Pyke said they hoped to surpass* last year's successful pilot program* — which involved five schools and raised more than $16,000 — by registering 100 schools in the country, with a fundraising target of $100,000.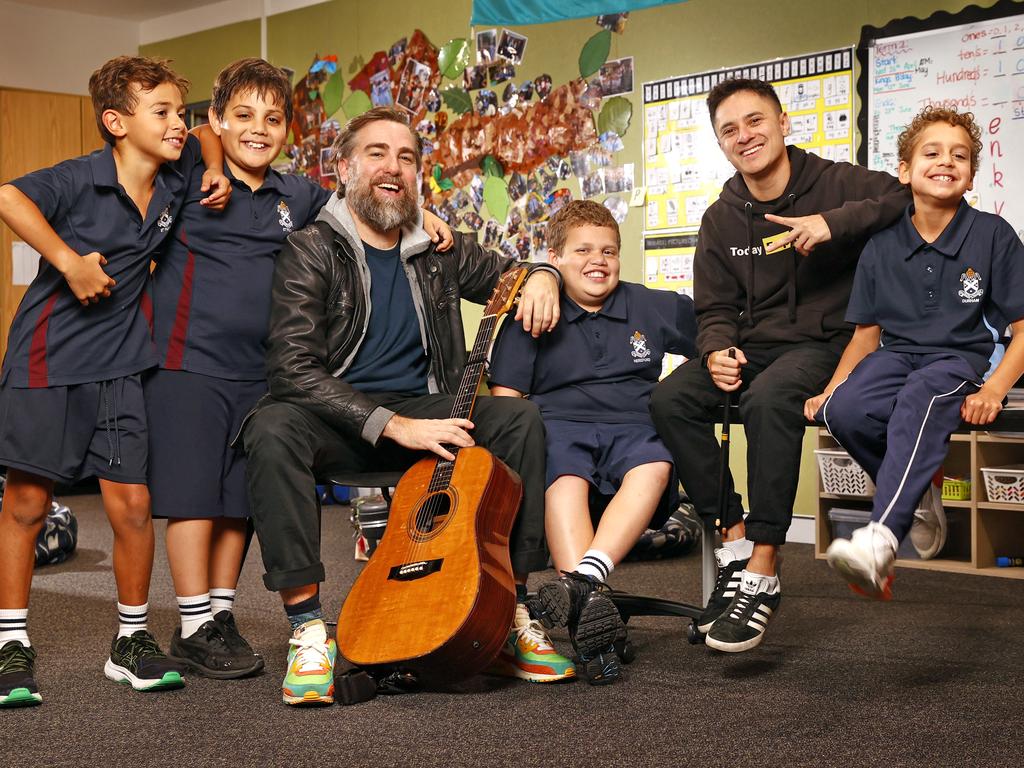 Australian singer-songwriter Josh Pyke and hip hop artist Rhyan Clapham (DOBBY) in Sydney with St Andrew's Cathedral Gawura School students Yuin-River Johnson, Latrell McGrath, BJ Carr and John Saulo. Picture: Richard Dobson
"For me, as a white Australian, I have always been passionate about the idea of bridging the gap and the injustice that has fallen on Indigenous Australians over the years," Pyke said.
"Literacy for me has been something that's changed my life, not just reading books, but being musically literate*, being able to engage in words and art has been incredibly powerful."
The idea for Busking For Change began as a pub gig in 2009 and evolved* when Pyke's children started school.
"It goes beyond just raising money for the ILF, it's an opportunity to discuss things in terms of Indigenous issues, learning about our history while giving the opportunity to be inclusive* with music," Pyke said.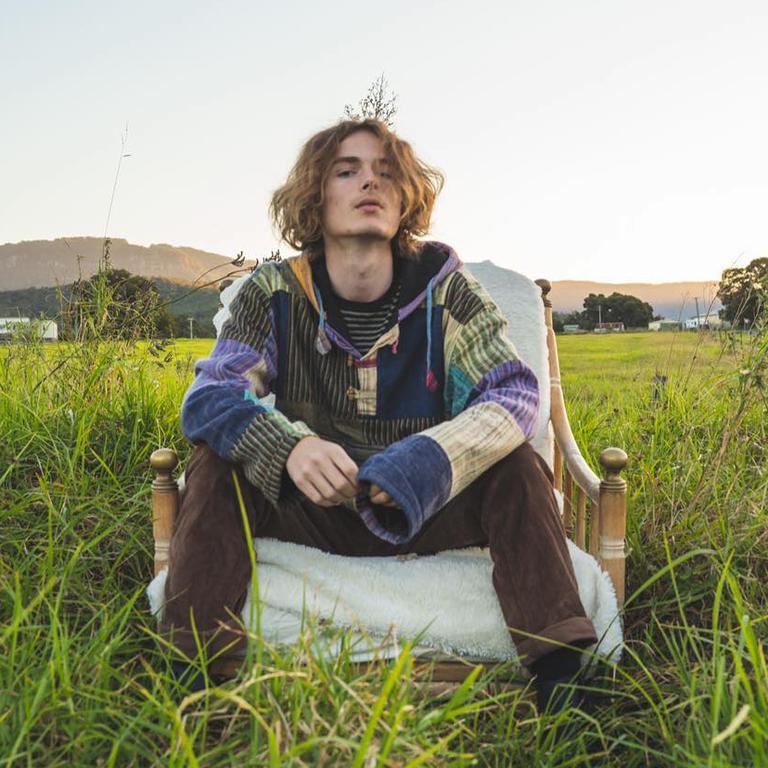 Indigenous singer/songwriter Aodhan (Aidan Whitehall) has put his support behind the Busking for Change campaign. Picture: Facebook
All registered primary schools receive the tools and resources needed to make their Busking for Change a success, including: the song, charts, lyrics and translations.
Registrations close on June 30 and schools have until Indigenous Literacy Day on September 6 to rehearse and prepare their Busking Day performance.
This year's anthem, Words Make The World Go Around, was created by Pyke and fellow ILF ambassadors Justine Clarke and Deborah Cheetham, in conjunction with Gawura School students in Sydney.
Four renowned* First Nations musicians, DOBBY, Jeremy Marou, Tilly Tjala Thomas and Aodhan have put their support behind the campaign.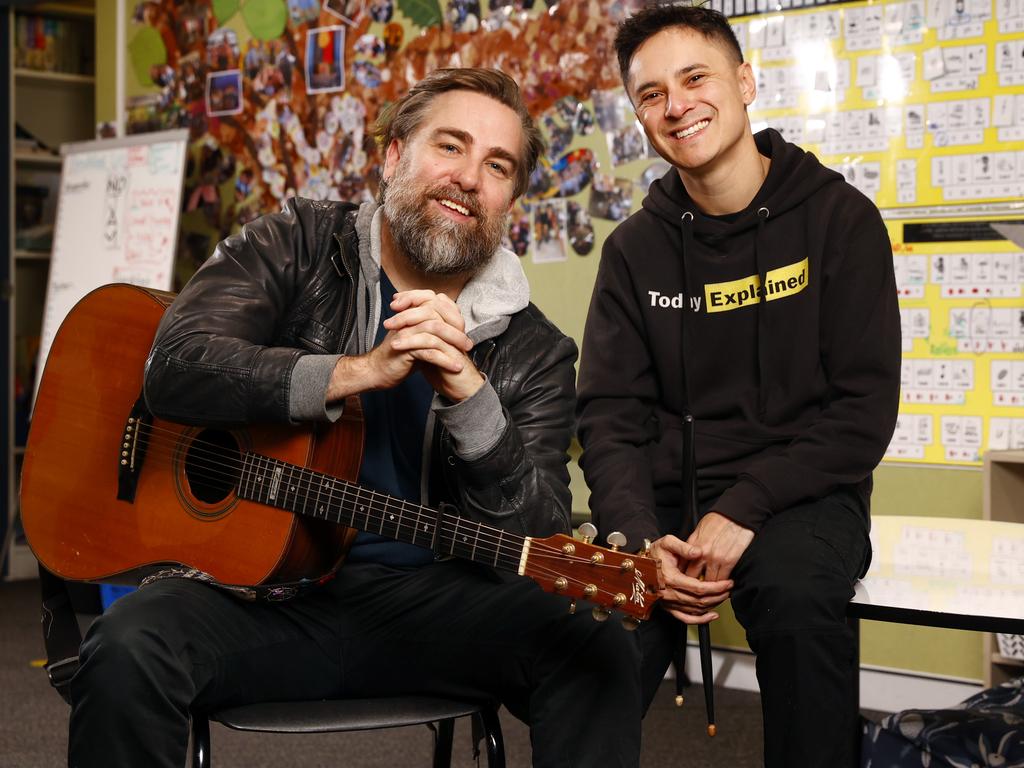 Australian singer-songwriter Josh Pyke, left, and hip hop artist Rhyan Clapham (DOBBY), hope to recruit 100 schools and raise $100,000 to help create more books in native languages for Aboriginal and Torres Strait Islander children living in remote communities. Picture: Richard Dobson
Australia's Indigenous languages have been classified as severely endangered*.
Only 123 Aboriginal and Torres Strait Islander languages remain in use, a drastic decline from the more than 250 distinct languages pre-colonisation*, according to a 2018-19 survey by the Australian Institute of Aboriginal and Torres Strait Islander Studies (AIATSIS).
Of the remaining language, only 12 maintain relative strength and are being passed down to children.
The UN has declared 2022-2032 the International Decade of Indigenous Languages in response to a global crisis facing native languages.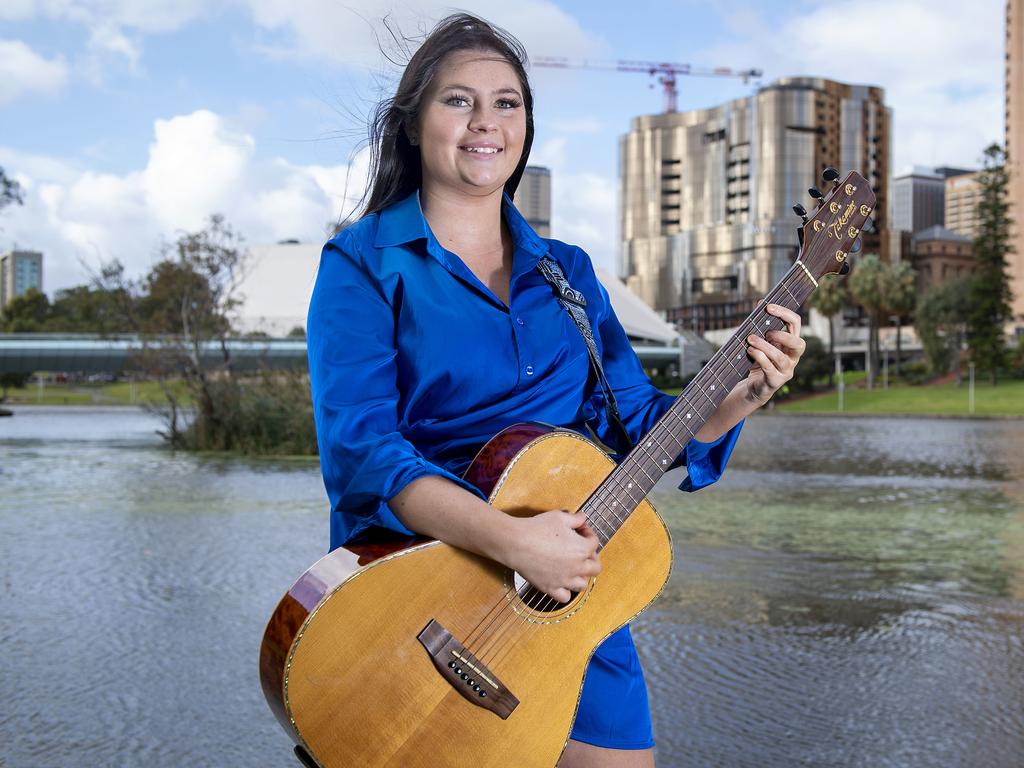 Indigenous singer songwriter Tilly Tjala Thomas is also supportive of the music-led literacy initiative supporting the work of the Indigenous Literacy Foundation. Picture: Mark Brake
"It's aligned* in such a beautiful way because every year there'll be a new song and will include a different Indigenous language, so by the end of UNESCO's decade of First Nations language, we'll have ten different songs with potentially ten different Indigenous Australian languages included," Pyke said.
"There'll be this beautiful catalogue of songs and language documented and recorded that will have been part of kids' lives throughout their whole primary school experience."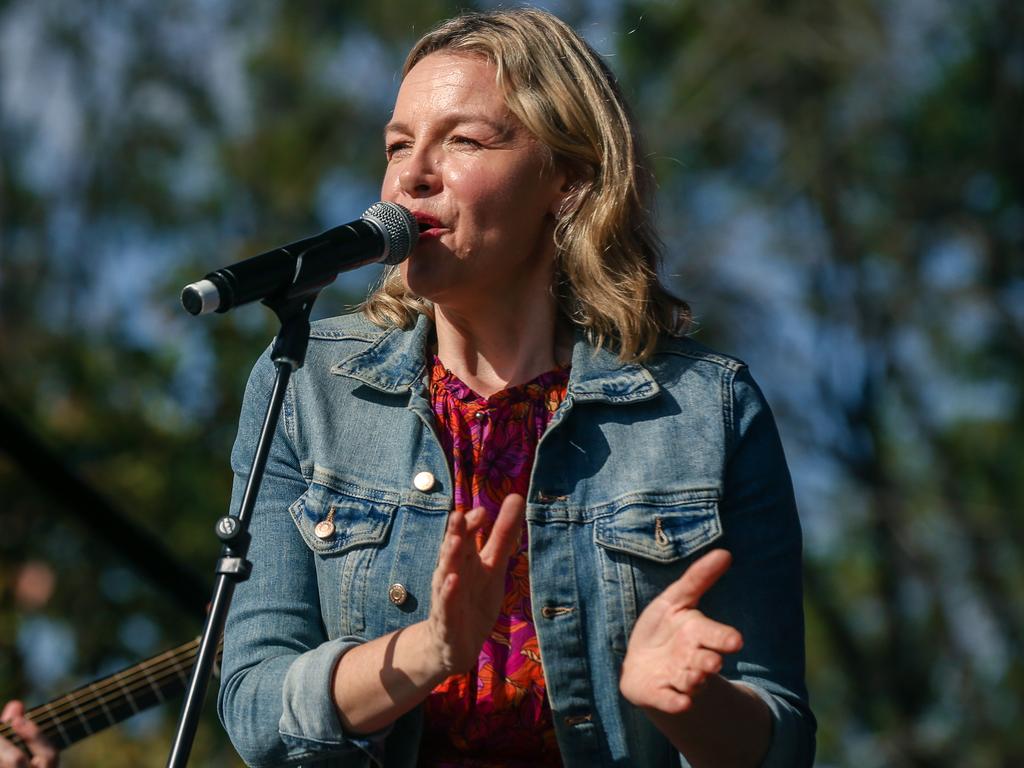 Children's performer Justine Clarke, pictured at the recent Barunga Festival, which celebrates culture, sport and history, is an ILF ambassador and co-wrote this year's Busking for Change anthem with Pyke and Deborah Cheetham. Picture: NCA NewsWire/Glenn Campbell
ILF CEO Ben Bowen, a proud Wiradjuri man, said: "A scary thing for us is if we ask anyone around in Australia, to say 'hello' in a different language and people can recite 20 or 30 different ways, international languages.
"But if you then ask them to say 'hello' in an Aboriginal or Torres Strait Islander language, you usually have silence."
He said ILF receives no government funding so fundraisers were critical to its success.
"Language is community driven and when governments do get involved, they can put barriers to which languages should be funded, whereas we can actually work with community to work on any language they like," Mr Bowen said.
Tudei en longtaim (Now and Then) written in English and Kriol by Stella Raymond, with illustrations by the Binjari Book Mob, published by the ILF. RRP $19.99. The author lives in Binjari, NT and Kriol is her native language. Picture: supplied/ILF
He said many of their communities could speak anywhere from four to 16 different languages and the ILF worked with them to deliver bespoke* resources.
"Within our program we run, there's a book supply which goes out every year and that supports about 120,000 books that are culturally relevant, selected by community to go out to communities," Mr Bowen said.
"We have book bars, which is for 0-5-year-olds, which is a real fun, engaging book kit that goes out to about 103 communities now.
"The third program is the community publishing, which works with communities to write the books of the stories they want to tell and have them illustrated and entirely driven by the communities, and can be either in language or bilingual*."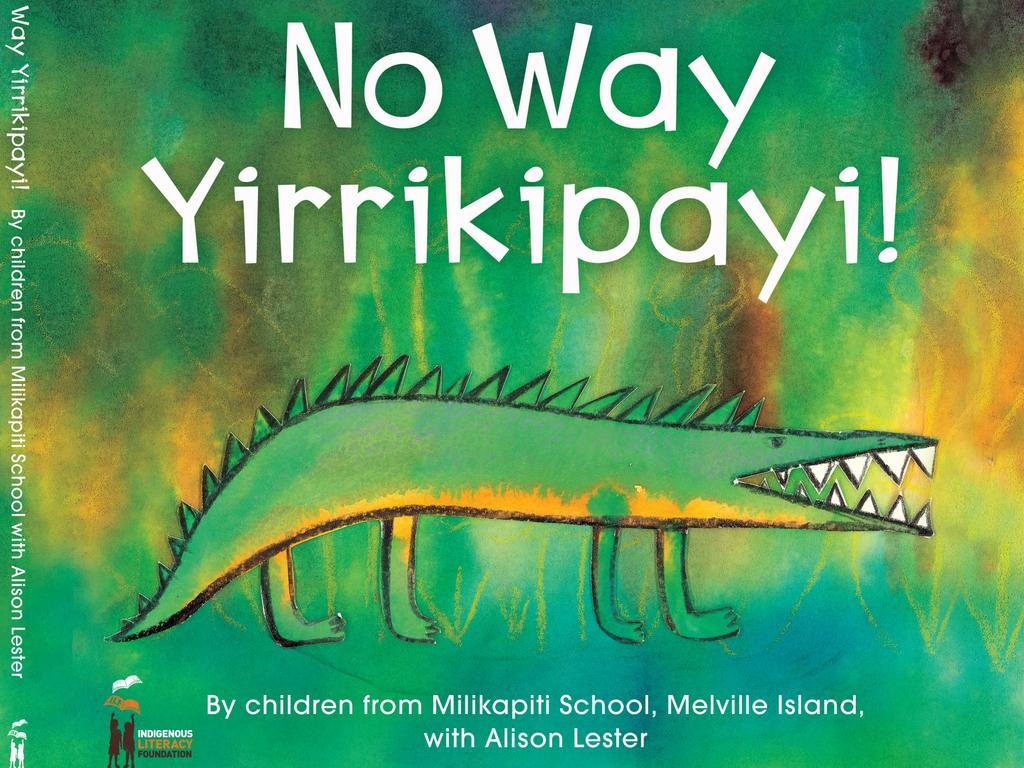 No Way Yirrikipayi! by children from Milikapati School with Alison Lester RRP $22.99, published by the ILF. Written in both Tiwi and English, this delightful, humorous book was developed in workshops led by Alison Lester, ILF Ambassador and the former Children's Laureate. Picture: supplied/ILF
How the annual fundraiser works:
1. Students commit to learning to play, sing, or dance to a song
2. Students gather support/donations from their friends and family
3. Once students master the song, they 'busk' or perform their rendition collectively or individually to their friends, family, school, or post a video online.
To register before June 30, visit buskingforchange.ilf.org.au
Hello Hello, written by remote community schools at the Spinifex Writing Camp. RRP $24.99 Ages 4+. A family is walking home on a very dark night. It's hard to see clearly – what is that shadow? And what is that noise? Join the family as they discover what the dark night is hiding. Picture: supplied/ILF
POLL
GLOSSARY
champion: support, defend, fight enthusiastically for a person, belief or principle
literacy: the ability to read and write
ambassador: campaigner, representative, promoter of a certain organisation or activity
surpass: to do or be better or more than something else, like the previous year's results
pilot program: the first of its kind done as a test or a trial
literate: having working knowledge of a particular subject, in this case music
evolved: developed, progressed, advanced
inclusive: adapting to create better connections with people who are not the same as you
renowned: famous or very well known and highly regarded
endangered: close to extinction, in danger of dying out
pre-colonisation: before white settlement by the British
aligned: supporting or in agreement with something else at the same time
bespoke: made to suit, tailored, customised
EXTRA READING
Musos join push for Indigenous lessons
Fraser Island officially renamed
Melb CBD to honour traditional owners
QUICK QUIZ
How many schools raised how much money in last year's pilot program?
What does the Indigenous Literacy Foundation do?
What is this year's fundraising target?
How many Aboriginal and Torres Strait Islander languages remain in use and how many were there pre-colonisation?
What has the UN declared the period between 2022 and 2032 to be?
LISTEN TO THIS STORY
CLASSROOM ACTIVITIES
1. Literacy for me
What does literacy mean for you? Think about it in terms of the following:
What opportunities it gives you
What it allows you to do
How it will help you in the future
How it contributes to the quality and enjoyment of your life and learning
Now think about it for an Indigenous child who might not have access to the educational opportunities that you have. What will it mean for their future?
–
–
–
–
How do you think we need to lessen the gap between white Australian children and Indigenous children?
Time: allow 25 minutes to complete this activity
Curriculum Links: English; History; Personal and Social; Critical and Creative Thinking
2. Extension
Work with a friend and have a go at singing this year's Busking for Change song, Words Make the World Go Around.
Can you sing it in English and Kriol?
Is this a fundraiser you'd like your school to take part in?
Time: allow 20 minutes to complete this activity
Curriculum Links: English; Music; Personal and Social; Critical and Creative Thinking
VCOP ACTIVITY
Oral language game: sentence opener challenge
Objective: To explore different sentence opener features used in the article and improve oral language skills.
Instructions:
1. As a class, read a text and list some of the varied openers used by the author.
2. Divide the students into small groups.
3. Explain to the students that they will play a sentence opener challenge game based on the openers you have collected from the text.
4. Provide each group with a set of sentence openers (these can be pre-prepared cards with different sentence openers written on them from the text).
5. Ask one student from each group to pick a sentence opener card and read it aloud to the group.
Give each group a time limit (eg one minute) to come up with as many sentences as they can using the sentence opener. Encourage them to use their imagination and add interesting details to their sentences.
6. After the time limit, each group takes turns sharing their sentences with the rest of the class.
7. The other groups can listen and give feedback on the sentences, suggesting improvements or sharing their own creative ideas.
8. Repeat the process with different sentence starter cards, allowing each student in the group to take turns selecting and reading the sentence starter.
Note: Remind the students to listen attentively to each other's sentences and be respectful during the game. Encourage them to use their vocabulary, sentence structure and storytelling skills to create engaging sentences.
Variations:
* Ask the students to write their sentences on blue card to add to a class "text starter" bucket to use as a resource another day.
* For an added challenge, provide the students with blank "sentence opener" cards and ask them to come up with their own sentence openers based on the text.
* To make it more interactive, you can have a sentence opener relay race where each student in the group takes turns adding a word or phrase to create a collaborative sentence using the sentence opener.