Anthony Albanese calls for nation to unite after referendum defeat
Anthony Albanese said we need 'a new way forward' after Australians overwhelmingly voted against the Indigenous Voice to Parliament in the referendum
A visibly shaken Anthony Albanese called on Australians to unite to find the answers to address Indigenous disadvantage* after the resounding* defeat of the historic Voice referendum.
Australians overwhelmingly rejected the referendum to enshrine* an Aboriginal and Torres Strait Islander Voice in the Constitution*.
On Saturday 14 October, all six states rejected the proposal. At 6am (AEST) on Sunday, the national tally stood at 60 per cent for the No vote and 40 per cent for Yes.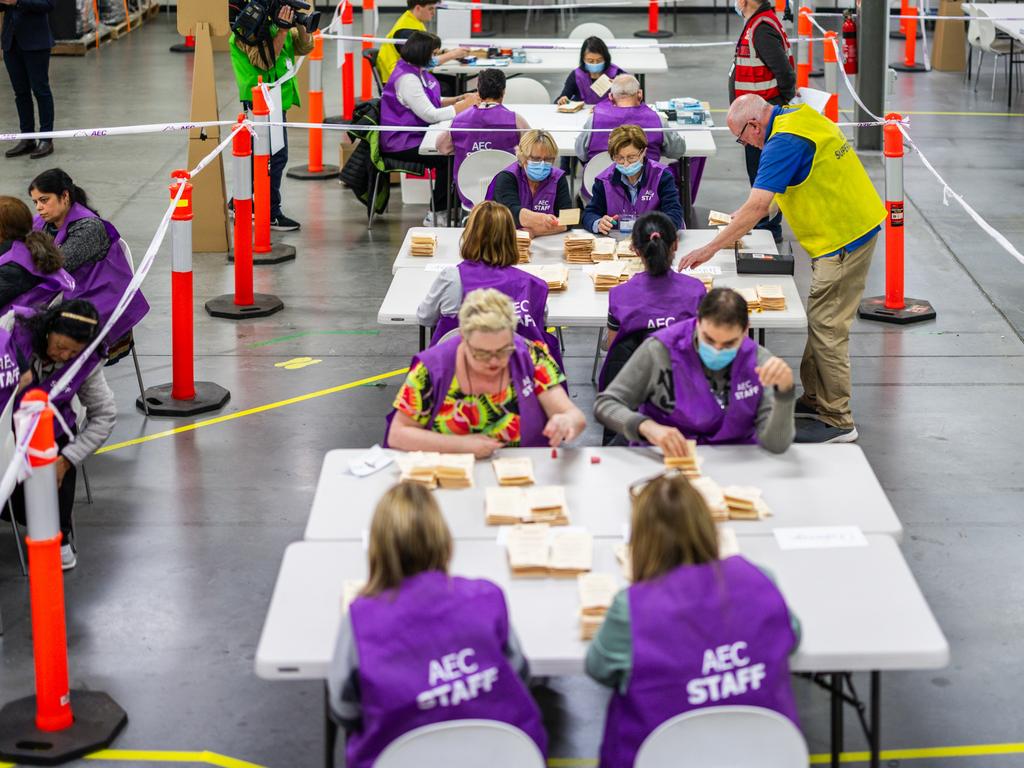 Australian Electoral Commission staff count votes at a vote counting centre in Melbourne, Australia. Picture: Asanka Ratnayake/Getty Images
Tasmania, NSW, Victoria and South Australia were all called for No by Sky News Australia before counting had even begun in Queensland, Western Australia and the Northern Territory.
The ACT was the only jurisdiction* to firmly vote Yes.
Voters in Queensland were most against the proposal for constitutional change, with 68 per cent of votes cast for No.
The No camp also resonated* with NSW and Victoria voters, who rejected the referendum 59 per cent and 54 per cent respectively*.
South Australia returned a 64 per cent vote for No, while 59 per cent of Tasmanians and 64 per cent of WA voters voted against the change.
Just 38 per cent of NT voters were in favour of the proposal.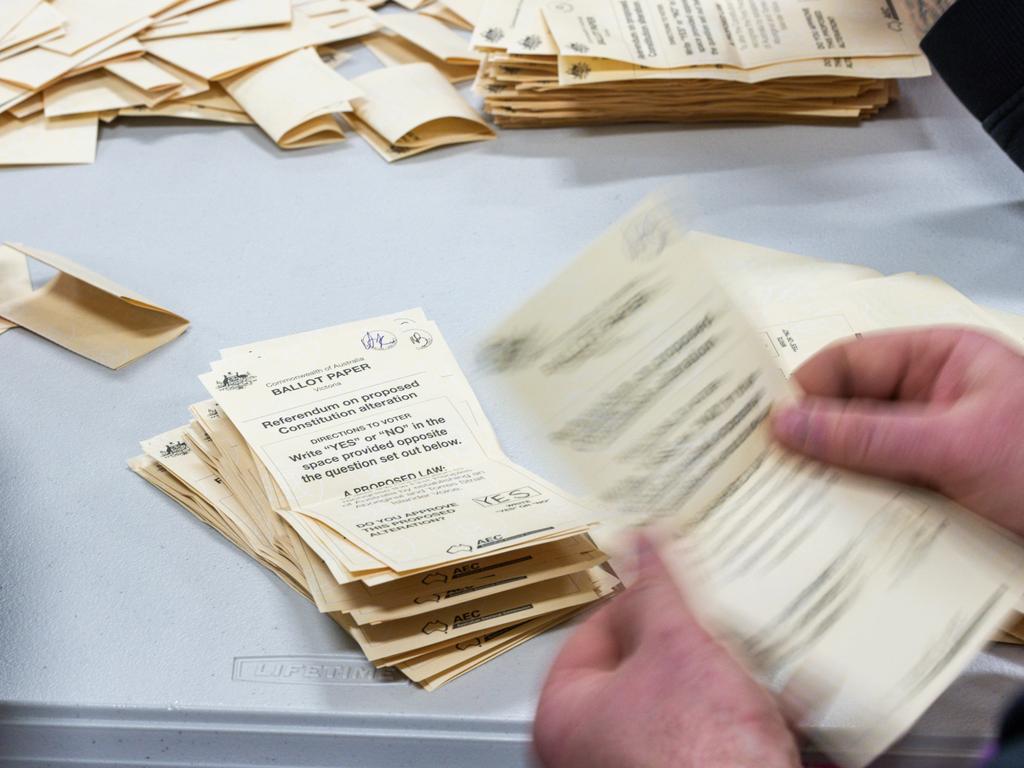 A ballot paper with a Yes vote is seen at a vote counting centre on October 14 in Melbourne, but Victoria and every other state in Australia saw the Yes vote strongly defeated. Picture: Asanka Ratnayake/Getty Images
Speaking hours after the vote was called on Saturday evening, the Prime Minister said the millions of Australians who had backed the referendum with "hope and goodwill*" must now take the result with the "same grace and humility*".
"Tomorrow we must seek a new way forward with the same optimism*," he said.
Invoking* Winston Churchill*, Mr Albanese said "success is not final, failure is not fatal – it is the courage to continue that counts".
"We intend, as a government, to do what we can to Close the Gap*," he said.
"To do what we can to advance Reconciliation*, to do what we can to listen to the First Australians."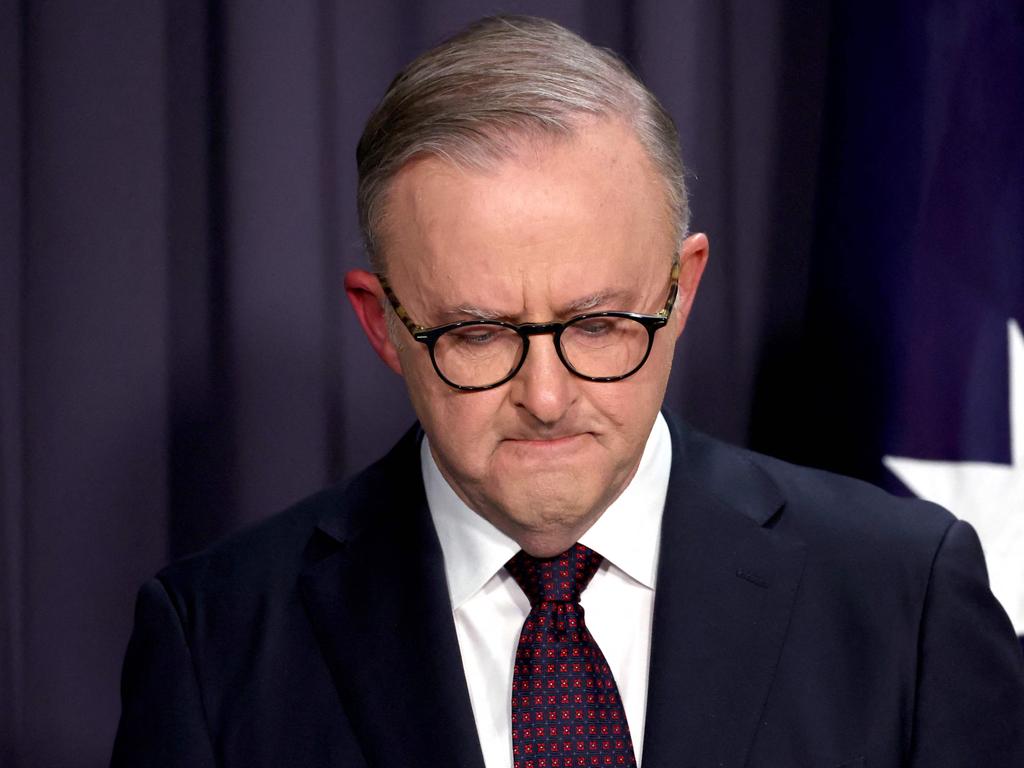 Prime Minister Anthony Albanese was visibly shaken speaking to the media at Parliament House in Canberra on October 14 after the Voice proposal was defeated in the referendum. Picture: David Gray/AFP
Mr Albanese said the government had "given their all" to the Voice, but "when you aim high, sometimes you fall short. As Prime Minister, I will always take responsibility for the decisions I have taken and I will do so tonight."
Mr Albanese said Australians must now take the country beyond the debate, without forgetting "why we had it in the first place".
"Too often in the life of our nation, and in the political conversation, the disadvantage confronting Aboriginal and Torres Strait Islander people has been relegated* to the margins," he said.
"There is a new national awareness of … (Indigenous disadvantage). Let us channel that into a new sense of national purpose to find the answers."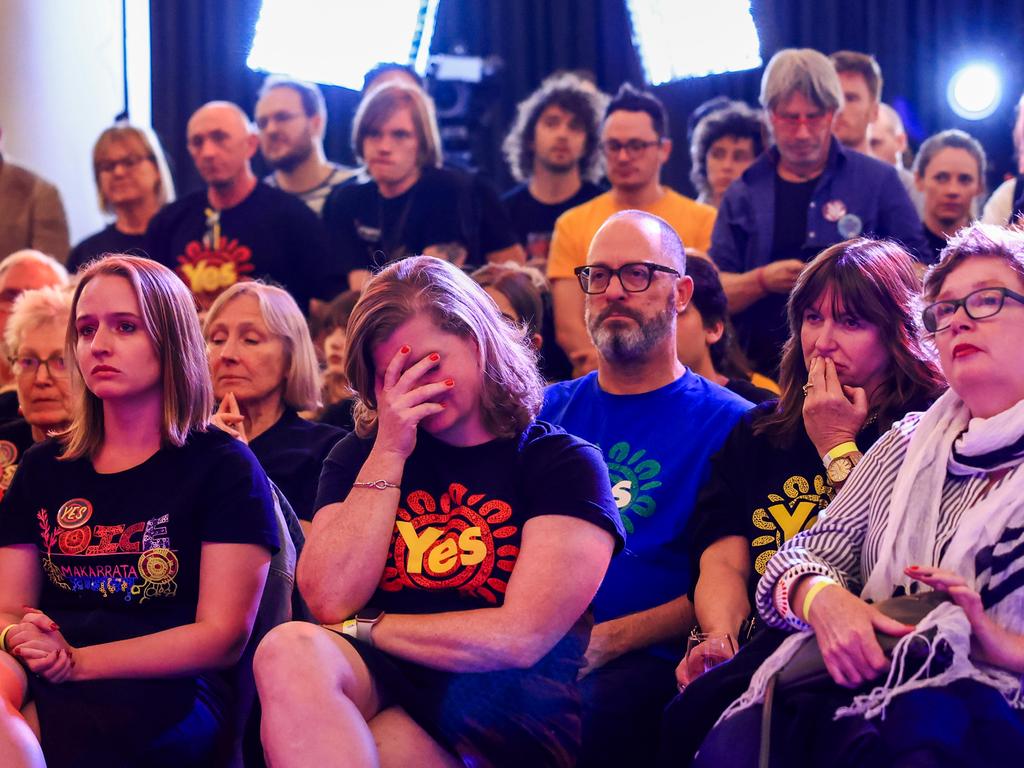 The Prime Minister said the millions of Australians who had backed the referendum with "hope and goodwill" must now take the result with the "same grace and humility". Yes supporters absorbed the result in Sydney while listening to Yes23 campaign director Dean Parkin. Picture: Jenny Evans/Getty Images
Opposition leader Peter Dutton defended his stance on the Voice and said "at all times" in the debate he had criticised "what I consider to have been a bad idea – to divide Australians based on their heritage or the time at which they came to our country".
"The Coalition, all Australians, wants to see Indigenous disadvantage addressed," he said at an event in Brisbane.
"And while Yes and No voters may hold differences of opinion, these opinions of difference do not diminish a love for our country or our regard for each other."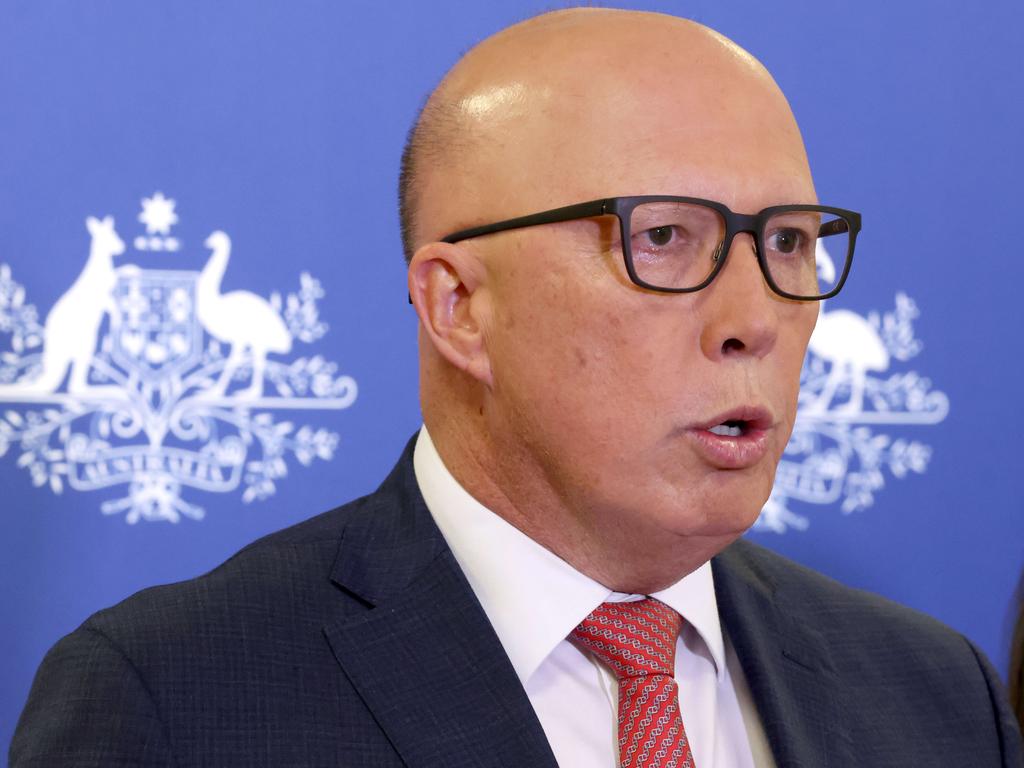 Opposition leader and No advocate Peter Dutton said efforts to improve Indigenous outcomes must redouble. Picture: Steve Pohlner
Mr Dutton said the country must redouble efforts to improve outcomes for Indigenous Australians.
"That includes an urgent need to boost law and order, to increase school attendance and employment at many remote communities," he said.
Coalition Indigenous Australians spokeswoman Jacinta Nampijinpa Price said it was time for a new era in Indigenous policy.
"It is time to accept that we are all part of the fabric of this nation, that Indigenous Australians are also Australian citizens. That Indigenous children, their human rights should be upheld, just as any other kids," she said.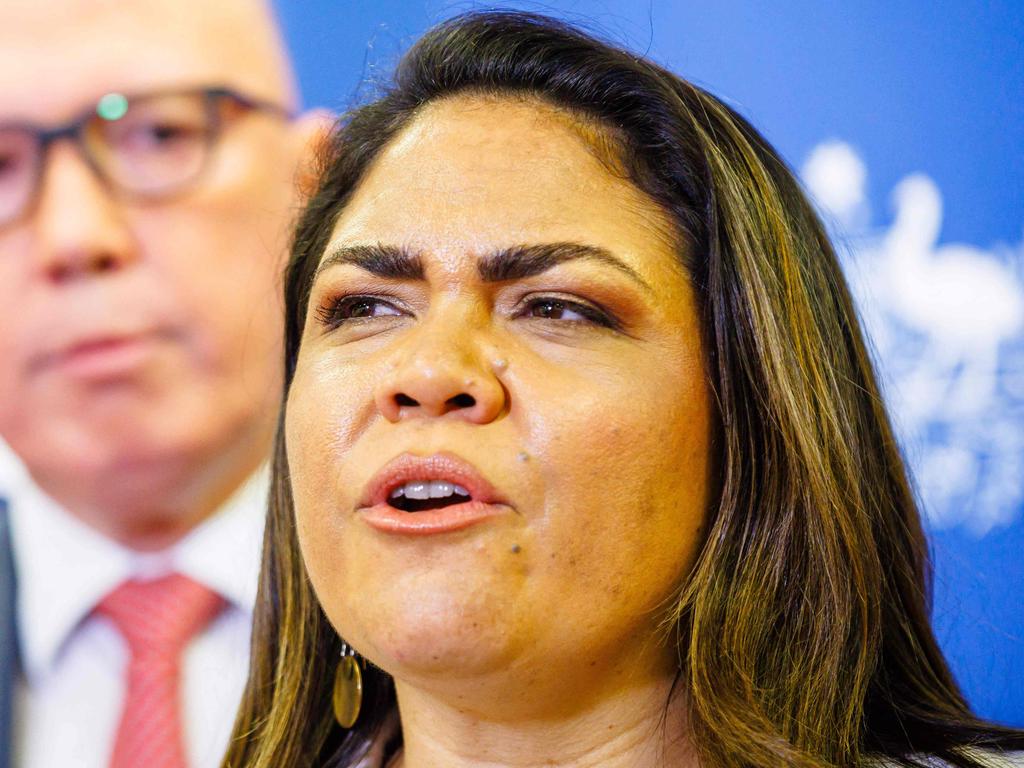 Attending a Brisbane press conference with Opposition Leader Peter Dutton, Senator Jacinta Nampijinpa Price was strongly opposed to the Indigenous Voice to Parliament. Picture: Patrick Hamilton/AFP
POLL
GLOSSARY
disadvantage: the state of inequality experienced by Aboriginal and Torres Strait Islander Australians, who have higher rates of poor health, poverty, poor diet, inadequate housing and other social and health outcomes than non-Indigenous Australians
resounding: very great, without question, definitive
enshrine: to make a law or right respected or official, especially by stating it in an important written document like a constitution
jurisdiction: electoral district, the area inside which eligible voters are qualified to vote
constitution: the set of political principles by which a state or organisation is governed
resonated: make a clear, lasting, positive impression a positive feeling or response
respectively: in the same order given as the items that you have just mentioned
goodwill: friendly attitude to others in which you wish that good things happen to them
humility: being humble, without arrogance, not thinking you're better than other people
optimism: being full of hope and emphasising the good parts of a situation
invoking: referring to or mentioning something to explain or support something
Sir Winston Churchill: one of the most famous politicians of all time, Churchill (1874-1965) was twice British prime minister and an inspirational wartime leader who led his nation to victory in World War II
Close the Gap: a strategy that aims to improve the life outcomes of Aboriginal and Torres Strait Islander people
Reconciliation: a framework for strengthening relationships between Aboriginal and Torres Strait Islander peoples and non-Indigenous peoples
relegated: putting someone or something into a lower or less important rank or position
EXTRA READING
Indigenous Australians' history and culture
About the Uluru Statement from the Heart
QUICK QUIZ
By Sunday morning, where did the national tally stand?
Which state or territory voted was alone in a majority Yes vote?
What were the results in Victoria and NSW, Australia's most populous states?
What percentage of Northern Territory votes were in favour of the Voice?
Which famous British statesman did the Prime Minister refer to on Saturday night as the result of the referendum became clear?
LISTEN TO THIS STORY
CLASSROOM ACTIVITIES
1. Referendum result
What does the referendum result mean for our great country? Work with a partner and see if you can complete the analysis below from the perspective of a child/future citizen and/or possible leader of Australia.
Did the Yes or No vote win the Voice referendum on Saturday?
Was the referendum a close result? Explain the percentages of the Yes versus No vote.
How many votes were cast across the country?
What did the Prime Minister have to say about the referendum result on Saturday?
What happens next now the people have voted?
Do you think this was a good result for Australia?
Time: allow 20 minutes to complete this activity
Curriculum Links: English, History, Civics and Citizenship, Personal and Social, Critical and Creative Thinking
2. Extension
Was this the result the majority of Australians expected, or might it still divide opinion across the country?
What happens now that the question to change the Constitution has been voted upon and decided?
Do you think this was a positive step for non-Indigenous Australians and First Nations Peoples to unite?
Time: allow 10 minutes to complete this activity
Curriculum Links: English, History, Civics and Citizenship, Personal and Social, Critical and Creative Thinking
VCOP ACTIVITY
I spy nouns
Nouns are places, names (of people and objects), and time (months or days of the week).
How many nouns can you find in the article?
Can you sort them into places, names and time?
Pick three nouns and add an adjective (describing word) to the nouns.