A team of young Australians is hoping to nail it at the 'tradie Olympics' in the United Arab Emirates this week, after two years of intense training.
Carpenters will saw, web designers will code and pastry chefs will bake for top spots at the International WorldSkills 2017 in Abu Dhabi.
Sunday's opening ceremony saw 18 Aussie Skillaroos step out in their national uniforms and wave the Australian flag in front of visitors from 77 different countries.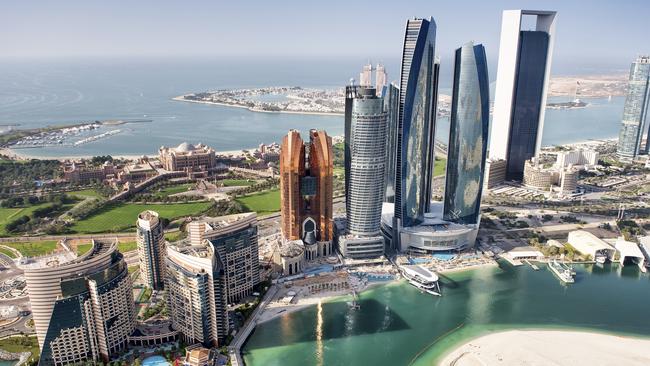 Australia is ranked 12th in the world at WorldSkills based on total medal points earned at the 2015 competition in Sao Paulo, Brazil, but the team hopes to break into the top 10 this year.
If it can, it will join the ranks of leading countries Brazil and Korea.
Brett Judd, chief executive of WorldSkills Australia, said the Skillaroos were in a good position to see results.
"The quality of the competitors and their experts and mentors is first class and the amount of opportunity our current competitors and their experts have had to train in overseas environments in competition conditions has been unprecedented*," he said.
"This year we know China and Russia will be super competitive as well as the traditionally competitive countries."
Mr Judd said different teams tended to excel* in different areas, depending on their country's major industries.
Germany, Italy and France were the countries to beat in skills such as carpentry and joinery, for example, while the US tended to dominate welding and metal works.
WorldSkills Australia chair and SkillsOne chief executive Brian Wexham said Australia traditionally performed well in bricklaying, restaurant service and jewellery making.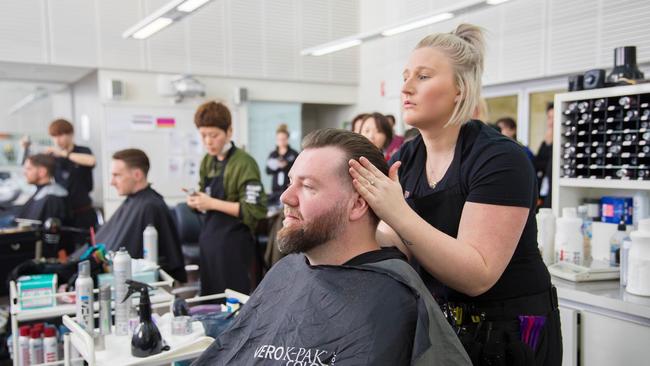 Australia's bricklaying and restaurant service competitors both came home with medals at three of the last four international competitions.
This year, Australia will be represented in these skills by Victoria's Trystan Summut and Queensland's Emilia Montague, respectively.
Ms Montague is from Brisbane but moved to Sydney to focus on training at the beginning of the year. She left family and friends and gave up work to train full time.
Australia's cabinetmaking competitor Nick Johnston, from WA, and hairdressing competitor Gaby Ware, from NSW, said they also made sacrifices to be part of the WorldSkills team — and did not regret it.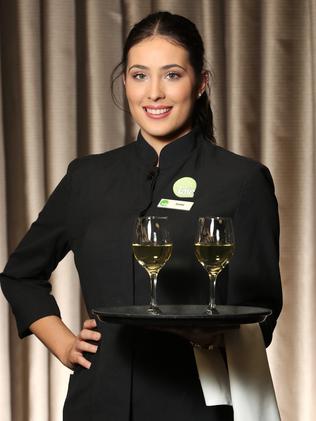 "I've taken a bit of time off work and not played as much sport as I normally do but it's all been worth it," Mr Johnston said.
"I didn't play basketball, to save my fingers."
Ms Ware also gave up sport as she worried she was "a little bit accident prone".
"I gave up a lot but have a very patient family and partner," she said.
"I had a lot of time off (work) because I went to China three times for training and the UK. It's good knowing the competition and competitors before I get here so I'm not nervous and I have some friends on the floor."
GLOSSARY
unprecedented: never done or known before
excel: do very well
LISTEN TO TODAY'S STORY
CLASSROOM ACTIVITIES
1. Tradie Olympics
Answer the following questions in as much detail as possible.
Try and incorporate the question into your answer.
• Why is this event known as the tradie Olympics?
• Where is the event being held?
• How many Australians are participating in the competition?
• How many different countries participate?
• Which countries are currently leading from the 2015 event?
• Which trades has Australia traditionally performed well in?
• What sort of sacrifices do the Australian team competitors make to be involved in the WorldSkills competition?
• Would you like to take part in WorldSkills when you are older?
• What trade appeals to you?
Extension:
Look up the WorldSkills Australia website and research how many and what trades are represented in this competition.
Read about how the competition works and what is expected from the competitors.
Time: allow 25 minutes to complete this activity
Curriculum links: English
2. Choose your own career
By looking on the WorldSkills Australia website, you can see an array of different trades and careers.
Visit the website (https://www.worldskills.org.au/what-we-do/worldskills-australia-competitions/skills-explained/) and scroll through and read the descriptions of the different categories and career paths.
Choose one that interests you the most that you may like to do when you are older.
Write down what the job involves and why you think you would do well in that career.
Extension:
What sort of training is involved to qualify for these jobs?
What do you need to do at school or when you have finished secondary school?
Time: allow 45 minutes to complete this activity
Curriculum links: English, Critical and Creative Thinking
VCOP ACTIVITY
(Vocabulary, Connectives, Openers and Punctuation)
Do you know the difference between proper nouns and common nouns?
Use two different colours to highlight the proper nouns and common nouns in the article.
Extension:
Use a third colour to highlight any adjectives that are placed directly before these nouns.
Time: allow 30 minutes to complete this activity
Curriculum Links: English, Big Write and VCOP
EXTRA RESOURCES
GHOSTLY WHITE GIRAFFES SPOTTED