Ukraine children carry on in 'new normal' despite daily threat of war
Children in many parts of Ukraine are trying to live as normally as possible despite the daily threat of air-raids and signs of war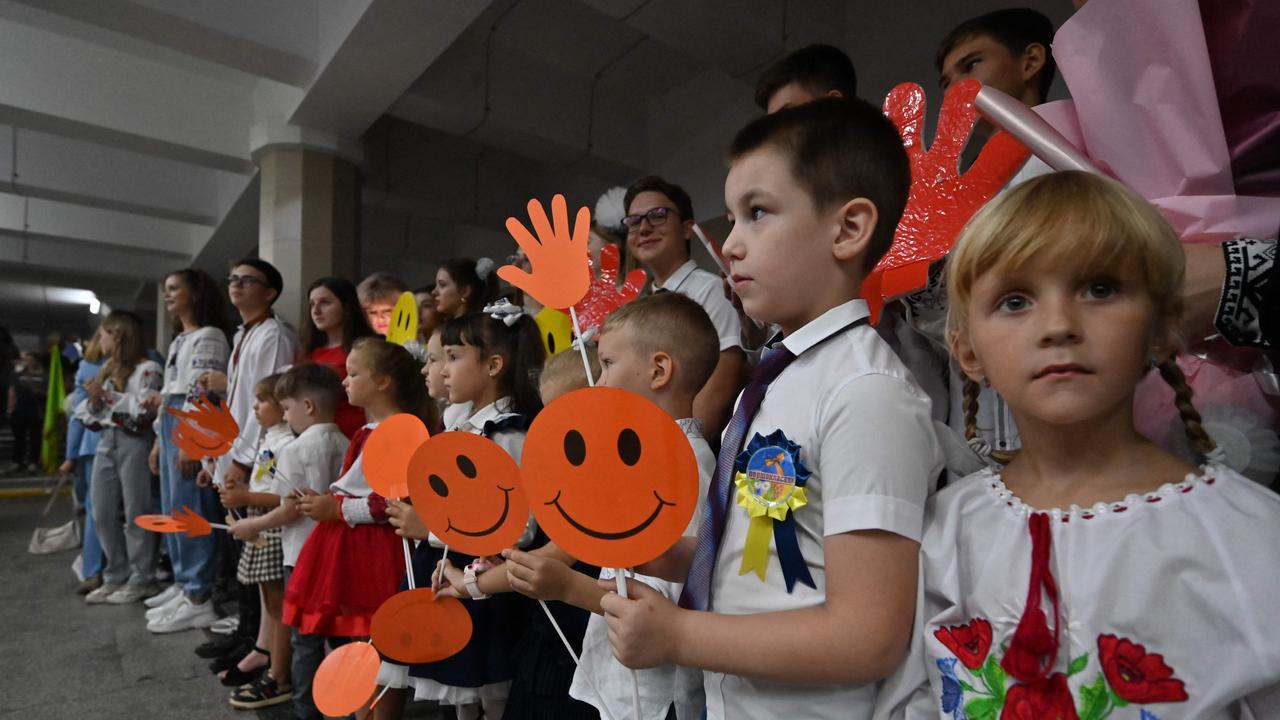 Ukrainian kids have celebrated the start of the school year with special assemblies held in the safety of subway bomb shelters. Picture: Sergey Bobok / AFP
Ukrainian students marked the start of the school year with a special assembly as the country adapts to the "new normal" of wartime life.
First-graders in the city of Bucha wore Ukrainian embroidered costume shirts called vyshyvankas and held flowers to celebrate their first day of school.
But the usual excitement of a new school year was mixed with sadness as students, parents and teachers remembered loved ones lost through the Russian invasion.
Ukraine has been deeply impacted since Russian occupation began more than 18 months ago.
School students in the devastated city of Bucha slowly returned to school after their war-torn main building was repaired, including an extra 200 students who had fled their hometowns to escape danger.
HYBRID LEARNING
While many of the schools in Ukraine have been fixed and done up after being damaged by war, a typical school week is a long way from normal.
Constant missile threats and air-raid sirens mean children must do some of their learning from the safety of bomb shelters.
Many kids are being schooled in a hybrid way, with some days at school and others at home – similar to what happened around the world during the Covid-19 pandemic.
Already impacted by the pandemic, many of Ukraine's 6.7 million students have now fallen further behind with their reading and maths because of the war.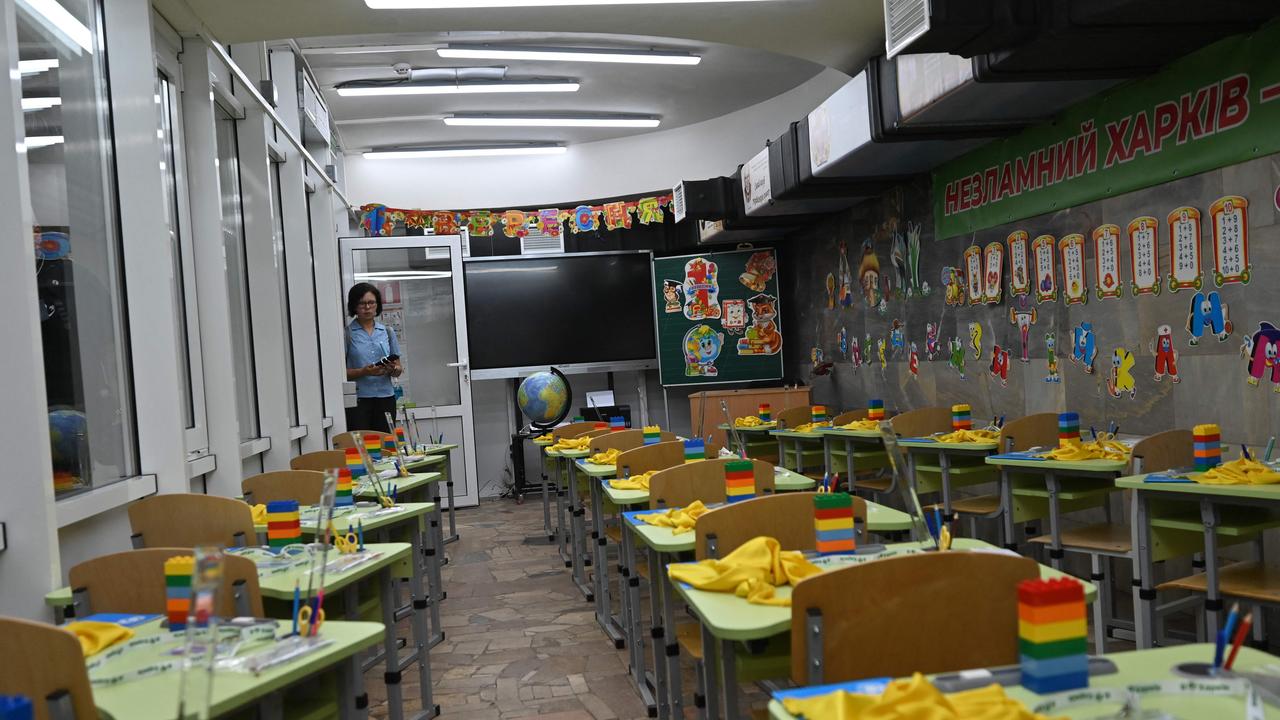 Classroom have been set up in subway stations and bomb shelters in Ukraine Picture: Sergey Bobok/AFP
BOMB SAFETY
International aid agency UNICEF has started teaching Ukrainian kids how to recognise landmines and undetonated bombs.
Interactive lessons use riddles, videos and other visual materials to educate kids on the dangers of mines and what they should do if they find one.
Parents are also attending the classes to help them recognise bombs and keep their families safe.
"I know that a mine can disguise itself as a toy," said six-year-old Zlata from Kharkiv. "And when you see an unfamiliar object, you need to call adults to inspect everything and call 101. You shouldn't stand nearby."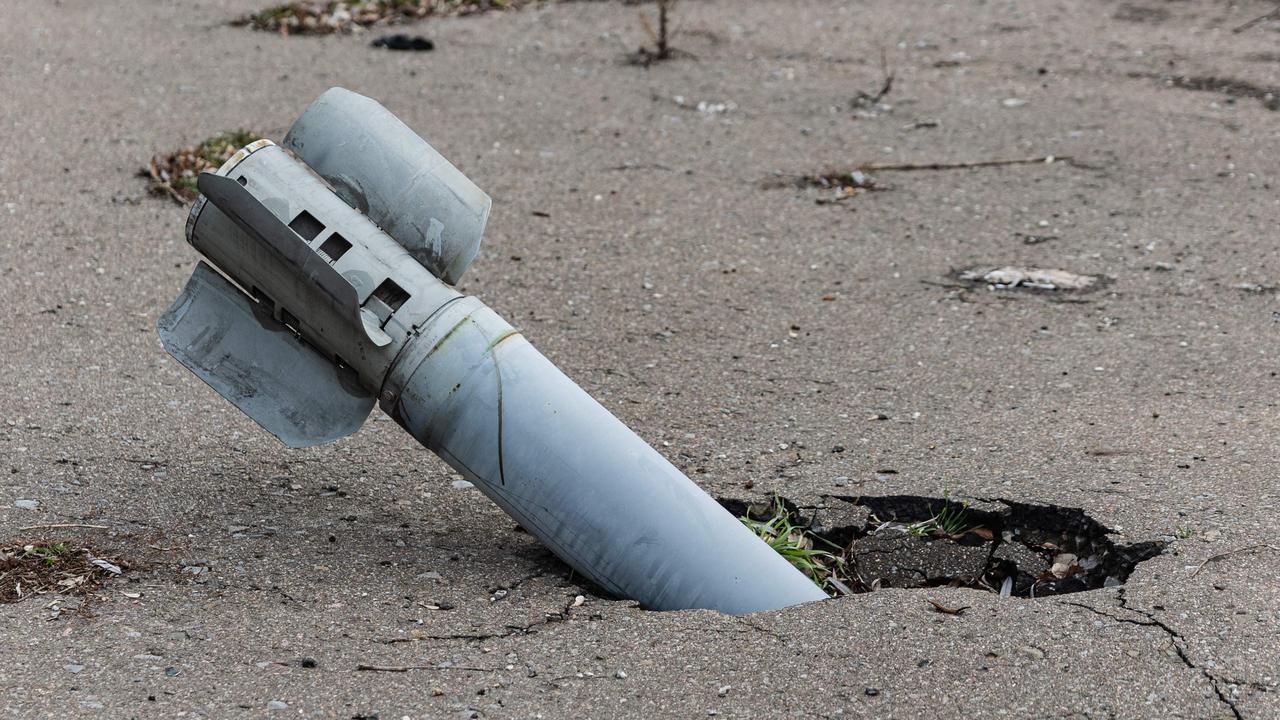 Children are learning about landmine safety because unexploded bombs are posing a danger. Picture: Sameer Al-Doumy/AFP
LIFE IN THE CAPITAL
In Ukraine's capital Kyiv, life appears normal on the surface despite the constant dangers faced by residents.
People rush to work in the morning and meet friends for dinner at restaurants, but signs of war all around.
Sandbags are stacked around statues and buildings to protect them from bombing and the city streets are empty at night when the midnight curfew kicks in.
Now in the second year of Russia's invasion, Kyiv is better protected than during the start of the war. Ukraine has become very good at stopping Russian drones and missiles fired at the capital, mostly at night or in the early hours of the morning.
Life goes on in Kyiv despite the dangers of war. Picture: Alexey Furman/Getty Images
Life goes on, but the city's residents battle grief and fatigue.
Twenty-nine year old Kyiv resident Aliona Vyshnytska grows indoor plants to distract herself from the stress of war. She has become used to objects shaking right off the windowsills during bomb attacks but gets migraines from the loud bangs. Still, like millions of others in the capital, she continues to work and "celebrate life in breaks from the war."
POLL
GLOSSARY
vyshyvankas: an embroidered shirt that is part of Ukraine's national costume
occupation: when a country invades and takes over another country by force
hybrid: a mixture of things, in this case, face-to-face and home learning
undetonated: hasn't exploded yet and could blow up if disturbed
101: Ukraine's emergency phone number for fire
curfew: a time set by the government when all residents must be home
fatigue: extreme tiredness
EXTRA READING
Ukrainian youths' clean up dance
Art helps Ukrainian kids deal with war trauma
What is happening between Ukraine and Russia?
QUICK QUIZ
1. How many months has the Russian occupation of Ukraine lasted?
2. When did Russian troops withdraw from the Ukrainian city of Bucha?
3. Why are many Ukrainian kids doing their schooling in a hybrid model?
4. How is UNICEF teaching Ukrainian kids about bomb safety?
5. What is the capital of Ukraine?
LISTEN TO THIS STORY
CLASSROOM ACTIVITIES
1. Brainstorm
What do we mean when we talk about a 'new normal' and why is this important sometimes? Brainstorm as many ideas and answers to this question as you can think of. Use information in the story to help you.
Time: allow at least 15 minutes to complete this activity
Curriculum Links: English, Health and Physical Education, Personal and Social Capability
2. Extension
Find something in this story that is inspiring. Use this as the basic idea for a story. The purpose of your story is to help other kids to be inspired, too.
Time: allow 20 minutes to complete this activity
Curriculum Links: English, Personal and Social Capability
VCOP ACTIVITY
To sum it up
After reading the article, use your comprehension skills to summarise in a maximum of three sentences what the article is about.
Think about:
What is the main topic or idea?
What is an important or interesting fact?
Who was involved (people or places)?
Use your VCOP skills to re-read your summary to make sure it is clear, specific and well punctuated.